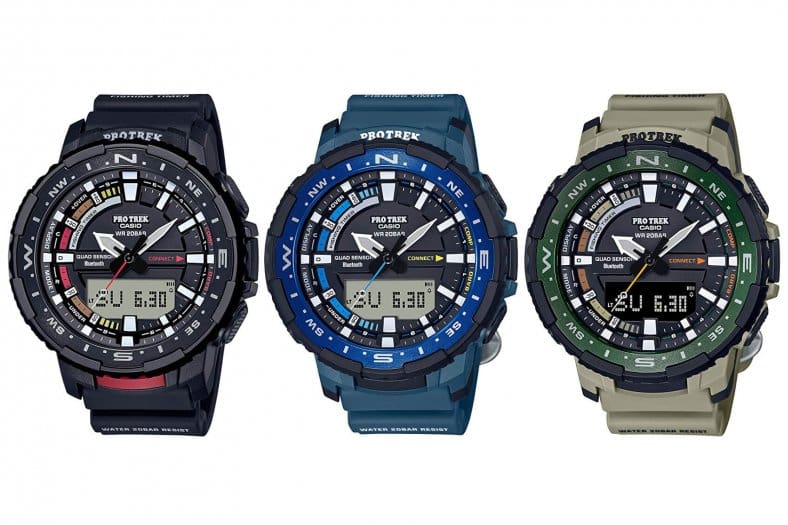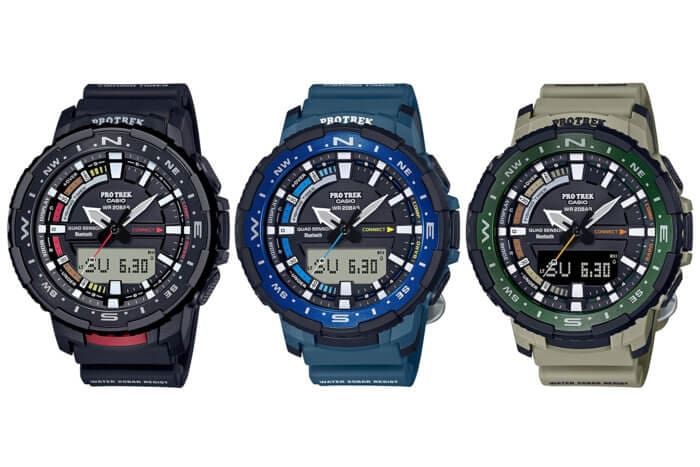 Amazon.com is accepting pre-orders for the upcoming Pro Trek PRT-B70-1 (black), PRT-B70-2 (blue), and PRT-B70-5 (brown and green), to be released on November 15, 2020. The PRT-B70 is a water-oriented model with a Quad Sensor, tide and moon phase information, and specialty fishing functions.
Casio has not announced the PRT-B70 yet, but according to the Amazon listings, the features include Bluetooth smartphone link, Quad Sensor (altimeter-barometer, compass, thermometer, step tracker), 200-meter water resistance, world time, 5 daily alarms, stop watch (24 hours), countdown timer (60 minutes), and LED light. Amazon also lists "Fishing Tracker" as a feature, and the watch has a "Fishing Timer" label on the dial and band. The watch has a width of 57.7 millimeters and uses module 5602.
A Google-cached page from casio-europe.com listed the following features: Bluetooth smartphone link, Neobrite luminous display, barometer (260 / 1,100 hPa), thermometer (-10 ° C / + 60 ° C), compass, altimeter (10,000 meters), location indicator (records the current position and then displays the distance and direction to that location, like the G-Shock Mudmaster GG-B100 and Pro Trek PRT-B50), mission log (route and elevation profiles are saved in the smartphone app and can be viewed on a map), total altitude (calculates all meters that have been climbed), altimeter data storage, pedometer, tide indicator, moon phases, sunrise/sunset times, fish timer, 1/100-second stopwatch (1/100-second for less than 1 hour, 1-second for 1 hour or more, up to 24 hours, with split), 1-minute countdown timer (24 hours), 5 daily alarms, button tone on/off, hand shift function, phone finder, automatic calendar, 12/24 hour timekeeping mode, mineral glass display, resin case and band, approximate 2-year battery life, 200-meter (20 bar) water resistance, dimensions of 57.5 x 50.8 x 16.8 millimeters, and a weight of approximately 72 grams.
With the Fish In Time feature, the watch tracks the best times to go fishing for a specific location, and an alarm is available for the peak time. Other Casio watches with a fishing feature include the Fishing Gear WS-1200H and WSC-1250H.
Update: In Japan, the PRT-B70-1JF, PRT-B70-2JF, and PRT-B70-5JF are October 2020 releases, with a list price of 32,000 JPY each before tax. Casio America announced the PRTB70-1, PRTB70-2, and PRTB70-5 for a November 2020 release, with a list price of $240 each.
Additional specifications from the official listing include an aluminum rotating bezel, auto double LED light (Super Illuminator) with afterglow (1.5/3 seconds), automatic altitude correction (using a phone's GPS, 4 times a day), automatic time adjustment (4 times a day via connected smartphone), soft urethane band, calorie consumption display, moon data (month age), and low temperature resistance (-10° C).
The watch also has a Fish Memo function that can record the location and barometric pressure tendency, using location information from a connected smartphone, when a fish is caught.