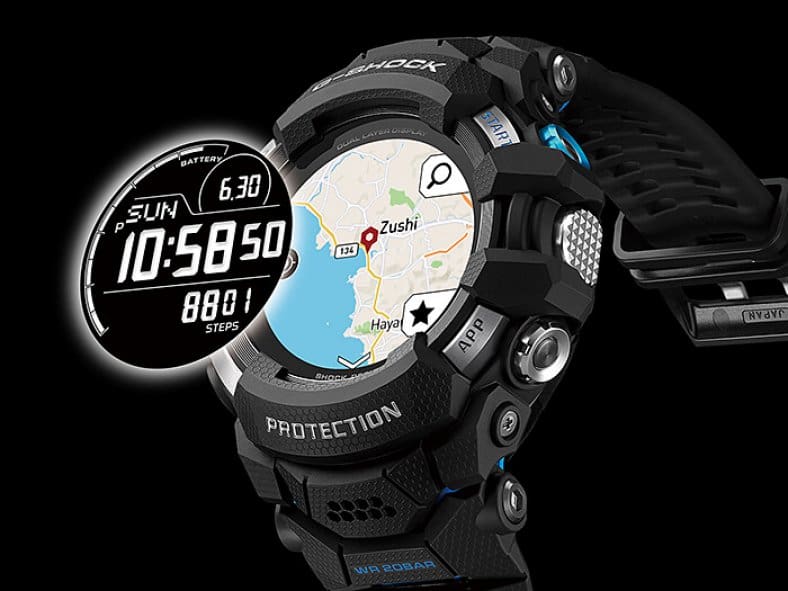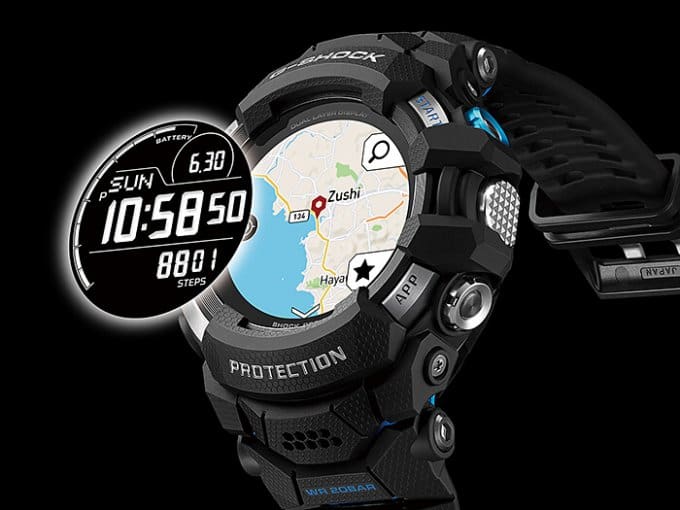 After much anticipation, Casio officially announced the G-Shock GSW-H1000 smartwatch for a May 2021 release. The GSW-H1000 is the first G-Shock smartwatch with Wear OS by Google, and it is part of the new G-SQUAD PRO line (MOVE PRO in the U.S.). Casio announced three debut models: the black and blue-accented GSW-H1000-1, the blackout GSW-H1000-1A, and the black and red GSW-H1000-1A4.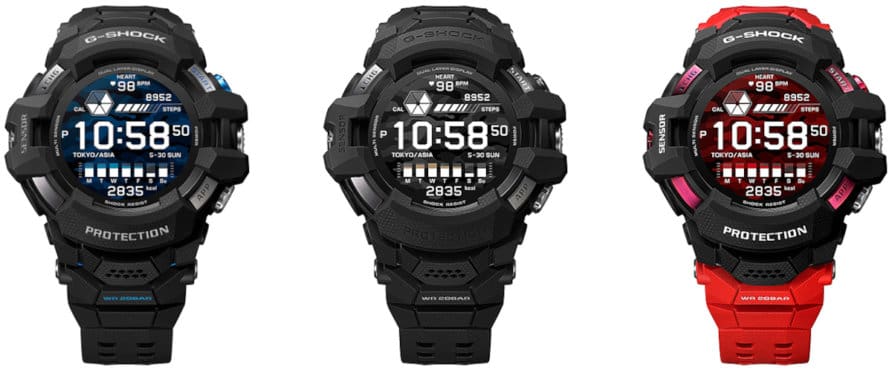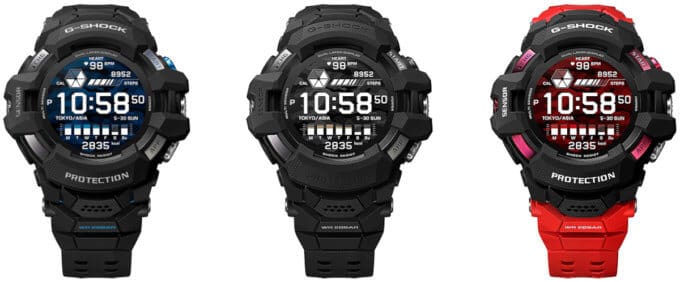 The watch is equipped with an optical heart rate monitor for fitness training. The display is a dual-layer 1.2-inch touchscreen made of mineral glass with an anti-fouling coating, with a 360×360 TFT LCD color display and a power-saving monochrome time display. The GSW-H1000 has a resin case, metal bezel, and soft urethane band. Like all G-Shock watches, it is shock-resistant and water-resistant to 200 meters.
Other major features include a microphone, GPS (including GLONASS and MICHIBIKI (QZSS)), accelerometer (step counter), gyrometer, environmental sensors (pressure sensor with altimeter and barometer, compass), offline color maps (with up to 5 saved locations), tide graph (showing past 12 hours and next 12 hours), moon age graph, fishing timer, and vibration alerts. The watch is also capable of syncing the time manually through GPS. Notifications for calls, email, social media, and more are available with Wear OS.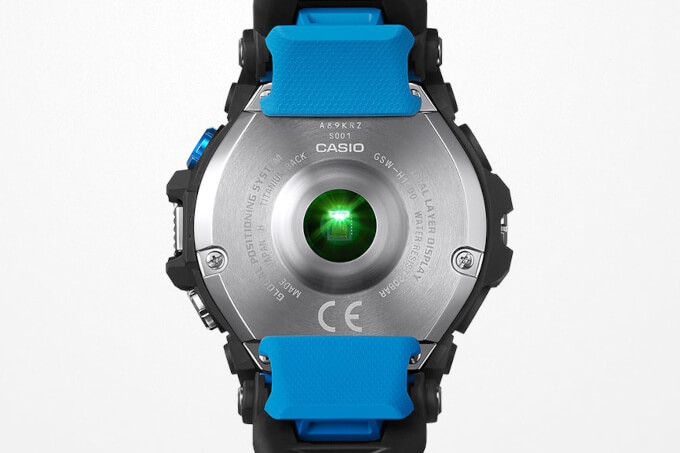 Like the GBD-H1000, which was the first G-Shock with a heart rate monitor, the GSW-H1000 measures VO2 max (maximal oxygen consumption) and calculates the VO2 max recovery time, as well as offering other exclusive fitness features like a training log, training analysis, and training planner. Other fitness features include a calorie consumption display and a heart rate target alarm. Unlike the GBD-H1000, it also has a workout mode function for activities other than running, including 15 types of activities and 24 types of indoor workouts. In addition to displaying and recording fitness data such as distance, speed, time, pace, heart rate, and calories burned, there is also a switchable map and route display for some of these activities. Up to 8 original indoor workouts can also be added. (The 15 types of activities are running, trail running, road cycling, cycling, mountain biking, pool swimming, surfing, sailing, kayaking, standup paddleboarding (SUP), skiing, snowboarding, trekking, fishing, and walking.) In Japan and Asia, the GSW-H1000 is compatible with the Casio CMT-S20R-AS motion sensor device and the Runmetrix app. The watch is also compatible with Google Fit.
The dedicated app button on the lower right allows switching through the various Casio functions, which are also accessible by swiping around the edge of the screen. Some of these functions include the map, compass, barometer, altimeter, tide graph, and sunrise and sunset time.
The microphone enables the use of voice commands, and Google Assistant is supported. The fishing timer is expected to be similar to the Pro Trek PRT-B70, which gives alerts and ratings for the the best times to go fishing. The fishing timer data is based on the current location, hour angle of the moon, and moon age. The watch has a corrosion-resistant titanium case back with a titanium carbide finish for scratch resistance.
Multiple original watch faces are available, including a fitness mode with multi-layer information, analog time mode, and dual-layer monochrome mode. Theme colors of blue, red, gold, or a custom option are available for each mode. The fitness watch face is customizable to show different types and combinations of data.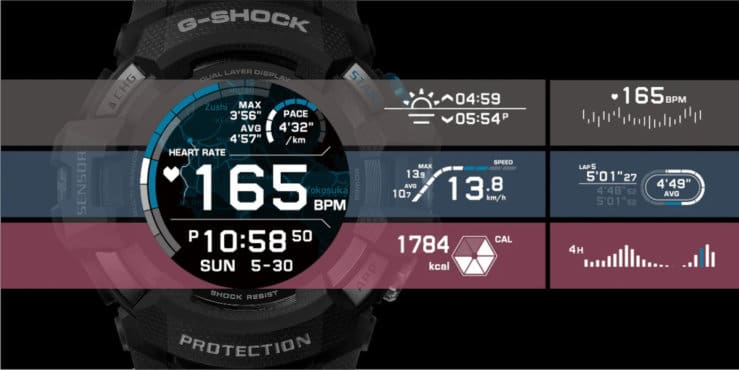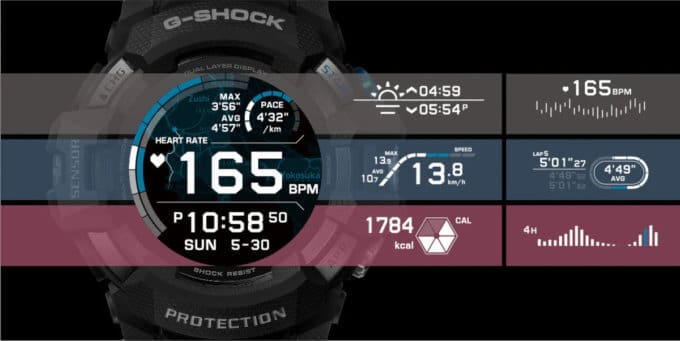 The GSW-H1000 has access to thousands of third-party Wear OS apps on the Google Play store. It will also use the G-Shock Move smartphone app for its proprietary fitness functions and other features. As expected for a Wear OS smartwatch, the GSW-H1000 is equipped with Wi-Fi (802.11 b/g/n) and Bluetooth. The lithium-ion battery is rechargeable by a USB charger through the magnetic charging terminal, and the watch comes with a dedicated charging cable. According to Casio, the recharging time is approximately 3 hours, and the battery life under normal use is 1.5 days (without using GPS and with the power-saving "Color display auto OFF" setting), and approximately 1 month in multi timepiece mode (with timekeeping and sensors only and Wear OS off).
The watch measures 65.6 x 56.3 x 19.5 millimeters and weighs 103 grams, which is very close to the GBD-H1000 (63.0 x 55.0 x 20.4, 101 grams).
The features that set the G-Shock GSW-H1000 apart from other Wear OS smartwatches are its superior shock resistance and 200-meter (20-bar) water resistance. With G-Shock-level protection, the GSW-H1000 is suitable for any sport, outdoor activity, or environment. We're not aware of any other Wear OS smartwatches with 200-meter water resistance, or even 100-meter. Most smartwatches are only water-resistant to 50 meters, such as the Apple Watch Series 6. The maximum for certain Garmin watches is currently 100 meters, even for its diving models. With its industry-leading 200M WR, the GSW-H1000 is suitable not only for swimming but also for more intense water activities like surfing and recreational diving.
The type of CPU was not revealed. Also, the watch does not appear to have NFC, but it is otherwise compatible with Google Pay. According to the case back, the GSW-H1000 is made in Japan. According to Google, Wear OS is compatible with phones running Android 6.0+ (excluding Go edition) or iOS 10.0+.
The GSWH1000-1 will have a list price of $699 in the U.S. In Japan, the GSW-H1000-1JR, GSW-H1000-1AJR, and GSW-H1000-1A4JR have a list price of ¥88,000 each (including tax), and will be released on May 15, 2021. G-Shock U.K. has the GSW-H1000-1ER, GSW-H1000-1AER, and GSW-H1000-1A4ER listed as coming soon, with a list price of £599 each. Each model is expected to cost €699 in some European countries. (Update: G-Shock U.S. released the red GSWH1000-1A4 for $699 in September 2021.)
An official website for the GSW-H1000 is now available at world.g-shock.com.
G-SQUAD PRO GSW-H1000 Video:
Sources: g-shock.eu, world.g-shock.com, gshock.casio.com