Update: Casio updated the Fishing Gear line with the WS-1500H series in December 2022.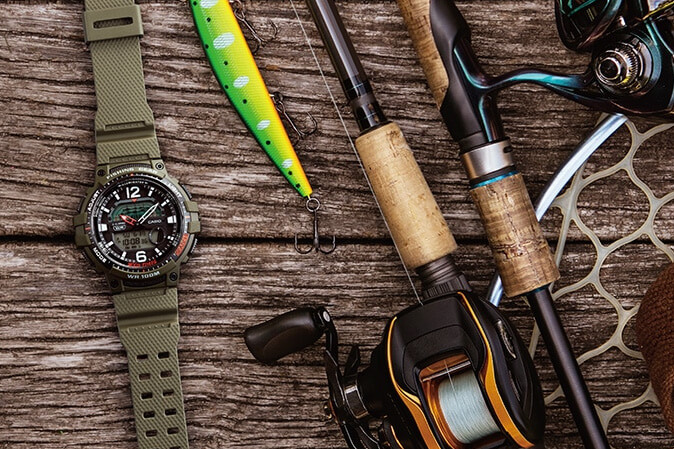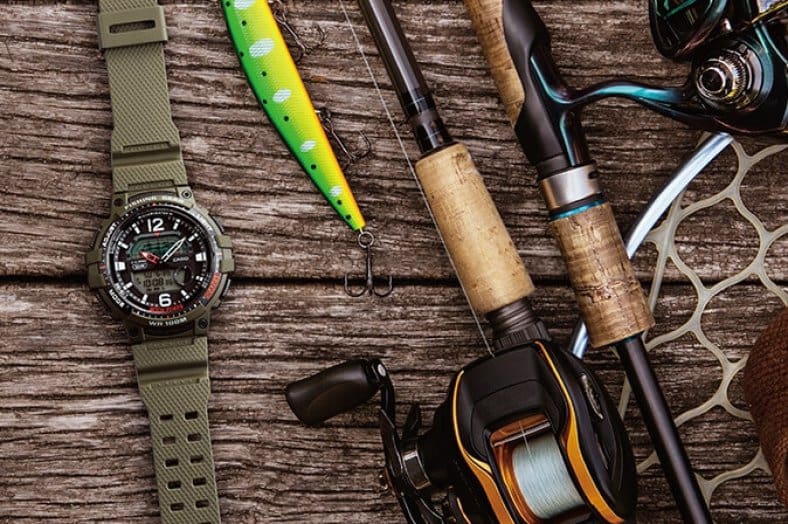 If the Fishing Timer function of the upcoming Pro Trek PRT-B70 peaked your interest, then you might want to take a look at the WSC-1250H and WS-1200H watches from Casio's Fishing Gear series, which offers the fishing feature at a much more affordable price.
These ultra-affordable watches have a lot to offer in addition to the Fishing Timer feature. The WSC-1250H (list price US$39.95) has an analog-digital display and an approximate 3-year battery life, and the WS-1200H (US$26.95) has a full digital display and an approximate 10-year battery life. Features include 100-meter water resistance, resin glass, LED light with afterglow (1.5 or 3 seconds), fishing mode, moon data (moon age and moon phase graph), dual time, 1/100-second stopwatch (23:59'59.99″ max), countdown timer (24 hours max with auto-repeat), 3 multi-function alarms with 1 snooze alarm, hourly time signal, DST on/off, full auto-calendar, 12/24-hour format, and button tone on/off.
The Fishing Timer, or fishing mode, feature shows the fishing suitability of a specific date and time, which is indicated by one of five levels. This calculation apparently takes the location, moon age, and moon phase into account. It would be nice to see this feature added to a G-Shock model in the future, but at such a low price for the Fishing Gear series, it's hard to resist just buying one now and keeping it in the tackle box. We especially like the WS-1200H for its low price, larger LCD display, and 10-year battery.
Casio WS-1200H: Full digital LCD Display. Available in black (WS-1200H-1AV), blue (WS-1200H-2AV), and green (WS-1200H-3AV)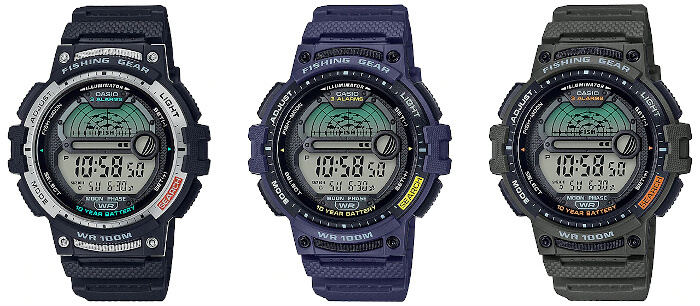 Casio WSC-1250H: Combination analog-digital display. Available in black (WSC-1250H-1AV), blue (WSC-1250H-2AV), and green (WSC-1250H-3AV).