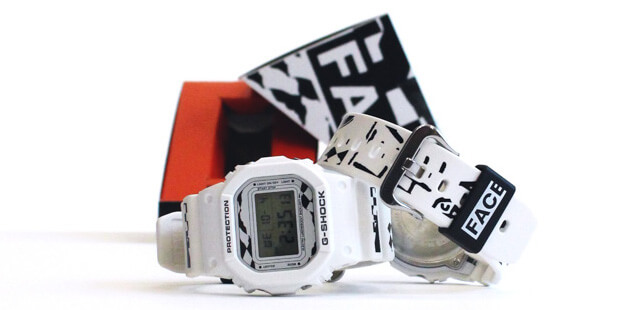 Featuring a more artistic design compared to other recent collaboration watches, the Facetasm x G-Shock DW-5600 will be released on December 15, 2017. The first collaboration from the eclectic Japanese fashion label, this white DW-5600 has an abstract black and white design on the face and bands and a black band keeper with a "Face" logo. We're not sure where this pattern originates from or what inspires it, but it appears to match the experimental aesthetic that the luxury streetwear brand is known for.
The Facetasm x G-Shock DW-5600 will be available at three Facetasm stores in Japan: Facetasm Jingumae, Facetasm Omotesando, and Facetasm Hankyu Men's Tokyo store.
Facetasm was launched in 2010 by designer Hiromichi Ochiai and has received major media attention from the likes of Vogue and Elle. In 2016, Facetasm was the first Japanese fashion label to be a finalist for the prestigious LVHM Prize.
Photo via fashionsnap.com