The first page of search results for "G-Shock" on Shopee is filled with fakes.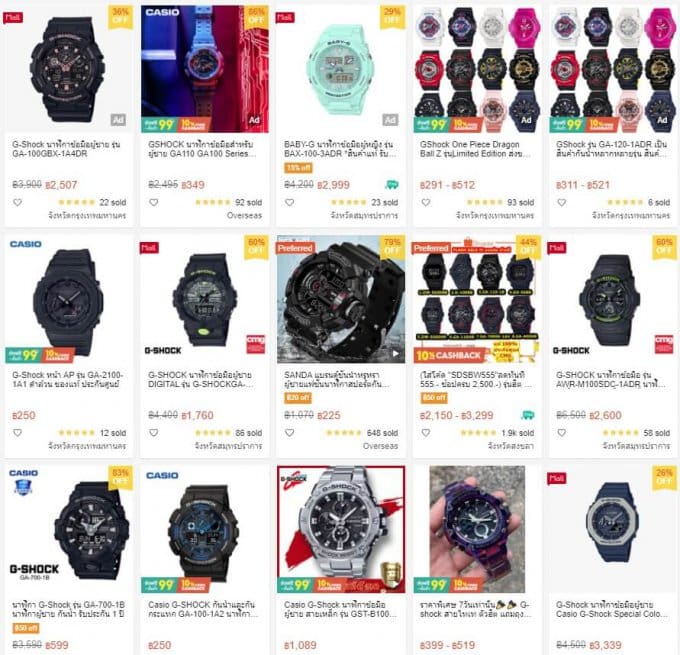 Fake G-Shock watches have always been around, but it used to be that fakes were not so easy to come by online. With the rise of shopping apps combined with G-Shock's growing popularity, especially in regions like China and Southeast Asia, that is no longer the case, with counterfeit watches flooding popular apps like Lazada and Shopee.
The most commonly faked G-Shock watches are popular models like the GX-56BB-1, DW-5600BB-1, DW-6900BB-1, GA-2100-1A1, as well as the GA-110 and GA-100 series. There are also fakes of more expensive models like the GST-B100 and GG-1000. It should be noted that Casio actually has official shops on these apps, where you can be assured that you will receive a genuine watch, but these fakes are being sold by other sellers and are easily found, as any search will reveal. Lazada and Shopee supposedly have strict anti-counterfeit policies, but you would never know that from shopping there.
Some of these fakes are extremely cheap (around $5-$15), and some listings have sold thousands of units. The listings use official photos of real G-Shock watches, and many have user reviews with photos of the fake watches, but it is not always apparent that they are fake. While most of the customers are knowingly buying fakes, you have to consider the possibility that some people may be getting duped by deceptive listings with more realistic prices. In addition to the danger of being cheated, these listings are so abundant that it also makes it harder for people who are looking for authentic watches and those who are trying to sell them.
It also seems that there are now more fake G-Shocks being sold on eBay with deceptive listings, with complaints often heard about buyers receiving fake watches when they were expecting authentic ones. We recently saw a listing for a new DGK x G-Shock GX-56 with a price of $119, which is too good to be true for a discontinued limited edition like that. Upon looking at the seller's ratings, there were many complaints about buyers receiving fake watches.
In addition to researching real G-Shock watches and their prices which will help you to spot fakes, we suggest buying from authorized retailers whenever possible.