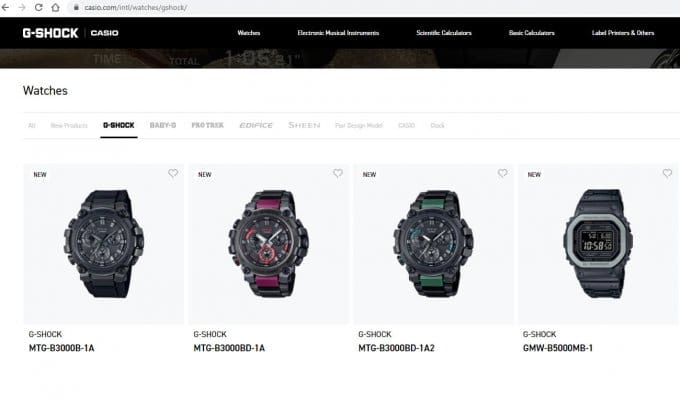 The casio-intl.com website now redirects to the newly implemented casio.com/intl, which appears to be powered by the same backend as the other Casio sites for Japan and select Asian countries. The casio-intl.com site was one of our preferred sources for G-Shock model specifications, as it was user-friendly in a straightforward way and contained more detailed specs than some of the official western G-Shock sites (though the western sites are now showing more complete specs on new models). It generally provided the same specs as the Japan site, but in English. The new site still serves that purpose, but it now requires multiple clicks to view the full specifications for each model. There are some enhancements, such as the ability to save favorites, a more attractive and modern site design, extended feature descriptions and images, and higher-resolution images for recent models. The old listings for individual models appear to be properly redirecting to the new site, so there shouldn't be any disruptions with Google searches.
The monthly new release page (www.casio-intl.com/asia-mea/en/wat/new_products/), does not exist anymore, as it now redirects to the casio.com/intl homepage, but the most recent new releases for all Casio watches can be seen at www.casio.com/intl/watches/.
There is also the gshock.casio.com/intl subdomain and site, which is limited to G-Shock watches and contains news links and new releases on the homepage. According to world.g-shock.com, this site serves the Middle East, Africa, and Asia. As it was before, some releases on the international site may not be released in western countries, but Australia and New Zealand usually get the same releases as Asia.
The casio.com/intl site does not offer online sales, and other country-specific G-Shock sites that do can be found at world.g-shock.com.
Other official G-Shock sites with online sales in Asia include the following:
Japan: gshock.casio.com/jp
Malaysia: gshock.casio.com/my
Singapore: gshock.casio.com/sg
Taiwan: gshock.casio.com/tw
There are also official Casio stores on Shopee and Lazada in some Asian countries.
Update: The India section of casio-intl.com is still up at www.casio-intl.com/in/en/, but it hasn't been updated since January.