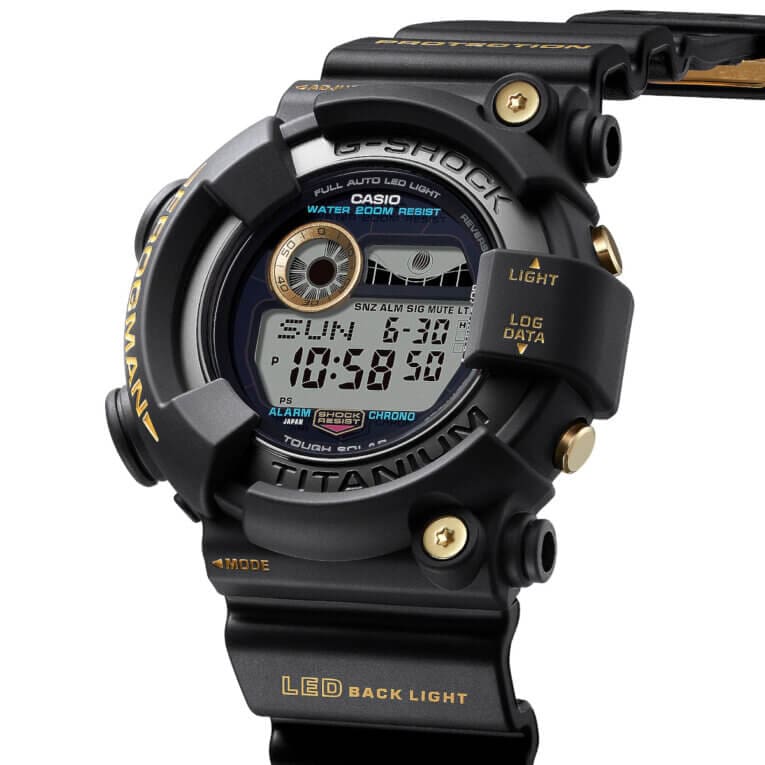 We were getting a little worried about the G-Shock Frogman GW8230B-9A not showing up in the United States, but we just noticed that it is being sold by lottery (or "Casio ID Limited Edition Contest") at Casio.com with a price of $620 plus shipping. (The entry period is open for only two days starting now, so you might want to head over there soon.) This is the first time we've seen a limited edition watch being sold by contest by Casio America, although it has been done by Casio in Japan before.
The limited and made-in-Japan GW8230B-9A is an all-new model created for the 30th Anniversary of the Frogman diving line. The features and functions are the same as the GWF-1000, except that the GW8230B-9A has a titanium screw-back case and an LED light (with Frogman character logo) and does not have Multi-Band 6 auto radio time correction. The GW8230B-9A also has a commemorative Frogman 30th Anniversary case back. Watches in the Frogman line are the only G-Shocks with ISO Diver's 200M water resistance (over the standard 200M water resistance).
A Casio ID (free to register) is required to enter the contest and the entry period is November 9, 2022, 10:30 am EST to November 10, 2022, 11:59 pm EST. Members must reside in the U.S. and be 18+ years of age. Credit card payment information (and pre-authorization for the full amount) is required, but the card will not be charged unless you are one of the winners. To enter and for more information, visit the product page at casio.com/us.
The GW-8230B-9A has been selling out in other parts of the world. We don't know if any other retailers will be selling it in the U.S., but we will post any updates on our Twitter account (@gcentralblog).
Update: The GW8230B-9A is also available for pre-orders at Reeds Jewelers. [Now sold out]
G-Shock Frogman GW8230B-9A Specifications
List Price: $620
Dimensions: 52 x 50.3 x 18 mm Weight: 84 grams
Protection: Shock Resistant, ISO Diver's 200M Water Resistance
Structure: Titanium Case, Resin Bezel (Biomass), Resin Band (Biomass), Mineral Glass
Features: Tough Solar power, Tide and Moon Graph, Dive Time (24 hours), Interval Time (48 hours), Dive Log (10 Records), World Time, 1/100-Second Stopwatch (24 hours), Timer (24 hours, settable in minutes and hours), 5 Daily Alarms with 1 Snooze, Hourly Time Signal, Full Auto LED Backlight with 1.5 or 3 second Afterglow, Full Auto-Calendar, Button Tone On/Off, 12/24-Hour Format