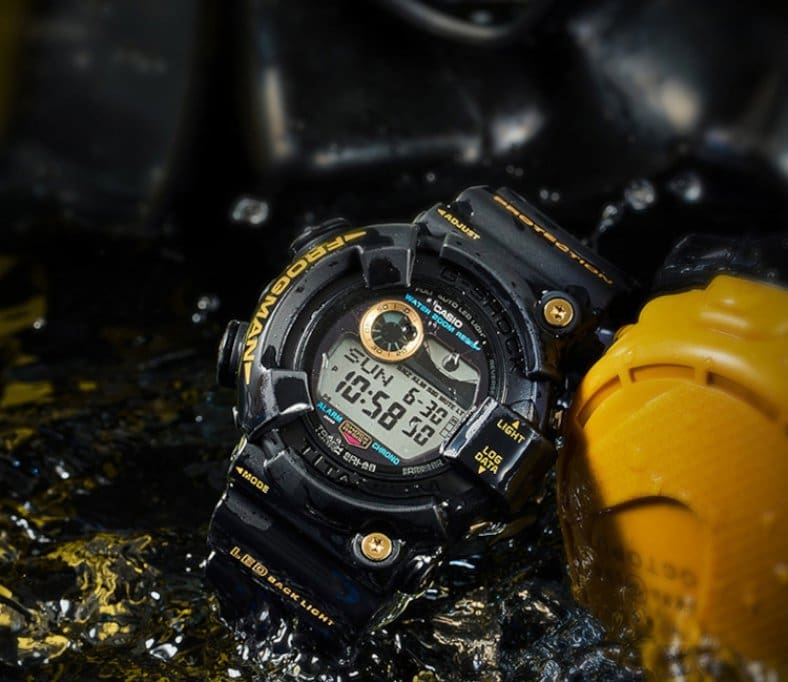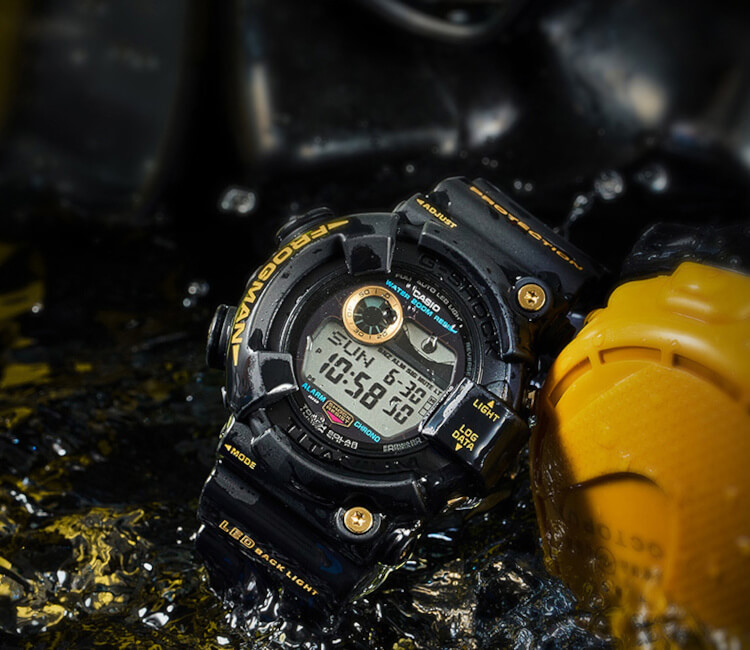 In celebration of the 30th Anniversary of G-Shock's signature diving line, Casio is releasing a limited edition Frogman watch inspired by the second-generation Frogman DW-8200 (and specifically the black and gold DW-8200B-9A). While it appears to be another Frogman GF-8250 model at first glance, the GW-8230B-9A is the first model of an all-new series and includes upgrades over the GF-8250 such as a titanium case and an LED backlight. Other features include Tough Solar power, tide and moon graphs, and diving and interval time measurement with dive log. Taking a cue from recent Pro Trek models, the bezel and band are made from eco-friendly biomass plastics. Leaked catalog images show that the watch has a Frogman character image on the backlight and a special Frogman 30th Anniversary case back design.
Based on the "GW" prefix, it would be logical to expect the watch to have the Multi-Band 6 radio timekeeping feature (a.k.a. "Waveceptor"), but apparently it does not have it. There is no "received" indictor on the display, and leaked catalog images do not list Multi-Band 6 as a feature. Also based on the catalog image, the module is 3521, and the Japanese instruction manual (casio.jp) does not list Multi-Band 6 in the specifications.
The Frogman line, introduced in 1993 with the DW-6300, is known for its ISO Diver's 200M water resistance and made-in-Japan status. (The GW-8230B-9A features a "Japan" label next to the Shock Resist logo on the face.) Prior to the release of the analog GWF-A1000 with a carbon monocoque case, it was also known for its stainless steel or titanium screw-back cases.
The GW-8230B-9AJR will be released in October in Japan and is expected to be released worldwide.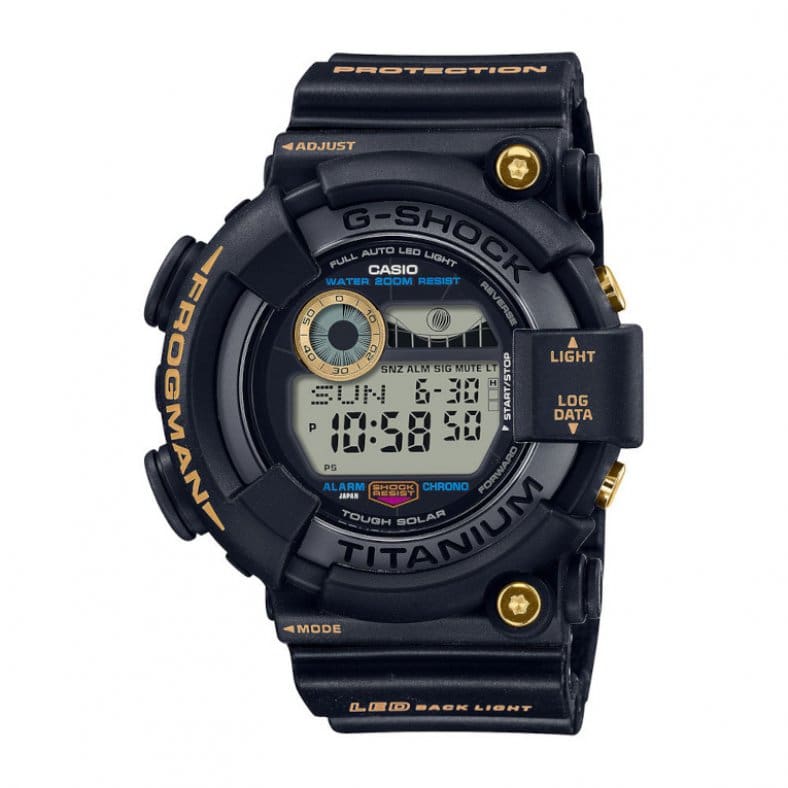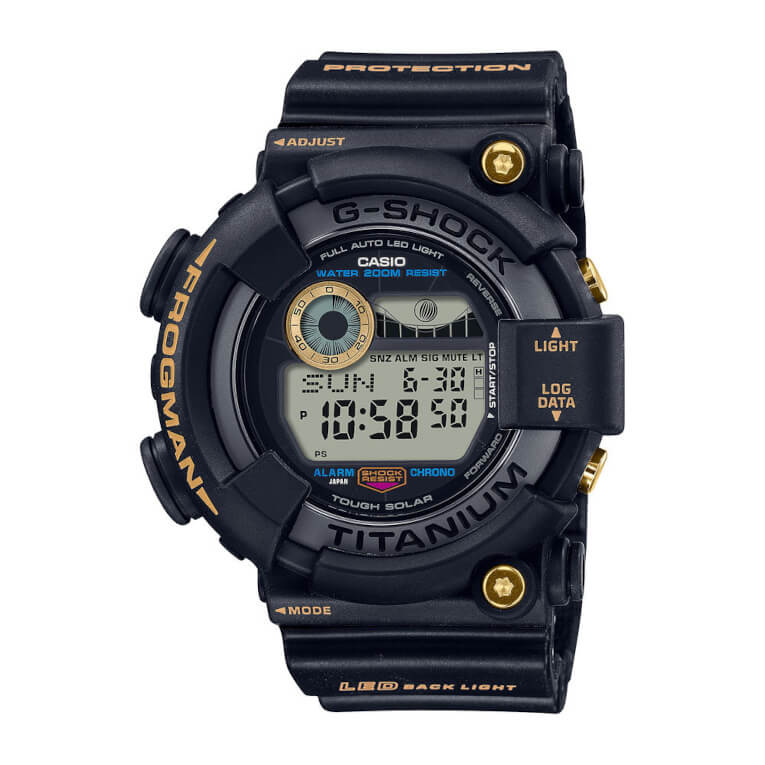 Buy GW8230B-9A
Casio Amazon Reeds eBay
GW-8230B-9A Specifications
Price: $620 (USA, GW8230B-9A), 77,000 yen (Japan, GW-8230B-9AJR, tax included)
Size: 52.0 x 50.3 x 18.0 mm
Weight: 84 grams
Diving Functions: Dive Time: 1-second measurement unit and 24 hours max, Interval Time: 1-minute measurement unit and 48 hours max, 10 Log Memories (dive start date and time, dive time, interval time)
Tide and Moon: Tide graph and moon shape display, date selection, time selection (tide graph only)
World Time: 31 time zones, 48 cities, summer time (DST) setting
Alarm: 5 alarms with 1 snooze, hourly time signal
Stopwatch: 1/100-second, 24 hours max, elapsed time, split time, 1st and 2nd place times
Timer: 24 hours max, settable in 1 minute and 1 hour units
Light: Full auto LED light with 1.5 or 3-second afterglow
Module: 3521 (instruction manual at casio.com)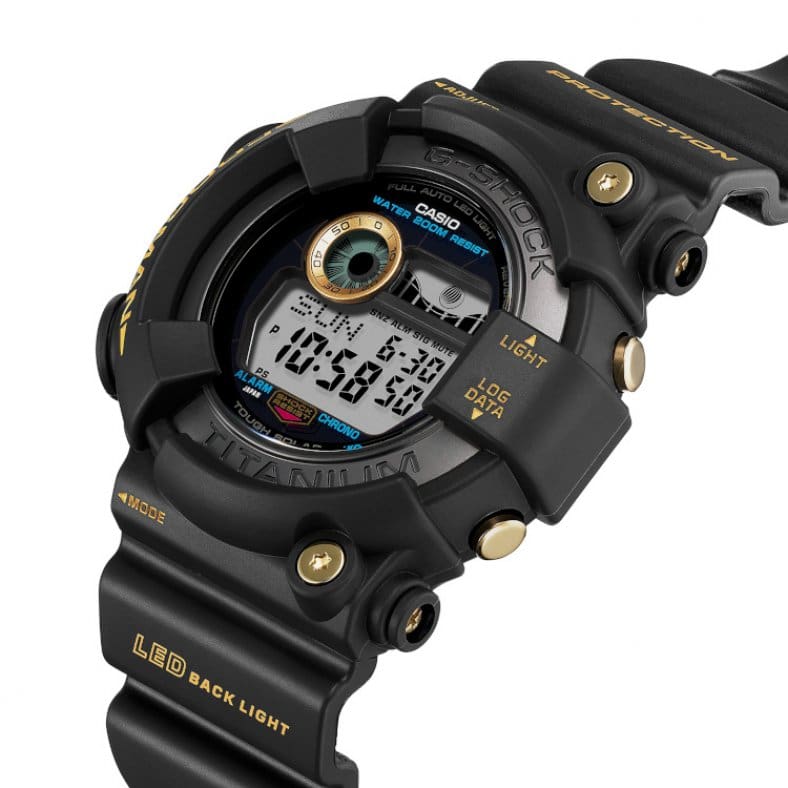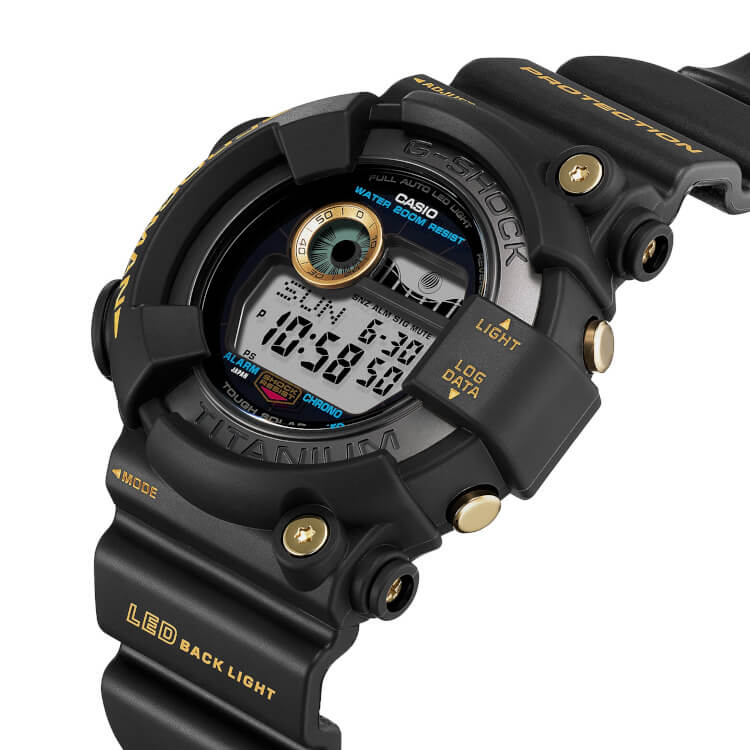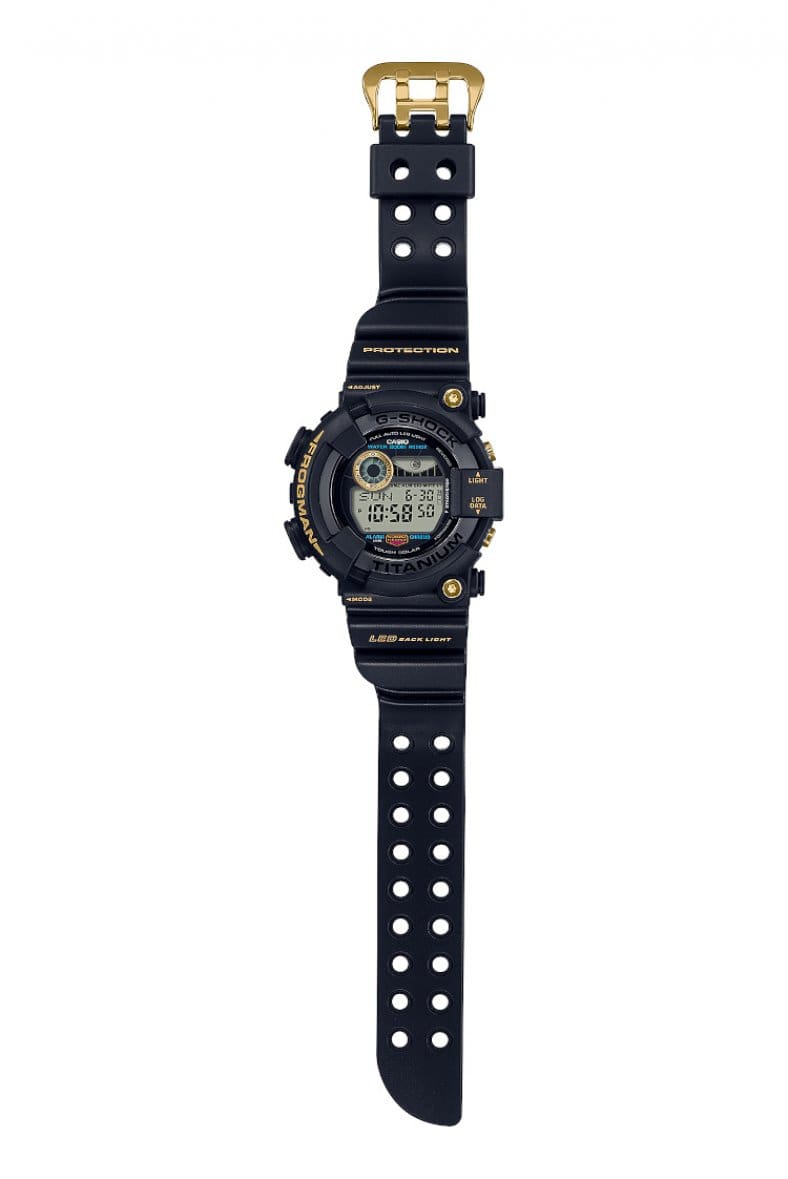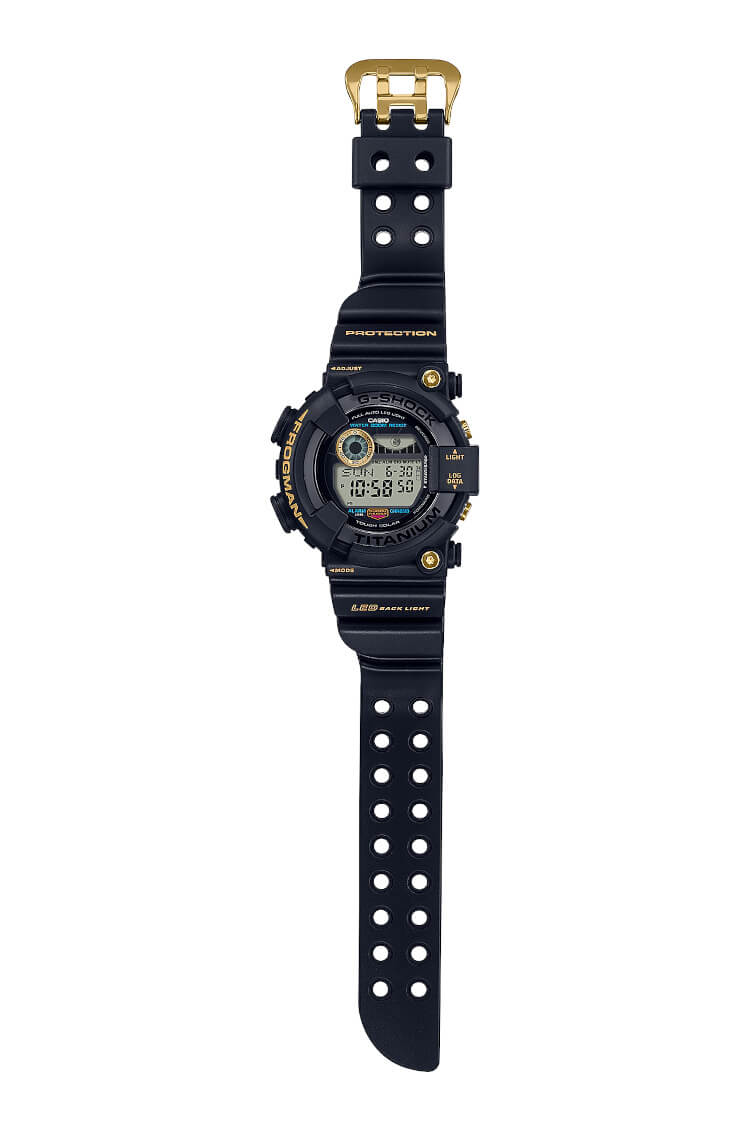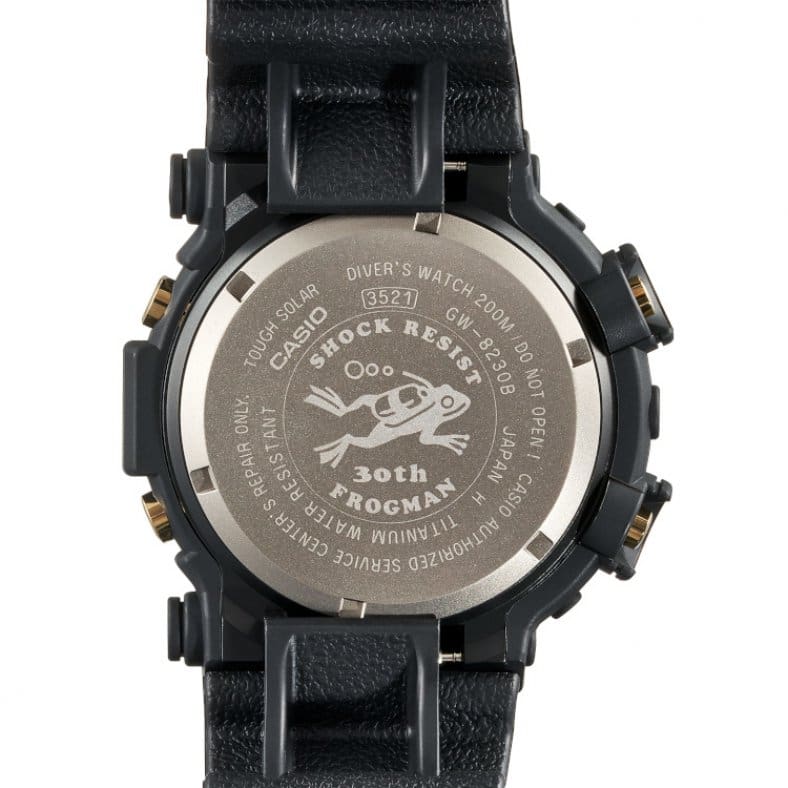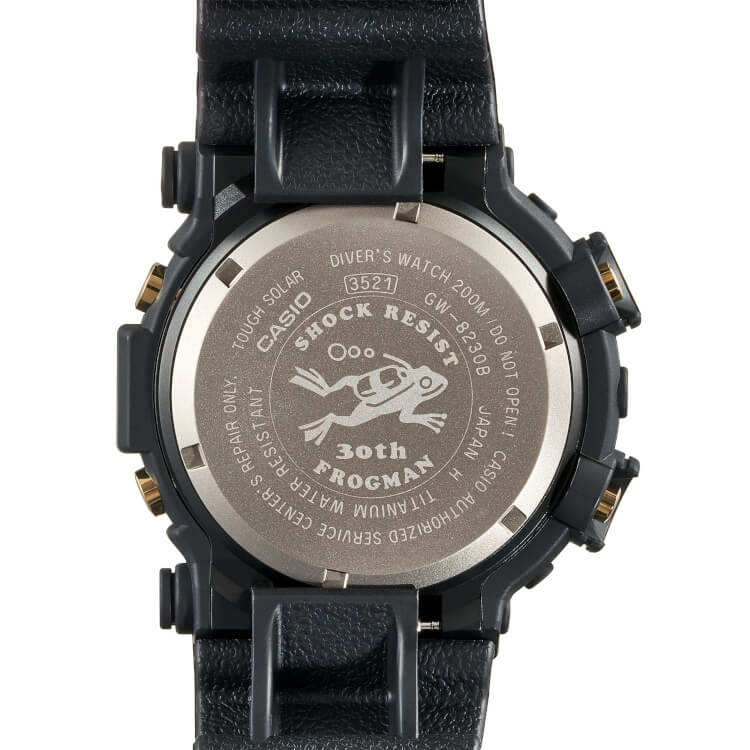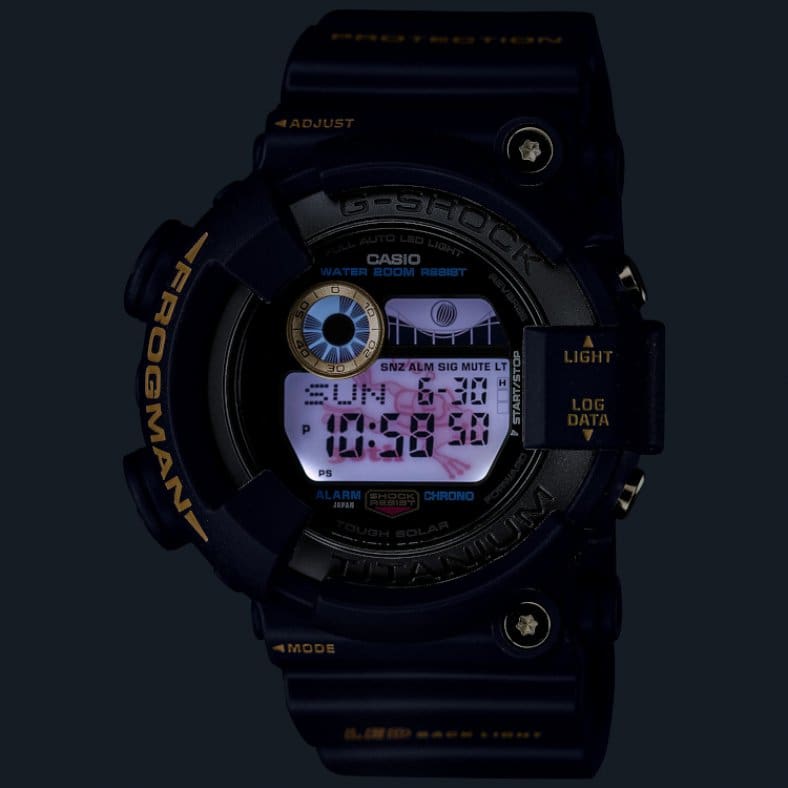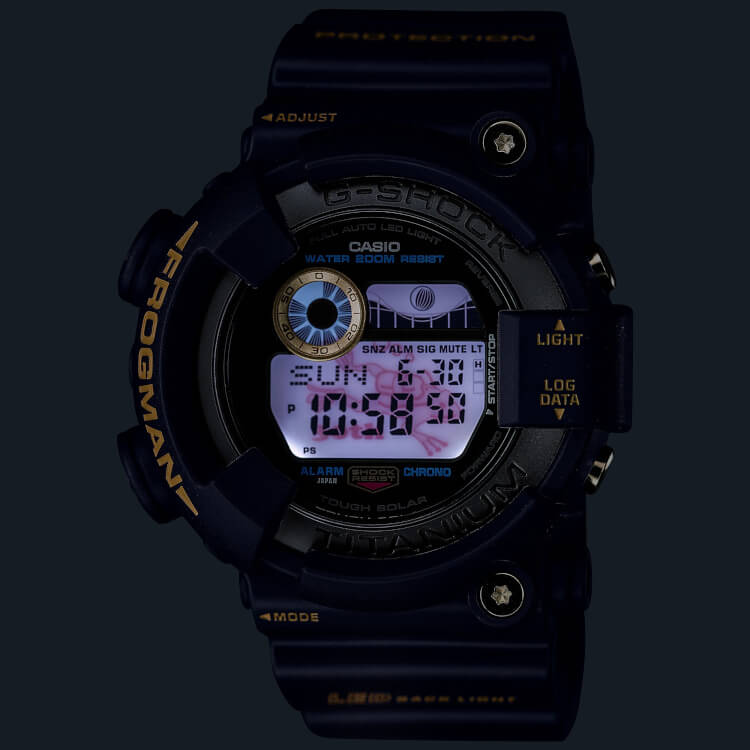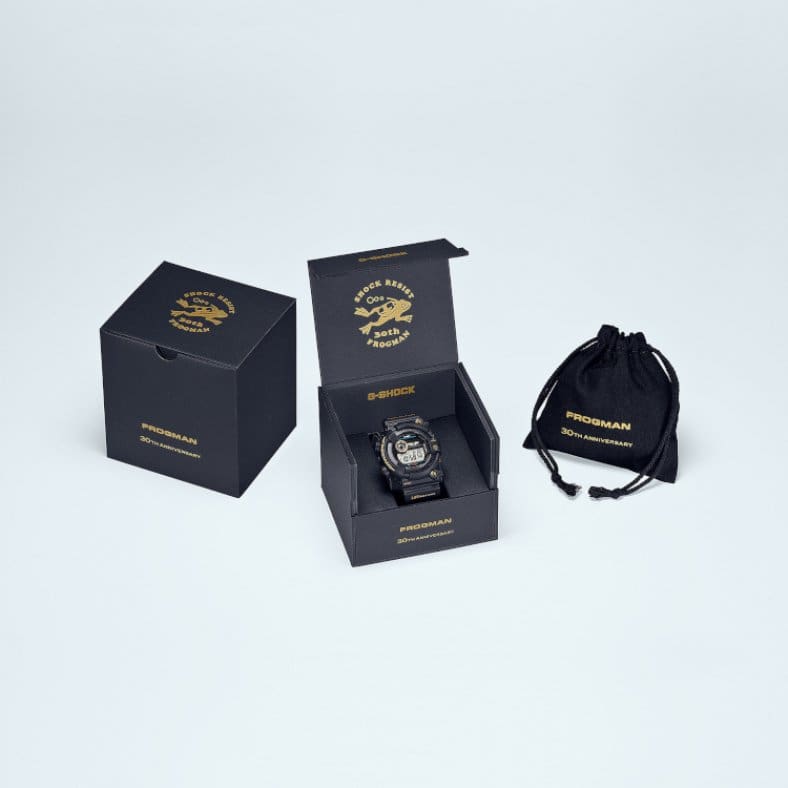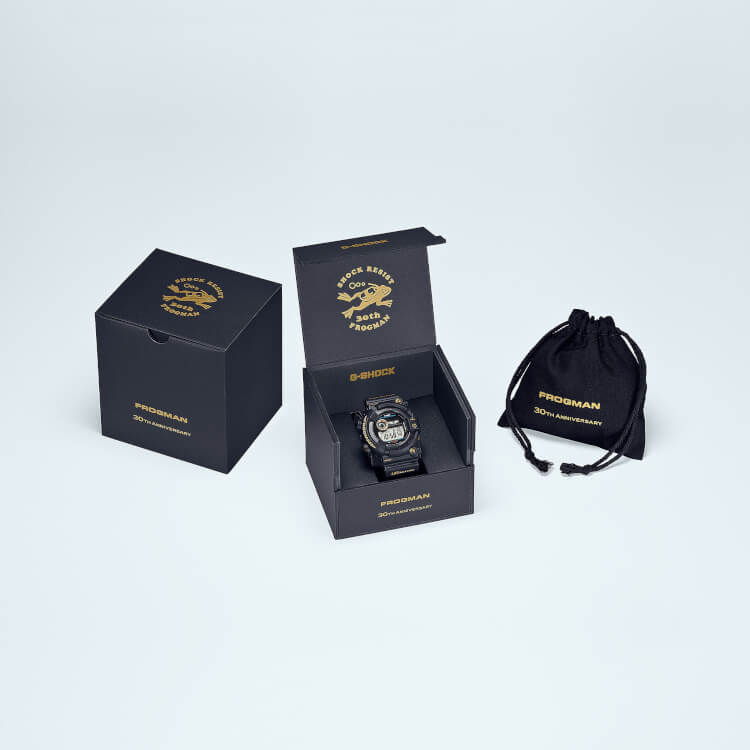 Alternatives: The GW-8230 is likely replacing the GF-8250, with the last GF-8250 release being the GF-8251K-7JR from 2019. Other active Frogman series with ISO Diver's 200M water resistance include the more advanced GWF-D1000 and the analog GWF-A1000. The GWF-D1000 includes a water depth sensor, compass (with horizontal compensation that works underwater), and thermometer. The GWF-A1000 is the first Frogman model with an analog display. It uses the analog hands to measure dive time and interval time, and it is also equipped with Bluetooth smartphone link. The closest active model to the GW-8230 is the GWF-1000. They share most of the same functions, but the GW-8230 is slightly smaller and also significantly lighter due to its titanium case. The GW-8230 also has an LED light versus the EL (electro-luminescent) backlight of the GWF-1000. The GWF-1000 has Multi-Band 6 automatic radio time adjustment, which the GW-8230 lacks.
| | | |
| --- | --- | --- |
| | | |
| | | |
| | | |
| | | |
| | | |
| | | |
| | | |
| | | |
| | | |
| | | |
| | | |
| | Unit: 1 second, Range: 24 hours | Unit: 1 second, Range: 24 hours |
| | Unit: 1 minute, Range: 48 hours | Unit: 1 minute, Range: 48 hours |
| | 10 log memory records (dive start date and time, dive time, interval time) | 10 log memory records (dive start date and time, dive time, interval time) |
| | 31 time zones, 48 cities + UTC, DST on/off | 31 time zones, 48 cities + UTC, DST on/off |
| | Unit: 1/100 second, Range: 24 hours, Modes: elapsed time, split times, 1st-2nd place times | Unit: 1/100 second, Range: 24 hours, Modes: elapsed time, split times, 1st-2nd place times |
| | 24 hours max, settable in minutes and hours | 24 hours max, settable in minutes and hours |
| | | |
| | | |
| | Full Auto LED Backlight with 1.5 or 3 second afterglow | Full Auto EL Backlight with 1.5 or 3 second afterglow |