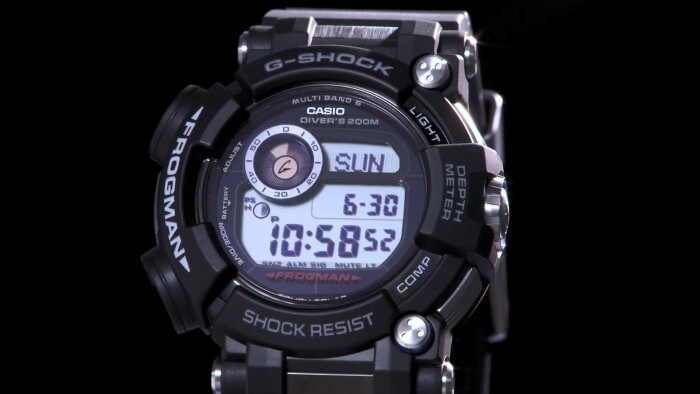 There is a new all-digital Master of G watch available and it is the top of the line all-digital G-Shock. The G-Shock Frogman GWF-D1000 is a June 2016 release. The initial models include the GWF-D1000-1JF, the GWF-D1000B-1JF, and the GWF-D1000K-7JR Love The Sea And The Earth 2016 limited edition model.
Update: Casio America announced the GWFD1000B-1 with a list price of $1,050.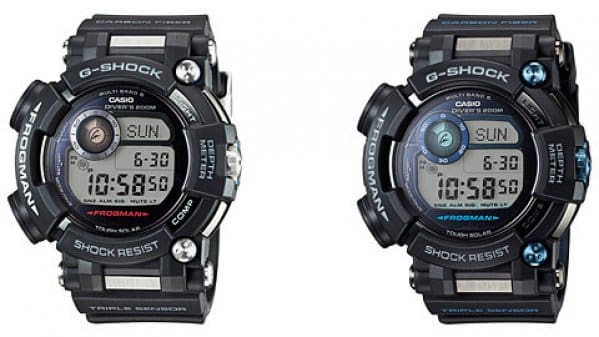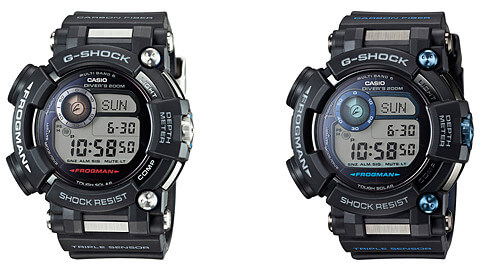 The major new features of the GWF-D1000 are a depth meter sensor to gauge diving depth, a sapphire crystal for improved scratch resistance, a compass bearing sensor that works underwater, a thermometer to measure water temperature, and a carbon fiber insert band. Like the previous GWF-1000 model, the GWF-D1000 has Tough Solar power, Multi-Band 6 atomic timekeeping, and tide and moon age data. The new model maintains the Frogman's tradition of superior build quality with a stainless steel case and a screw-lock case back with DLC coating. Though it differs from the usual Triple Sensor-equipped (pressure sensor, compass, thermometer) G-Shocks, this Frogman is also billed as a Triple Sensor watch with its water depth gauge, compass, and thermometer. Unlike other G-Shocks with a compass sensor (except for the GWN-Q1000 Gulfmaster), this one has automatic horizontal compensation. The GWF-D1000 also has a Time Stamp function that can store 20 time stamp records of water depth, water temperature, and compass bearing. The Frogman line, first released in 1993, is G-Shock's signature diving watch and is the only G-Shock line with 200-meter water resistance that is ISO-compliant.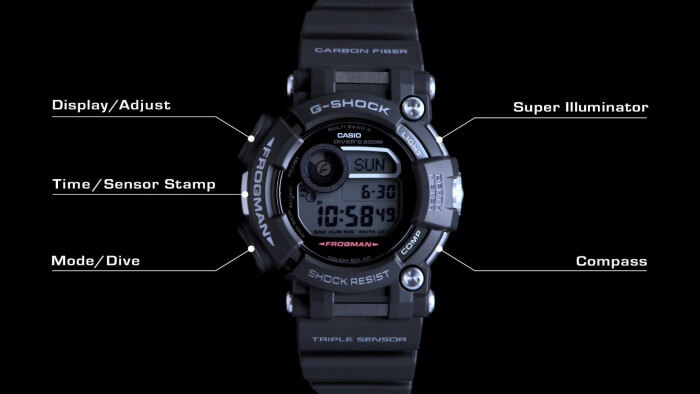 The GWF-D1000-1JF has silver accents and a red Frogman logo, while the GWF-D1000B-1JF has a blue ion plating on the front screws and sensor and a blue subdisplay ring and Frogman logo. The underside of the bands of the GWF-D1000B-1JF is also blue.
The dimensions of the GWF-D1000 are 59.2 x 53.3 x 18.0 mm which is slightly larger than the GWF-1000 (58.3 x 52.8 x 18.0 mm) and the weight is 141 grams. Retail list price for the GWF-D1000-1JF is ¥125,000 JPY (~$1,098 USD). The GWF-D1000B-1JF and GWF-D1000K-7JR are ¥130,000 JPY (~$1,142 USD).
G-Shock Frogman GWF-D1000-1JF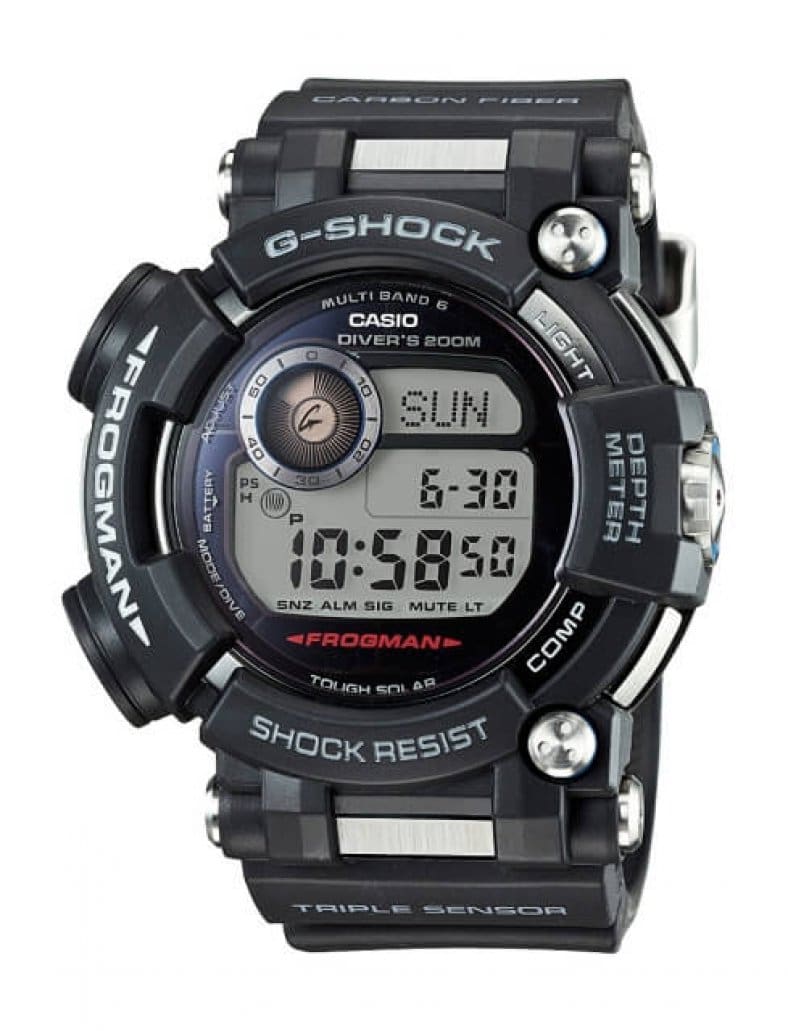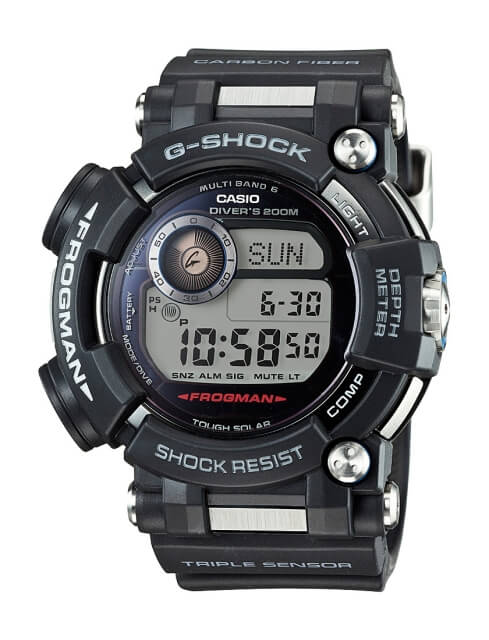 GWF-D1000-1JF on Amazon GWF-D1000-1JF on eBay
G-Shock Frogman GWF-D1000B-1JF
The GWF-D1000B-1 is also a U.S.A. release as the GWFD1000B-1 with a list price of $1,050 USD.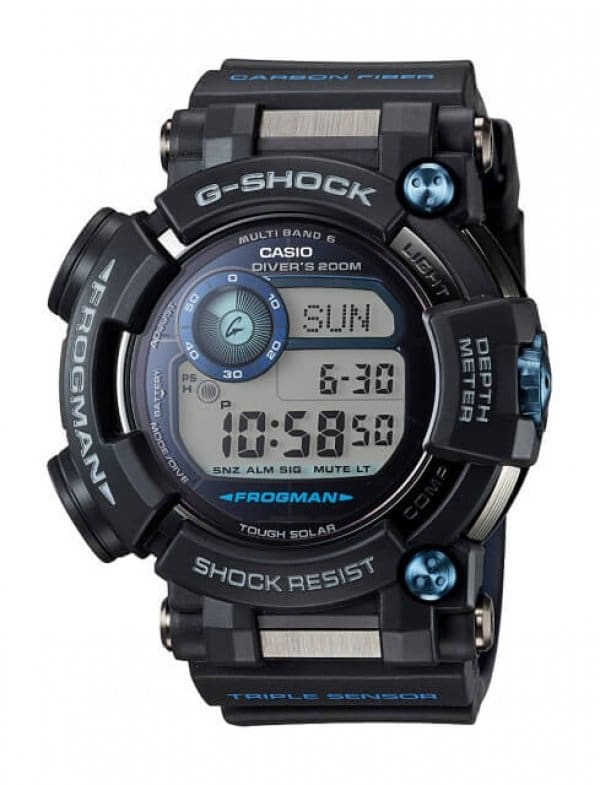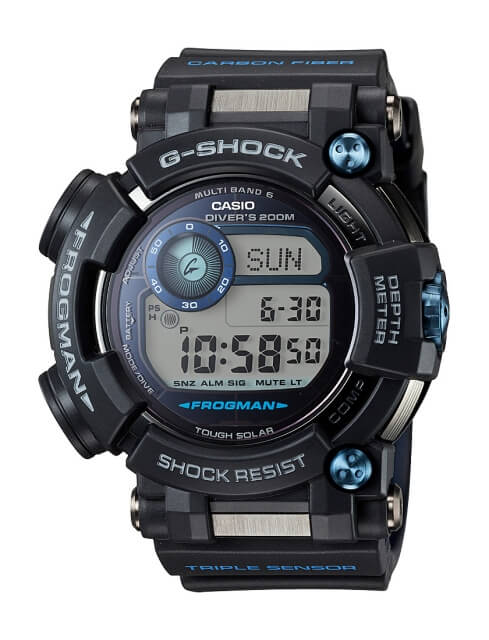 GWFD1000B-1 on Amazon GWF-D1000B-1 on eBay
G-Shock Japan has added a new Frogman page.
Screw Lock Back Case and Stainless Steel Body: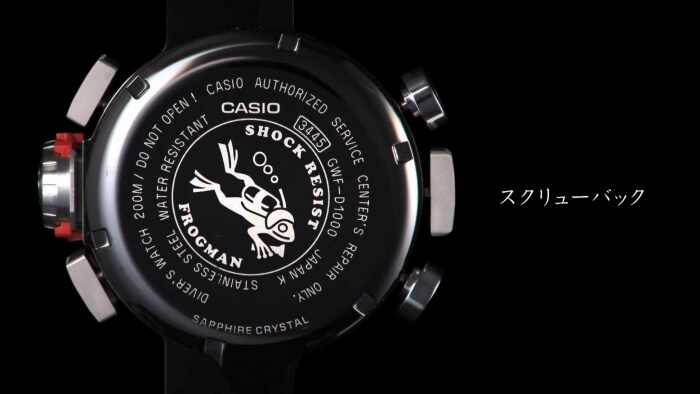 First G-Shock Frogman GWF-D1000 Promotional Video:
GWF-D1000 Specifications:
Shock Resistant
ISO 200M Water Resistance
Tough Solar charging system with rechargeable battery
Multi-Band 6 atomic timekeeping via radio wave reception (Japan x 2, USA, UK, Germany, China)
Depth Meter: Water depth measurement range: 0.0m ~ 80.0m in 0.1m units, up to 6 hours, automatically measured at a depth of 1.5m in diving mode, automatic log memory
Log Data: 20 records. Dive start date and time, dive time, maximum depth, minimum water temperature
Compass Bearing: Angle measurement of orientation (0 degrees to 359 degrees), 16 orientation (no display in dive mode), orientation continuous measurement (60 seconds, 20 seconds in diving mode), automatic horizontal correction function, orientation correction function, magnetic declination correction function
Water Temperature Measurement: Measuring range: -10.0 ℃ ~ 60.0 ℃ in units of 0.1 ℃
Time Stamp Function: 20 records. Date and time: water depth measurement, water temperature, orientation measurement, temperature measurement
Moon Age Data
Tide Graph: 6 stage display
World Time: 48 cities (31 time zones + UTC, DST setting)
Stopwatch: 1/100 second, split, up to 1,000 hours
Countdown Timer: Up to 24 hours
Alarms: 5 daily with snooze alarm
Other features: Battery indicator, full auto calendar, 12/24-hour display, button tone on/off, full auto LED backlight, Super Illuminator with afterglow (1.5 or 3 seconds)
Size: 59.2 × 53.3 × 18 mm
Weight: ~141g

Original Catalog Scans: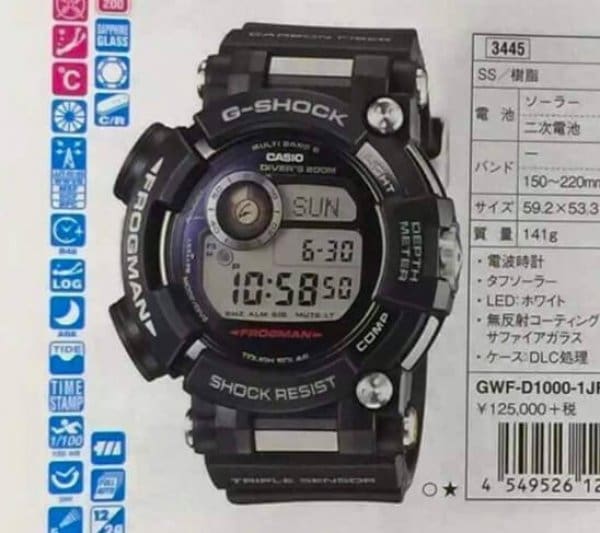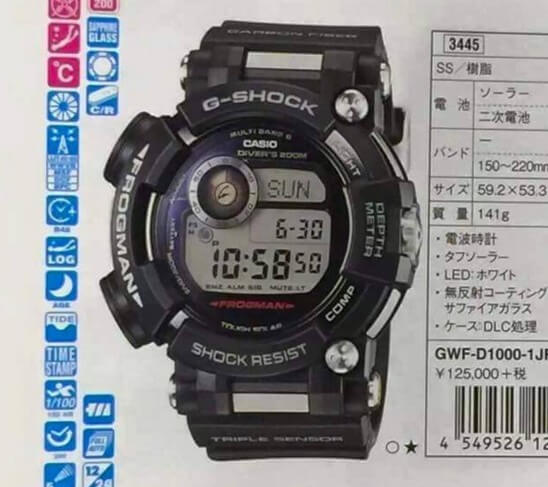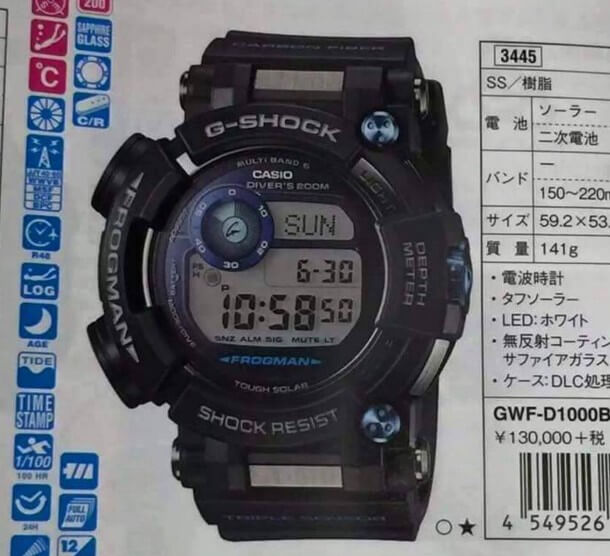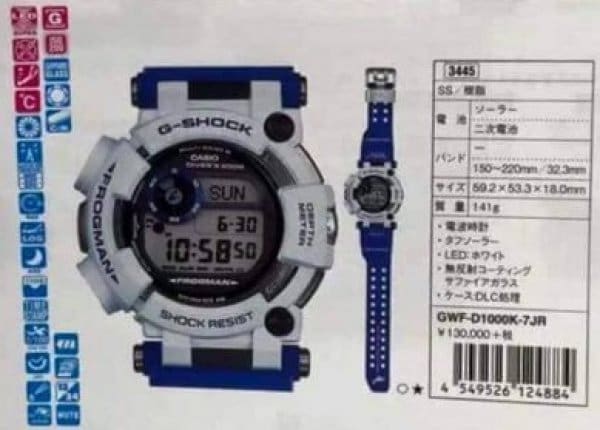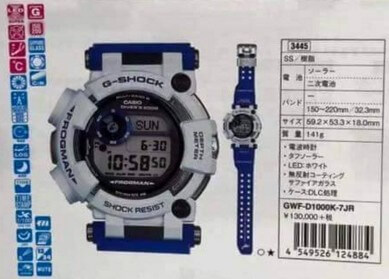 Photos via UNITED AS ONE : G-shock Sneakers Music, casio.co.jp