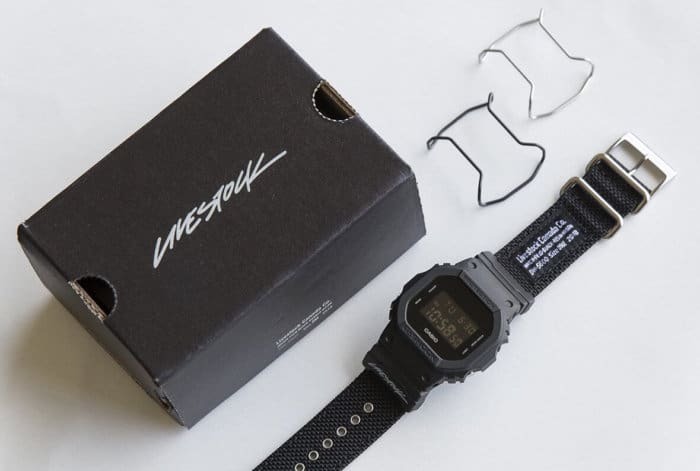 Toronto-based streetwear retailer Livestock is now offering its first G-Shock collaboration watch for sale. According to Livestock, the watch is inspired by "G-Shock's unrelenting drive to provide durable products, for a lifetime of constant use – and from Livestock's appreciation for innovative designs that simplify our lifestyle 24/7."
The watch is based on the basic black DW-5600BB-1 and has the usual resin band swapped out in favor of a tactical-style nylon band with a custom MIL-SPEC-inspired label on it. The Livestock logo appears on the lower band adapter and black and silver "bullbar" wire face protectors are included along with a custom Livestock box.
The G-Shock by Livestock 5600 watch is available at deadstock.ca for $195.00 CAD. International shipping is available. The watch is also available at Livestock stores throughout Canada with in-store status and locations available through that link.
G-Shock by Livestock 5600 Promotional Video: