Casio Europe revealed the all-new G-Shock GA-140: a large analog-digital resin model with the same case and features as the best-selling GA-100/110 series and a new dial design. The dial is slightly asymmetrical with easy-to-read arrow-shaped hands. With its simple and straightforward layout, it's likely to appeal to those who prefer the GA-100 over the GA-110. For those who don't like negative displays, it should be noted that four out of the five debut models have standard/positive LCD displays.
The debut models include (from top left to right) the black GA-140-1A1, black with red-orange GA-140-1A4, blue GA-140-2A, red and gray GA-140-4A, and purple GA-140-6A.
Features include shock resistance, 200-meter water resistance, world time, 1/100 second stopwatch (100 hours), timer (1/1 minute, 24 hours, with auto repeat), 5 daily alarm with snooze alarm, speed display, auto LED light, and estimated 2-year battery life. The GA-140 measures 55 x 51.2 x 16.9 mm and weighs 72 grams. The GA-140 is the newest 1XX-case series since the G-Shock G-LIDE GAX-100.
Update: The GA-140-1A1JF, GA-140-1A4JF, GA-140-2AJF, GA-140-4AJF, and GA-140-6AJF are July 2019 releases in Japan with a list price of 13,500 JPY. G-Shock Japan says that the dial design is based on stereo components and portable music players (such as boomboxes) from the 1990s. All five models are also being released in other Asian countries.
Update: Casio America announced all five models (GA140-1A1, GA140-1A4, GA140-2A, GA140-4A, and GA140-6A) for an August 2019 release with a list price of $99 USD each.
G-Shock GA-140-1A1
Black bezel and band with gray lettering, reverse LCD display.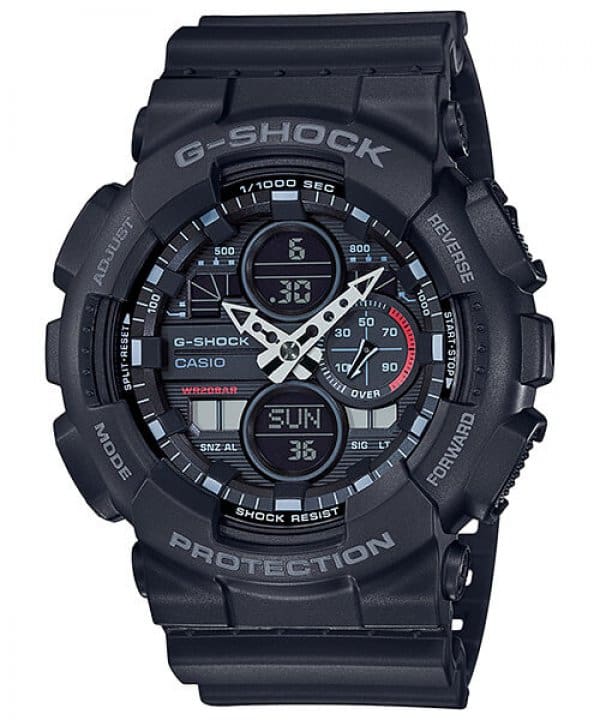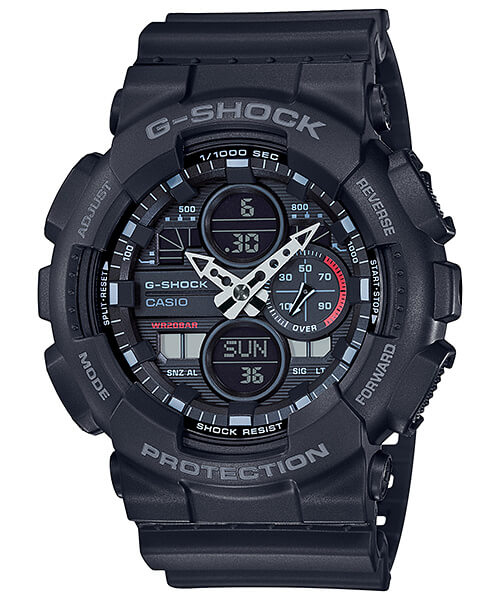 G-Shock GA-140-1A4
Black bezel and band with red and orange lettering and green accents.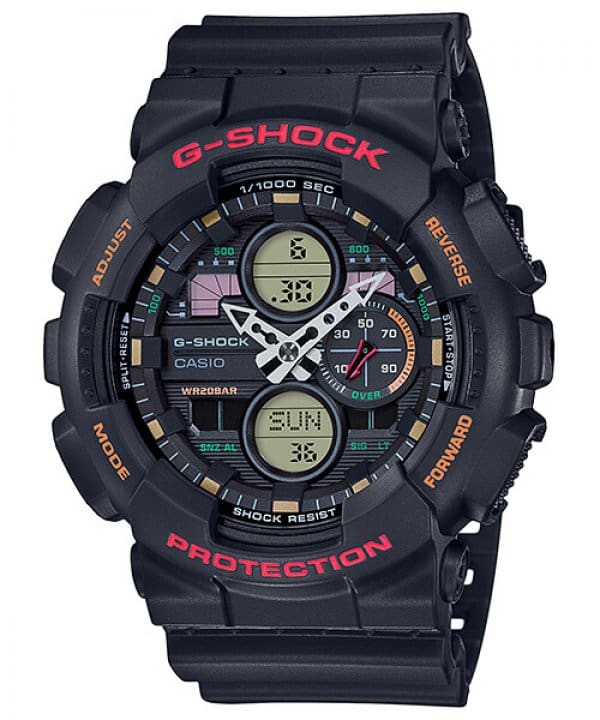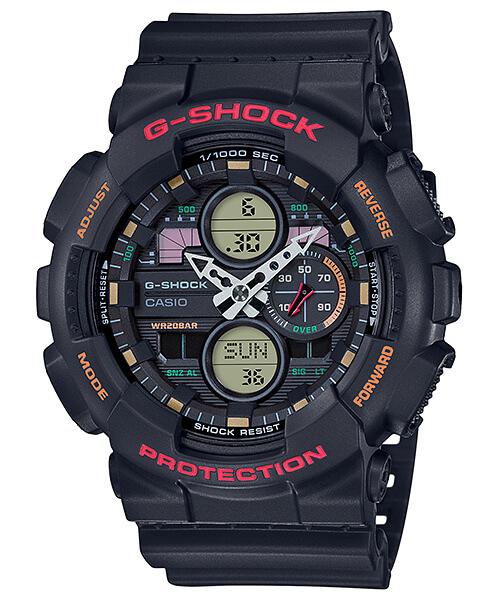 G-Shock GA-140-2A
Blue bezel and band with light beige lettering, blue-tinted LCD display.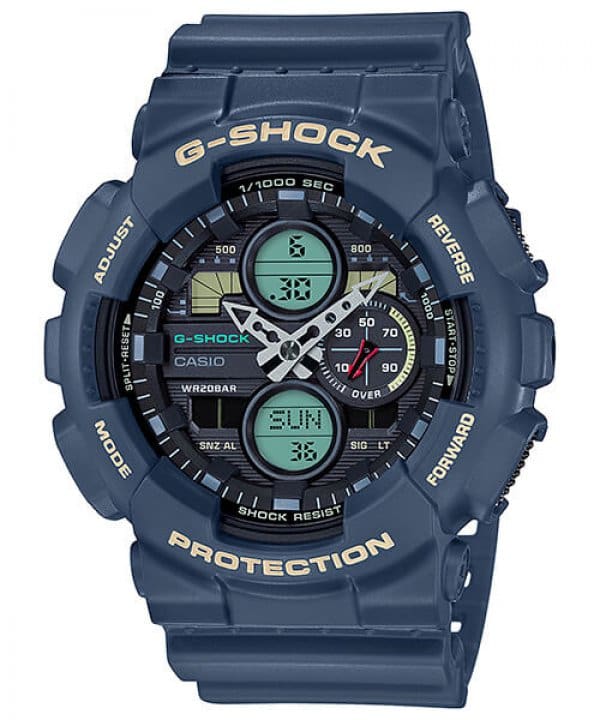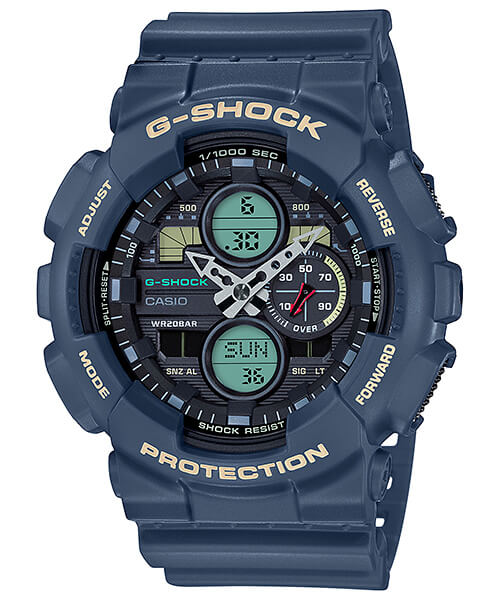 G-Shock GA-140-4A
Gray bezel and red band with black lettering, red-tinted LCD display.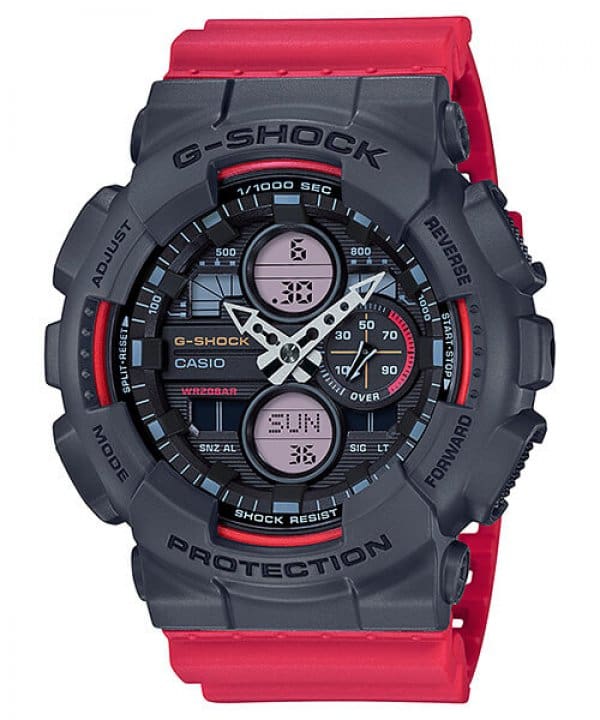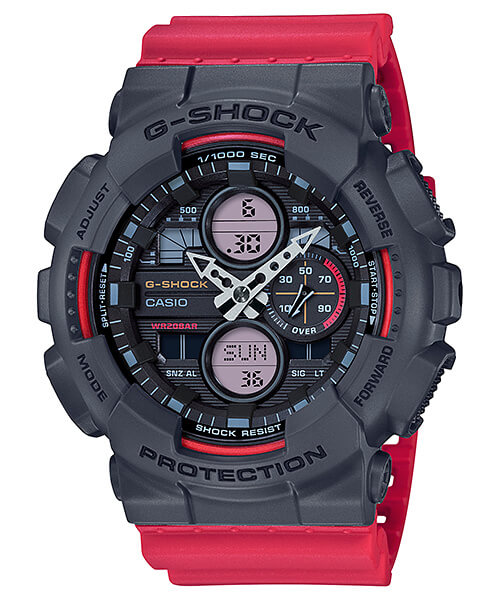 G-Shock GA-140-6A
Purple bezel and band with orange lettering, purple=tinted LCD display.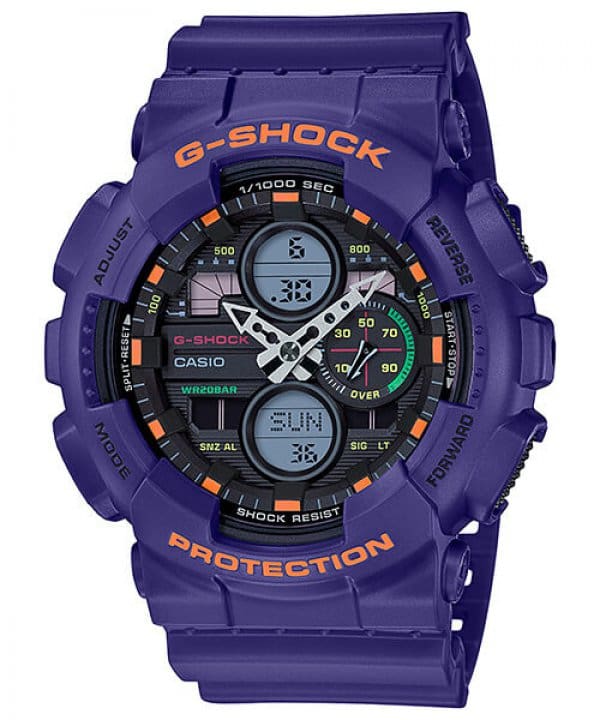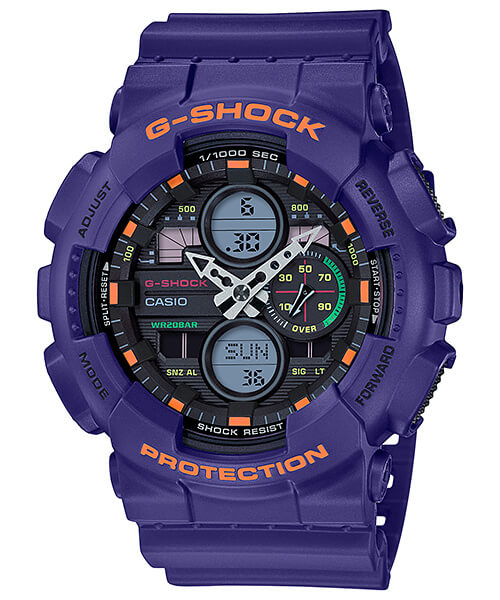 G-Shock GA-140 Promo Video:
Source: www.casio-europe.com