What is the toughest G-Shock watch? It's a question that is often asked but is difficult to answer definitively. By definition all G-Shock watches are extremely tough and all models are thoroughly tested by Casio R&D for shock resistance and 200-meter water resistance. However there are some G-Shock models that are generally considered to be the toughest, due to an extra-rugged exterior or unique structural components. We've limited our list to digital models for their practicality and value.
G-Shock G-7900-3: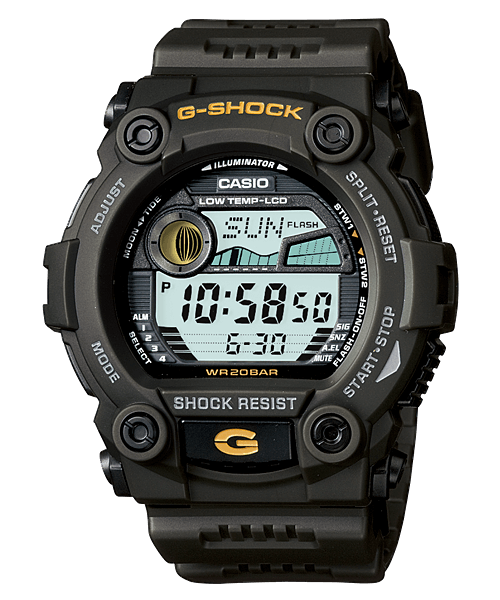 The G-7900-3 is ideal for those who just want a rugged, no-nonsense watch that can take a lot of abuse. It is part of the G-RESCUE series designed for rescue workers. The oversized buttons and front backlight button allow for easy operation with gloves on. That along with its low-temperature resistant LCD display makes it a good choice for winter use. The thick multi-dimensional case and front screws give the G-7900-3 an extra-rugged look, and the olive green color of this model gives it a military vibe that adds to the toughness. The G-7900-3 is also equipped with a tide and moon graph for maritime users.

G-Shock GX-56BB-1: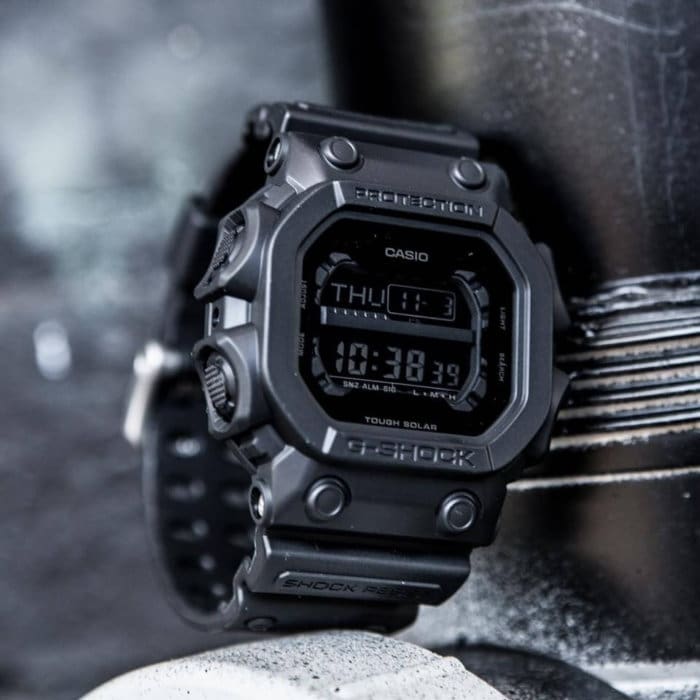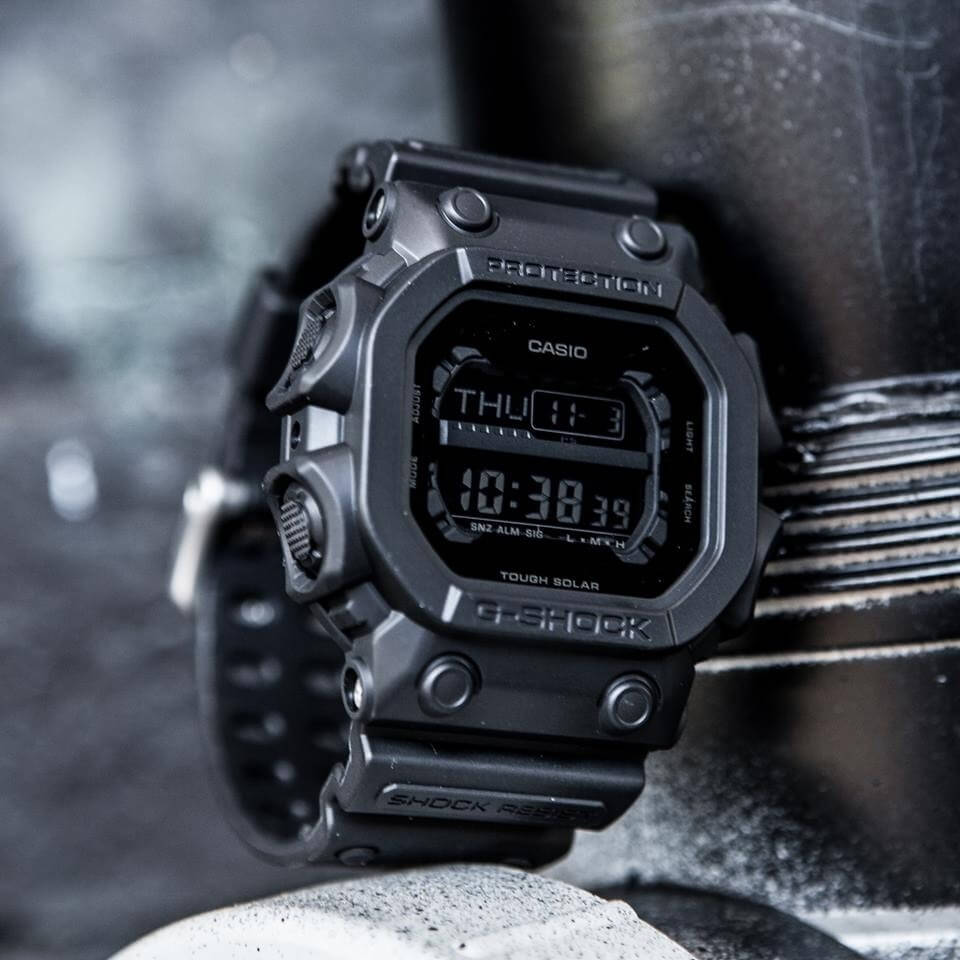 The GX-56BB-1 looks like an oversized G-Shock DW-5600 and while Casio doesn't claim this to be the toughest G-Shock, many fans believe that it is. It is specifically engineered to take a maximum amount of punishment. The GX-56BB-1 has one of the largest cases for a digital G-Shock. It is constructed of hard urethane on the outside with soft urethane on the inside to protect the module from impacts. It is one of the only digital G-Shock watches that uses Alpha Gel for maximum shock resistance and it is also mud-resistant with protected buttons like the Mudman and Rangeman. This Basic Black Out edition adds to the tough look with an all-black bezel, black buttons, and a dark reverse LCD display. A surprisingly popular model, the GX-56 is as tough as it looks.
GX-56BB-1 on Amazon
G-Shock GD-400-1: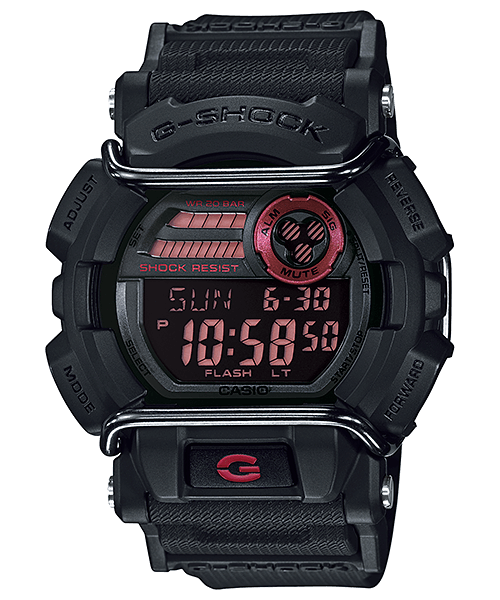 While the large case of the GD-400-1 isn't quite as thick as the G-7900 or GX-56, it is one of the the only G-Shock models that comes standard with a "bull bar" face protector. This bull bar is noticeably thicker than the ones seen on DW-5600 models and it gives the watch a very tough appearance. Designed for skateboarders and extreme athletes, the GD-400-1 looks more like something a S.W.A.T. team would wear.

G-Shock G-9300-1 Mudman: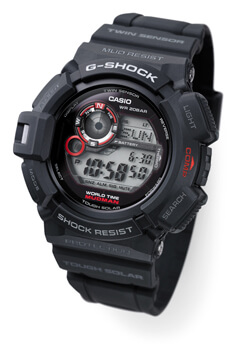 The whole idea of extra-rugged G-Shocks can be traced back to 1985 with the DW-5500C. Nicknamed the "Mudman," the DW-5500C had a unique bezel design that covered and protected the buttons. This model paved the way for the official Mudman line along with other specialty lines like the Frogman and the Master of G series of advanced G-Shock watches. Today's Mudman G-9300-1 continues the tradition of a tough mud-resistant case and is equipped with a Twin Sensor with a compass and thermometer. With its useful sensors, solar power, and simple rugged look, the Mudman is a versatile watch that suits everyone from soldiers to outdoor enthusiasts.

G-Shock GD-X6900-1:
Commonly known as the MIL-SPEC G-Shock, the GD-X6900-1 got that nickname after passing a range of military-standard (MIL-STD-810) stress testing. While we're confident all G-Shock watches would pass these tests, Casio made it a point to emphasize that with this model. The GD-X6900 is like a larger, tougher version of the popular DW-6900 budget model with more features like world time, multiple alarms, and an auto-activated LED backlight. Like the GX-56, it is one of the only digital G-Shocks to use Alpha Gel for extra shock protection. The beefy GD-X6900 is also known for it's 10-year estimated battery life which is the longest for a non-solar model.

G-Shock GW-9400-1 Rangeman: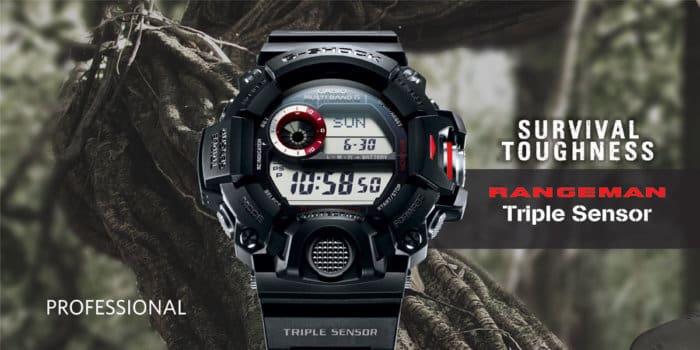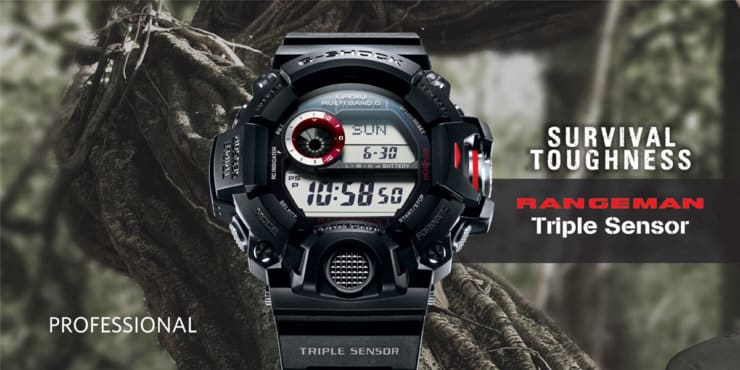 The GW-9400-1 Rangeman combined the mud resistance of the Mudman into a Triple Sensor-equipped model that is one of the most popular advanced G-Shocks. With its beefy exterior and guarded button structure, the Rangeman was designed with harsh conditions and maximum toughness in mind. As a higher-end model the Rangeman has a stainless steel strap keeper that will outlast a resin one. The Rangeman has brains too, with useful outdoor features like the Triple Sensor (altimeter/barometer, compass, thermometer) and sunrise/sunset data. Those who want the toughest Rangeman possible should look into a model with a carbon fiber insert band.

G-Shock GWF-D1000B-1 Frogman: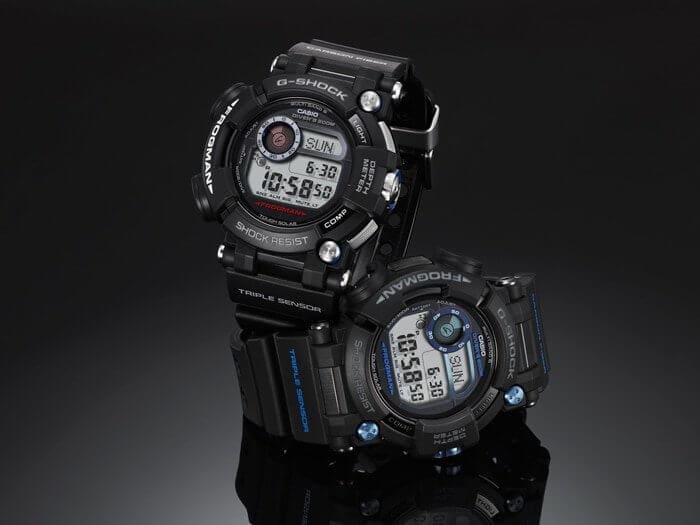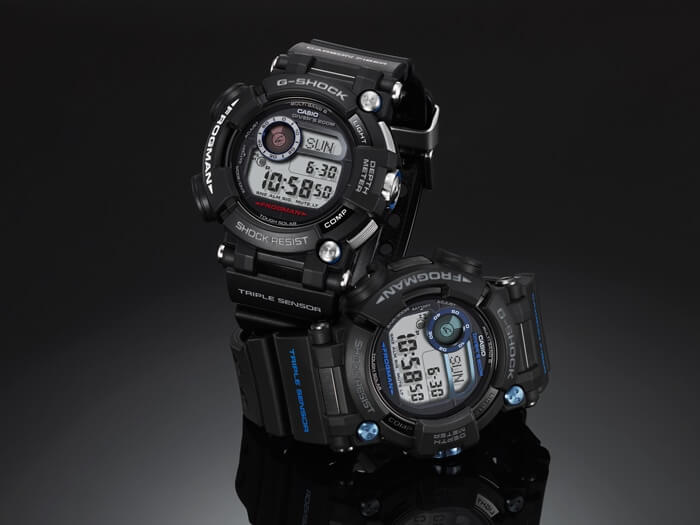 The Rangeman wins in popularity but there's no denying that the GWF-D1000B-1 Frogman is the premier digital G-Shock. One of the largest and most physically imposing G-Shock watches, the GWF-D1000 features a stainless steel inner case, screw-lock case back with DLC coating, sapphire crystal for superior scratch resistance, and carbon fiber insert band. The Frogman is one of the only current digital G-Shock watches that has stainless steel inner case and a screw-lock case back. This latest edition also features a water depth sensor, compass, and thermometer. Those who don't need the sensors should consider the previous generation GWF-1000 (amazon), though it sacrifices some toughness with the lack of a sapphire crystal and carbon fiber band.

G-Shock GW-5000-1JF: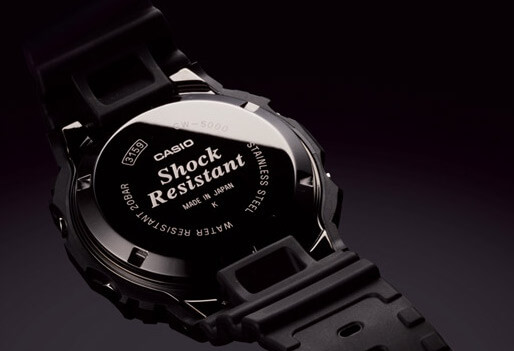 The G-Shock GW-5000-1JF is intended for the Japanese market only but is popular with hardcore G-Shock fans worldwide and can be found in some watch stores in Hong Kong. The GW-5000-1JF is the only current G-Shock other than the Frogman line to have a screw-lock case back. Like the Frogman it also has a full stainless steel inner case that is protected with a DLC coating. This watch is a tribute to the first ever G-Shock DW-5000 which was also a screw back model. It adds modern technology such as Tough Solar power and Multi-Band 6 timekeeping. While it's debatable if the superior build quality justifies the price, many G-Shock collectors consider this unique model a must-have that stands with the best and toughest G-Shocks.