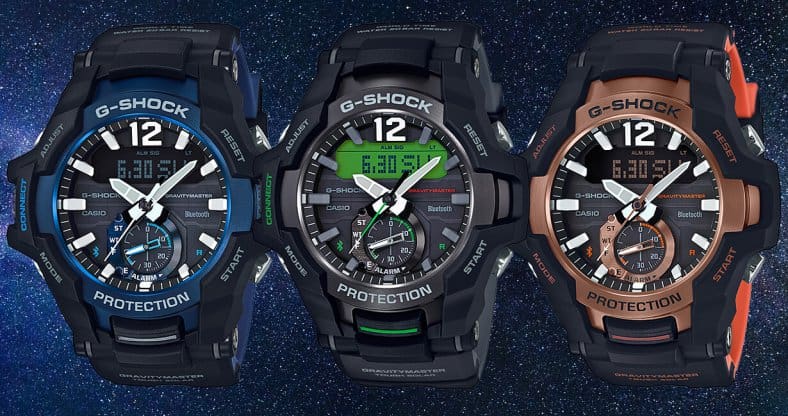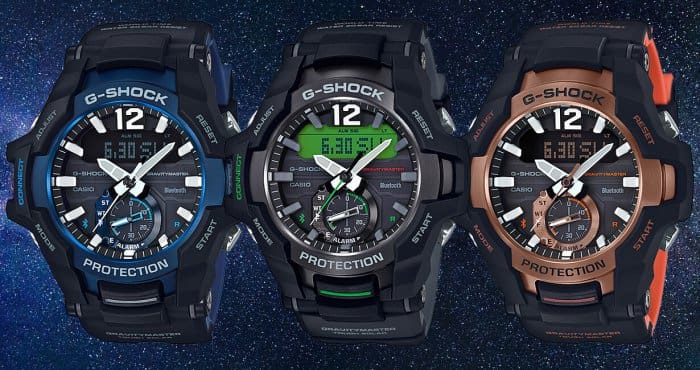 Another Baselworld 2018 introduction is the G-Shock GR-B100 Gravitymaster series. The GR-B100 is a Tough Solar analog-digital aviation model featuring a full-dot STN LCD display and a symmetrical face with large analog hands. The analog subdial appears to be a countdown timer and function indicator. The GR-B100 can connect to a smartphone via Bluetooth and the G-Shock Connected app can adjust the watch settings and automatically sync the time. This watch also has the flight log function which records time and location point information and presents the log data on a map in the smartphone app. A special countdown alarm feature allows the time, date, and schedule name to be set, with the remaining time to set time shown in the LCD display. This feature allows for counting down to a specified date and time, and the countdown to each event can be displayed on the watch to the exact second.
Features include shock resistance, 200-meter water resistance, Tough Solar, Bluetooth, world time, 1/1000 second stopwatch, 1/10 second countdown timer (24 hours), 5 multifunction alarms (countdown with date), and Super Illuminator LED light with afterglow. The GR-B100 measures 62.5 x 53.8 x 17.3 mm and weighs about 87 grams.
The debut models are the GR-B100-1A2 (left), GR-B100-1A3 (middle), and GR-B100-1A4 (right) featuring dual-layer resin bands.
Update: The GR-B100-1A2JF, GR-B100-1A3JF. and GR-B100-1A4JF are July 2018 releases in Japan with a list price of ¥40,000 JPY each. All three models are also scheduled for a wider Asia release in July.
Update 2: Casio America announced the availability of the GRB100-1A2 (black and blue band), GRB100-1A3 (black and green band), and GRB100-1A4 (black and orange band) on 17 July 2018 with a list price of $300 USD each.
G-Shock GR-B100-1A2 Gravitymaster
Black and blue, blue inner band, reverse LCD display.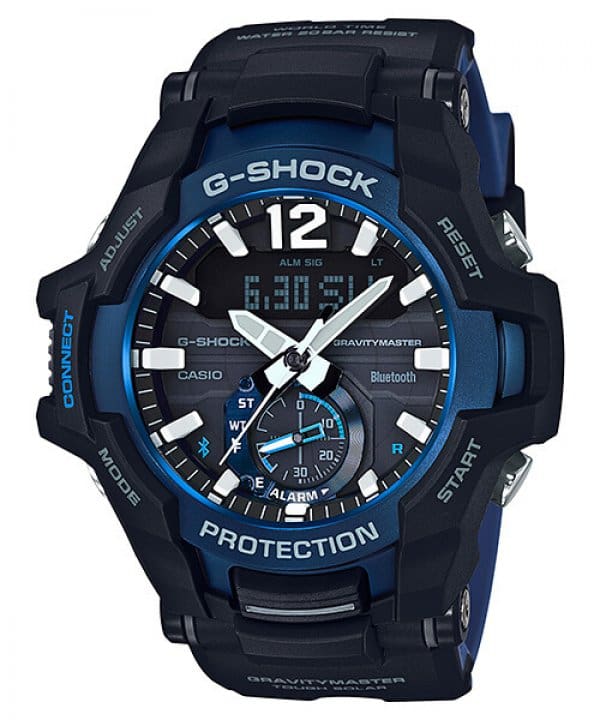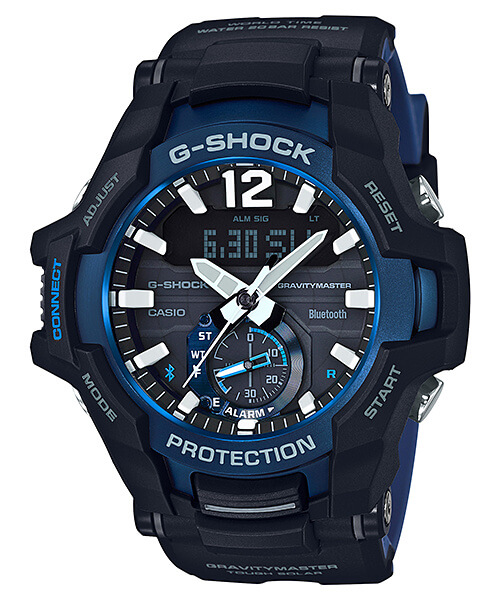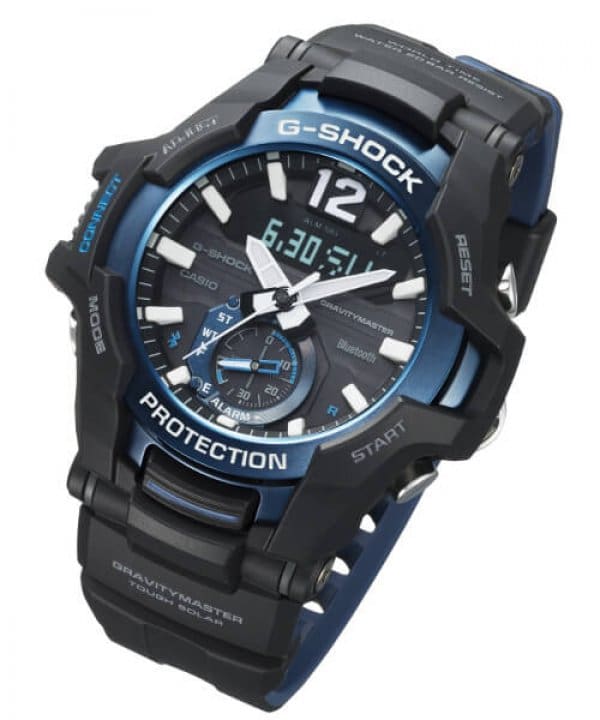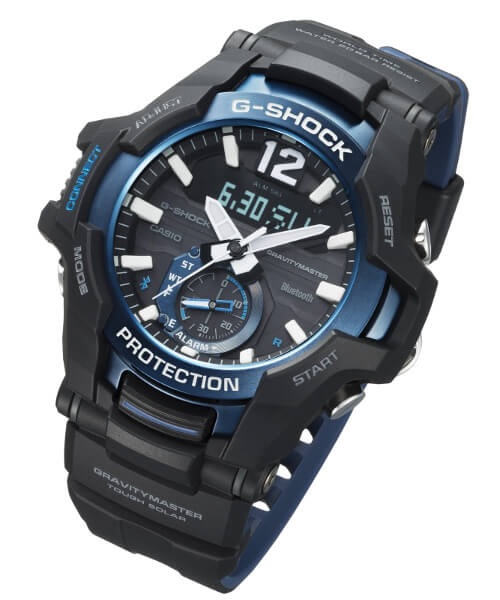 G-Shock GR-B100-1A3 Gravitymaster
Black and gray with green accents, green inner band, standard LCD display.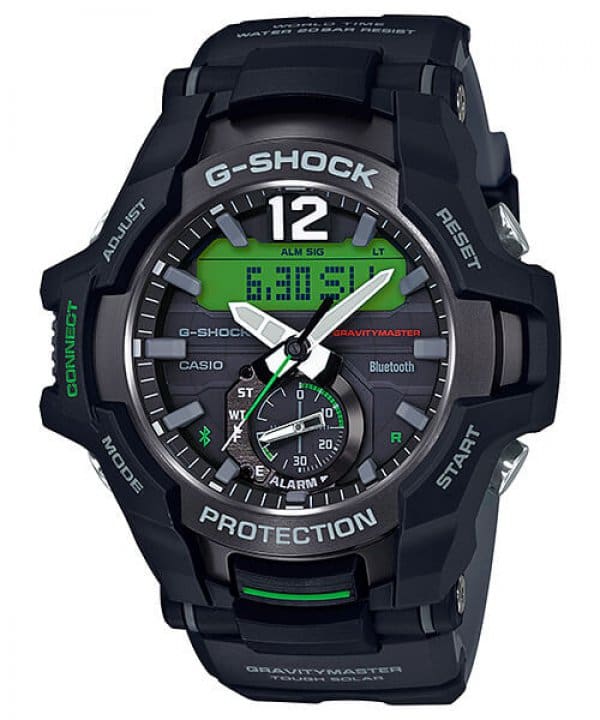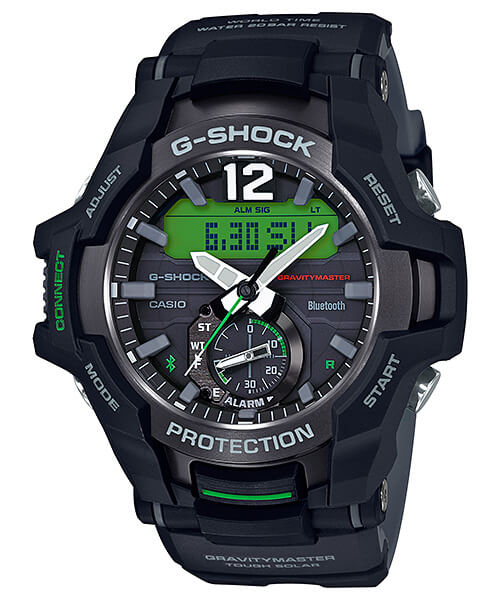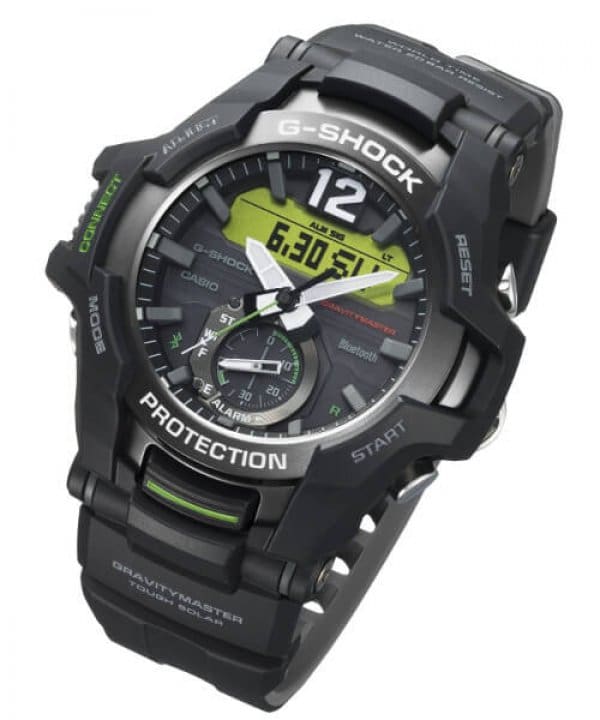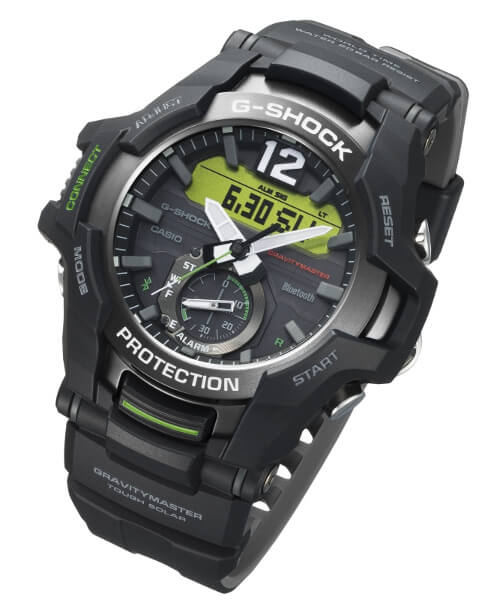 G-Shock GR-B100-1A4 Gravitymaster
Black and bronze with orange accents, orange inner band, reverse LCD display.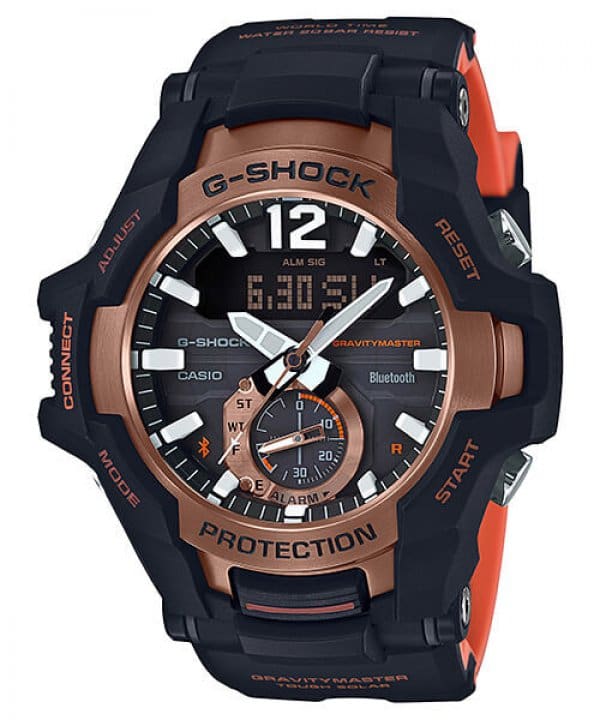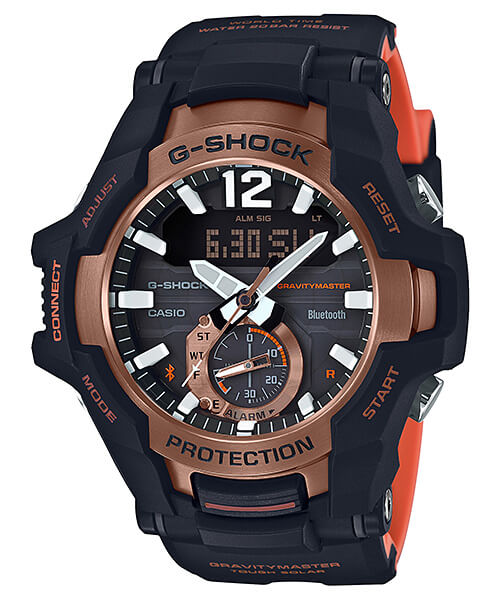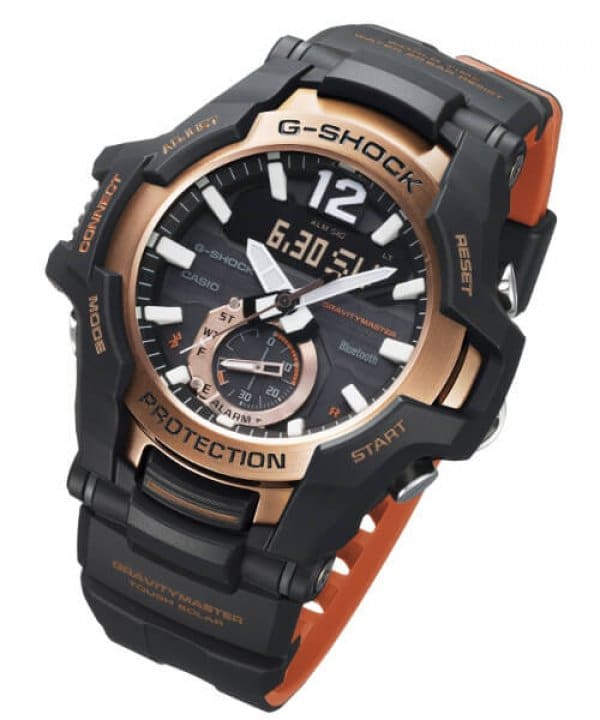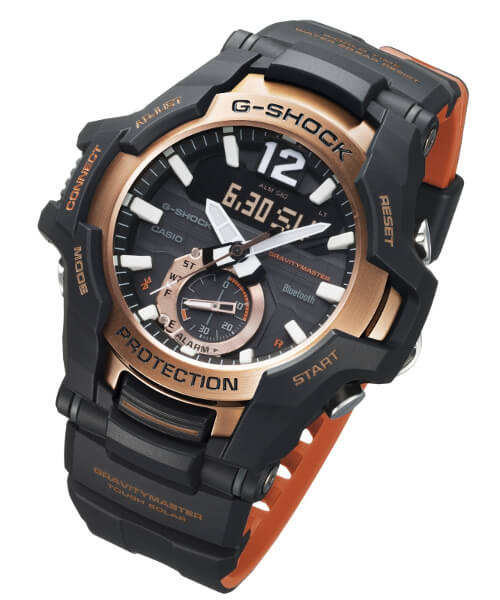 G-Shock GR-B100 Gravitymaster Promotional Video: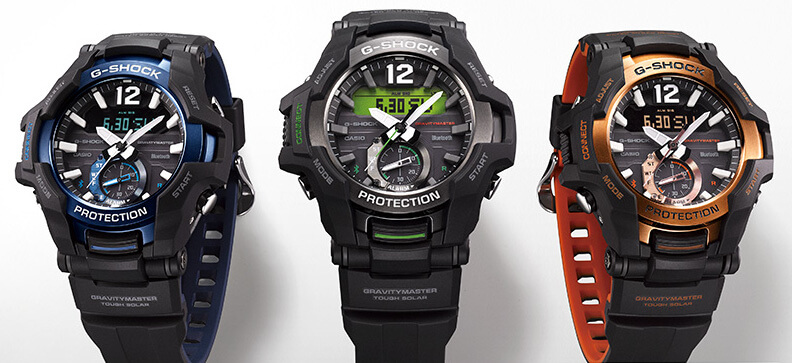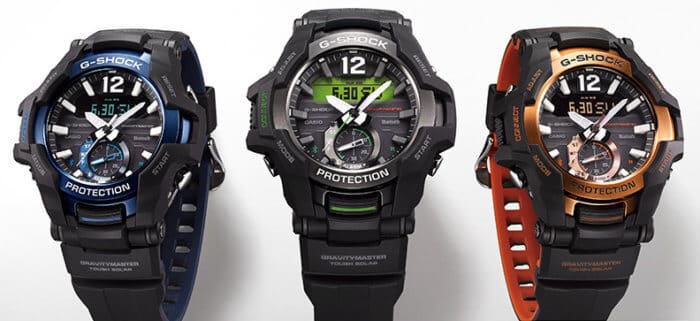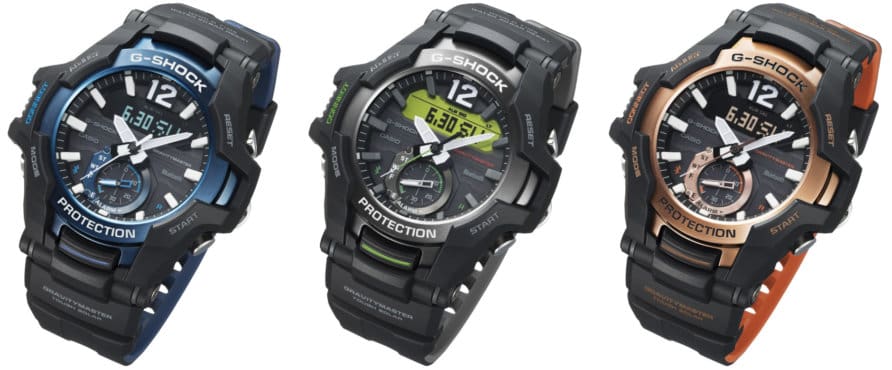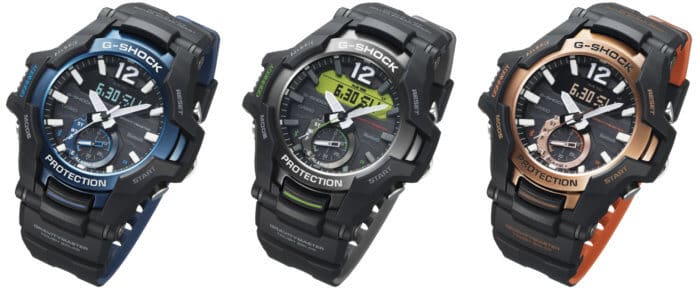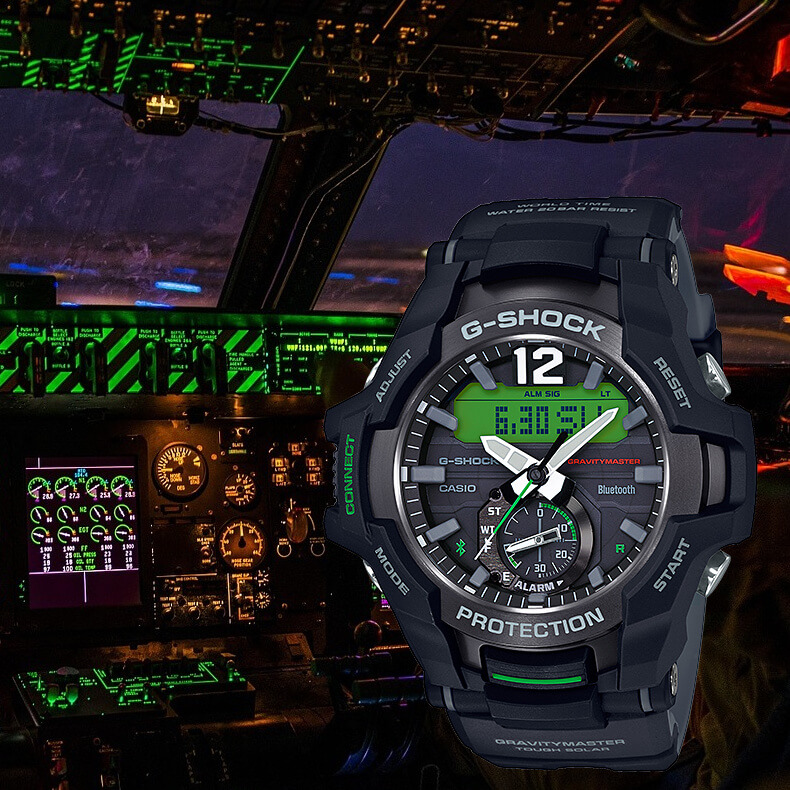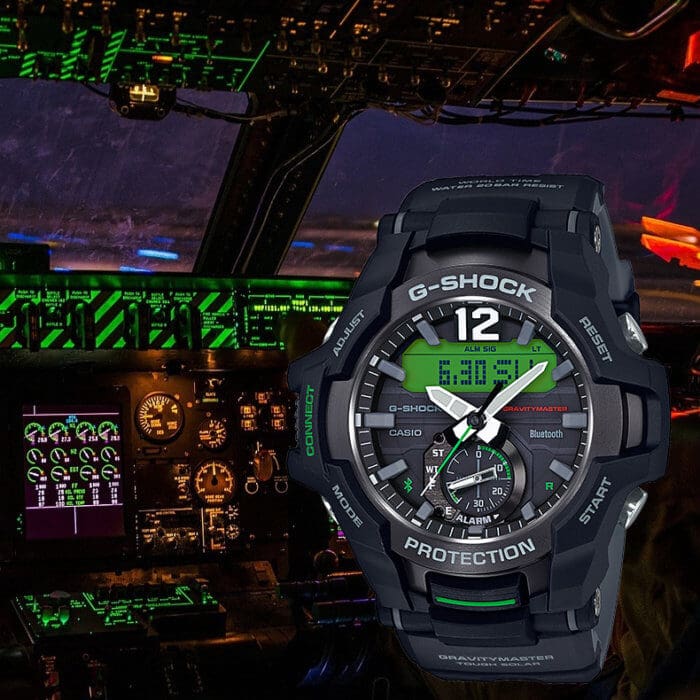 G-Shock GR-B100 Gravitymaster Promotional Video: