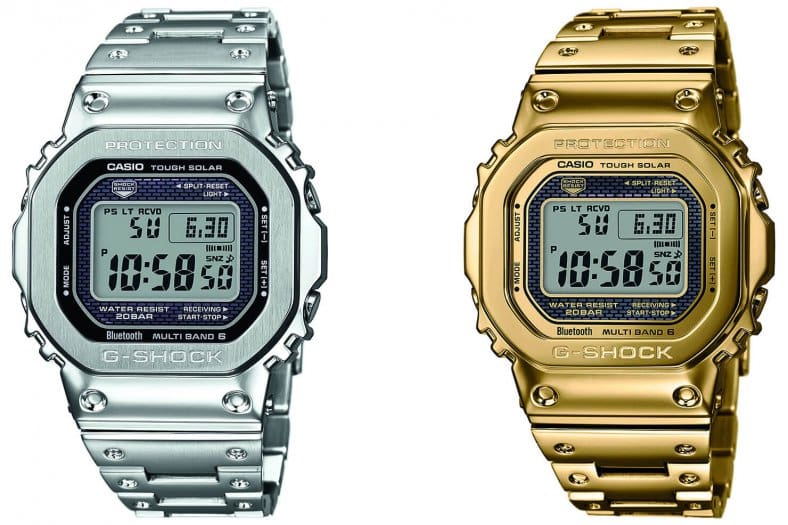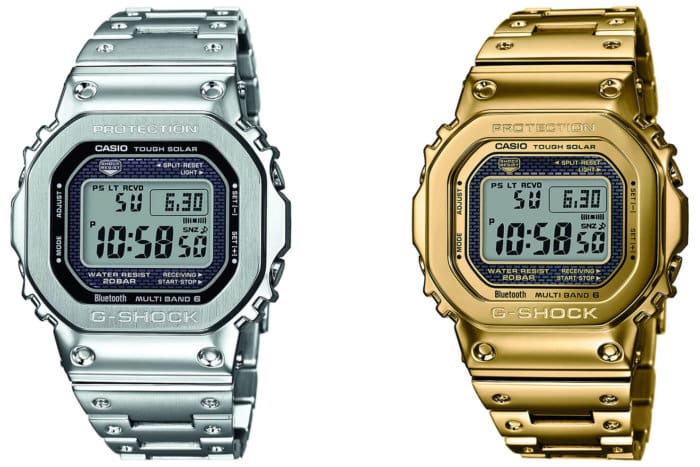 The previously rumored silver stainless steel G-Shock GMW-B5000D-1 and gold ion-plated G-Shock GMW-B5000TFG-9 are now officially confirmed and will be released on April 13, 2018 in Japan. These watches are the first "full metal" 5000-series models and feature a stainless steel exterior and inner case, screw-lock case back (with DLC coating), Tough Solar power, Multi-Band 6 radio timekeeping, STN LCD display, and Bluetooth mobile link connectivity. The GMW-B5000 series merges the original G-Shock design with a full-metal exterior and today's technology, making it one of the biggest G-Shock releases of the year.
The GMW-B5000 utilizes fine resin between the exterior and interior cases for full shock resistance and is water-resistant to 200 meters. Unlike other 5000-series models, the day of the week can be presented in six languages (English, Spanish, French, German, Italian, Russian) and the numerical date can be adjusted to either a Month/Day or Day/Month style.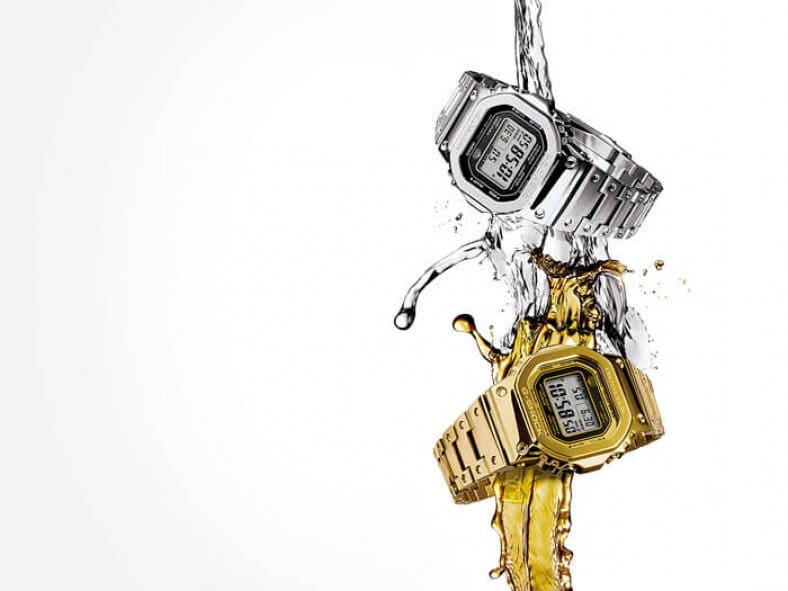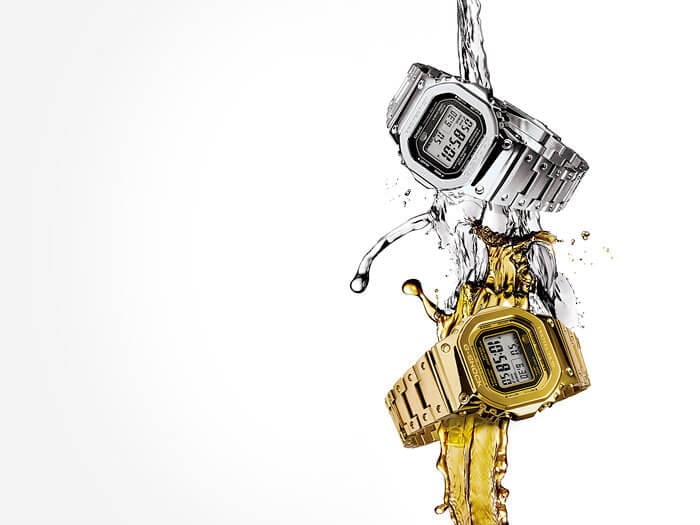 With a Bluetooth connection to a smartphone, the watch can automatically sync with internet time servers 4 times a day and automatically update daylight saving time and time zones. A reminder application provides flash alerts for up to five dates. The phone finder function will locate a missing phone by connecting to it with Bluetooth when it's within range and emitting a sound. The time and place feature functions like a flight log and records the time and location points (longitude/latitude coordinates) with the press of a watch button, then displays the log data on a map in the smartphone app. Supported mobile phones include iOS 10 or higher and Android 6.0 or higher.
Other features include a 1/100 second stopwatch, 24-hour countdown timer, 5 alarms with 1 snooze alarm, battery charge warning, and full auto Super Illuminator LED light with afterglow. The GMW-B5000 measures 49.3 x 43.2 x 13.0 mm and weighs about 167 grams.
One of the rumored features was a sapphire crystal but that turned out to be false as these models use mineral glass. The super-twisted nematic (STN) LCD display is an upgrade over the standard LCD displays of other 5000-series watches and provides improved contrast and readability especially when viewed at an angle.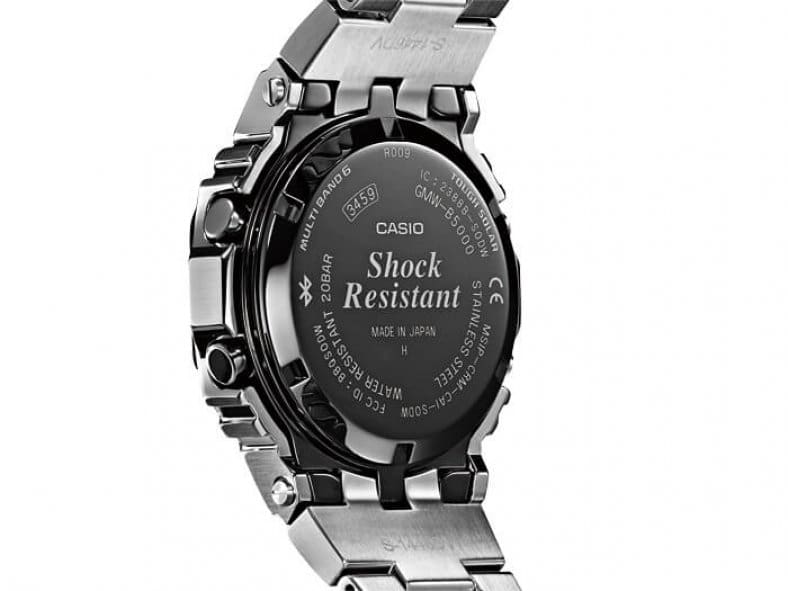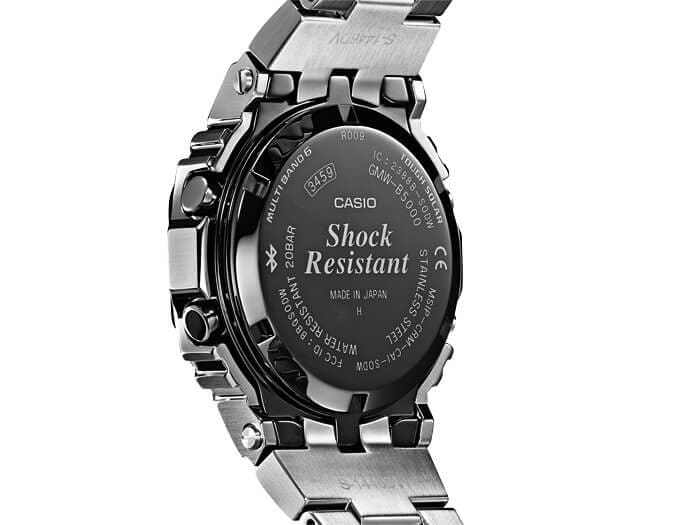 The gold GMW-B5000TFG-9 has a 35th Anniversary case back and is presented in an anniversary box while the silver GMW-B5000D-1 has the Shock Resistant-labeled case back similar to the original DW-5000C and the current GW-5000-1JF. Both models have a DLC coating on the case back. The Japanese model numbers indicate the silver GMW-B5000D-1JF is a standard release while the gold GMW-B5000TFG-9JR is a limited edition model.
The GMW-B5000D-1JF has a list price of ¥60,000 JPY and the GMW-B5000TFG-9JR has a list price of ¥70,000 JPY.
See the official GMW-B5000 page at G-Shock Japan.
Update: Casio America announced the GMWB5000D-1 and GMWB5000TFG-9 as part of the "Full Metal 5000 collection" for a May 2018 release with a list price of $500 USD and $600 USD respectively. The GMW-B5000D-1 and GMW-B5000TFG-9 are also April 2018 releases in Asia.
G-Shock GMW-B5000D-1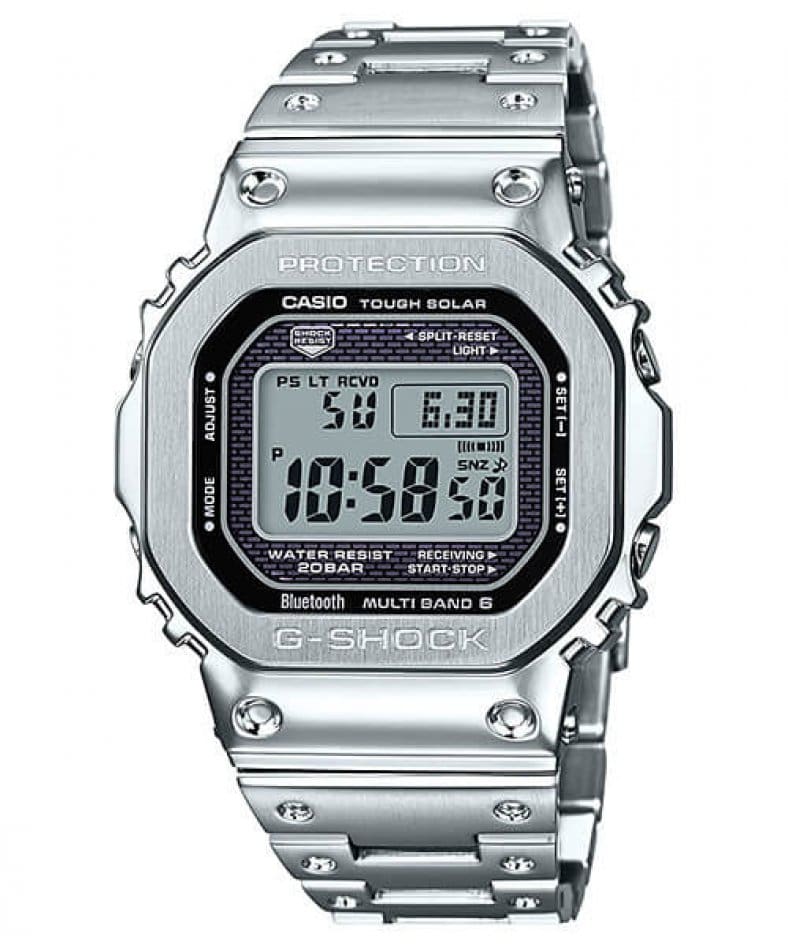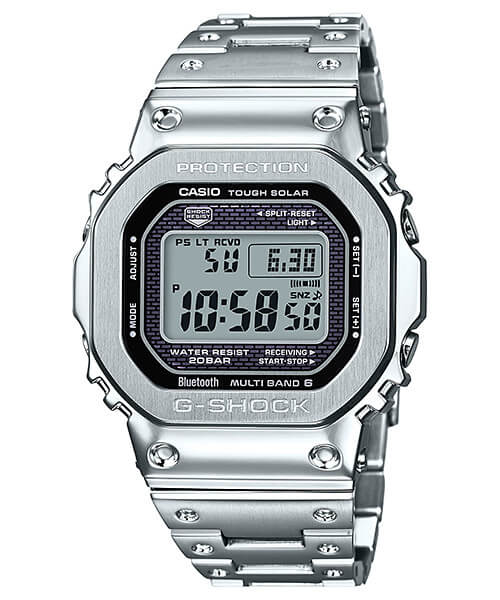 G-Shock GMW-B5000TFG-9 35th Anniversary Limited Edition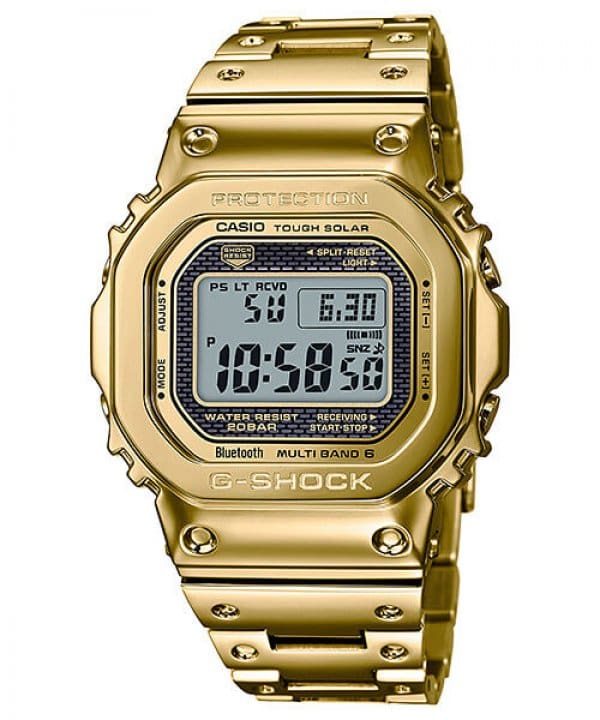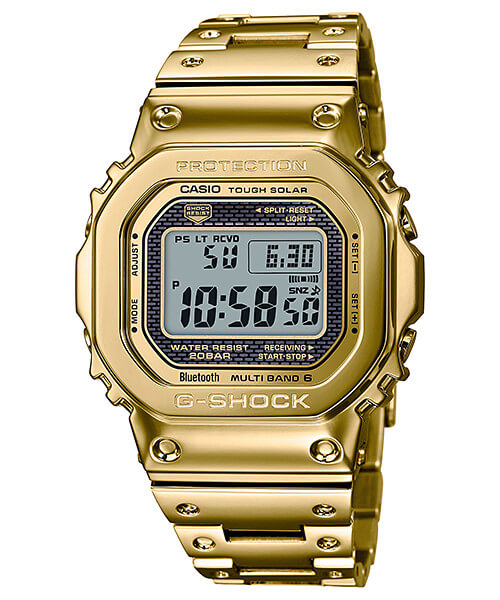 G-Shock GMW-B5000 Promotional Video:
Original Post:
Possibly replacing the DW-5750 revival as the most surprising release of the year, the G-Shock GMW-B5000 series features metal bezels and bands with the classic square shape plus a sapphire crystal, Tough Solar, Multi-Band 6, and Bluetooth V4.1 connectivity. Reminiscent of the solid gold Dream Project concept watch, the GMW-B5000 has two variants: the silver GMW-B5000D-1 and gold GMW-B5000TFG-9. We don't have any official information from Casio yet but have heard that the watches are made of stainless steel with a price of around €500 EUR for the silver model and €600 EUR for the gold model.
It is believed that the GMW-B5000 has a full stainless steel housing and screw-back case like the GW-5000-1JF. A European distribution site states that it has a phone finder and flight log memory functions, as well as the usual features like world time, stopwatch, timer, and 5 alarms. It is fully shock-resistant and water-resistant to 200 meters. Unlike most 5000-5600 models, it has an LED light instead of the EL backlight.
The solar panels on the face have a brick pattern that is reminiscent of the first-ever G-Shock DW-5000 and previous DW-5000 anniversary tribute models. This is the first time this brick pattern has appeared on a solar model.