The new G-Shock White and Blue Series is the perfect spring and summer collection to complement light-colored clothing and outdoor living. The four watches feature clean white resin bezels and bands with a light blue face inspired by the summer sky and ocean. In addition to the white and blue designs, the watches feature standard/positive LCD displays and white analog hands and indexes for easy readability.
The AWG-M100SWB-7A (left) is based on the popular medium-sized Tough Solar/Multi-Band 6 AWG-M100 model and features a metallic bezel with a striking blue IP. [eBay] Update: Casio USA announced the AWGM100SWB-7A for a May release (MSRP $150).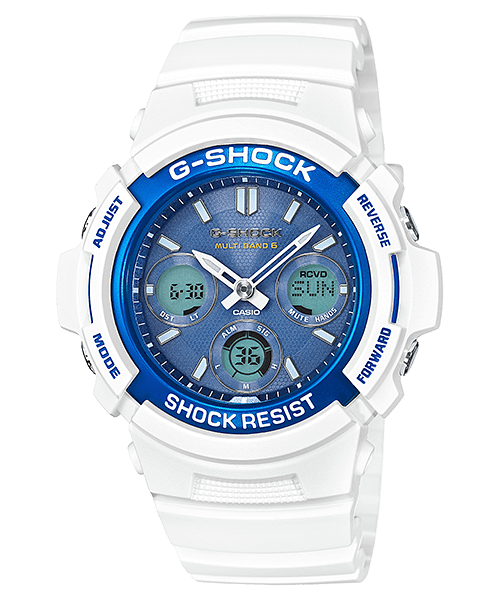 AWGM100SWB-7A on Amazon
The AWG-M510SWB-7AJF (second to left) is another Tough Solar/Multi-Band 6 model that features an extra-large resin bezel. The AWG-M510 is a direct descendant of the first analog G-Shock watch introduced in 1989, the AW-500. [eBay]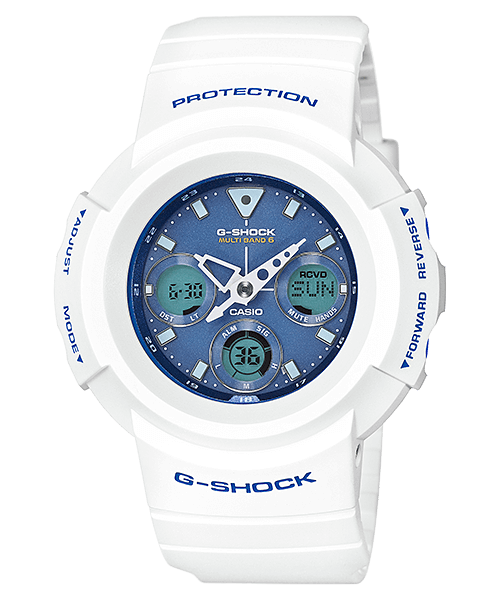 AWG-M510SWB-7AJF on Amazon
The DW-5600WB-7 (second to right) is a classic white square model based on the original G-Shock design. As one of the smaller G-Shock watches it would be a good choice for women too. [eBay] Update: Casio USA announced the DW5600WB-7 for a May release (MSRP $99).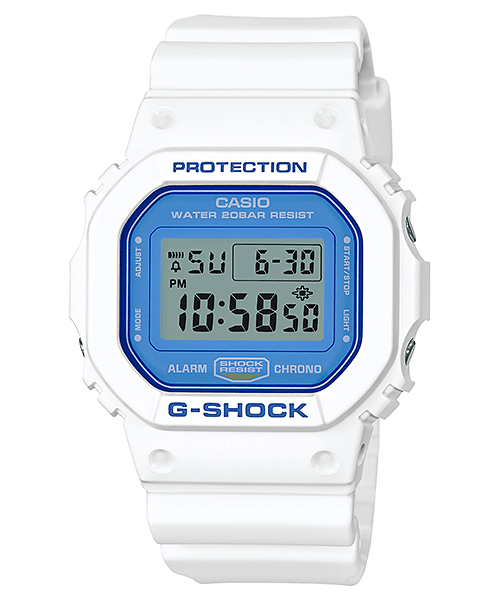 DW5600WB-7 on Amazon
The GA-110WB-7A (right) is based on the popular big-case GA-110 analog-digital model and adds some depth with its purple dial ring combined with its blue-trimmed face. [eBay] Update: Casio USA announced the GA110WB-7A for a May release (MSRP $120).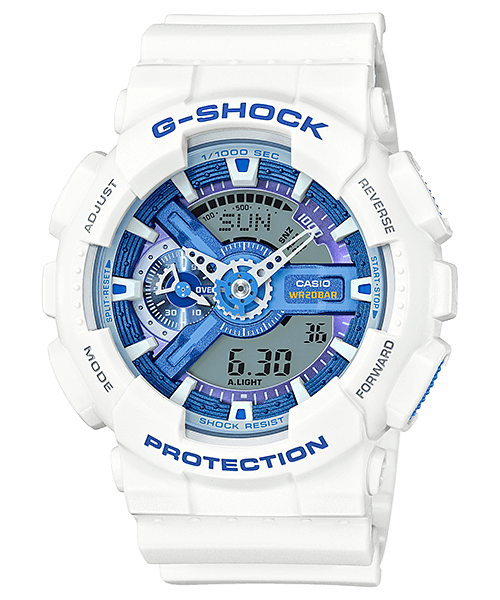 GA110WB-7A on Amazon
We expect an international and U.S. release later for at least a few of these, though the AWG-M510 has been a Japan-only model so probably not for that one. G-Shock Japan announced the White and Light Blue Series for an April release.
White and Light Blue Summer Sky G-Shock models with matching clothing and accessories: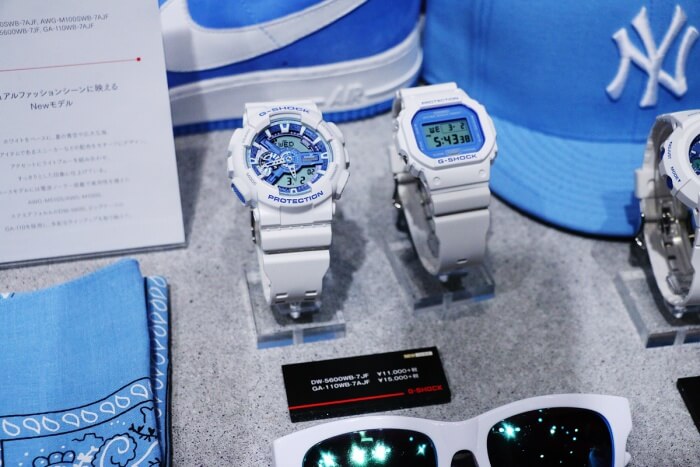 Source: g-shock.jp, news.mynavi.jp
(
Disclosure: G-Central is reader-supported and earns a commission on purchases made from its links to Amazon and eBay. G-Central is an independent blog managed by fans and is not an official Casio G-Shock site.
)