G-Shock is releasing a new White and Black Series in October featuring eight different models and including a white and black tiger stripe design for three of them. The tiger-striped models include the classic square DW-D5600BW-7, the solar radio square GW-M5610BW-7JF, and the large MIL STANDARD GD-X6900BW-1. Other models in this series with more conventional designs include these white watches: the retro square GW-5510BW-7JF, the analog-digital AWG-M100SBW-7AJF, and the 1994-revival G-001BW-7 with black bands. Two big case analog-digital models with black bodies and white and black faces include the GA-110BW-1A and GA-100BW-1A. The GW-5500 series has traditionally been a Japan-only release.
UPDATE: G-Shock Asia has announced the GA-100BW-1A and GA-110BW-1A watches for October and likewise G-Shock Australia and Casio USA (on social media) have announced the GA100BW-1A ($100) and GA110BW-1A ($120).
UPDATE: In addition to the two GA watches Casio USA has also announced the G001BW-7 ($99), DWD5600BW-7 ($130), GDX6900BW-1 $150, as well as the all white GBA400-7C ($200) for a November 2015 release. G-Shock USA is calling it the "Black & White" series. It looks like the all the Tough Solar/Multi-Band 6 models (GW-M5610BW-7JF, GW-5510BW-7JF, and AWG-M100SBW-7AJF) are JDM-only.
GA-100BW-1AJF
The GA-100BW-1AJF is another popular big case model with an instrument panel-like display with analog hands and a reverse LCD display. G-Shock Australia and Casio USA have announced the GA100BW-1A.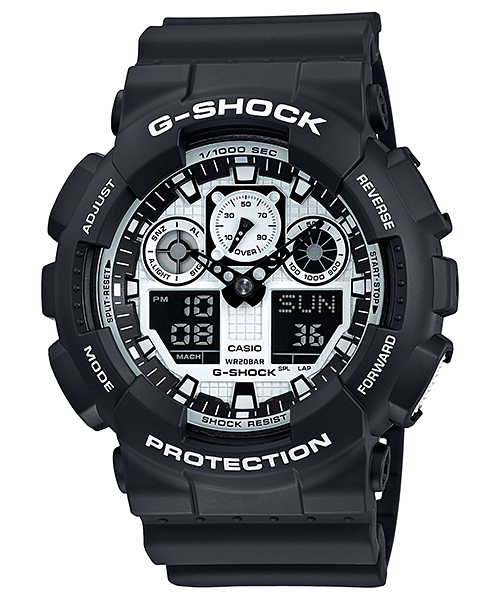 GA-100BW-1A on Amazon GA-100BW-1A on eBay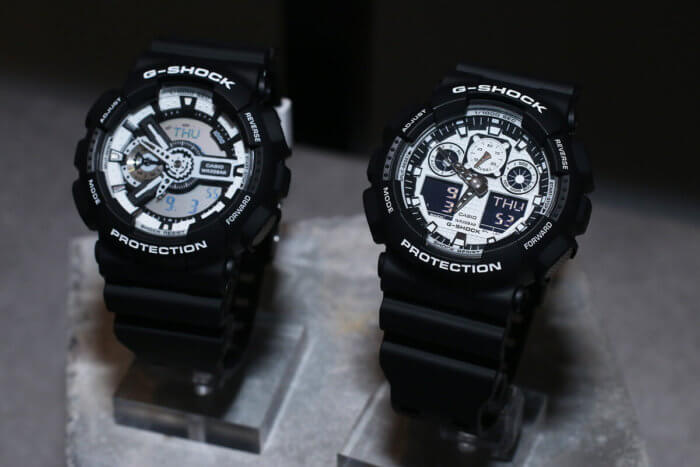 GA-110BW-1AJF
The GA-110BW-1AJF is a highly popular big case analog-digital model. This black version with a simple yet striking white and black face is sure to be a big seller. G-Shock Australia and Casio USA have announced the GA110BW-1A.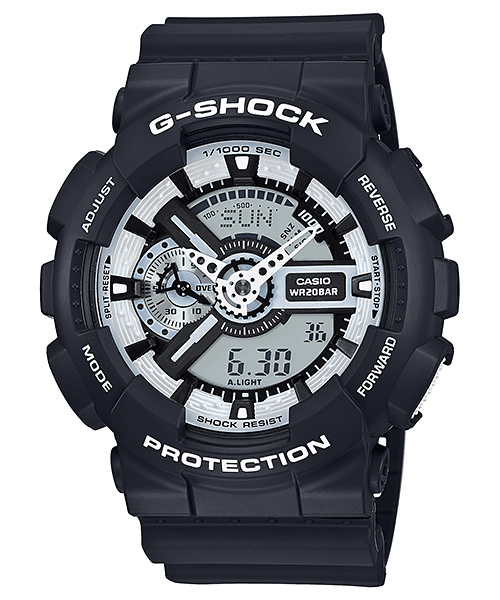 GA-110BW-1A on Amazon GA-110BW-1A on eBay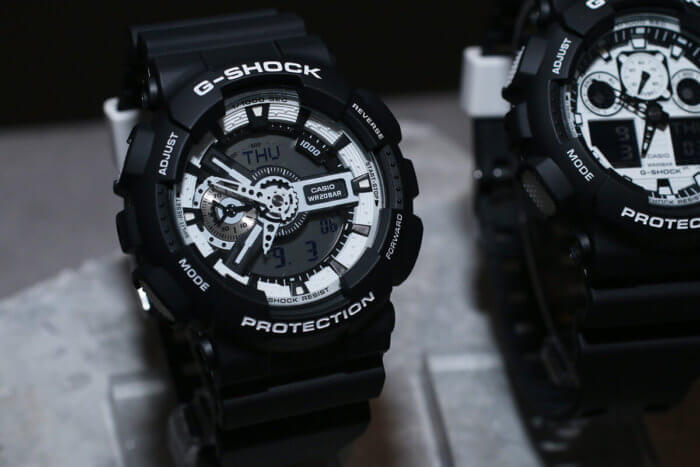 DW-D5600BW-7JF
The DW-D5600BW-7JF is a classic G-Shock watch with a fashionable white and black tiger stripe pattern and a reverse display. U.S. release is the DWD5600BW-7.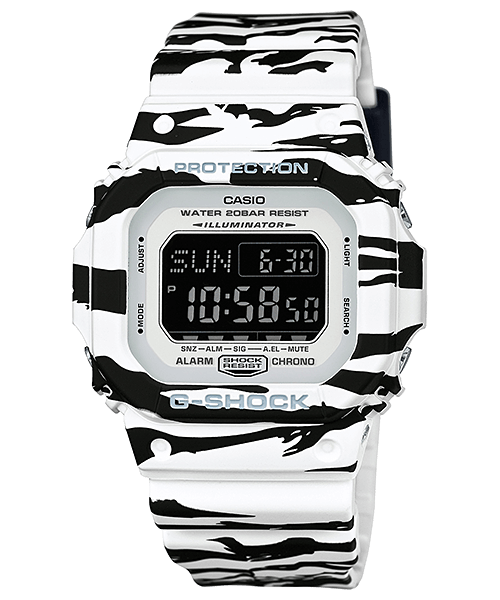 DW-D5600BW-7 on Amazon DW-D5600BW-7 on eBay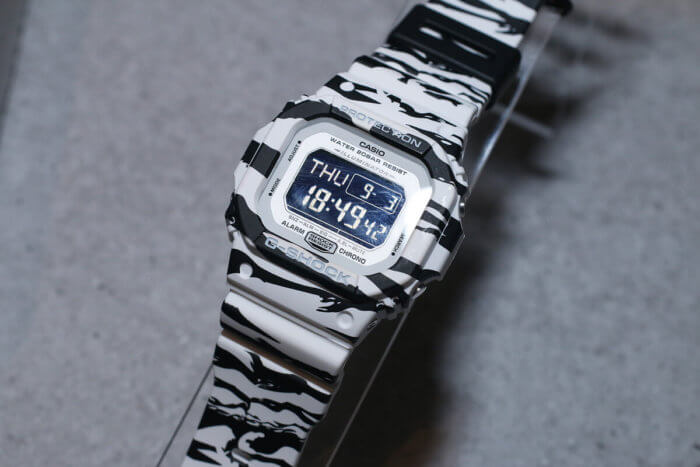 GD-X6900BW-1JF
The large-size GD-X6900BW-1JF is a favorite case for stylish colored G-Shocks like this tiger-striped black and white version. U.S. release is the GDX6900BW-1.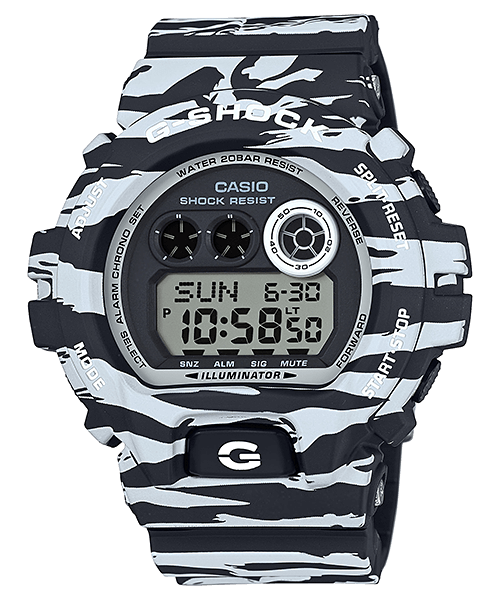 GD-X6900BW-1 on Amazon GD-X6900BW-1 on eBay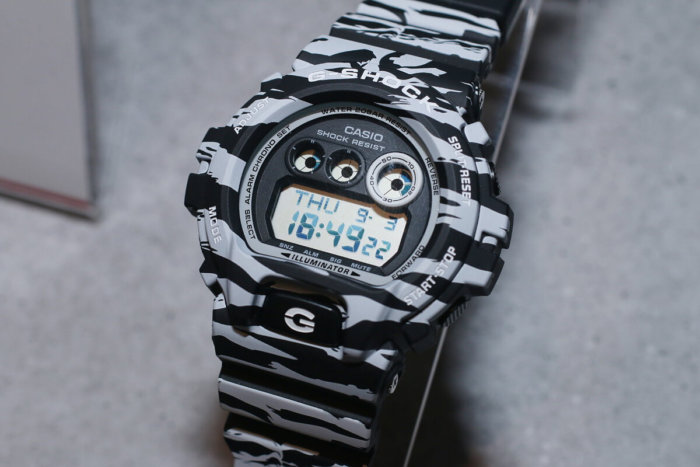 G-001BW-7JF
The G-001BW-7JF is a revival of the 1994 DW-001 model, one of the most unique-looking G-Shock watches featuring a capsule-like design, seen here in a white and black color resembling a Panda bear. The round design and soft shapes of this G-Shock make it a nice choice for women too. U.S. release is the G001BW-7.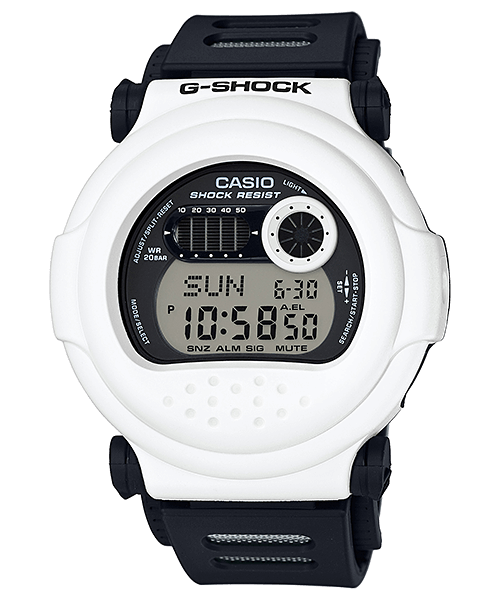 G-001BW-7 on Amazon G-001BW-7 on eBay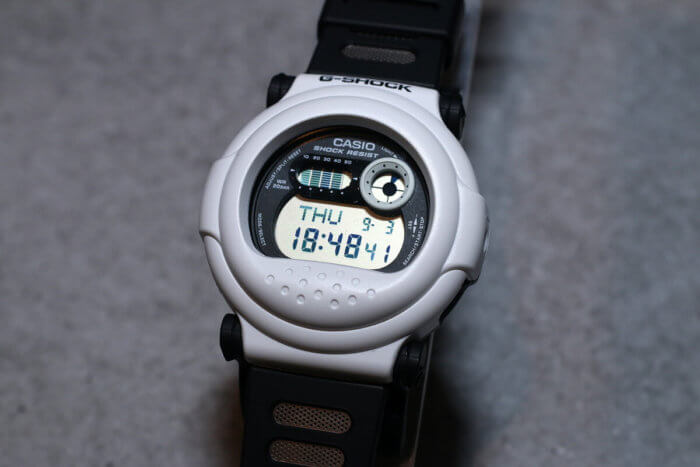 JDM-ONLY WHITE AND BLACK RELEASES
The following watches are Japanese Domestic Market releases.
GW-M5610BW-7JF
The GW-M5610BW-7JF looks like the DW-D5600BW-7 but with a standard LCD display plus Tough Solar power and Multi-Band 6 radio wave timekeeping.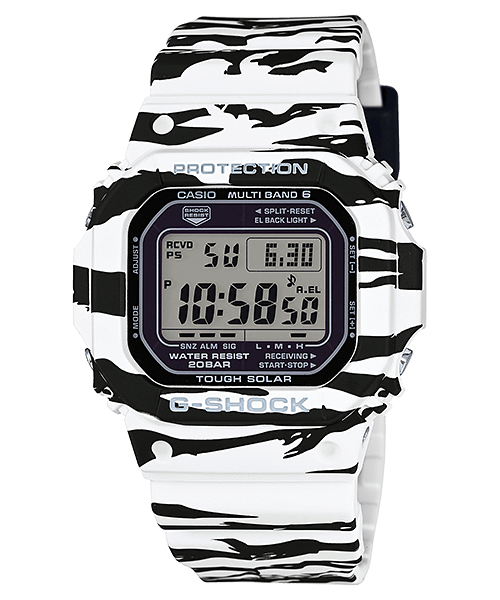 GW-M5610BW-7JF on Amazon GW-M5610BW-7JF on eBay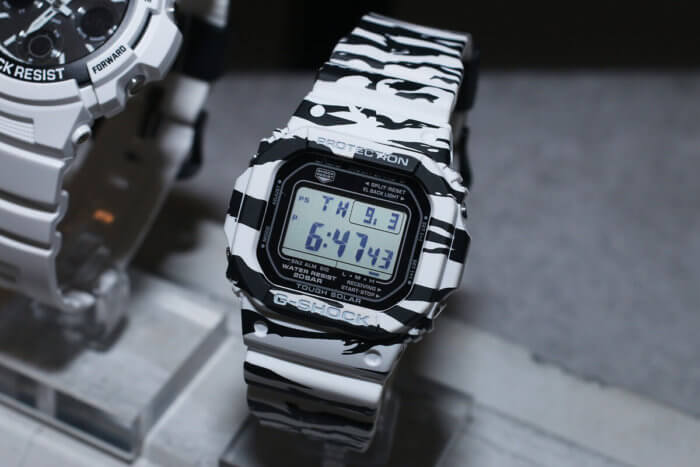 GW-5510BW-7JF
The GW-5510BW-7JF is a modernized version of the 1985 DW-5500 "G-Shock II" model with Tough Solar and Multi-Band 6. It's presented here in a nice clean white color with black buttons and a reverse display.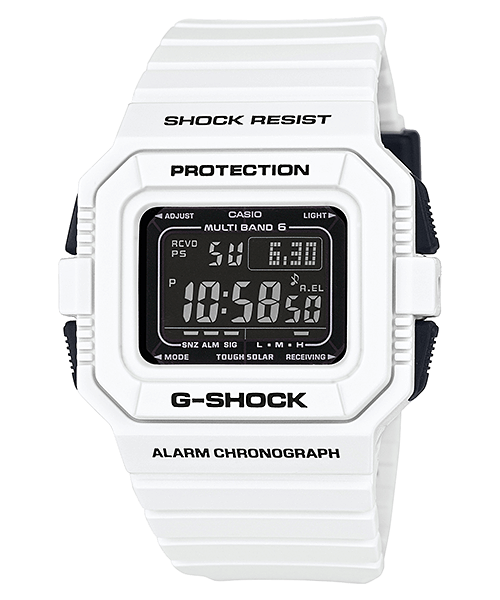 GW-5510BW-7JF on Amazon GW-5510BW-7JF on eBay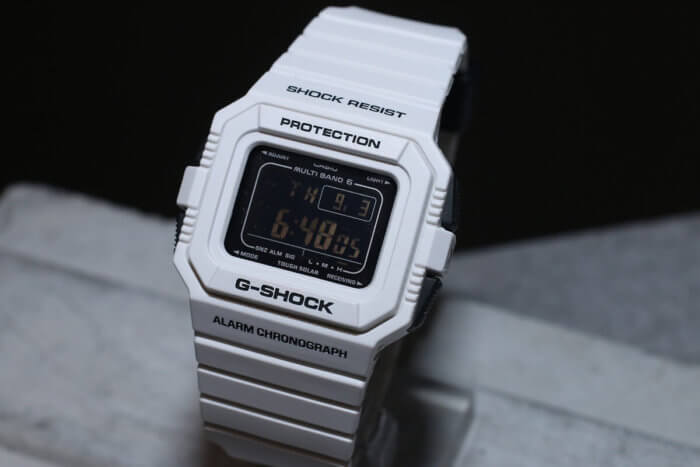 AWG-M100SBW-7AJF
The AWG-M100SBW-7AJF is a simple and sleek standard-size analog-digital model with Tough Solar and Multi-Band 6, presented here in a white case and a black bezel.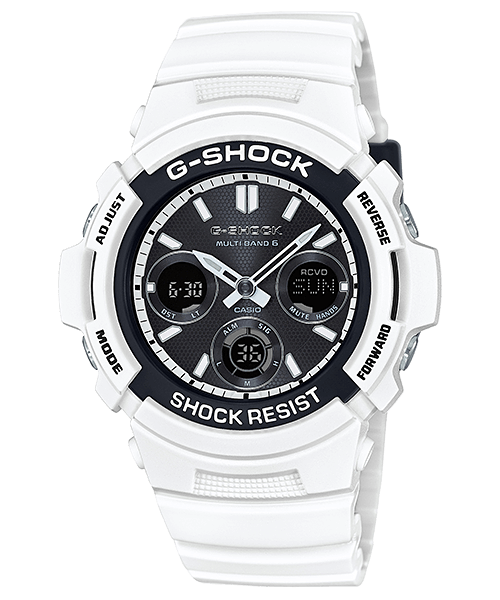 AWG-M100SBW-7AJF on Amazon AWG-M100SBW-7AJF on eBay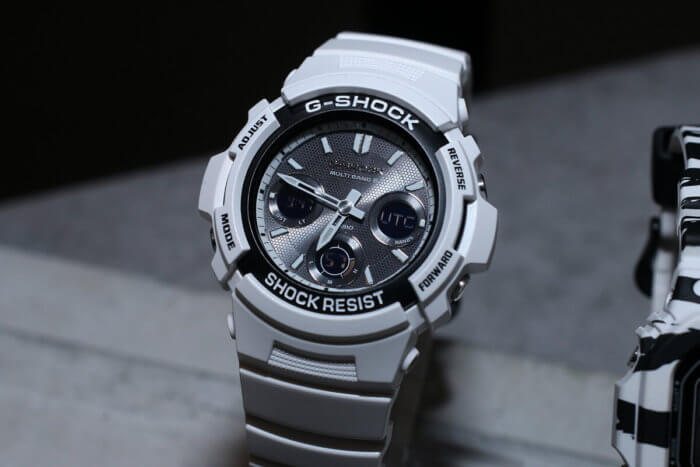 Photos via news.mynavi.jp





Disclosure: G-Central is independently managed by fans and is not an official G-Shock site. For official support, visit world.casio.com. Please follow your region's official site for more release information. All articles are written by G-Central. We may earn a commission on purchases from our links to Amazon, eBay, and Reeds Jewelers.
Advertisement: