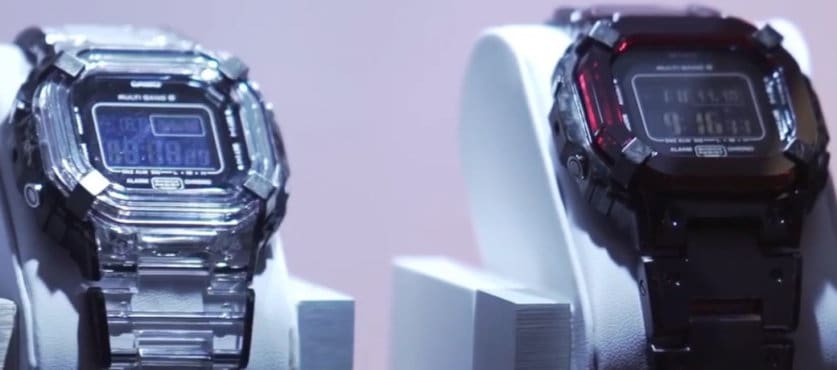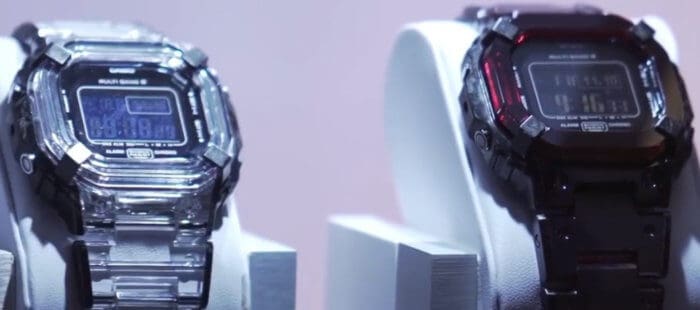 We weren't really expecting new watches at the G-Shock 35th Anniversary event in New York City, so the Sapphire Crystal G-Shock watches are quite a surprise, especially for the fact that they have bodies and bands made out of sapphire. Apparently these classic square 5600-style G-Shocks were designed by G-Shock creator Kikuo Ibe. There were two models on display, a clear one and a dark one with a red tint.
The face of the watch has a Multi-Band 6 logo along with Tough Solar battery levels but there isn't a model number yet. The description of an Instagram video posted by an attendee says the watch will cost $100,000.
The placard in the display reads, "Premium Model. Evolution of functional beauty into formative beauty. Sapphire Crystal G-SHOCK. Developed in pursuit of the ultimate toughness that rejects even a single scratch, a watch with famously hard sapphire crystal protecting nearly the entire case. Each watch will require a month or longer to produce. Scheduled for release in 2018."
We're not sure if the Sapphire Crystal G-Shock watches will just be exhibition models like the Pure Gold Dream Project G-Shock (probably). It should be noted that the pure gold G-Shock was also on display at the event and labeled "Concept Model" whereas the sapphire G-Shock was labeled "Premium Model," so maybe they will actually be for sale someday.