(Scroll down for the the latest update)
Sorry GMW-B5000TFC-1 owners, but the solid gold G-Shock G-D5000-9JR will be the ultimate square…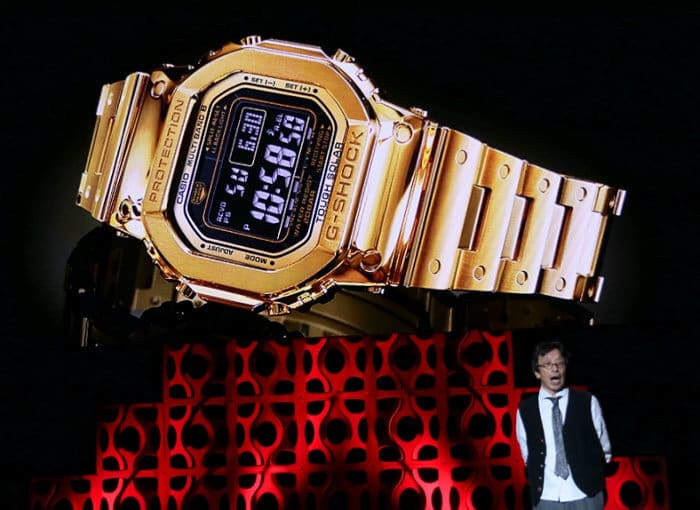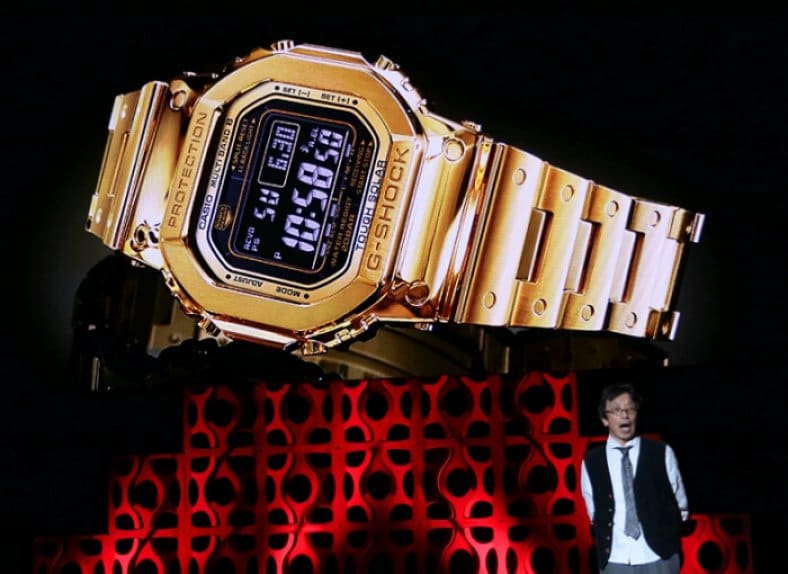 Back in 2015 at Baselworld, Casio revealed the "Dream Project" G-Shock which had a bezel and band made out of 18-karat gold. This was essentially a metallic, real gold version of the fan-favorite GW-5000-1JF and like that model had Tough Solar power, Multi-Band 6 radio timekeeping, and a screw-back case. Only one piece was produced as a concept which subsequently made the rounds at Casio stores and events around the world and it was never intended to be sold or mass-produced. With the release of the stainless steel GMW-B5000 series in 2018 which was obviously heavily inspired by the Dream Project G-Shock and the revelation of the new origin-themed Sapphire Crystal G-Shock concept, the "pure gold" G-Shock was thought to be relegated to the annals of Casio history, but in a surprising turn of events it is now coming back to life.
According to news.mynavi.jp, in a speech at the G-Shock 35th Anniversary Fan Festa in Shibuya, G-Shock creator Kikuo Ibe revealed that the Dream Project was secretly continued and that Casio is actually manufacturing a limited run of authentic gold G-Shock watches for sale. As an official release, the gold G-Shock will meet the full specifications for shock and water resistance. Assuming the photo presented during the speech is an accurate representation of the final product, the watch will have a reverse LCD display unlike the standard LCD of the original concept model and will have Tough Solar/Multi-Band 6 but not Bluetooth like the GMW-B5000. There will only be 35 pieces available worldwide. The model number, full specifications, and price have not been released yet and more details will be revealed after February 2019. [Updated Below]
This ultra-exclusive upcoming model should not be confused with the GMW-B5000GD-9 which is a standard release with the same color scheme but with a stainless steel bezel and bands with a gold-colored ion plating, the Bluetooth mobile link feature, and presumably a much lower price.
Update: Best Ishida referred to this model as the "金無垢(K-18)G-SHOCK" which translates to "Pure Gold (18k) G-Shock." Maybe "Solid Gold" would be a more accurate description for the watch, as pure gold usually refers to 24k gold with 99.9% purity, but 24k gold is much softer and susceptible to damage.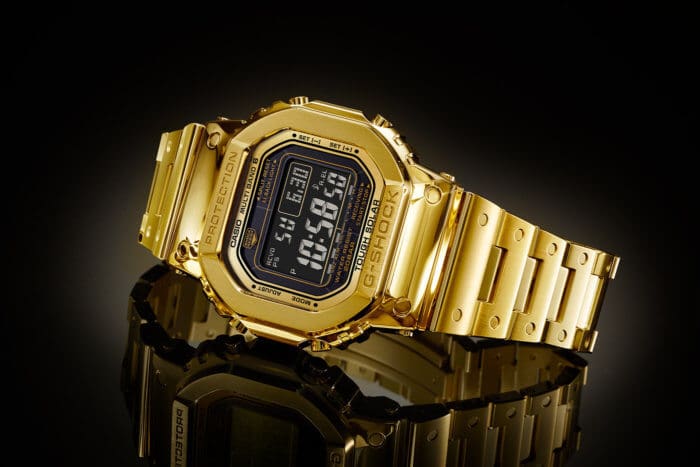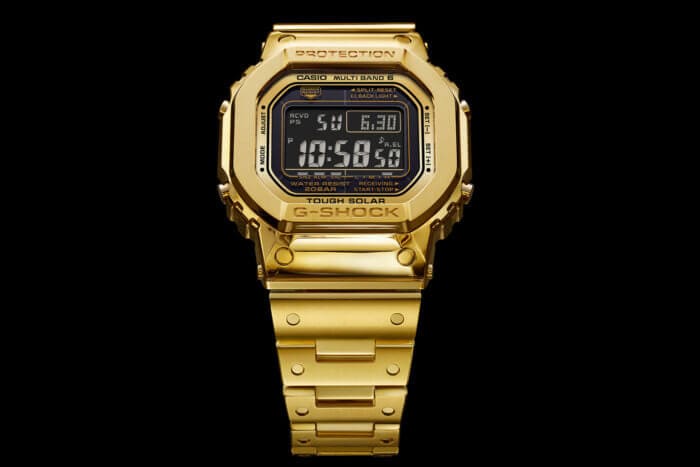 Photo via news.mynavi.jp
Update 2: G-Shock revealed the watch's model number as G-D5000-9JR and announced that select stores in Japan will begin accepting reservations on 15 May 2019 with orders to be fulfilled in December 2019. The tweet also states that the photos we've seen so far are not the final specification. The participating stores are listed at g-shock.jp/shop/gold. According to Google Translate, the page also states that "The overseas receptionist is undecided," so it looks like this super-limited G-Shock might end up being available in Japan only. (Update: The watch is also available in four other countries.) The price is reportedly ¥7,700,000 JPY (~$69,533.49 USD as of 25 Feb 2019) excluding tax.
A Japanese press release that includes the full specifications can be found here. Based on a new video (below), the watch has a screw-lock case back like the GMW-B5000. The module and specs are similar to the GMW-B5000 but without the Bluetooth mobile link function. The display is an STN LCD,. The light is an LED. The order of the date can be adjusted and the day of the week display is available in several languages. Other features include shock resistance, 200-meter water resistance, Tough Solar power, Multi-Band 6 radio wave timekeeping, world time, 1/100 stopwatch (under 1 hour) with 1-second stopwatch over an hour, countdown timer (1 second increments, 24 hours max), and 5 alarms with 1 snooze alarm. The watch measures 50.0 x 43.2 x 13.0 mm and weighs about 300 grams.
We're curious to see if Casio will release other G-Shock watches with this module, as it's hard to imagine it would develop an entirely new module just for a 35-piece limited edition release.
【PRODUCT INFO】
G-SHOCK35周年ファイナルを飾るスペシャルモデル「金無垢G-SHOCK」が5月15日より受付開始!限定35本の完全受注生産のモデルとなります。
※写真は、最終仕様ではありません。
G-D5000-9JR
取扱い受付店はこちら:https://t.co/NjNvGCTtXo#g_shock #gold pic.twitter.com/Udxtq18V9b

— G-SHOCK (@GSHOCK_OFFICIAL) February 25, 2019