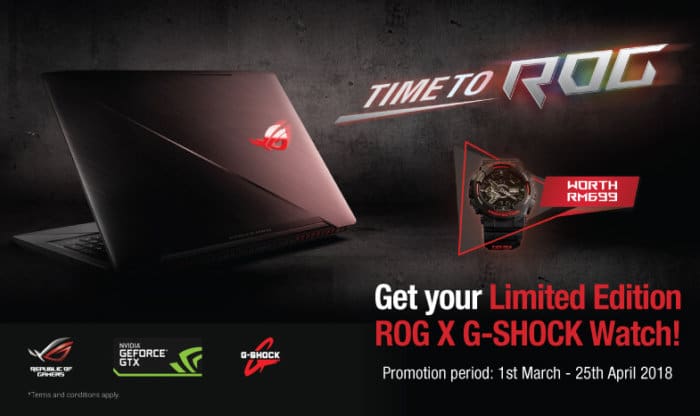 Asus Malaysia is running a special promotion and offering a Republic of Gamers (ROG) x G-Shock GA-110 limited edition watch to purchasers of certain laptops. Those who buy a GL503 Scar Edition, GL703, GL703 Scar Edition, GX501 Zephyrus, or G703 will be able to redeem the watch while supplies last (with 100 watches available). Those who buy a GL553VD, GL553VE, or GL503 Hero Edition will be able to enter a lucky draw for a chance to win one of 16 watches.
We don't have any details on the watch but from the photo above it appears to be a black and red GA-110HR-1A with a ROG logo on the bands.
The promotion is running from March 1 to April 25, 2018 and the qualifying laptop must be purchased during that time.
For complete information and instructions visit https://www.asus.com/my/events/info/activity_timetorog/.
(
G-Central is an independent news site created and maintained by fans and is not an official representative of Casio or G-Shock. G-Central earns a commission on qualifying purchases made from its links. See full disclosure.
)