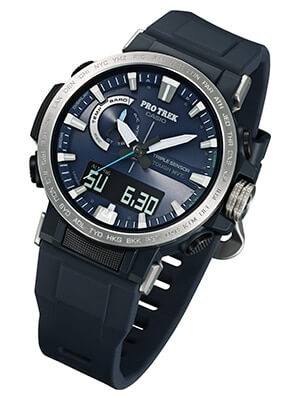 The Casio Pro Trek PRW-60 series is a smaller, full-featured analog-digital model. It takes all the features of the Pro Trek PRW-6100 and puts them into a pared-down body through the use of the new Cross Frame Structure in which the lugs are integrated into the case back. These features include Tough Solar power, Multi-Band 6 radio timekeeping, and the Triple Sensor (with air pressure and altitude sensor, compass, and thermometer). An enhanced feature is the Neon Illuminator as part of the full auto double LED light, which makes the fluorescent-coated hands and index highly visible in the dark with an ultraviolet LED. A second LED light illuminates the LCD display. A mirror finish is applied to the index markers for a refined appearance. The bands are made of Dura Soft silicone. Other features include 100-meter water resistance, world time (29 cities + UTC), 1/100 second stopwatch, countdown timer (60 minutes), 5 daily alarms, and battery level indicator.
The PRW-60 measures 50.5 x 47.2 x 13.3 mm which is significantly smaller but a little thicker than the PRW-6100's 58 x 51.6 x 12.8 mm.
Debut models include the navy PRW-60-2A with reverse LCD, white PRW-60-7A with standard LCD, and black PRW-60Y-1A with reverse LCD. The PRW-60-7A is the first white analog-digital Pro Trek and also has a white face (a new trend for Tough Solar models). Those who want an unobtrusive yet full-featured watch for outdoor activities, and those with smaller wrists such as women and young people may prefer the smaller size of the PRW-60.
Update: The PRW-60-2A and PRW-60-7A have a list price of ¥52,000 JPY and the PRW-60Y-1A has a list price of ¥54,000 JPY. The PRW-60 is slated for a May 18, 2018 release in Japan.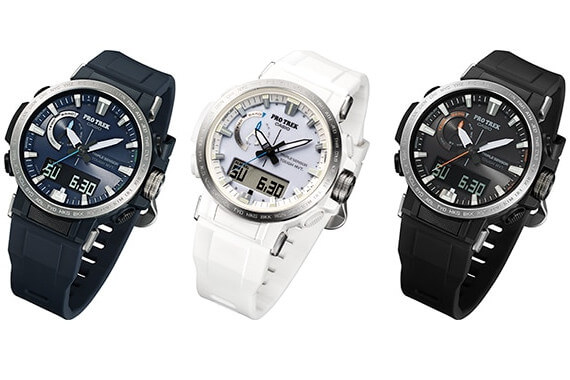 Casio Pro Trek PRW-60 Promotional Video: