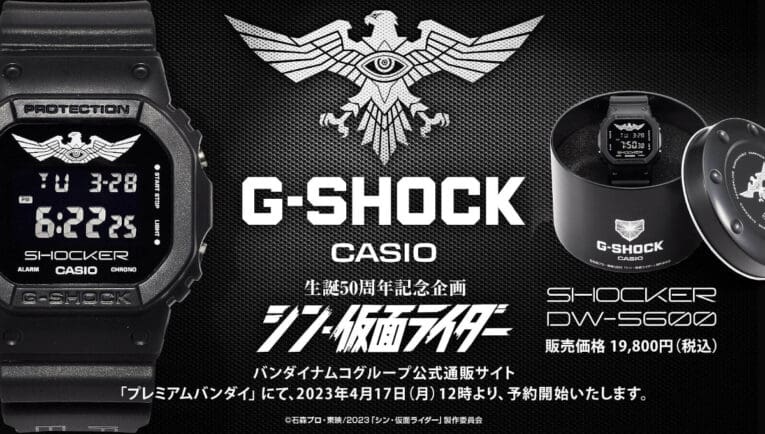 Bandai Fashion is releasing a special apparel collection to commemorate the release of the film Shin Kamen Rider. The collection is a collaboration with various companies, including Casio who is producing a limited G-Shock DW-5600 "Shocker" watch.
If you're not familiar with Kamen Rider, you may be thinking that the eagle emblem on this watch sort of resembles another well-known and infamous eagle emblem from history, but this emblem represents "Shocker," which is an acronym for "Sustainable Happiness Organization with Computational Knowledge Embedded Remodeling." It is actually an evil and villainous organization in the Kamen Rider universe, which may explain the emblem's similarity to that other one.
Shin Kamen Rider, released on March 18 in Japan, was a 50th anniversary project written and directed by Hideaki Anno, director of Neon Genesis Evangelion. The film is a reimagining of the original live action television series from 1971. (In the U.S., the original series and other "tokusatsu" series and movies are streaming at ShoutFactoryTV.com, which is free and ad-supported.)
Reservations for the G-Shock DW-5600 "Shocker" watch will begin online on April 17 at 12:00 p.m, with a price of 19,800 yen. A pop-up store for the collection is currently open until April 16 at Hankyu Men's Tokyo 8F, featuring sales of collaborative apparel products from Honda and Fruit of the Loom, along with a display of the Cyclone motorcycle and Kamen Rider mask.
For more information (in Japanese), visit the Premium Bandai online store at p-bandai.jp. (Note: Visitors outside of Japan will be redirected. The Premium Bandai store also operates in several countries outside of Japan, but the Shin Kamen Rider Apparel Collection appears to be limited to Japan.)