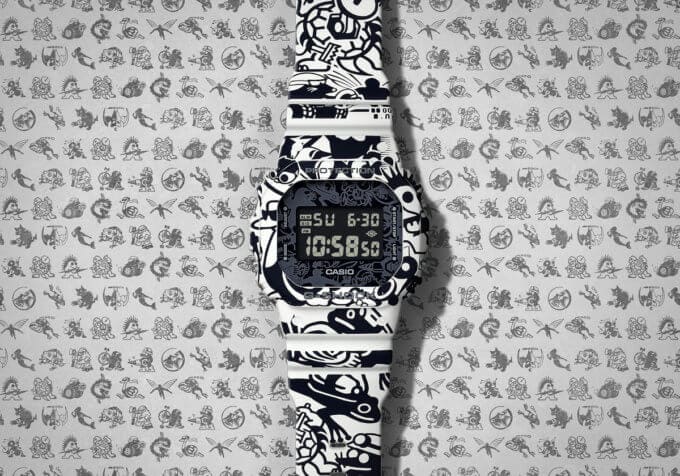 The G-Shock DW-5600GU-7, announced for a July 2022 release in Japan and Asia, features a unique printed pattern consisting of 18 character drawings from the engraved case backs of current and past "Master of G" models, giving it an artistic camouflage style. The black pattern appears on the white bezel and band, and extends to the black face in gray. The band keeper is translucent resin, allowing the underlying pattern to be visible. The limited edition watch comes in a matching box and tin case.


Master of G is the professional grade of G-Shock watches designed for land, sea, and air and includes the "man" and "master" models such as the Frogman, Rangeman, Mudmaster, and Gravitymaster. Master of G watches are known for their innovative and advanced functions that set them apart from basic models.
The eighteen Master of G characters featured on the DW-5600GU-7 include the following: Frogman (DW-6300 from 1993, MRG-1100 from 1999, GWF-1000 from 2009), Mudman (DW-8400 from 1995, G-9000 from 2006, GW-9300 from 2011), Gulfman (DW-9700 from 1999, GW-9100 from 2007), Rangeman (GW-9400 from 2013), Gaussman (AW-571 from 1998), Wademan (DW-9800 from 1999), Lungman (DWG-100J from 1999), Riseman (DW-9100BJ from 1997, GW-9200J from 2008, G-9200 from 2008), Fisherman (DW-8600J from 1996), Raysman (DW-9300 from 1998), Antman (GW-100 from 2000). For a full list and description of character images, visit casio.com/intl.
There will also be DWE-5610-UNIVERSE limited edition parts available (in white, blue, and red) in early August at the custom My G-Shock online shop in Japan, with a complete set costing 18,700 yen (tax-included).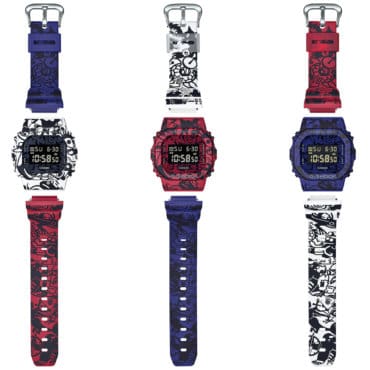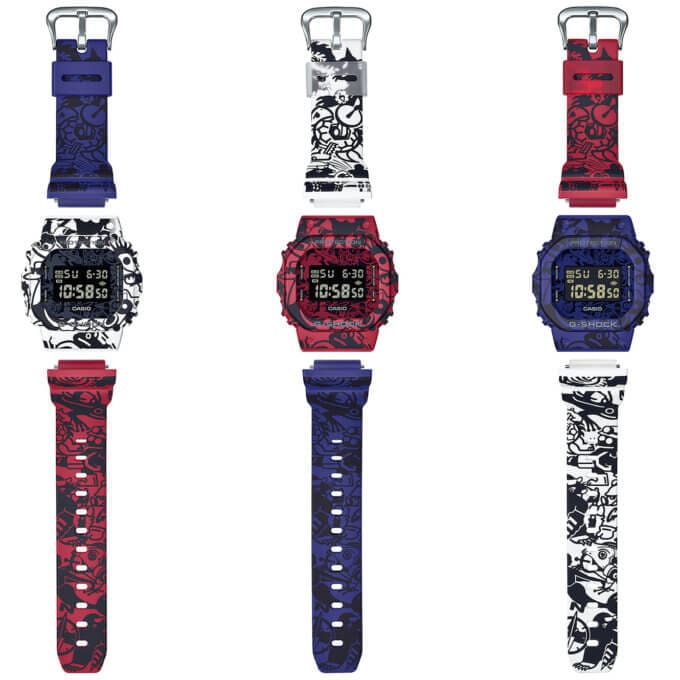 In Japan, the DW-5600GU-7JR will be released on July 8 for 16,500 yen (tax-included). The DW-5600GU-7 is also expected to be released worldwide later.
Update: G-Shock U.S. is releasing the DW5600GU-7 for $140 on August 3.
G-Shock DW-5600GU-7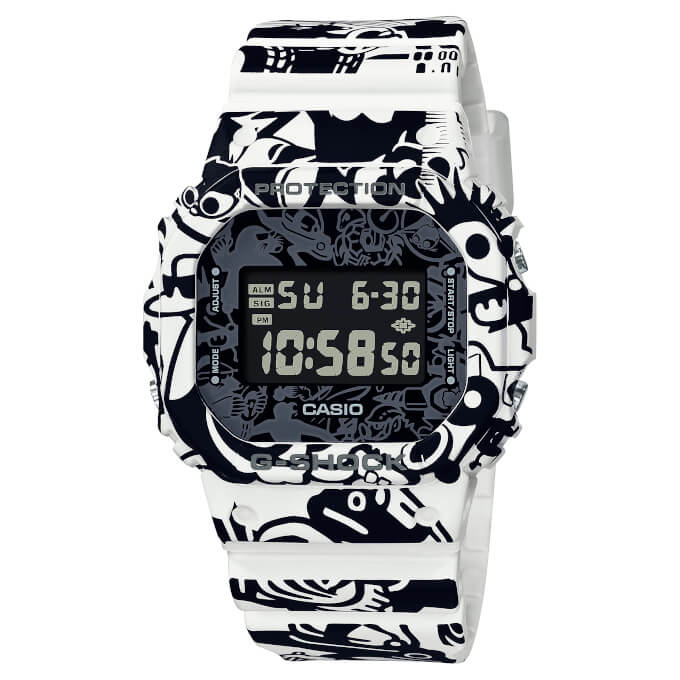 List Price: $140 Size: 48.9 × 42.8 × 13.4 mm Weight: 56 grams
Structure: Resin case, bezel, and band, mineral glass
Protection: Shock Resistance, 200-meter Water Resistance Power: Battery (CR2016, approx 2-year life)
Features: Stopwatch (23:59'59 max, 1/100-second first 60 minutes, 1-second after 60 minutes, elapsed time, split time, 1st-2nd place times), countdown timer (24 hours, settable in seconds, minutes, and hours, auto-repeat), multi-function alarm, hourly time signal, flash alert, EL backlight with afterglow, full auto-calendar, 12/24-hour format
Drawing on the brand's history of introducing technologically advanced watches, the artistic black and white pattern of the DW-5600GU-7 is sure to please longtime G-Shock fans.