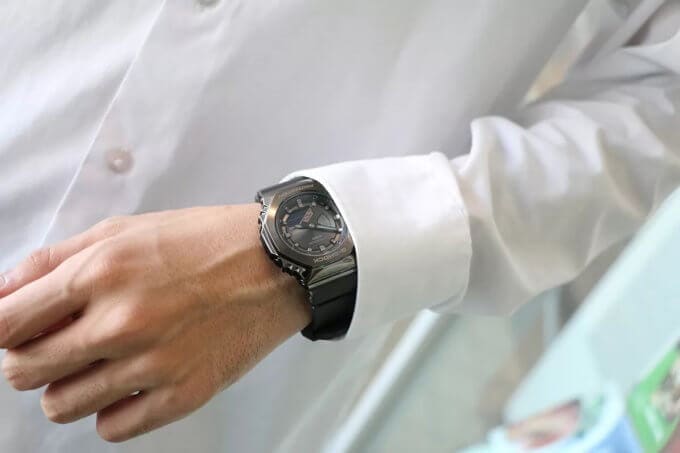 We previously noted the unisex styling of the debut metal-covered GM-S2100 colorways. Mizuki Nomura, a product planning leader at Casio, revealed in an interview that the GM-S2100 was designed for both women and men. There is also a photo of a man wearing the gray GM-S2100B-8A with a long sleeve shirt.
Men with large wrists will probably be better off with the full-size GM-2100, which we consider to be mid-size compared to some of the larger G-Shock models, but those with average to smaller wrists may prefer the GM-S2100. In terms of height and width, the GM-S2100 is around 90% the size of the GM-2100. Nomura refers to the GM-S2100 as mid-size in comparison to the GM-2100. The thickness of the GM-S2100 is 11 millimeters (versus 11.8 for the GM-2100), so it will fit under sleeves and outerwear slightly better. Another factor to consider is that the stainless steel bezel of the GM-2100 makes the watch slightly larger than the GA-2100 with a resin bezel, (49.3 x 44.4 versus 48.5 x 45.4, same thickness). Also, the metal bezel also adds weight, and the smaller GM-S2100 weighs 55 grams, which is 17 grams less than the GM-2100.
As there is nothing wrong with a man wearing an S Series G-Shock, there is also nothing wrong with a woman wearing a full-size G-Shock, which many women do. The GM-2100 and GM-S2100 series are slated for an August release in Japan and Asia, with other regions to follow.
For Shopping Links See: G-Shock GM-S2100 Series: A Mini Metal-Covered "CasiOak"
Below: The GM-2100 (left) next to the GM-S2100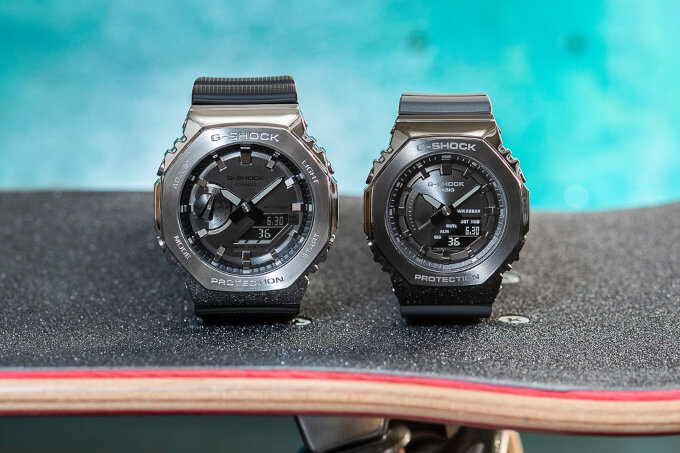 Photo via news.mynavi.jp