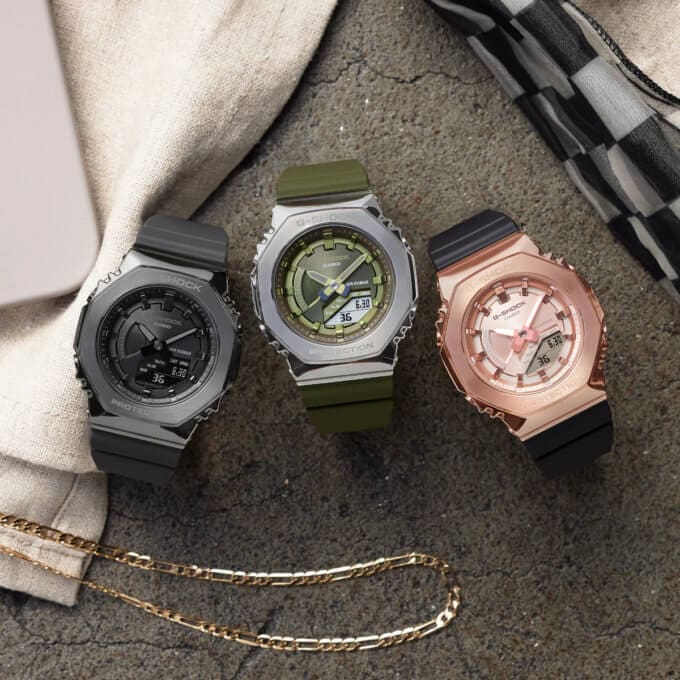 Along with the full size metal-covered GM-2100 series, G-Shock is also releasing the smaller GM-S2100 series in August. The three launch models for this mini "CasiOak" line include the silver and green GM-S2100-3AJF (24,200 yen tax-included), gray GM-S2100B-8AJF (26,400 yen), and rose gold and black GM-S2100PG-1A4JF (26,400 yen). The GM-S2100-3A, GM-S2100B-8A, and GM-S2100PG-1A4 are also expected to be released worldwide after the Japan release. G-Shock U.S. is expected to release the GMS2100-3A ($180), GMS2100B-8A ($200), and GMS2100PG1A4 ($200).
The GM-S2100 measures 45.9 x 40.4 x 11 and weighs approximately 55 grams. The functions are the same as the GM-2100. Unlike the GM-2100 and the full resin GMA-S2100, the GM-S2100 does not have an analog day of the week indicator, but it has a new module, and the day of the week (or date or time) can be displayed on the LCD display along with the seconds.
The S Series is a women's G-Shock line featuring the full shock resistance and 200-meter water resistance of their larger counterparts. These GM-S2100 models have a unisex style that are suitable for anyone who prefers a smaller watch, although the larger GM-2100 is considered mid-sized and not a very large G-Shock.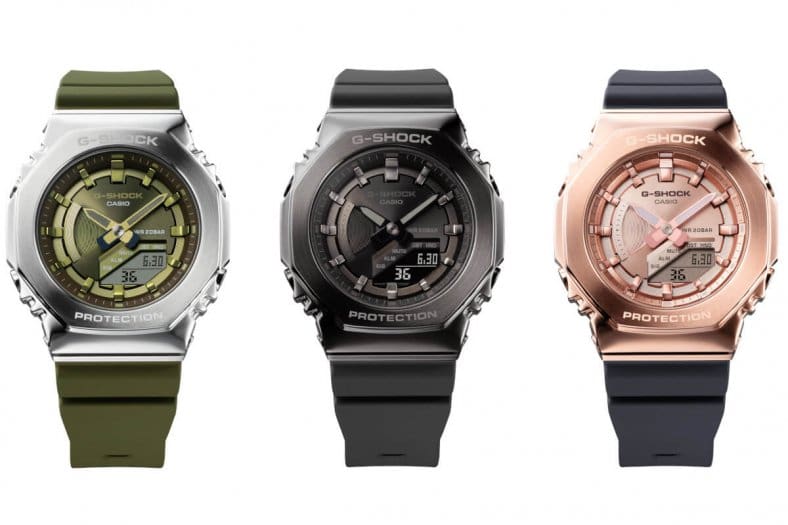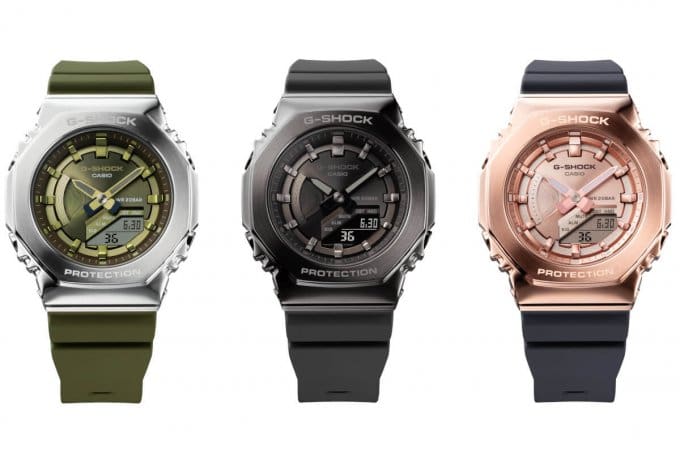 G-Shock GM-S2100-3A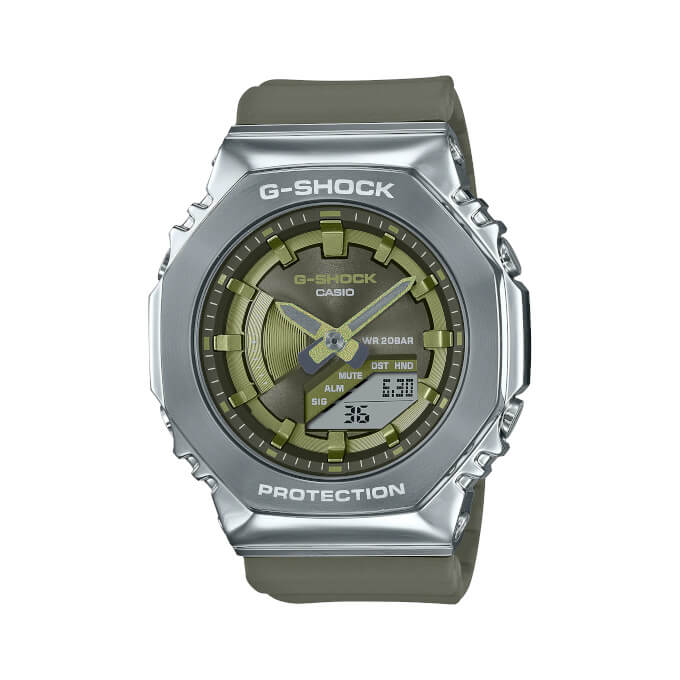 Size: 45.9 × 40.4 × 11 mm Weight: 55 grams
Structure: resin case, stainless steel bezel, resin band, mineral glass, Neobrite
Protection: Shock Resistance, 200-meter Water Resistance Power: Battery (CR1025, approx. 3-year life)
Features: World time (31 time zones, 48 cities + UTC, DST on/off, auto DST), stopwatch (23:59'59 max, 1/100-second first 60 minutes, 1-second after 60 minutes, elapsed time, split time), countdown timer (24 hours, settable in minutes and hours), 5 daily alarms, hourly time signal, dual LED light with 1.5 or 3-second afterglow, full auto-calendar, button tone on/off, 12/24-hour format, hand shift
G-Shock GM-S2100B-8A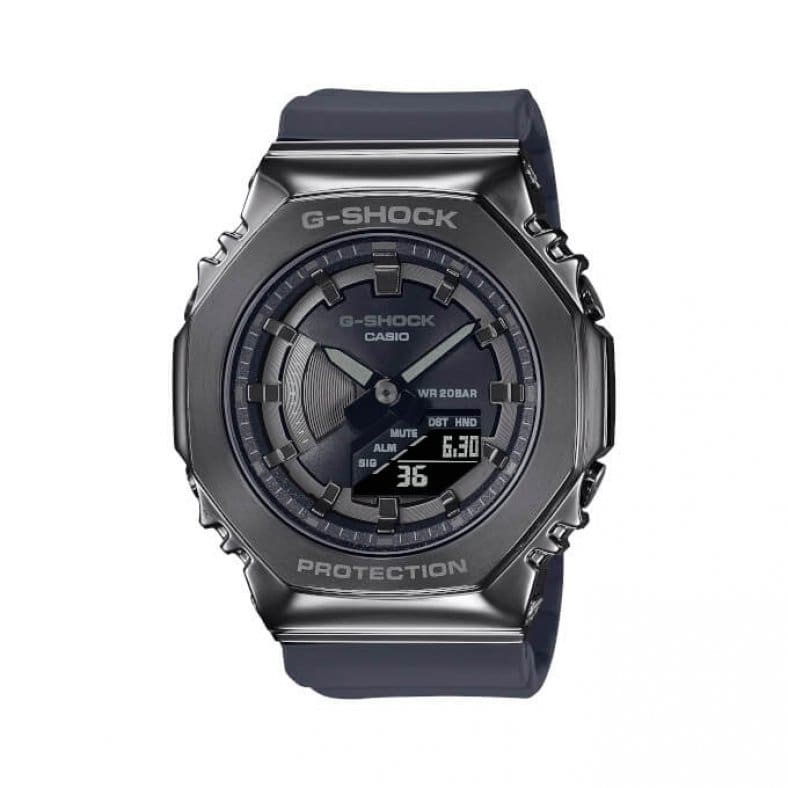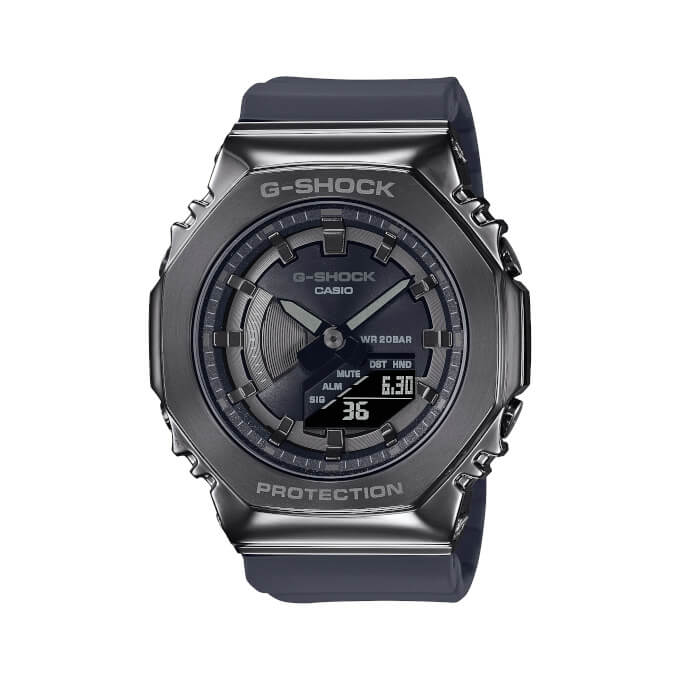 Size: 45.9 × 40.4 × 11 mm Weight: 55 grams
Structure: resin case, stainless steel bezel, resin band, mineral glass, Neobrite
Protection: Shock Resistance, 200-meter Water Resistance Power: Battery (CR1025, approx. 3-year life)
Features: World time (31 time zones, 48 cities + UTC, DST on/off, auto DST), stopwatch (23:59'59 max, 1/100-second first 60 minutes, 1-second after 60 minutes, elapsed time, split time), countdown timer (24 hours, settable in minutes and hours), 5 daily alarms, hourly time signal, dual LED light with 1.5 or 3-second afterglow, full auto-calendar, button tone on/off, 12/24-hour format, hand shift
G-Shock GM-S2100PG-1A4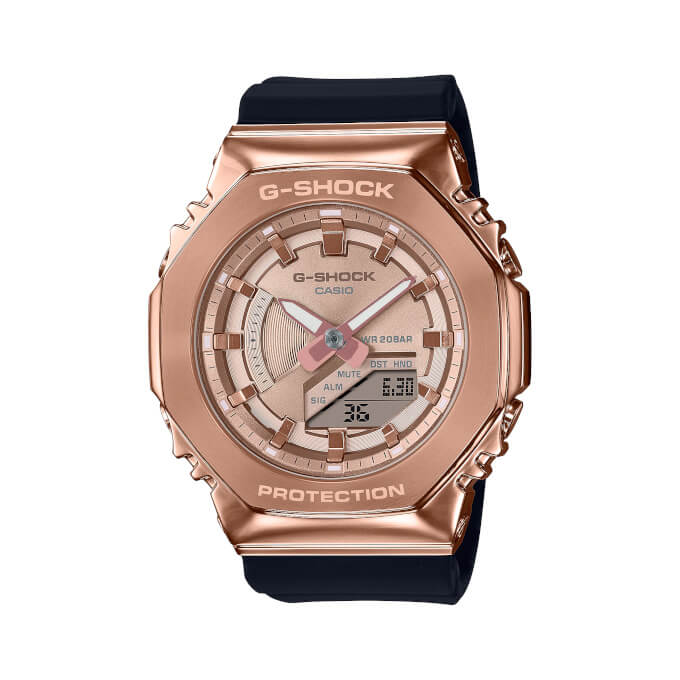 Size: 45.9 × 40.4 × 11 mm Weight: 55 grams
Structure: resin case, stainless steel bezel, resin band, mineral glass, Neobrite
Protection: Shock Resistance, 200-meter Water Resistance Power: Battery (CR1025, approx. 3-year life)
Features: World time (31 time zones, 48 cities + UTC, DST on/off, auto DST), stopwatch (23:59'59 max, 1/100-second first 60 minutes, 1-second after 60 minutes, elapsed time, split time), countdown timer (24 hours, settable in minutes and hours), 5 daily alarms, hourly time signal, dual LED light with 1.5 or 3-second afterglow, full auto-calendar, button tone on/off, 12/24-hour format, hand shift
Metal Covered G-Shock GM-S2100 Promo Video: