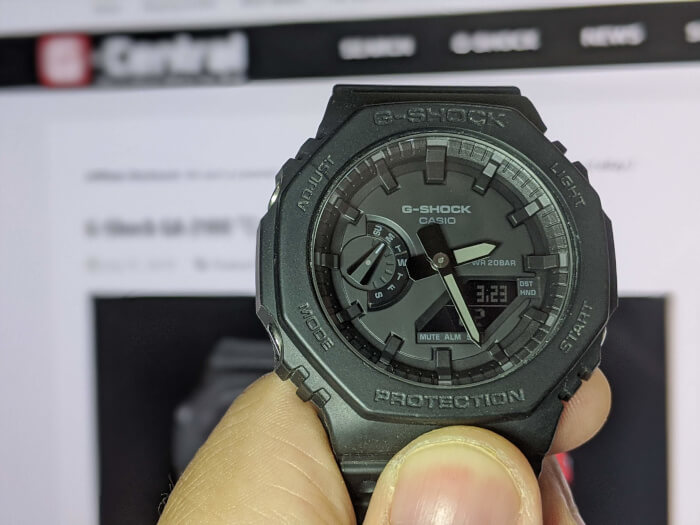 The GA-2100 series appears to be G-Shock's most successful new model launch since the GMW-B5000. The blackout GA-2100-1A1, one of three debut models from 2019, is still widely sold out and unavailable. The new GA-2110SU-3A (GA2110SU-3A in the U.S.) has been selling out quickly at some American retailers. Why is the GA-2100 so popular? Based on my own experience and the reactions of others, the reasons are very simple.

1. Style
While the GA-2100 has more of the original G-Shock DNA in its style than some other recent models like the GA-2000, it is also a subdued style that has a mainstream appeal. Fans will easily recognize it as a G-Shock, but at the same time, it doesn't scream "G-Shock" to others.
The bezel has a strong resemblance to the Audemars Piguet Royal Oak, earning the watch the nickname the "CasiOak." I don't think that connection is necessarily a conscious selling point for most buyers, but the design does give the watch a classic look that comes across as confident and effortless. There is no doubt that the similarity has garnered the GA-2100 a lot of attention online, which gave it more publicity than other recent models. While it is definitely a distinctive bezel, it is a smaller and less obtrusive one than other G-Shock watches. This gives the watch a more conservative look, while still retaining signature G-Shock elements. The dial of the GA-2100 offers a refined style that isn't too busy and looks both contemporary and timeless. Overall, it simply looks classier and more refined than other analog-digital G-Shock models in the same price range.
2. Size
The use of the Carbon Core Guard structure allows the GA-2100 to be the slimmest G-Shock of all current models. The height and width of the watch is considered mid-size, rather than the large size of most analog G-Shock watches, and the watch wears very light and comfortably. The GA-2100 is currently the lightest analog-digital G-Shock model at 51 grams. (It is also one of the lightest G-Shock models overall, behind the Japan-only GW-S5600-1JF and the women's S Series GMD-S6900.) Those with smaller wrists do not need to worry about the watch being a bad fit, or if it will look too big, which is often a concern with larger G-Shock watches. Though the display is larger than a DW-5600, it wears very similarly, and I like to think of it as an analog-digital version of the DW-5600, but with a few more features.
3. Price
The GA-2100 is a great-looking watch, and the reasonable US$99-$110 MSRP offers a great value. Whether purchased as a daily wearer or for the weekends and recreation, buying a GA-2100 is within most people's budget and does not require a major sacrifice.
4. It's a G-Shock (Features)
While the GA-2100 may convert people who wouldn't have otherwise bought a G-Shock, that doesn't mean those people won't welcome the features that G-Shock is famous for. The heavy-duty shock resistance and 200-meter water resistance gives it a leg up on its competitors, and other useful functions include world time, a 1/100-second stopwatch, 24-hour countdown timer, date and day display, and dual LED backlight.
The Not So Good
The GA-2100 isn't a perfect watch, and many people may be better served by another G-Shock model, depending on their needs. The GA-2100 lacks an auto light option that will activate the backlight with a turn of the wrist. The LCD display is very small and may be practically useless to those with farsightedness or ageing eyes. The hands on the GA-2100-1A1 do have lume, but it is not the same "Neobrite" lume found on the other GA-2100 and GA-2110 models, and is not very effective compared to those other models. Though the LED backlight does a great job with the LCD display, the other LED light does not do a very good job of illuminating the hands and markers on the GA-2100-1A1 in the dark. Based on videos I've seen, it seems to work a lot better with the other GA-2100/2110 models. The subdial on the GA-2100-1A1 that shows the day of the week is also very small and nearly invisible because of its black and dark gray colors.
Those needing a more readable LCD display will be better off with another G-Shock, but will have to settle with either an all-digital model or a larger analog-digital one. Personally, I find the GA-2100-1A1 to be a fine daily watch, but only if I'm using it for the sole purpose of telling the time. If I need to use the digital functions or need to check the time at night a lot, then I would prefer to use another G-Shock. (Other GA-2100 models would be better suited for nighttime use than the GA-2100-1A1.) For me, the GA-2100 could never be my only watch, but I'm happy to have it as part of my small collection.
Where to Buy
The blackout GA-2100-1A1 is still sold out everywhere, but more stock is expected in the coming months, and we will make a new post when it is available. The GA-2100-1A and red GA-2100-4A are also mostly sold out. Some of these models may be more readily available in some countries in regions like Southeast Asia, but beware of fakes at unauthorized shops and online. Also, there are some online scams involving the GA-2100-1A1 and other popular G-Shock models, where some e-commerce websites end up shipping a completely different model. Stick with reputable authorized retailers and avoid unknown stores.
The GA-2100SU-1A with camo bezel and the green and black GA-2110SU-3A are new releases in the U.S. and are available at several retailers. Also new, but not released in the U.S., is the yellow and black GA-2110SU-9A that was released in Japan, Asia, Europe, and Australia. We wouldn't be surprised to see more GA-2100 models released in 2020.






Disclosure: G-Central is independently managed by fans and is not an official G-Shock site. For official support, visit world.casio.com. Please follow your region's official site for more release information. All articles are written by G-Central. We may earn a commission on purchases from our links to Amazon, eBay, and Reeds Jewelers.
Advertisement: