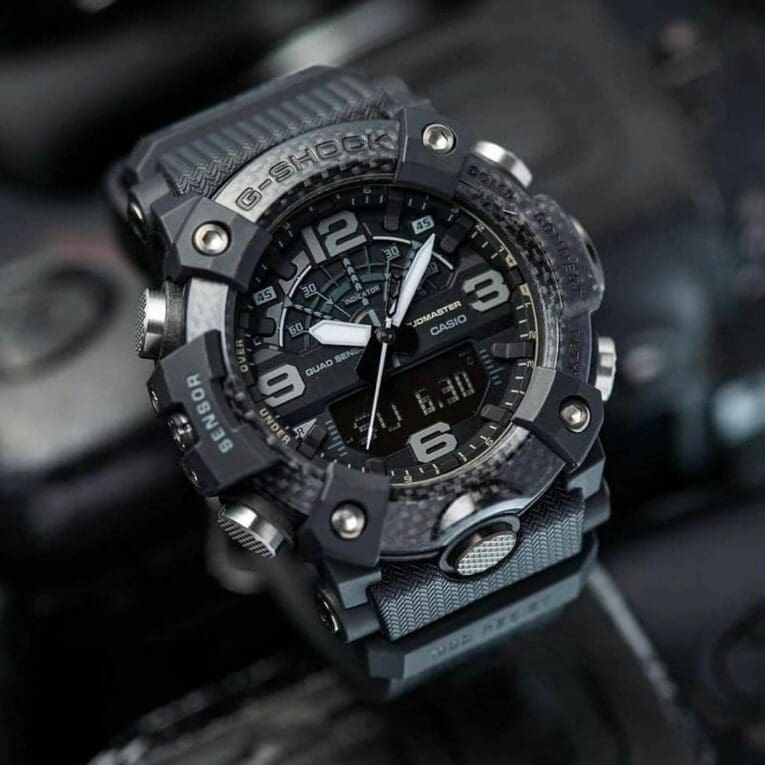 Celebrities frequently wear G-Shock watches in films, but it's not often that we see A-list actors like Denzel Washington, who can afford anything in the world, wearing a G-Shock regularly in their personal lives. Denzel was recently spotted wearing a G-Shock Mudmaster GGB100-1B while sitting next to Spike Lee at a Lakers basketball game (image at gq.com). The watch was a natural match for his all-black outfit that included a blackout Yankees cap.
Upon further investigation, Denzel has been wearing this G-Shock Mudmaster watch regularly since 2021. He usually wears it to basketball games and sometimes wears it with a suit. He was wearing the watch during a viral incident at another Lakers game in February (in which Lebron James broke the NBA career scoring record), where Denzel had a heated exchange with someone on the court while Jay-Z tried to calm him down (youtube.com). He also wore the watch as he addressed the crowd for a Jackie Robinson tribute at the 2022 MLB All-Star Game (youtube.com).
The GGB100-1B (GG-B100-1B internationally) has a carbon fiber bezel with a blackout style, although it's not a full blackout model as some of the buttons and screws are silver. A similar-looking model is the GG-B100-8A which has more of a gray appearance and a positive LCD display. The GG-B100 base features shock resistance, mud resistance, 200-meter water resistance, Bluetooth smartphone link, Quad Sensor (step counter, pressure sensor with altimeter and barometer, compass, thermometer), sunrise and sunset time display, and an auto double LED light. The GG-B100 is a smaller (but thicker) and more affordable alternative to the Mudmaster GWG-2000, but it does not have the Tough Solar power or Multi-Band 6 radio time adjustment of that series, while the GWG-2000 lacks the Bluetooth connectivity and step counter of the GG-B100. GGB100 models typically have a retail price of $380 in the U.S.
An Academy Award Best Actor winner for Training Day in 2002, Denzel Washington last appeared in The Tragedy of Macbeth in 2021 and is set to appear in The Equalizer 3 on September 21, 2023.
Update: Denzel was spotted wearing the watch again as he skipped the Academy Awards to watch the Lakers take on the Knicks in Los Angeles (dailymail.co.uk).
See Also: G-Shock Mudmaster GGB100-1B