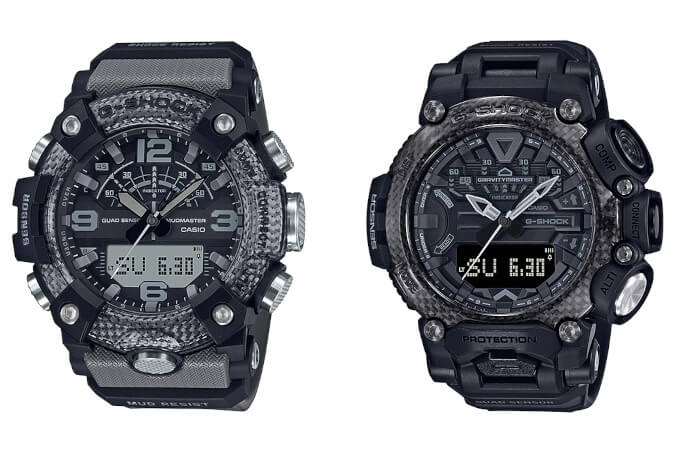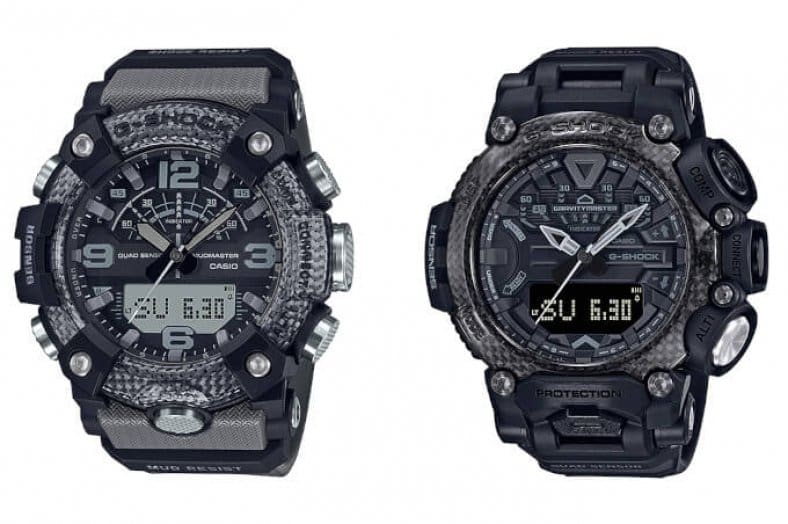 Coming in July to the Asia region (but not Japan) are the G-Shock Mudmaster GG-B100-8A and Gravitymaster GR-B200-1B. The GGB100-8A ($380) and GRB200-1B ($350) are also expected to be released in the U.S. soon. These Carbon Core Guard models have a black and gray color scheme with a bezel made of carbon fiber inserts pressed between resin layers.
In addition to being shock-resistant and water-resistant to 200 meters, the GG-B100-8A is also mud-resistant, and the GR-B200-1B is vibration-resistant. Both watches have the same functions, including Bluetooth smartphone link, Quad Sensor (altimeter-barometer, compass, thermometer, step counter), world time, sunrise/sunset time, stopwatch (1/100-second for first 60 minutes), countdown timer (24 hours), 5 daily alarms, hourly time signal, hand shift, dual LED lights with adjustable afterglow, and approximate 2-year battery life.
The Gravitymaster GR-B200-1B has the stealthier appearance of the two, with a mostly black exterior. The Mudmaster GG-B100-8A has a lighter gray bezel, gray band, and silver front screws and buttons. The GG-B100-8A is notable for being the first GG-B100 model with a standard (non-inverted) LCD display. The GR-B200-1B is the first GR-B200 release after the three debut models and the limited edition Royal Air Force collaboration.
G-Shock Mudmaster GG-B100-8A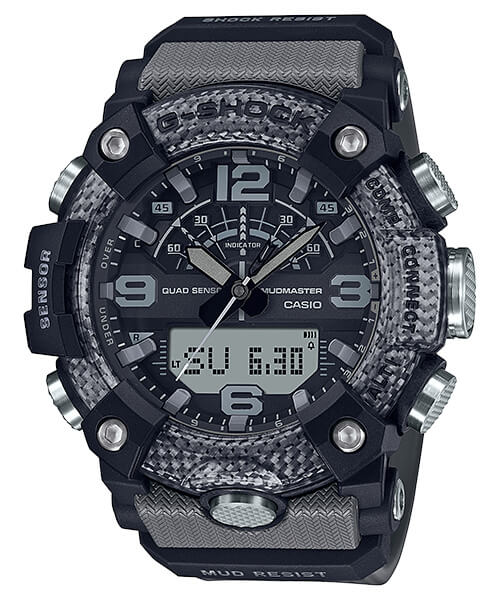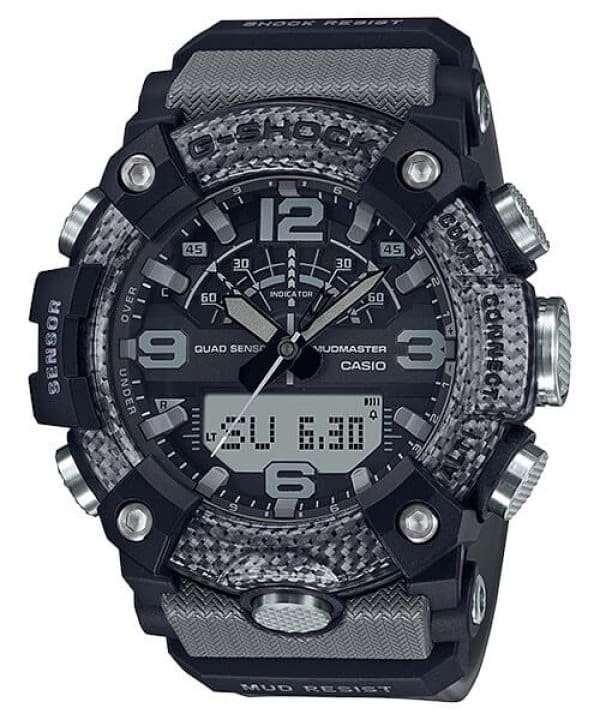 Size: 55.4 × 51.3 × 19.4 mm Weight: 92 grams
Structure: Carbon Core Guard, resin case, bezel, and band, mineral glass, Neobrite
Protection: Shock Resistance, Mud Resistance, 200-meter Water Resistance Power: Battery (CR2025, approx. 2-year life)
Features: Bluetooth smartphone link, step counter, pressure sensor (altimeter-barometer), compass, thermometer, sunrise/sunset time, world time (38 time zones, 38 cities + UTC, DST on/off, home/world time city swapping), =stopwatch (23:59'59 max, 1/100-second for first 60 minutes, 1-second after 60 minutes, elapsed time, split time, 1st-2nd place times), countdown timer (24 hours, settable in minutes and hours), 5 daily alarms, hourly time signal, auto dual LED light with 1.5 or 3-second afterglow, full auto-calendar, button tone on/off, 12/24-hour format, hand shift
Buy GGB100-8A:
Casio Amazon Reeds eBay
G-Shock Gravitymaster GR-B200-1B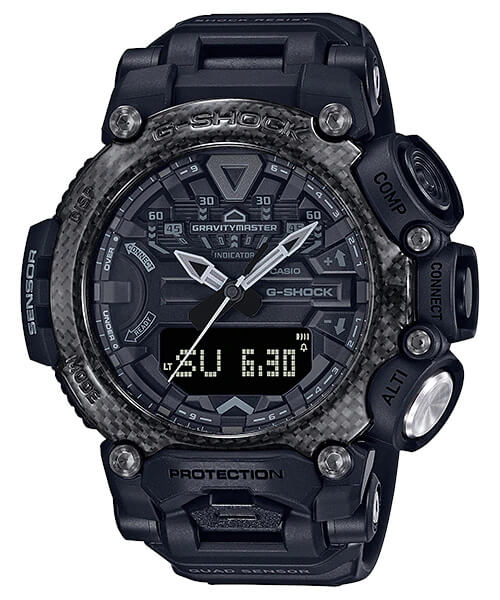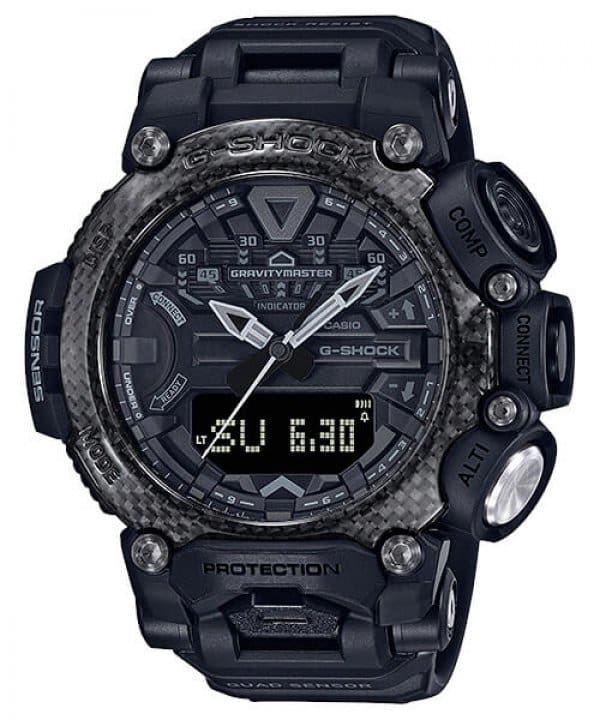 Size: 63 × 54.1 × 18.3 mm Weight: 80 grams
Structure: Carbon Core Guard, resin case, bezel, and band, mineral glass, Neobrite
Protection: Shock Resistance, Vibration Resistance, 200-meter Water Resistance Power: Battery (CR2025, approx. 2-year life)
Features: Bluetooth smartphone link, step counter, pressure sensor (altimeter-barometer), compass, thermometer, sunrise/sunset time, world time (38 time zones, 38 cities + UTC, DST on/off, home/world time city swapping), =stopwatch (23:59'59 max, 1/100-second for first 60 minutes, 1-second after 60 minutes, elapsed time, split time, 1st-2nd place times), countdown timer (24 hours, settable in minutes and hours), 5 daily alarms, hourly time signal, auto dual LED light with 1.5 or 3-second afterglow, full auto-calendar, button tone on/off, 12/24-hour format, hand shift
Buy GRB200-1B:
Casio Amazon Reeds eBay