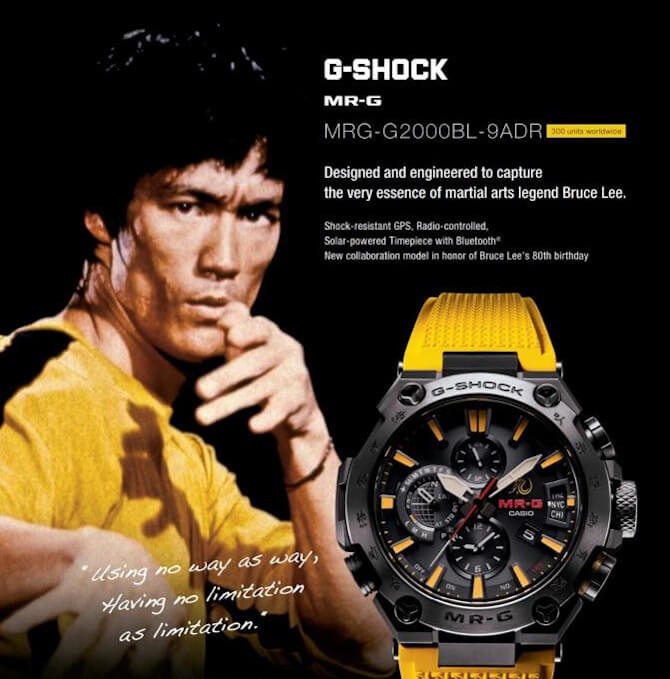 We knew the G-Shock MRG-G2000BL-9A was coming, but we had no idea the "BL" in the name represented martial arts legend Bruce Lee, who would have celebrated his 80th birthday this year. The annual special edition MR-G watches were inspired by Japanese culture and craftsmanship in recent years, so to see this one inspired by a multicultural icon like Bruce Lee is quite a surprise but also a very welcome sight.
This mind-blowing collaboration watch features a black case and yellow Duro Soft resin band inspired by Bruce Lee's iconic tracksuit from the film "Game of Death." The black face with yellow and red accents also symbolizes the colors of Jeet Kune Do, the unique martial art style and philosophy that Lee created. Bruce Lee's signature, the Chinese character (龍) for his nickname "dragon," appears at the 3 o'clock position above the MR-G logo. The bezel and case back are engraved with twelve Chinese characters that state the main tenets of Jeet Kune Do, "Using no way as way, having no limitation as limitation." The bezel also has a diamond-like carbon (DLC) coating for superior scratch resistance. The case back displays the JKD emblem which is based on the yin and yang symbol, and the exclusive packaging is decorated with embroidered dragon images.
The MRG-G2000 base is G-Shock's top-of-the-line model and features a titanium case and bezel with a deep-layer hardening (that results in a surface four to five times harder than plain titanium), Sallaz polishing, sapphire crystal with non-reflective interior coating, Tough Solar power, Multi-Band 6 automatic radio timekeeping, automatic GPS timekeeping, and Bluetooth mobile link.
Of Chinese, English, and Dutch-Jewish ancestry, Bruce Lee was born in America and raised in Hong Kong. He is known as a martial arts instructor, actor, fight choreographer, director, and philosopher. After starring in The Green Hornet on television and appearing in movies, he became a huge star whose popularity transcended race and nationality. Bruce Lee is also credited as being a progenitor of mixed martial arts, as he combined different styles and didn't restrict himself to one system. He is a timeless cultural icon around the world whose influence is still felt beyond movies and fighting.
The Bruce Lee Family Company has recently done collaborations with apparel and skateboarding brand DGK and Superare Fight Shop. Lee's daughter Shannon Lee and Justin Lin are currently producing the second season of "Warrior," which is based on an original concept and treatment by her father.
Hong Kong shop Watch Outz revealed official catalog pages of the G-Shock MRG-G2000BL-9A on Facebook. A dealer on Reddit reported the price to be US$4,000, with 25 to be available in the U.S.
Update (February 20, 2020): Casio officially announced the MRG-G2000BL for a worldwide release. Casio America announced the MRG-G2000BL-9A for an April 2020 release, with a list price of US$4,000 and availability at select jewelers and the G-Shock Soho Store in New York City.
Update 2: The G-Shock Soho Store in New York City will be holding a drawing on March 30, 2020, to determine who can purchase the watch. To enter, visit bit.ly/GSHOCKxBruceLeeSweeps. The drawing is open to legal residents of all 50 states and D.C., age 18 or older. (The G-Shock Soho Store can ship orders.)
(The Bruce Lee name, image, likeness and all related indicia are intellectual property of Bruce Lee Enterprises, LLC. All Rights Reserved. brucelee.com)