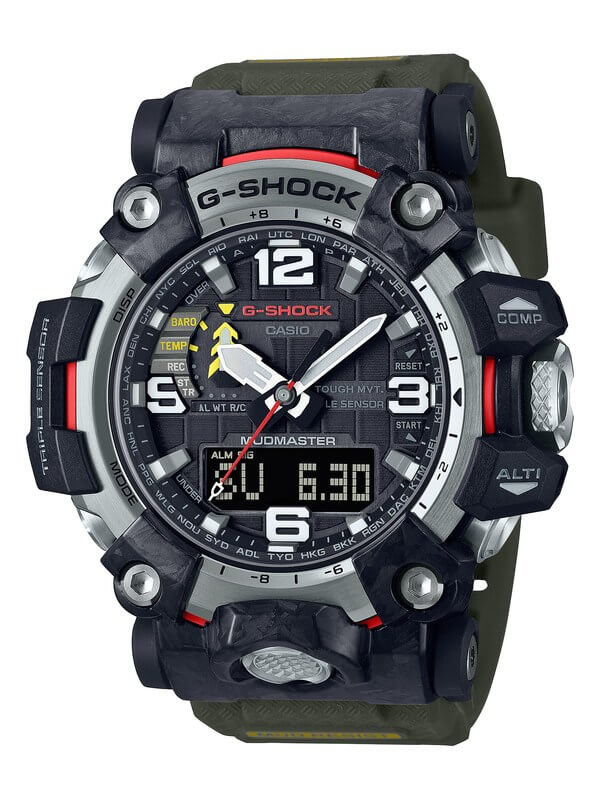 The all-new G-Shock Mudmaster GWG-2000 features forged carbon parts and a case made of carbon fiber-reinforced resin. Forged carbon, which is made of carbon fiber particles mixed with resin and pressed at high heat and pressure, is lighter and stronger than stainless steel. The GWG-2000 is the first G-Shock watch to use forged carbon in its construction. The unique black and gray surface pattern of the material is visible on various parts of the watch, including the bezel bumpers, front button guard, and lugs. The new materials and structure allow the GWG-2000 to be 1.9 millimeters thinner and 13 grams lighter (106 grams) than the GWG-1000.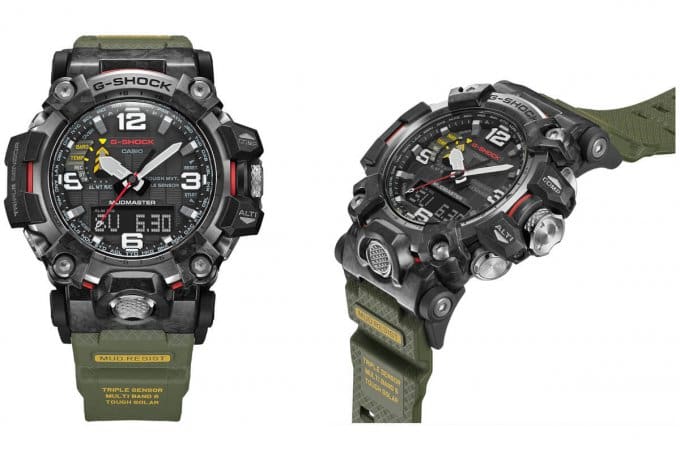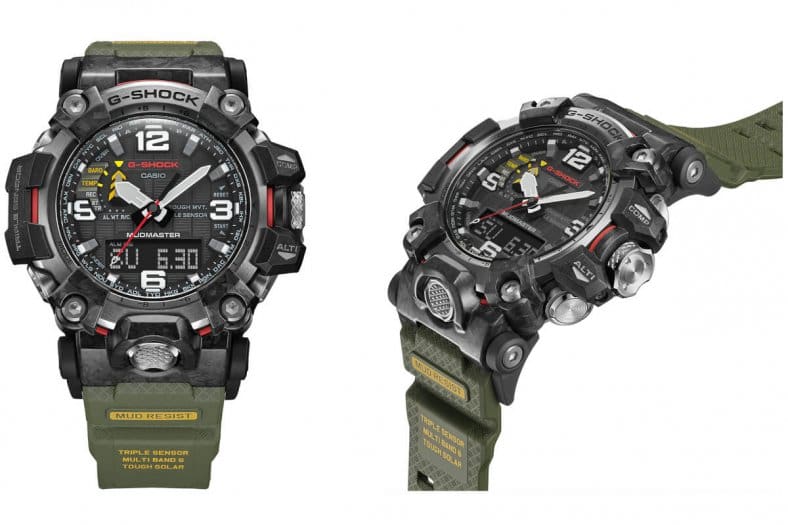 Like the previous Mudmaster GWG-1000, the GWG-2000 is resistant to mud and dust and features Tough Solar power, Multi-Band 6 automatic radio time syncing, and the Triple Sensor (pressure: altimeter-barometer, compass, thermometer). The watch has newly designed Mud Resist buttons, with stainless steel button pipes and an internal silicone buffer for improved mud resistance. Stylistically, the GWG-2000 is not much of a departure from the GWG-1000, with a similar dial layout and dimensions of 61.2 x 54.4 x 16.1 millimeters (versus 59.5 x 56.1 x 18 mm for the GWG-1000). According to the case back, the GWG-2000 is a Carbon Core Guard model and has a sapphire crystal. The module number is 5678 (instructions at casio.com).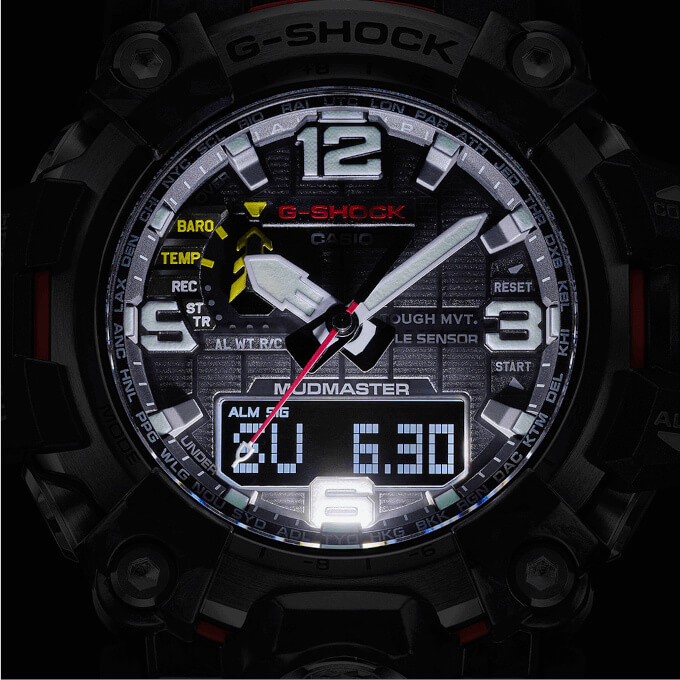 Another new element is the full stainless steel bezel. The resin band has an industrial-style non-slip texture, and the band keeper is resin. The lower band retains the "Mud Resist" and feature labels. The upper band has a "Forged Carbon" label, replacing the "Vibe Resist" label of the GWG-1000, and there is no mention of vibration resistance in the final specifications (although is it reasonable to assume it is vibration-resistant to some degree).
Other features include shock resistance, 200-meter water resistance, world time, 1/100-second stopwatch (24 hours max with elapsed, split, 1st and 2nd place times), countdown timer (1 second units, 60 minutes max), 5 daily alarms, hand shift function, battery level indicator, and full auto double LED light with 1.5 or 3 second afterglow.
The debut models include the gray GWG-2000-1A1, green khaki GWG-2000-1A3, and sand beige GWG-2000-1A5.
The Mudmaster GWG-2000 series was announced for the Asia region and is also expected to be released worldwide. The release date was not mentioned, but we are expecting an October 2021 release in Japan and Asia, with other regions to follow. Casio America is expected to release the GWG2000-1A1, GWG2000-1A3, and GWG2000-1A5 in the U.S. for $800 each. G-Shock U.K. has the GWG2000-1A1ER, GWG2000-1A3ER, and GWG2000-1A5ER listed as coming soon for £699 each, and the series will also be released in Europe.
GWG-2000 Rating by G-Central
Build

Functions

Size & Weight

Style

Price
Summary
The GWG-2000 doesn't offer new functions over the popular GWG-1000, but it does offer an improved fit for those who don't have very large wrists. It also looks and feels more expensive than the GWG-1000, which is more noticeable in person than in photos.
Best For: Outdoors, Trekking
Pros
• Useful Triple Sensor (pressure: altimeter-barometer, compass, thermometer).
• Smaller and lighter than GWG-1000.
• Premium look and feel with forged carbon parts.
Cons
• Resin band keeper (rather than stainless steel like the GWG-1000).
• No new functions over GWG-1000.
• No models available with positive (non-inverted) LCD display.
Alternatives: Another G-Shock watch with Tough Solar, Multi-Band6, and Triple Sensor is the digital Rangeman GW-9400, which also has sunrise/sunset time. The Mudmaster GG-B100 has a Quad Sensor (Triple Sensor plus step counter) and Bluetooth smartphone link, but it does not have Multi-Band 6 and is battery-powered (not solar).
GWG2000 on Amazon GWG2000 on eBay
GWG-2000-1A1, GWG-2000-1A5, and GWG-2000-1A3: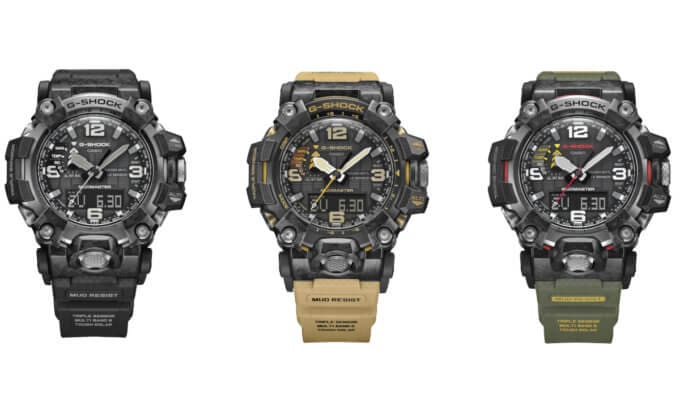 G-Shock Mudmaster GWG-2000-1A1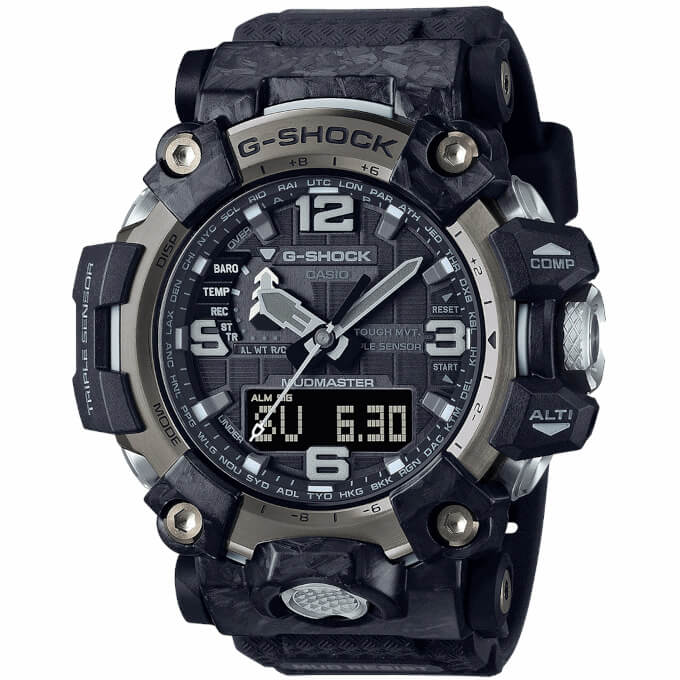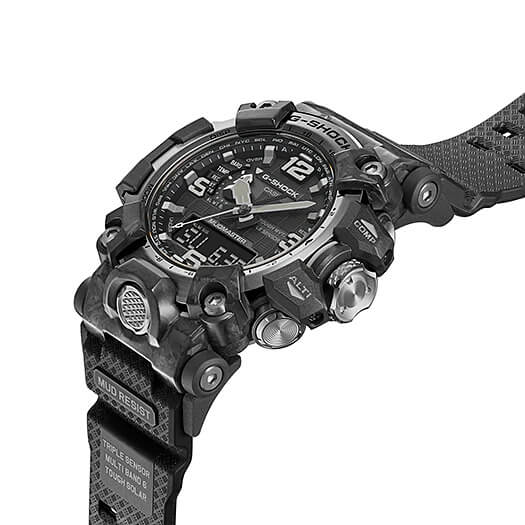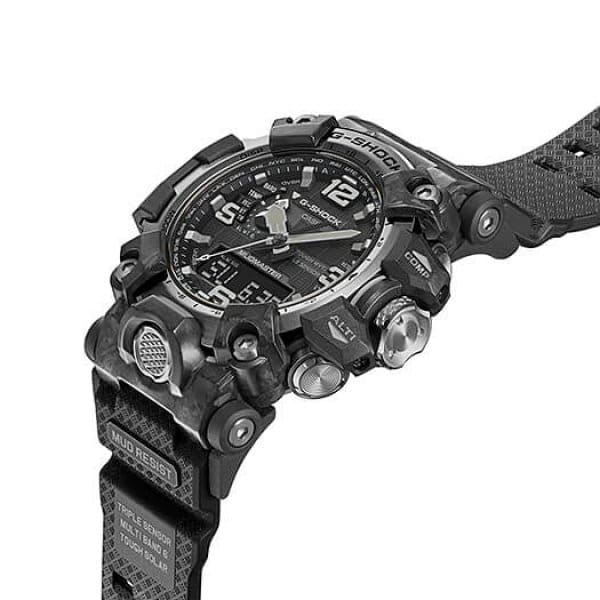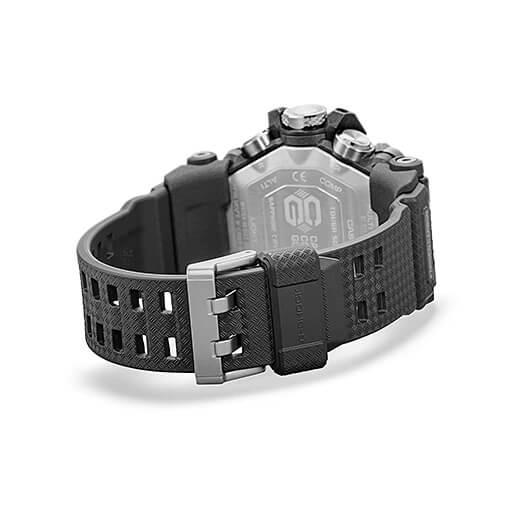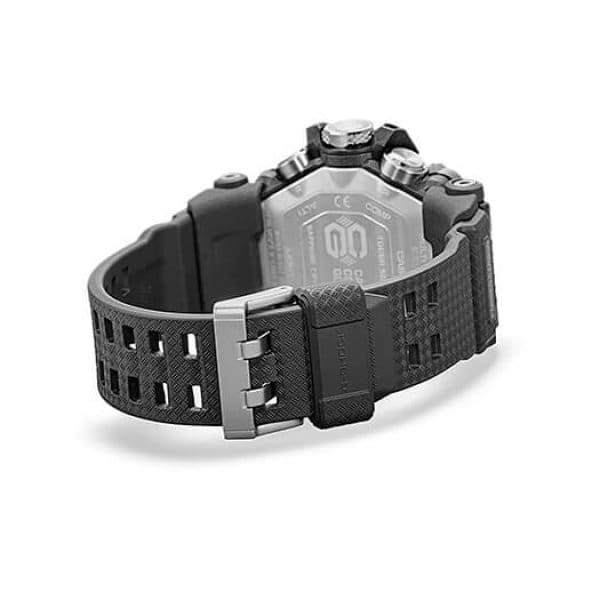 G-Shock Mudmaster GWG-2000-1A3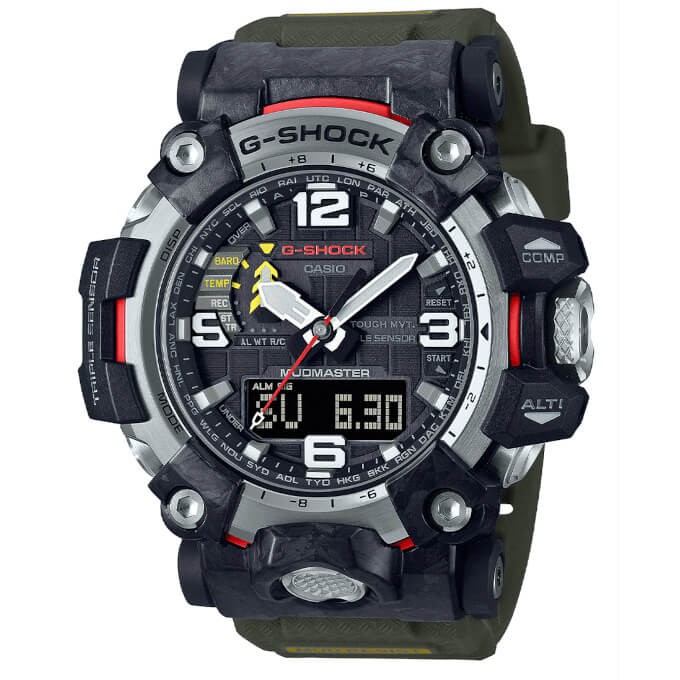 G-Shock Mudmaster GWG-2000-1A5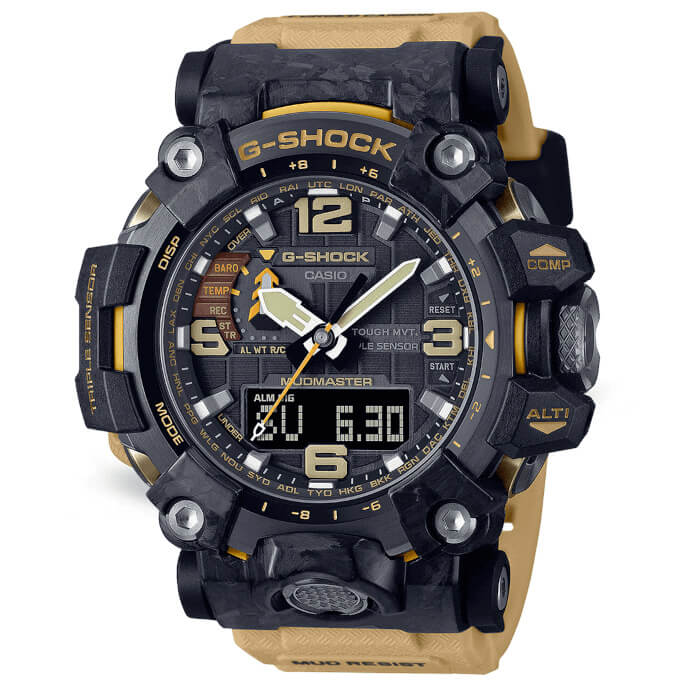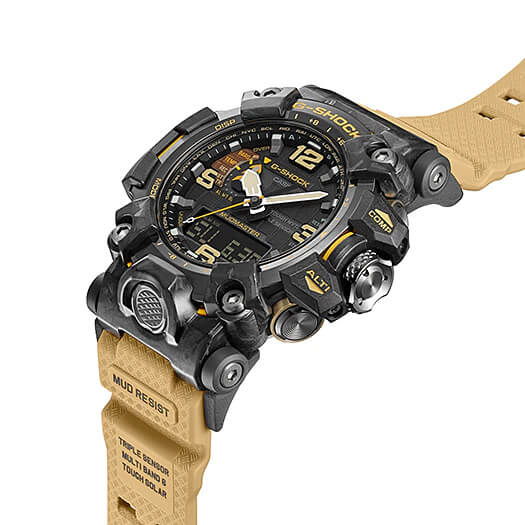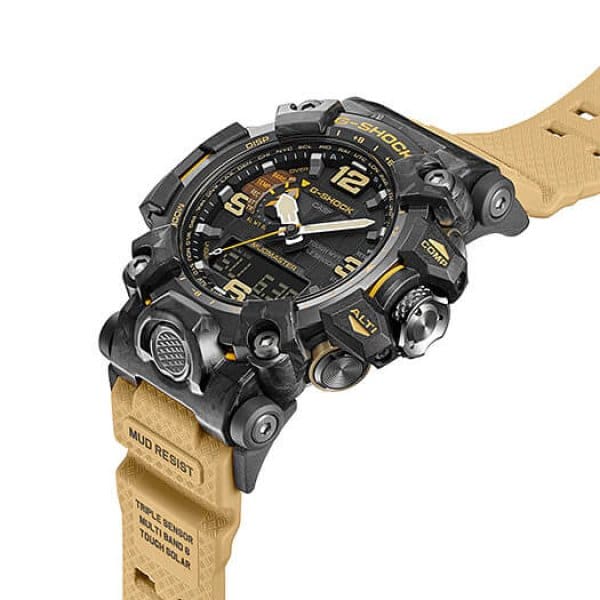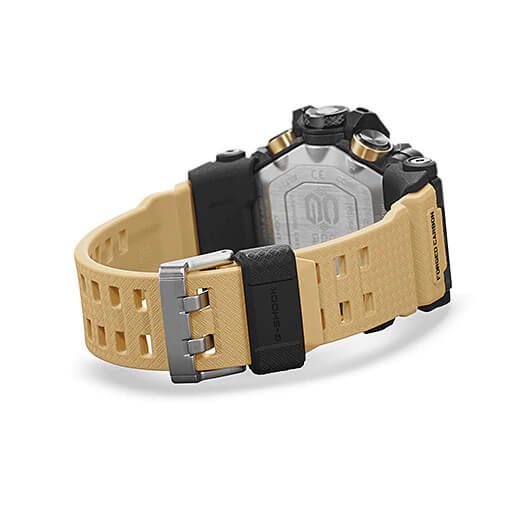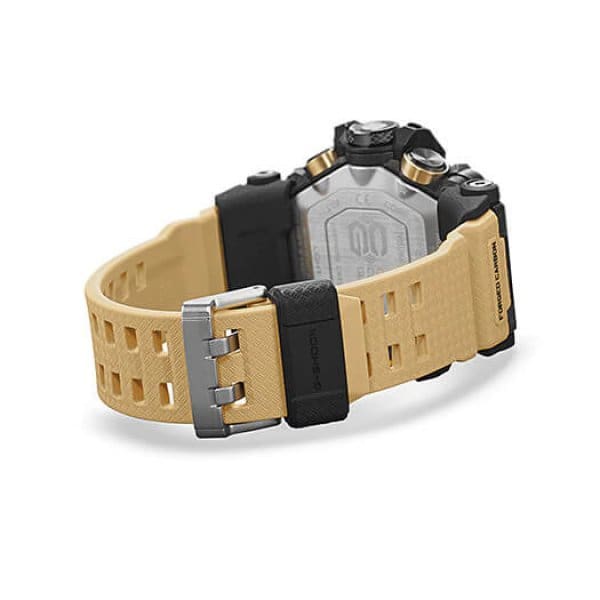 G-Shock Mudmaster GWG-2000 Promotional Video: