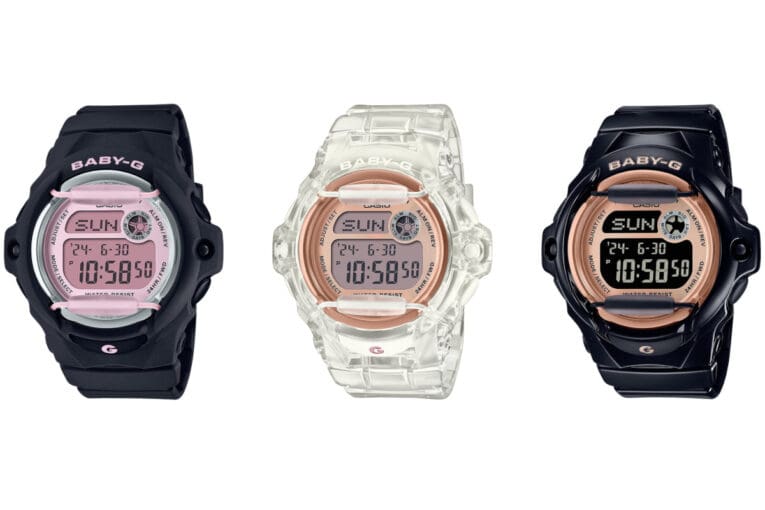 The Baby-G BG-169, a popular and iconic series for beach use and watersports, recently received an upgrade with the BG-169U. The black and pink BG-169U-1CJF went on sale in Japan in February for 12,650 yen (tax-included), and the black and rose gold BG-169UG-1JF and the clear and rose gold BG-169UG-7BJF are coming in March for 13,750 yen each. The BG-169U (module 3531) is expected to completely replace the older BG-169 series (module 3252) at some point, but some of the older BG-169 models are still available from Casio Japan. (It's likely that it will eventually replace the BG-169 in other countries as well.)
The difference is that the BG-169U has an LED backlight instead of the EL backlight of the BG-169U. Although the approximate battery life remains the same (3 years), the LED light is expected not to degrade as much in brightness like the EL backlight can over a long period of time (as in years). (The older BG-169 manual states about the EL backlight, "The electro-luminescent panel that provides illumination loses power after very long use.") Unlike the BGD-5000U and BGD-5700U upgrades which had significant module and function enhancements, the BG-169U remains unchanged other than the light. The BG-169U has the same dimensions (45.9 x 42.6 x 16 millimeters) but is 3 grams lighter at 43 grams total.
Features include shock resistance, 200-meter water resistance, world time, 1/100-second stopwatch, 24-hour countdown timer, 5 daily alarms, hourly time signal, LED backlight with afterglow, full auto calendar, button operation sound on/off, and 12/24-hour format. Other unique features include the day counter function that shows the number of days remaining to a specific date (with 5 settable dates labeled with 8-character text) and a databank that saves 25 records of an 8-character name and 12-digit number.
Update: G-Shock is releasing the pink BG-169PB-4 and white BG-169PB-7 in April 2023 which also have the LED light and module 3531, so it looks like not all future upgraded models will have "U" in the name.