2017 was another great year for G-Shock and Casio with major new models introduced, innovative technological features added, and G-Shock 35th Anniversary models released in anticipation for April 2018. G-Central takes a look back at our favorite Casio releases of the year.
G-Shock GA-110LN Layered Neon Series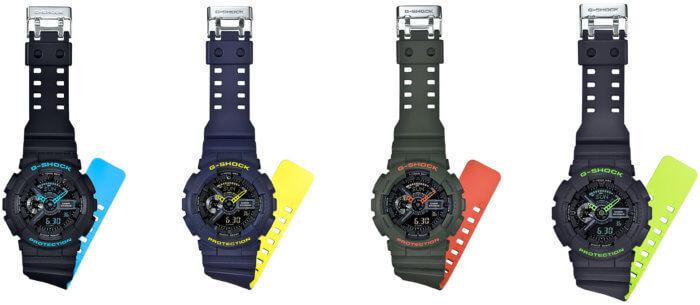 The two-colored dual-layer resin band has become a prominent fashion innovation seen on many recent G-Shock watches. As the two mix-molded layers are of an equal depth with both visible from the side of the watch, the two-tone band offers a unique style that is unique to G-Shock. The G-Shock GA-110LN Layered Neon Series continues the trend by combining traditional matte color cases and bands with a neon inner layer, bezel lettering, and hands for a stylish high-contrast look.
Pro Trek PRG-600YL-5 with Leather Band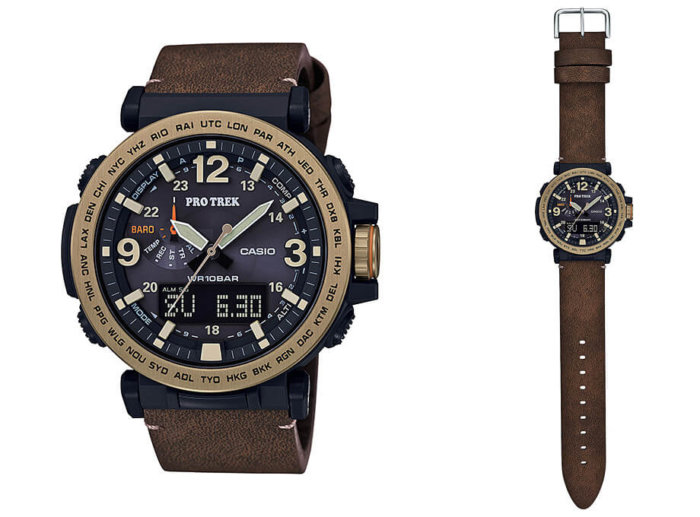 The PRG-600 was a welcome addition to the Pro Trek lineup in late 2016, offering a Tough Solar analog-digital watch with a Triple Sensor at a price that was much lower than expected. The PRG-600YL-5 with a synthetic leather band was released earlier this year. The leather band combined with the gold bezel gives the watch a vintage style that looks good in both indoor and outdoor situations.
Pro Trek WSD-F20 Smart Outdoor Watch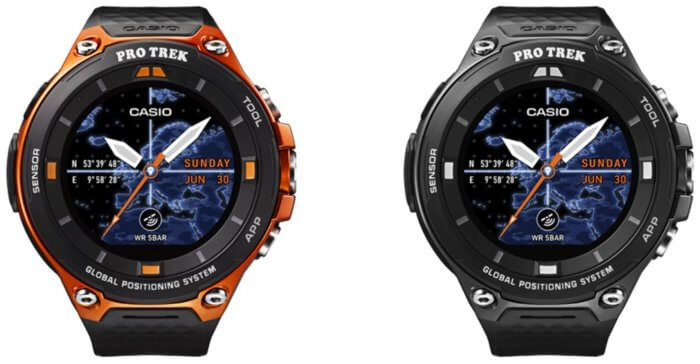 Casio addressed criticism of the WSD-F10 Smart Outdoor Watch and its dependency on a smartphone connection with the second generation WSD-F20. Now rightfully under the Pro Trek brand, the WSD-F20 retains the battery-saving dual-layer LCD display and now has built-in GPS capabilities and offline color maps, so it doesn't need a smartphone connection to function as a useful outdoor watch. Other outdoor features of the Android Wear 2.0 smartwatch include 50-meter water resistance, pressure sensor (altimeter/barometer), accelerometer, gyrometer, and compass.
Pro Trek PRW-3100Y Basic Black and Green

The Pro Trek PRW-3100Y-1B and PRW-3100Y-3 (pictured on the right) were the first PRW-3100 models to be released in the U.S. What makes the PRW-3100 better than PRW-3000 models is the more durable stainless steel bezel and a super-twisted nematic (STN) LCD display for better visibility, especially with reverse LCD displays like these. The PRW-3100Y has Tough Solar, Multi-Band 6, Triple Sensor, a slim profile, and large digits. It is easily one of our favorite Pro Trek series.
G-Shock G-STEEL with Tough Leather Band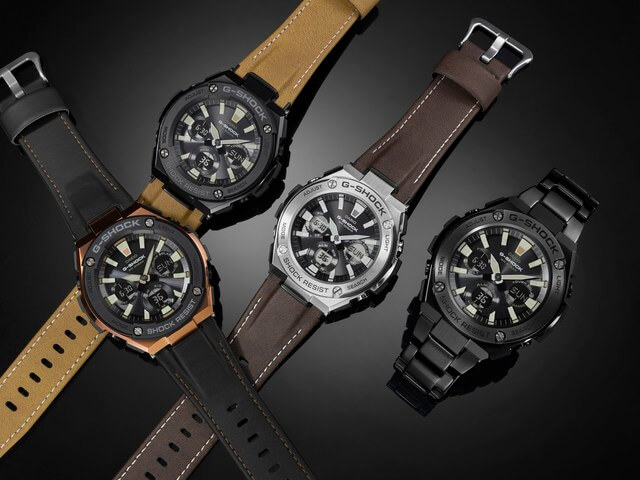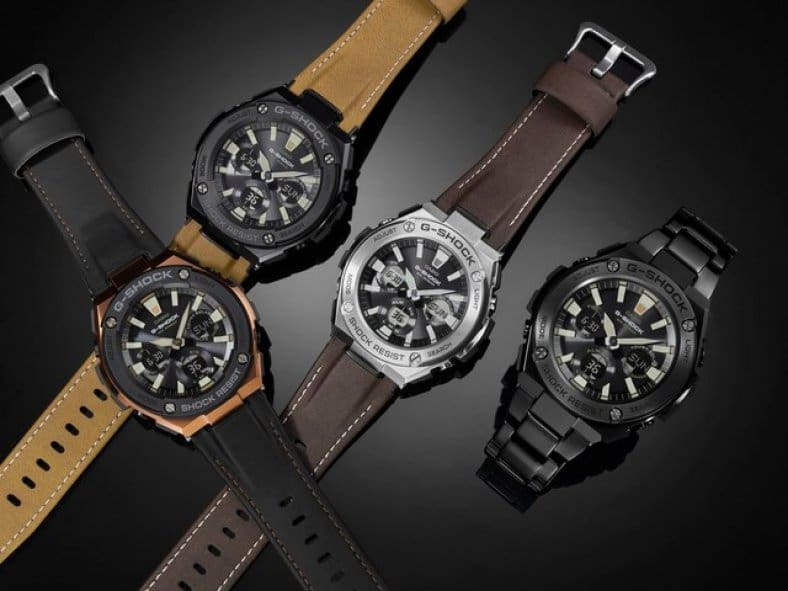 With G-Shock's push into more upscale analog-style watches it was only natural that a leather band model would appear at some point. The G-STEEL Street Vintage Style Series is the first G-Shock line to feature the Tough Leather band made of synthetic leather and resin which is scratch and water-resistant. These stainless steel watches offer a classy look without sacrificing ruggedness or durability.
G-Shock GPW-2000 Gravitymaster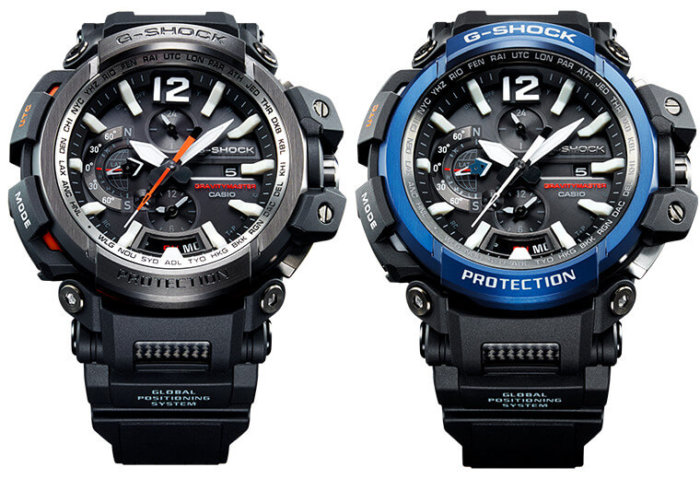 The G-Shock Gravitymaster GPW-2000 was the first major new G-Shock model of 2017 featuring all-new technology like Bluetooth-connected 3-Way Time Sync and Mission Stamp GPS location tracking. It is the first G-Shock to offer a GPS location tracking log through the smartphone app as well as latitude and longitude information on its analog display. 3-Way Time Sync allows the watch to automatically sync through Multi-Band 6, GPS signals, or a connected smartphone. Perhaps most surprising about the GPW-2000 is the $800 list price which is less than the previous generation GPW-1000.
G-Shock G-STEEL 300-Series Mid-Size Analog-Digital

While large analog watches are the preferred style these days, not everyone is comfortable wearing an extra-large watch like the original G-STEEL models. The G-STEEL 300 Series offers the same classy look and Tough Solar technology as the original G-STEEL but in a smaller, more traditional mid-size case. Casio also released a second round of models with more color options as pictured above.
G-Shock G-LIDE GAX-100MS Series

The G-Shock GAX-100MS features jelly-like translucent colors inspired by the beautiful natural elements of Hawaii. As part of the new G-LIDE GAX-100 series for surfers, these models have tide and moon graphs and a thermometer sensor. Three matching Baby-G BA-110JM models are also available.
G-Shock GAS-100 Tough Solar Large Analog-Digital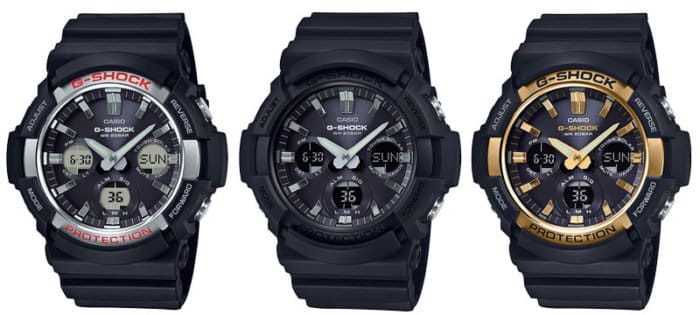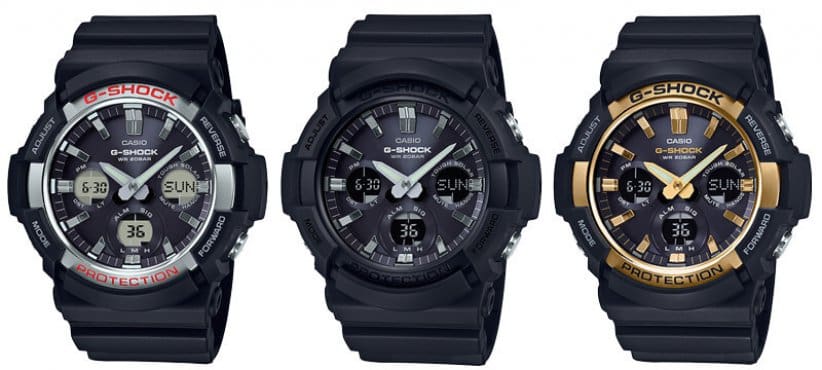 Before the G-Shock GAS-100 series there was no G-Shock watch that was a large-case model, analog-digital, Tough Solar-powered, and under $150. The GAS-100 uses the same module as the G-STEEL GST-S100 but has a resin body instead of stainless steel. As analog watches use more battery power than digital ones and there aren't many affordable Tough Solar analog models to choose from, the GAS-100 is a welcome addition to the lineup.
G-Shock G-STEEL GST-B100 Series with Mobile Link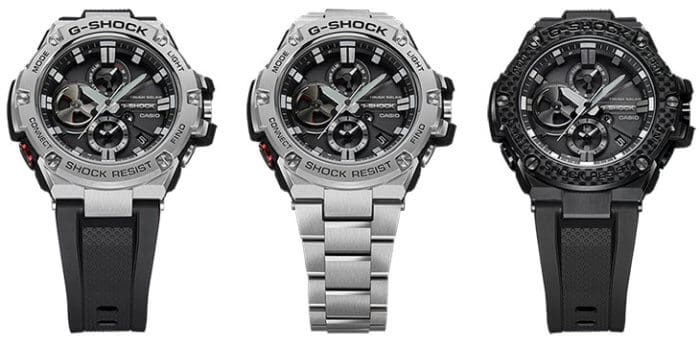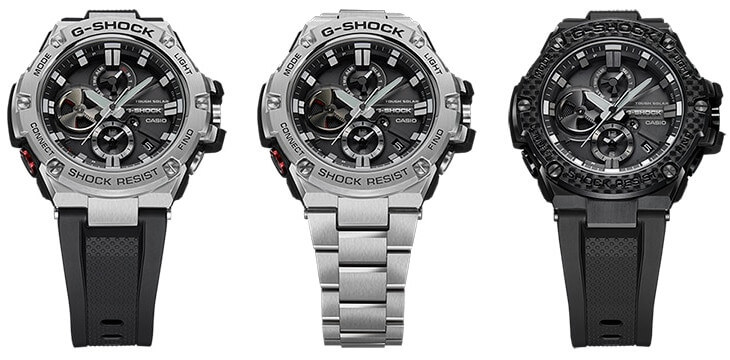 The G-STEEL GST-B100 Series continues G-Shock's push into the mainstream with a fully analog stainless steel watch with a Connected Engine Module that links up with a smartphone through Bluetooth. This Tough Solar powered watch automatically syncs the time with internet time servers, making it a good choice for those who want consistent accuracy but live outside the range of Multi-Band 6 radio transmitters. The Bluetooth connection also allows the world time, alarm, and timer settings to be adjusted through the smartphone app and a phone finder function helps to locate misplaced phones.
G-Shock GMA-S130 with Step Counter

Casio added the Step Counter fitness feature to the G-Shock GMA-S130, a smaller S Series watch for women. First seen in the Baby-G BGS-100, the Step Counter function includes automatic step tracking with a daily and weekly history, steps per hour graph, step goal progress indicator, and a step/activity reminder. The GMA-S130 is also the only S Series G-Shock with three analog hands.
G-Shock GA-800 Analog-Digital with Three Hands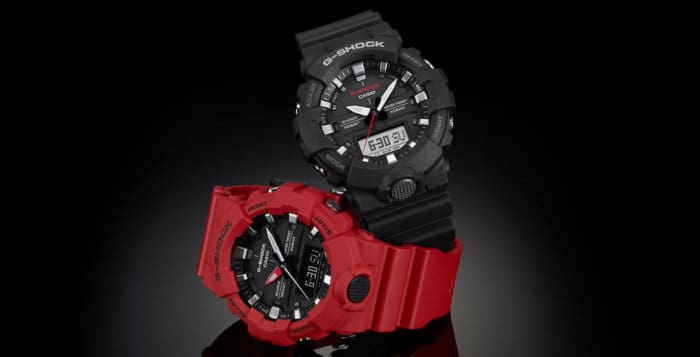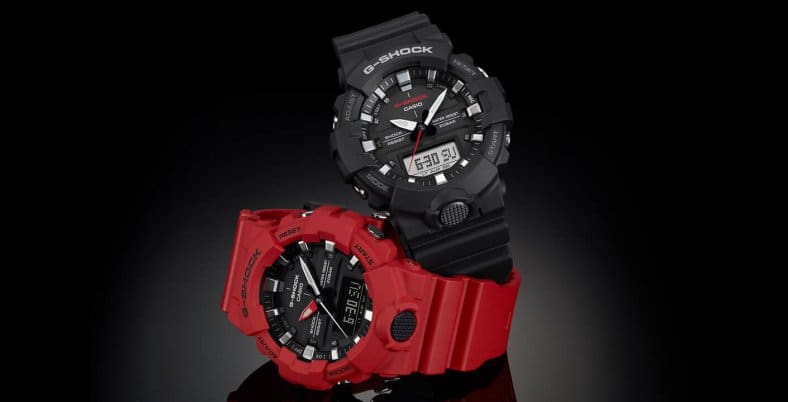 At first glance the G-Shock GA-800 looks like a GA-700 with three analog hands but it is actually a smaller model (with a width of 48.6 mm versus 53.4). The GA-800 has a unique feature in the dedicated stopwatch start button. The GA-800 is an affordable option for those who want an analog G-Shock with a traditional third hand and don't want to pay a premium for a high-end model. Thankfully with this and the G-STEEL 300 watches, G-Shock hasn't abandoned the development mid-size analog models.
Pro Trek PRG-650 Tough Solar with Triple Sensor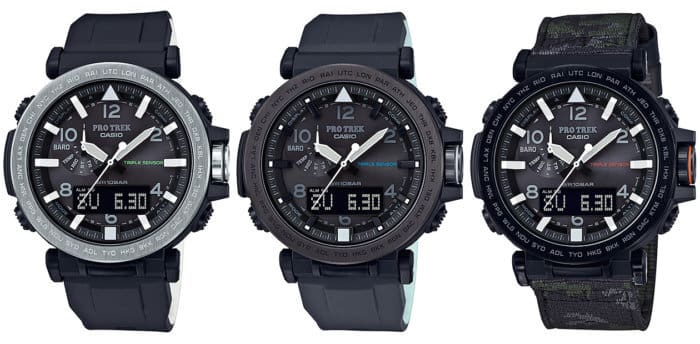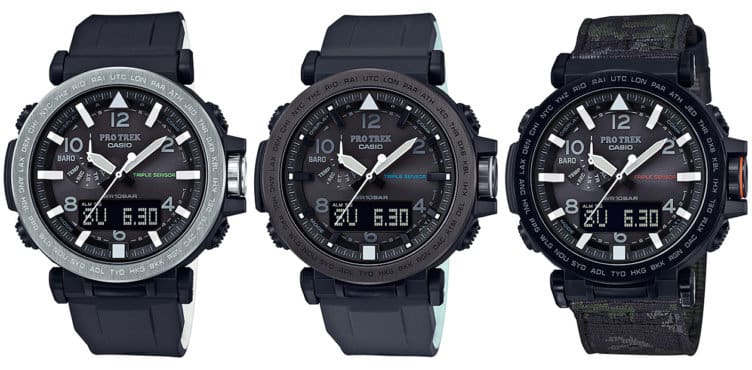 Another one of our favorite Pro Trek designs got a refresh this year with the Pro Trek PRG-650 analog-digital series. Sharing the same features as the PRG-600, the PRG-650 has Tough Solar and the Triple Sensor along with a stainless steel bezel and STN LCD display. The main changes are an updated display design and band options including dual-layer silicone bands with a luminescent (glow-in-the-dark) inner layer and a camouflage cloth band.
G-Shock 35th Anniversary Big Bang Black Collection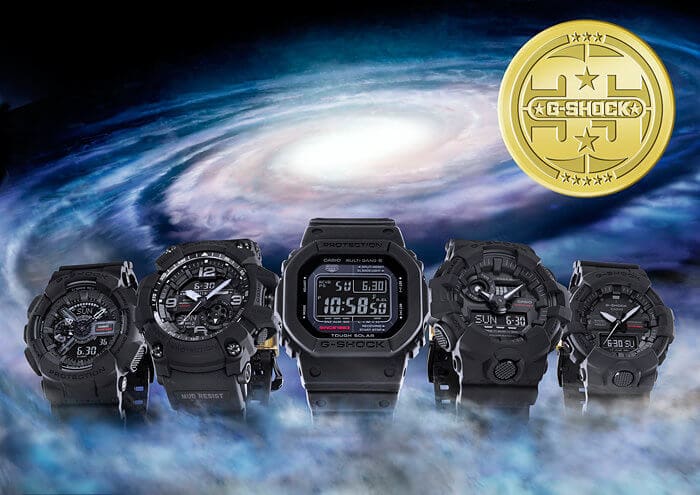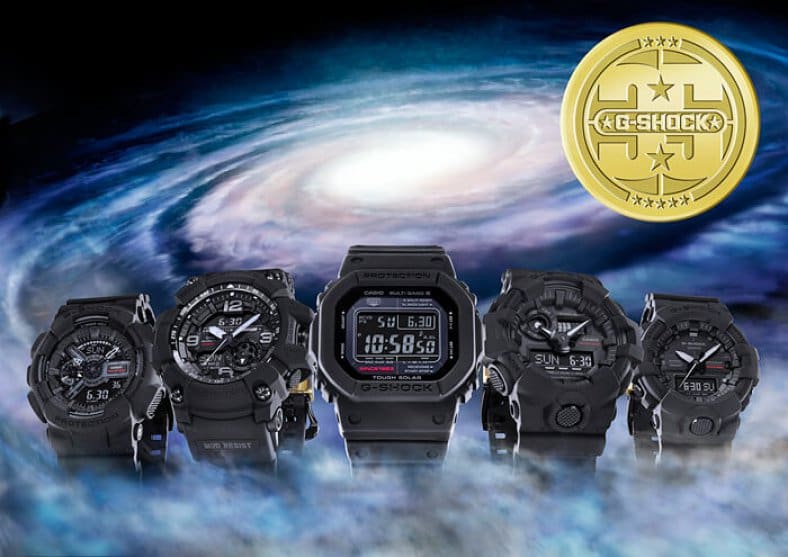 If you had asked us what we wanted for the first series of G-Shock 35th Anniversary watches, we would have said some sort of all-black stealth design. Casio went super stealth on the Big Bang Black 35th Anniversary Collection and introduced an all new type of matte black finish. With extra light-diffusing particles added to the resin, the finish is so dark and unique that the term "Neo Matte" was created for it. The gold IP band keepers and case backs add a welcome celebratory touch because we wouldn't want these limited edition models to be too unassuming. Offering affordable analog-digital models in a range of sizes and an extra-special digital model for the hardcore collectors, the Big Bang Black Collection has something for everyone.
Gold Tornado 35th Anniversary Collection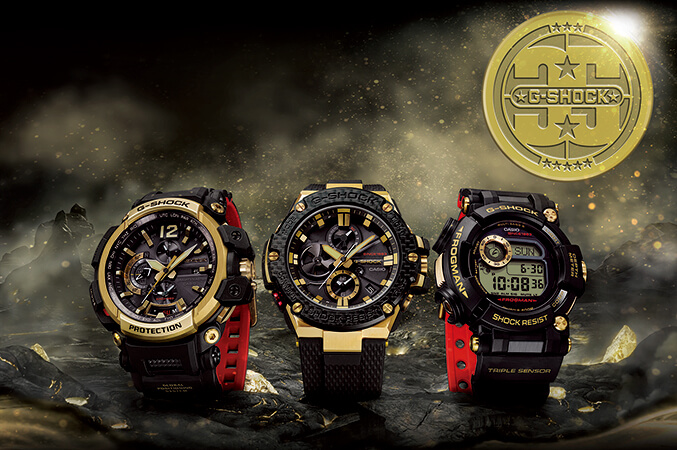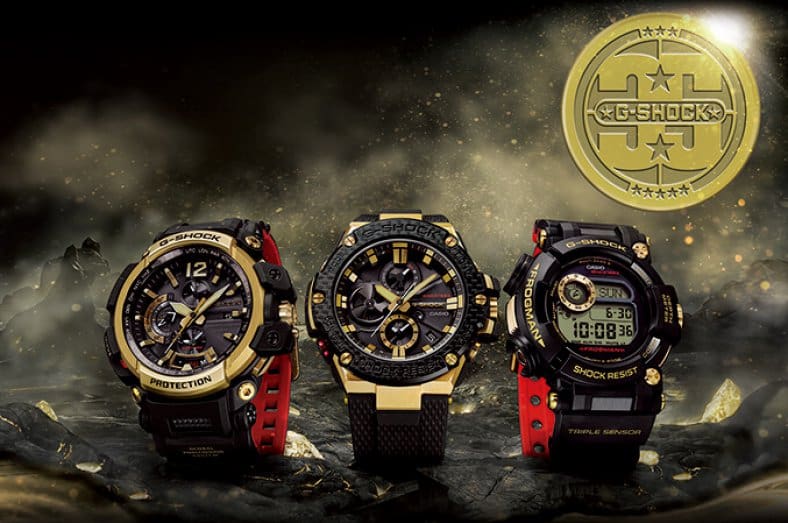 It wouldn't be a proper G-Shock anniversary without a limited edition Frogman and the Gold Tornado 35th Anniversary Collection includes the GWF-D1035B-1 Frogman as well as the GPW-2000TFB-1A Gravitymaster and G-STEEL GST-B100TFB-1A. Taking the gold theme seen in the Big Bang Black Collection to the forefront, the Gold Tornado series has stainless steel and metallic parts with a gold IP coating. The dual-layer resin bands pay tribute the original G-Shock color scheme with a black outer layer and red inner layer.
For more G-Shock shopping selections see our 20 Best G-Shock Watches and other G-Shock and Casio Buying Guides.