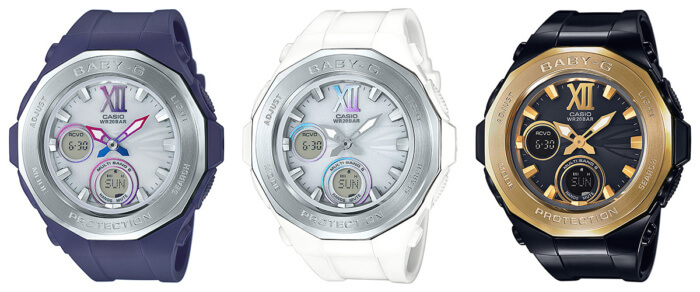 The Baby-G BGA-220 models introduced the new Beachside Glamping Series featuring an all-new fashionable and tough design. Now the BGA-2200 series released in Japan offers this new case design with the Tough Solar power and Multi-Band 6 radio-wave timekeeping features. The BGA-2200 series does not have tide/moon data and a digital thermometer like the BGA-220 models but adds maintenance-free solar rechargeable battery and automatic time-syncing. The face of the BGA-2200 watches is also a new design from the BGA-220. Instead of the LCD subdisplay at the three o'clock position and the analog tide indicator at the six o'clock position, there are two LCD subdisplays at the nine and six o'clock positions. Also the dial has a large "XII" marker at the twelve o'clock position.
Other key features include shock resistance, 200-meter water resistance, world time, stopwatch, countdown timer, 5 alarms, battery indicator display, power saving function, and full auto LED light with afterglow.
Individual model numbers are BGA-2200-2BJF (blue), BGA-2200-7BJF (white), and BGA-2200G-1BJF (black and gold). List price for the blue and whites models is ¥25,500 JPY and ¥26,500 for the black and gold model. The BGA-2200 series is most likely a Japan-only release.