The "CasiOak" gets a major upgrade with Tough Solar and Bluetooth.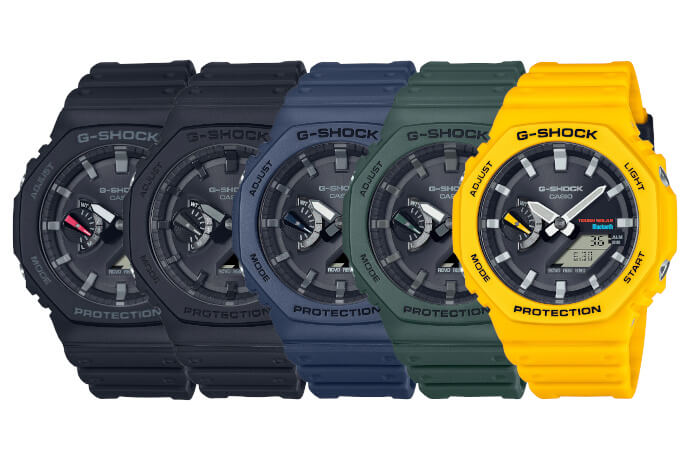 Casio officially unveiled the G-Shock GA-B2100 series featuring Tough Solar power and Bluetooth smartphone link. Like the GA-2100 on which it is based, the GA-B2100 is a Carbon Core Guard model with a carbon fiber-reinforced interior case. The GA-B2100 is a slimmer G-Shock watch measuring 48.5 x 45.4 x 11.9 millimeters and weighing about 52 grams. It is 0.1 mm thicker and 1 gram heavier than the GA-2100, making it the slimmest solar-powered G-Shock watch available. The series will launch with five models inspired by the classic first colors of early DW-5600 models. Launch models include the black and gray GA-B2100-1A, black and black GA-B2100-1A1, blue GA-B2100-2A, green GA-B2100-3A, and yellow GA-B2100C-9A.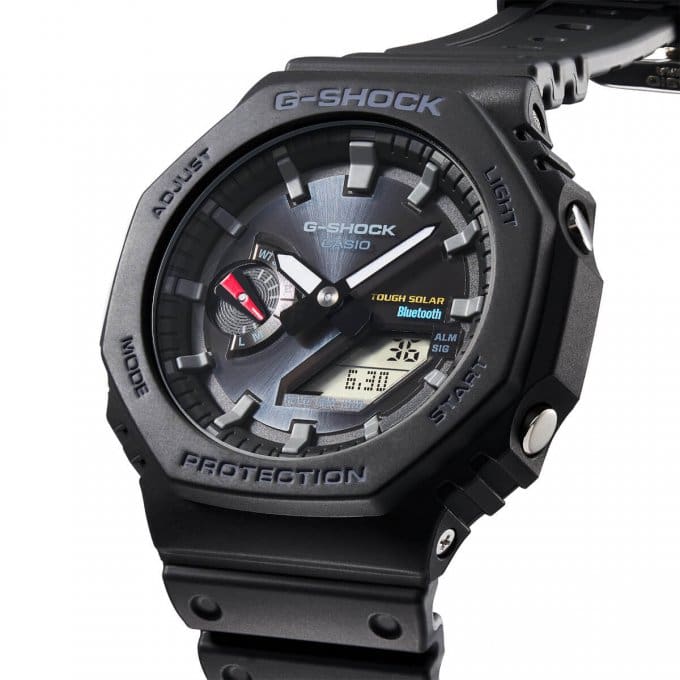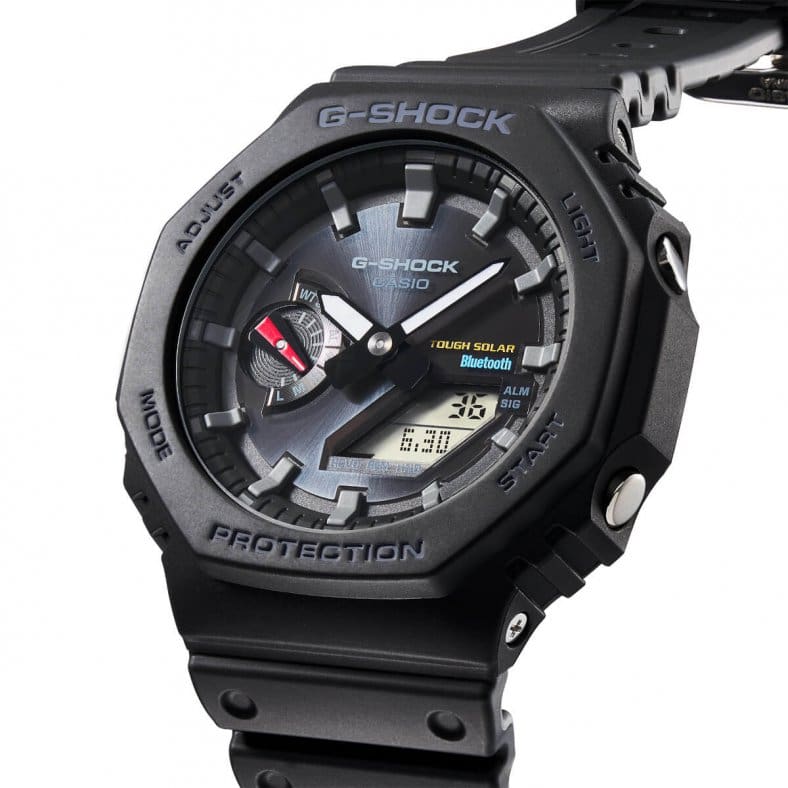 The bestselling GA-2100 series was launched in 2019 and the 2100 series is often informally referred to as the "CasiOak" due to its octagonal bezel's similarity to the Audemars Piguet Royal Oak watch. This was not an intentional homage on Casio's part but rather the result of combining the octagonal bezel of the original G-Shock DW-5000 with a round analog display. Although there have been established analog-digital models (like the first-ever analog G-Shock AW-500) that would later get a solar version, it is not something that happens often with recent G-Shock watches. The GA-B2100 series is unprecedented in some ways, as it is the first "GA-B" model and the first "GA-" model with Tough Solar power.
On a full charge, the watch can operate for about seven months with normal use without further exposure to light, or up to eighteen months when stored in darkness with power-saving enabled. Regularly exposing the watch to bright light will provide maintenance-free operation for many years. We suggest keeping Tough Solar watches charged up as much as possible and not letting them go to low often, for the health and longevity of the rechargeable battery. The Bluetooth link provides enhanced features through the Casio smartphone app, such as automatic time adjustment (4 times a day), easy watch setting, approximately 300 world time cities, a time & place memory log function, a reminder function, and the phone finder function. (The watch can also be adjusted and operated without using Bluetooth at all.) One notable difference from the GA-2100 is that the subdial indicator on the GA-B2100 shows the function modes and battery level rather than the day of week. The day of week can be displayed on the LCD display along with the seconds. (The LCD display can also display the date with seconds or the hours and minutes with seconds.)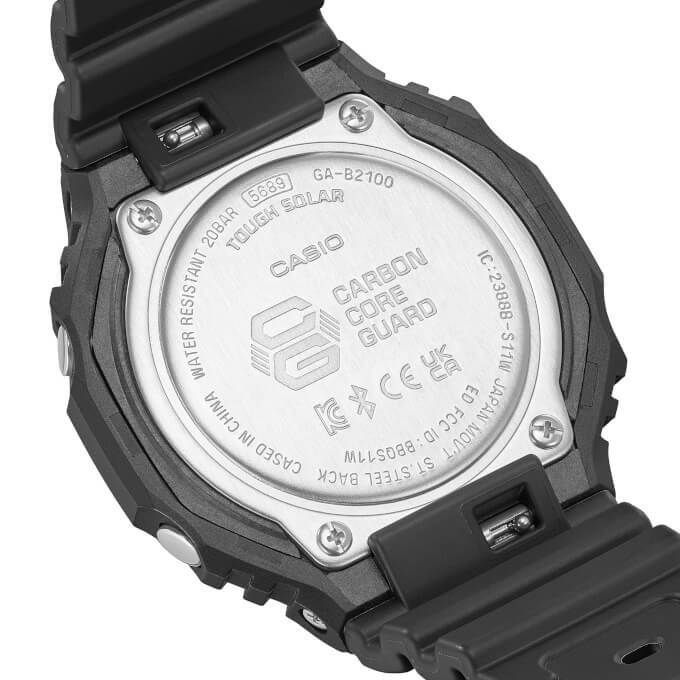 The GA-B2100 series is scheduled for a May 14 release in Japan and a May release in Asia. The tax-included price in Japan is 22,000 yen each or 23,100 yen for the yellow GA-B2100C-9AJF. The series is also expected to be released worldwide, reportedly in June for the U.S. Based on the prices of other recent G-Shock models (like the GBD-200) around the world, the 22,000 yen models will likely be $150 in the U.S. and €149 in Europe.
Update: G-Shock U.S. is releasing the GAB2100-1A ($150), GAB2100-2A ($150), GAB2100-3A ($150), and GAB2100C-9A ($160).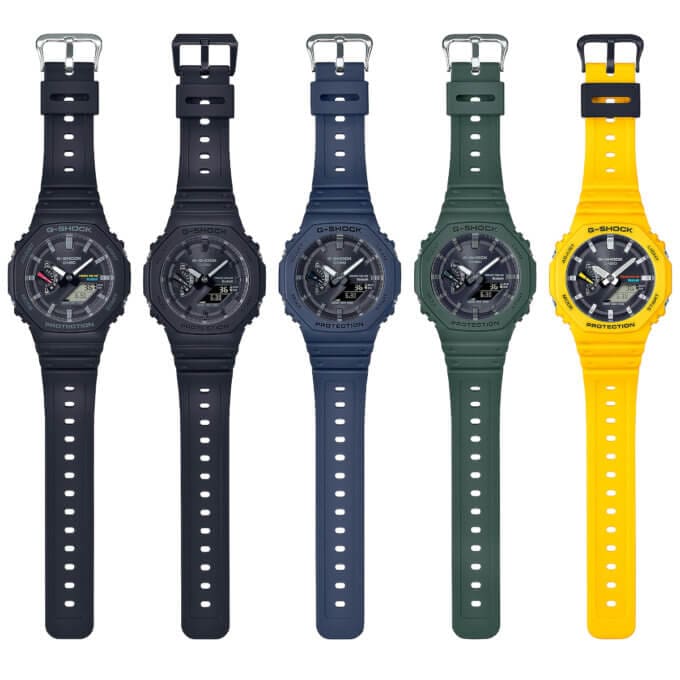 Features: Shock resistance, 200-meter water resistance, world time (38 time zones, 38 cities with UTC, DST on/off or auto switching, home city/world time city swapping), 1/100-second stopwatch (up to 59'59″99, 1-second from 1:00'00" to 23:59'59", with elapsed time and lap/split time), countdown timer (1 hour max, settable in 1-minute and 1-second increments), 5 daily alarms, hourly time signal, hand shift function, date format setting (date/month swapping), day display language setting (English, Spanish, French, German, Italian, Russian), 12/24-hour format, full auto-calendar, button tone on/off, battery level indicator, power save, and double LED Super Illuminator light with afterglow (1.5 or 3 seconds).
Module: 5689 (instruction manual at casio.com)
G-Shock GA-B2100 Rating by G-Central
Build

Functions

Size & Weight

Style
Summary
With Tough Solar power and Bluetooth, the G-Shock GA-B2100 is basically what the GA-2100 should have been, although it does cost about 50% more.
Best For: Casual Fashion, Weekend Warriors, Young Adults
Pros
• Very lightweight and comfortable
• First 2100 model with solar power and Bluetooth
• LED light is much brighter than GA-2100
• Trendy style with a clean dial and the octagonal bezel
Cons
• No auto activation for the LED light
• No third hand for seconds
• Digits on LCD display are very small
• The models with an inverted LCD display are harder to read
• Countdown timer max time is short (1 hour) compared to some other G-Shock models.
Alternatives: The deluxe GM-B2100 is a full metal version. The more affordable GA-2100 offers the same style but without solar power and Bluetooth.
Why buy the GA-B2100 versus the GA-2100? The GA-B2100 costs about $50 more and offers solar power and Bluetooth, making it a worthwhile upgrade. The rechargeable battery is expected to last many years longer than the standard battery found on the GA-2100. The Bluetooth connectivity also makes adjusting some settings easier and offers useful functions such as expanded world time cities, reminder alerts, and a time and place log. Another advantage over the GA-2100 is that the date format is adjustable to the international style and the day of week language is available in six languages.
G-Shock GA-B2100-1A
Black and gray with standard LCD display, based on the color scheme of DW-5600C-1V from 1987.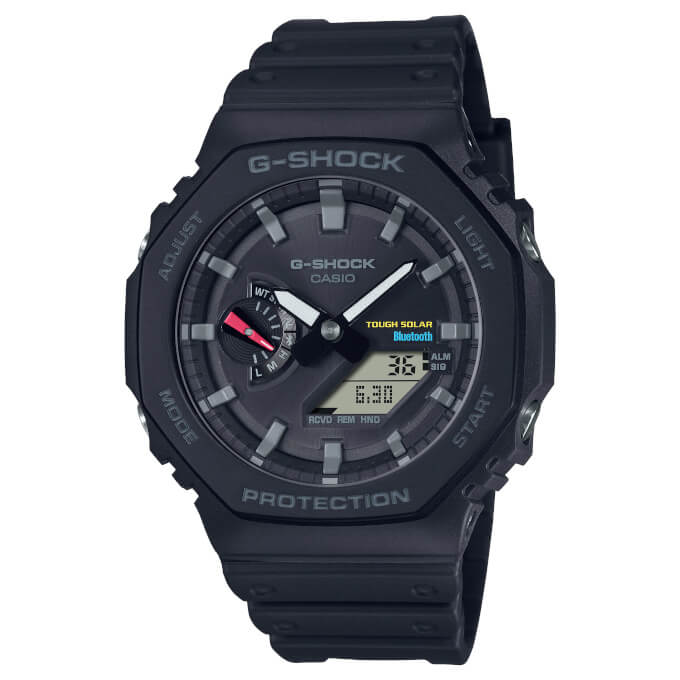 Buy GAB2100-1A:
Amazon Reeds eBay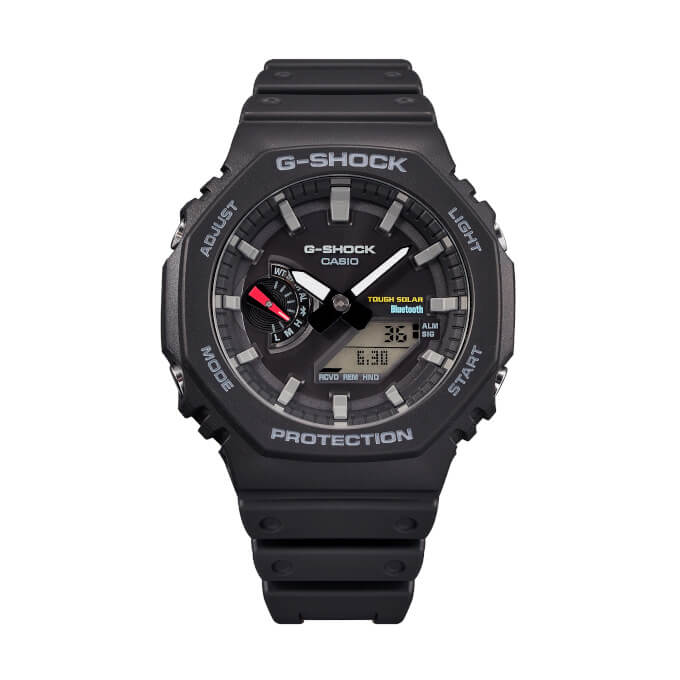 G-Shock GA-B2100-1A1
Black and black with inverted LCD display and black resin buckle.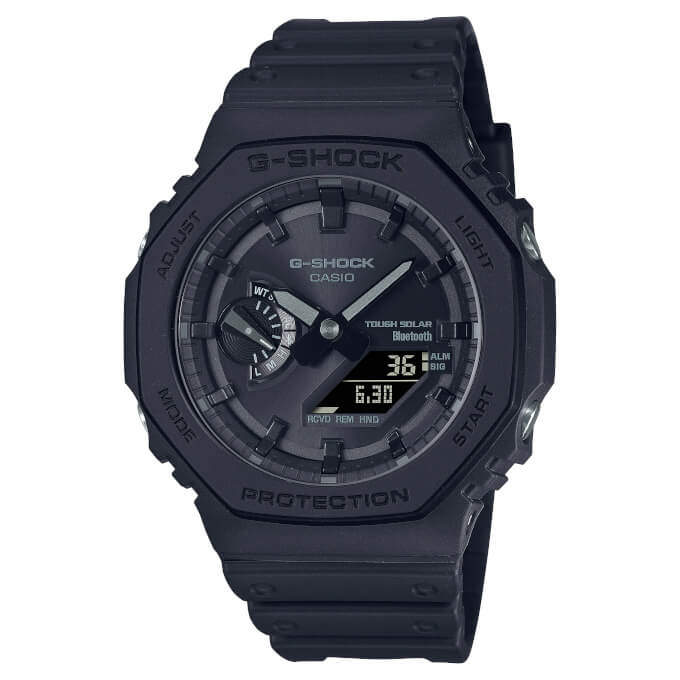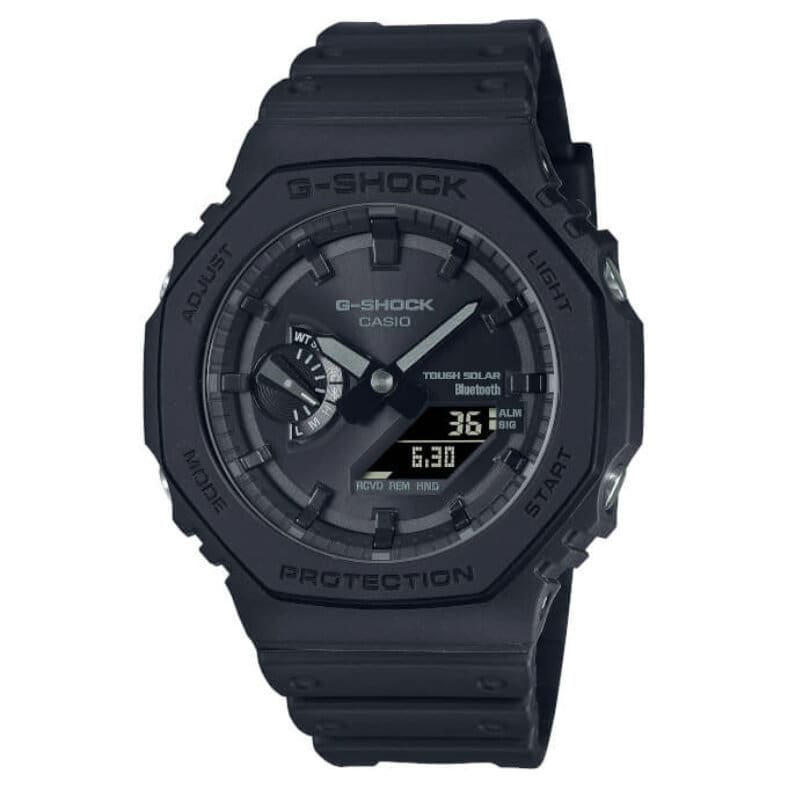 Buy GA-B2100-1A1JF (Japan Import):
Amazon eBay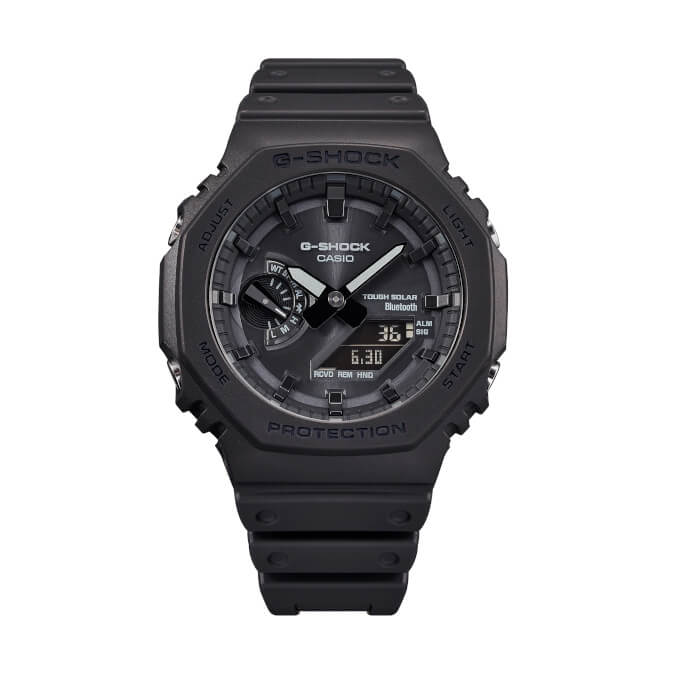 G-Shock GA-B2100-2A
Blue with inverted LCD display, based on the color scheme of DW-5600B-2V from 1987.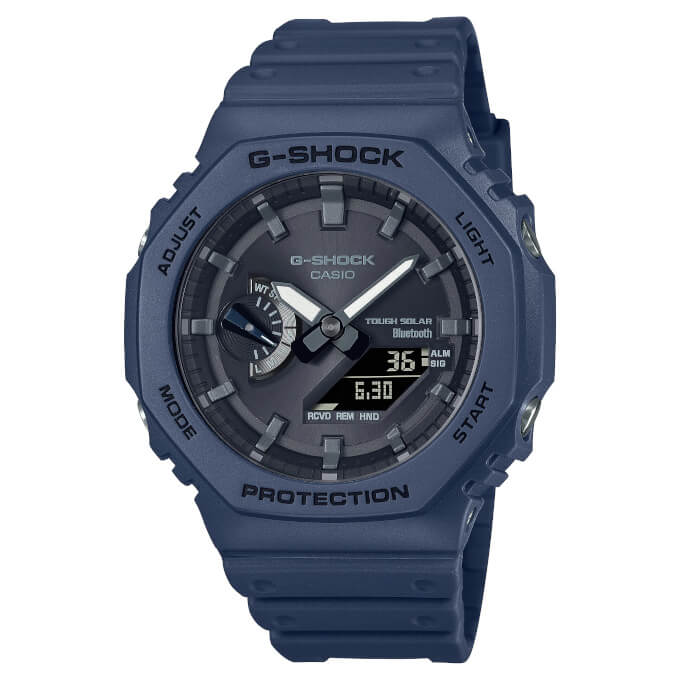 Buy GAB2100-2A:
Amazon Reeds eBay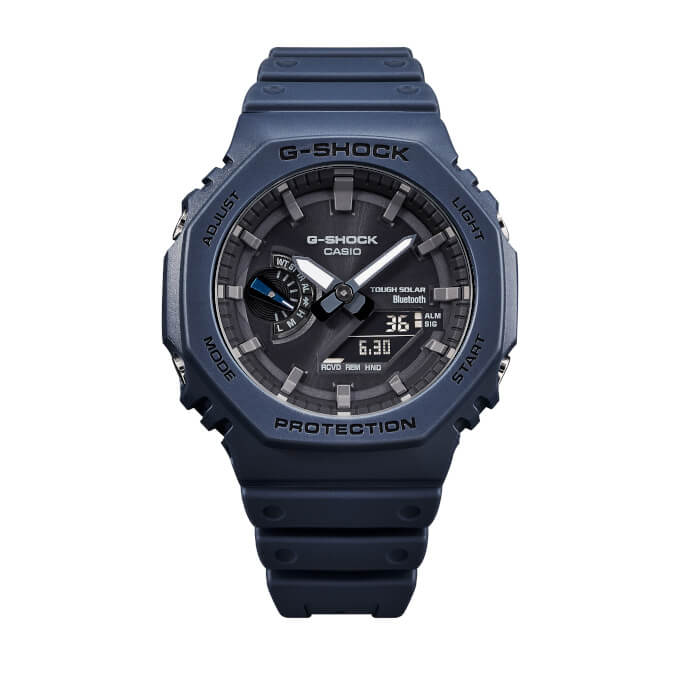 G-Shock GA-B2100-3A
Green with inverted LCD display, based on the color scheme of DW-5600B-3V from 1987. Japan model is GA-B2100-3AJF (22,000 yen).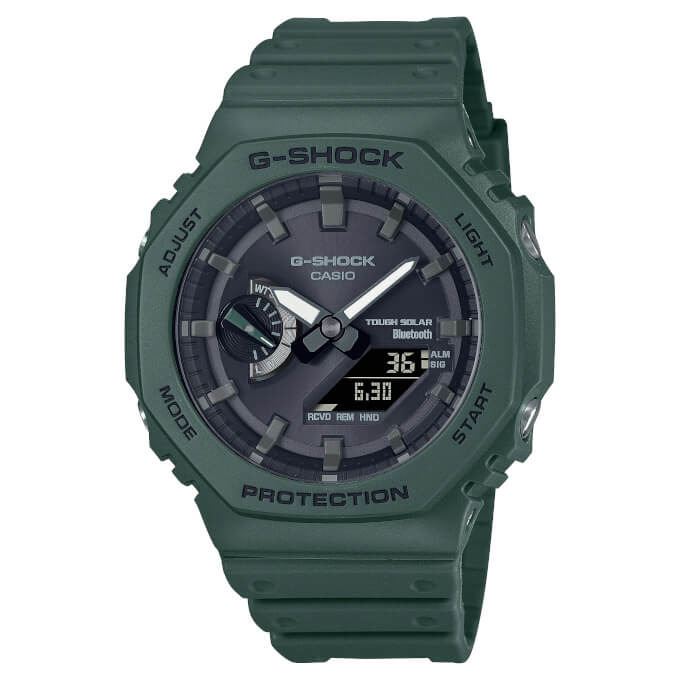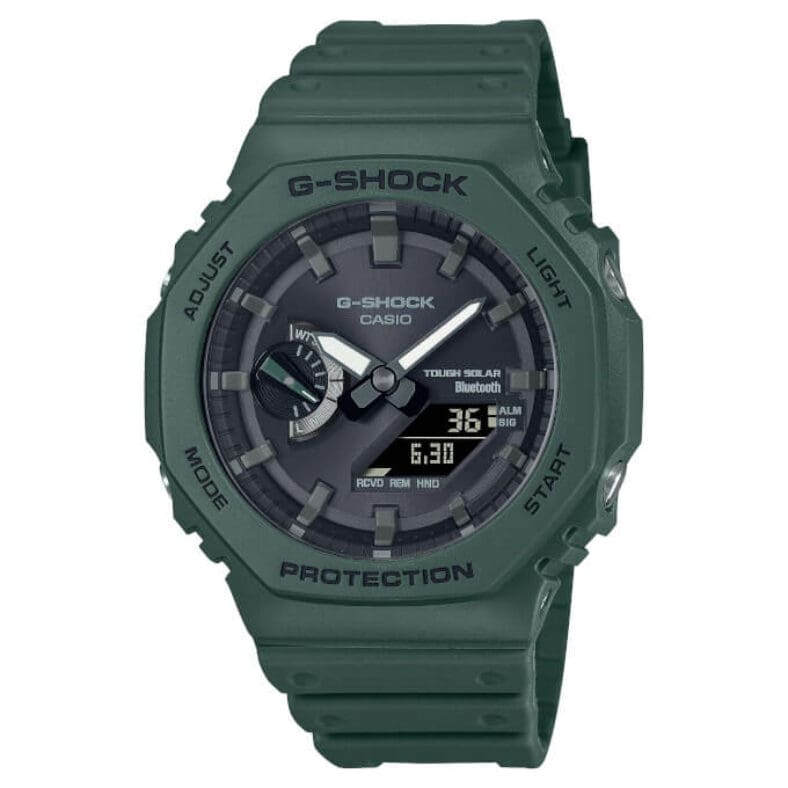 Buy GAB2100-3A:
Amazon Reeds eBay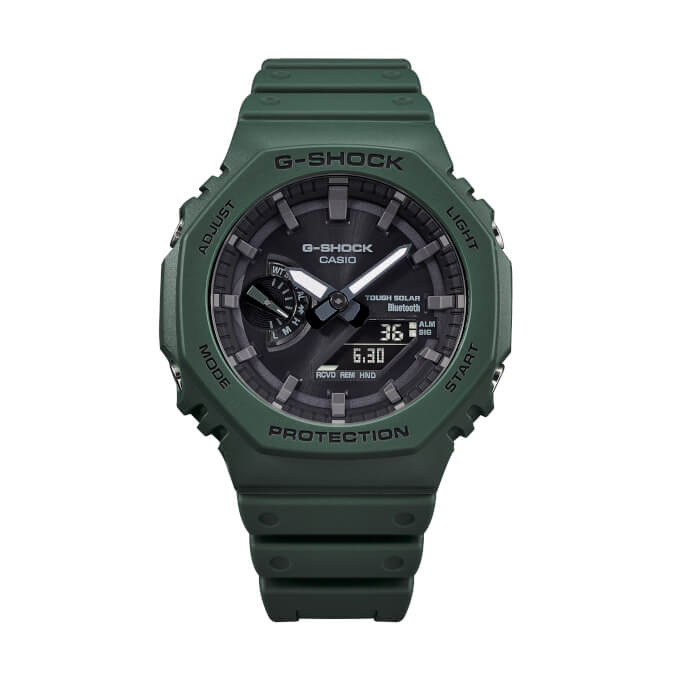 G-Shock GA-B2100C-9A
Yellow with standard LCD display, black IP buckle, and black band keeper, based on the color scheme of DW-5600C-9BV from 1987. Japan model is GA-B2100-9AJF (23,100 yen).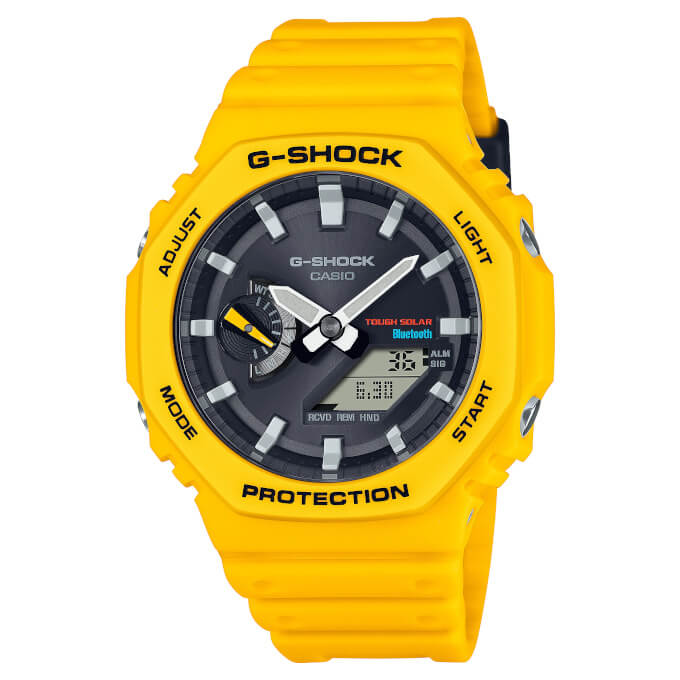 Buy GAB2100-9A:
Amazon Reeds eBay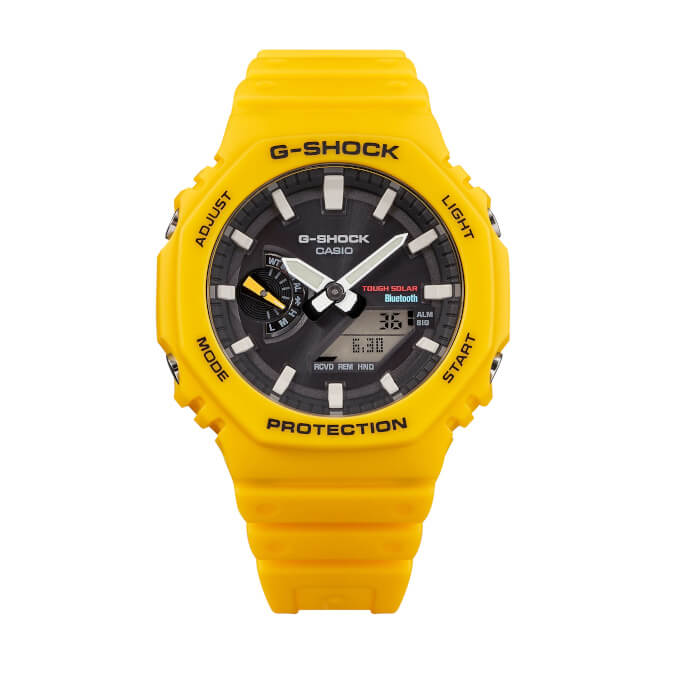 G-Shock GA-B2100 Promo Video from Casio UK: