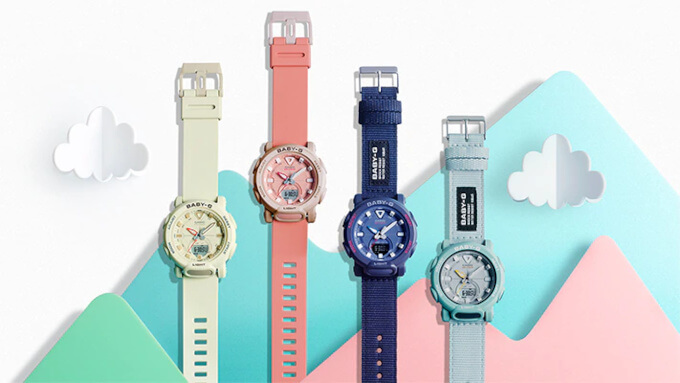 The Baby-G BGA-310 series is designed for practical outdoor use, with features such as a large dial, front light button, and dual LED lights with LCD backlight and auto-activation. With the auto-light feature enabled, the LED lights will activate with a turn of the wrist. The BGA-310 is also notable for having three analog hands, as most Baby-G watches have only two. The hands are phosphorescent along with four of the markers. The watch is equipped with a resin or cloth band, and the bands are designed for a wider range of motion at the lug for a more comfortable fit. The cloth bands on the BGA-310C models are made of recycled plastic bottles.
The watch also has a direct one-touch stopwatch start button and a 120-record lap memory that records start date and time, lap times, and lap numbers. Other features include shock resistance, 100-meter water resistance, stopwatch (1/100-second to 59'59″99, 1-second from 1:00'00 to 23:59'59), countdown timer (100 minutes max), five daily alarms, hourly time signal, dual time with home time swapping, hand shift, full auto-calendar, 12/24 hour format, button tone on/off, and auto dual LED lights with afterglow (1.5 or 3 seconds). Battery life is approximately 3 years with a CR2016. The BGA-310 measures 46.1 x 41.8 x 13.9 millimeters and weighs 41 grams (38 grams for BGA-310C).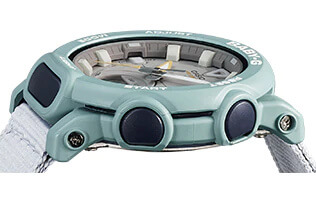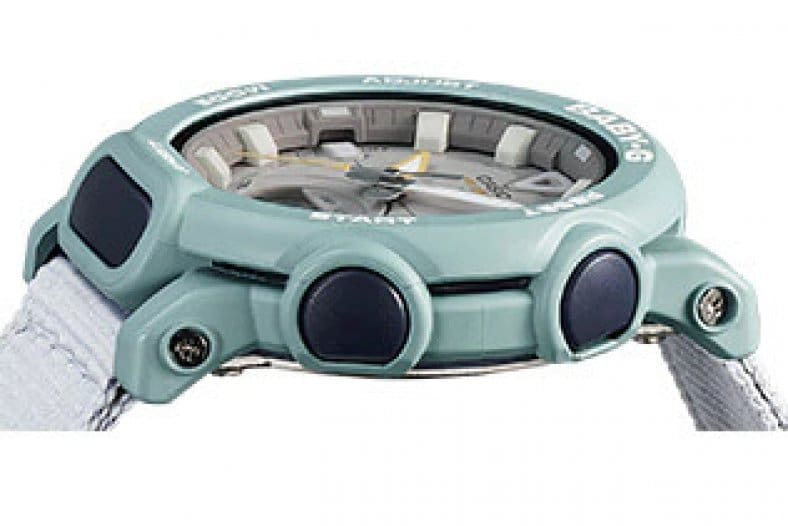 The resin band models include the coral pink BGA-310-4A, cotton beige BGA-310-7A, and white BGA-310-7A2. The BGA-310C cloth band models include the black BGA-310C-1A, navy BGA-310C-2A, and pale blue BGA-310C-3A. In Japan, the resin band models are 16,500 yen (tax included) and the cloth band models are 17,600 yen. Four of the models will be released in April, and the white BGA-310-7A2 and black BGA-310C-1A will be released in May. The BGA-130 series was also announced for the Asia region.