Judging from social media, the blue Tiffany-like shade is a popular custom color for the G-Shock GA-2100, which itself is a very popular model for customization. Several aftermarket modders offer the iconic light blue color in various configurations. These sellers offer the modified watches with the custom colors and parts installed.
The ultra-limited Tiffany Blue Patek Philippe 5711 from late 2021, which was an official collaboration with Tiffany & Co. and the final 5711 release, helped to spur the recent popularity of this light blue color in watches.
Disclaimer: Modded watches like these are not authorized by G-Shock and are not covered by the Casio warranty. There is also no guarantee that the watches will retain their water resistance level and durability after being modded. Also, the GA-2100 was not designed to accommodate a stainless steel band, and using one may lead to premature wear or damage.
IFL Watches sells the "CasiOak Tiffany" for $649. While that is a huge increase from the retail price ($110) of the GA-2110ET-8A base, the watch is covered by a "2-year IFL Watches warranty."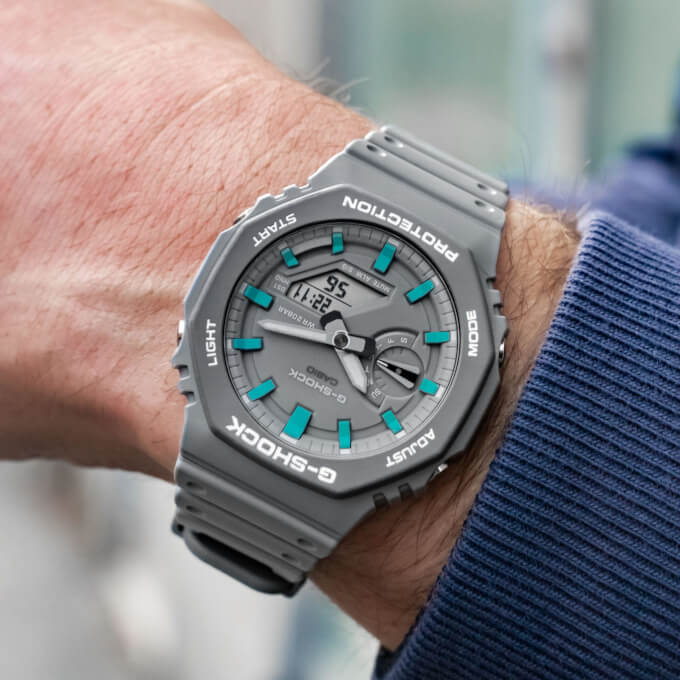 CasiOak Tiffany at iflwatches.com
There are also some custom watch sellers on Instagram, but they do not list their prices publicly.
Kinji111 is based in Taiwan and offers several metal-modded G-Shock GA-2100 watches. This custom job with a light blue dial and stainless steel bezel and band also has an upgraded sapphire crystal and luminous markers.
Tentwelve1012 is based in Singapore and Malaysia and offers several resin and metal options. The light blue dial with a white resin bezel and band looks especially appealing.
The custom blue dials can also be found for sale separately, but adventurous do-it-yourselfers will have to find them on their own.