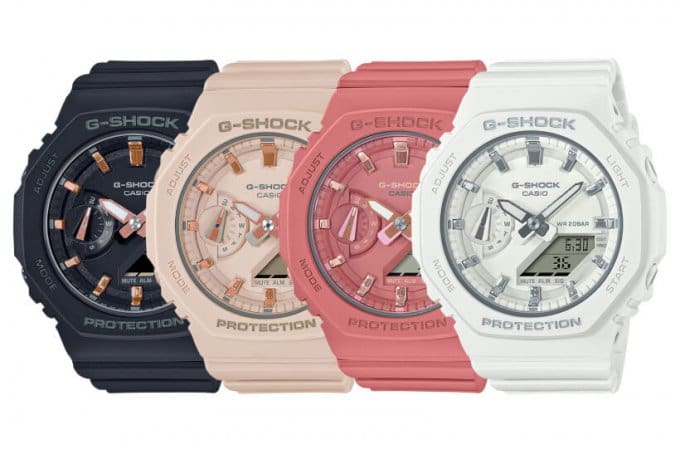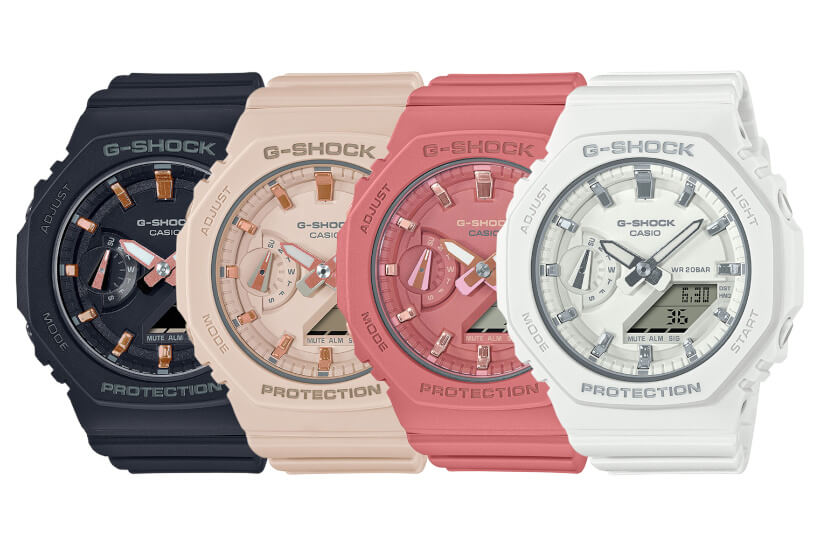 Update: New images of the G-Shock GMA-S2100 series were released by Casio Europe, including some wrist shots. The watches look just like smaller versions of a GA-2100 with color schemes aimed at women. With their distinctive metallic-style markers and accented dial rings, they appear to be different than the watches in the original leaked photos, which were probably prototypes.
The dimensions are 46.2 x 42.9 x 11.2 millimeters, which beats the GA-2100 for the slimmest current G-Shock watch (but the discontinued G-056/GW-056 remains the slimmest ever at 11 mm). The GMA-S2100 uses the same SR726W × 2 battery as the GA-2100, with an approximate life of three years. The watches are currently listed as "coming soon" with a German list price of 99 EUR each.
G-Shock Japan is releasing the black GMA-S2100-1AJF and white GMA-S2100-7AJF in March 2021 for 13,500 JPY each plus tax.
Update: The GMA-S2100-1A, GMA-S2100-4A, GMA-S2100-4A2, and GMA-S2100-7A were announced for other Asian countries in March 2021. The U.S. is expected to get the GMAS2100-1A, GMAS2100-4A, GMAS2100-4A2, and GMAS2100-7A for $99 each.
G-Shock GMA-S2100-1A: Black with rose gold markers.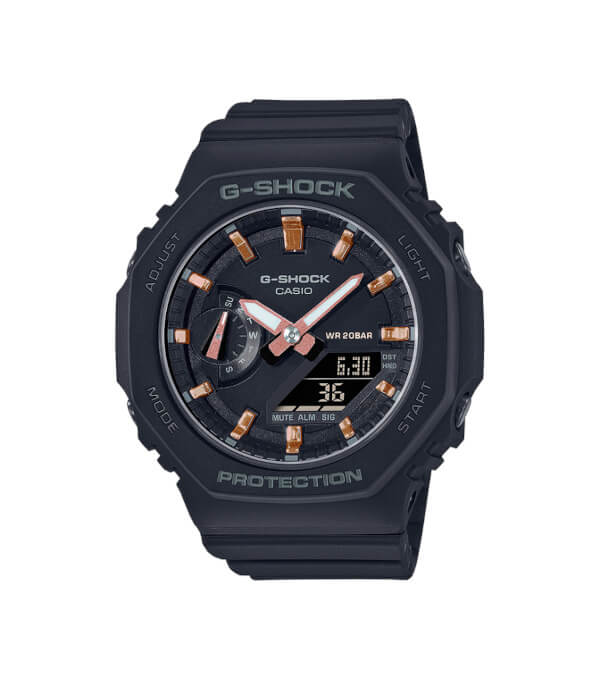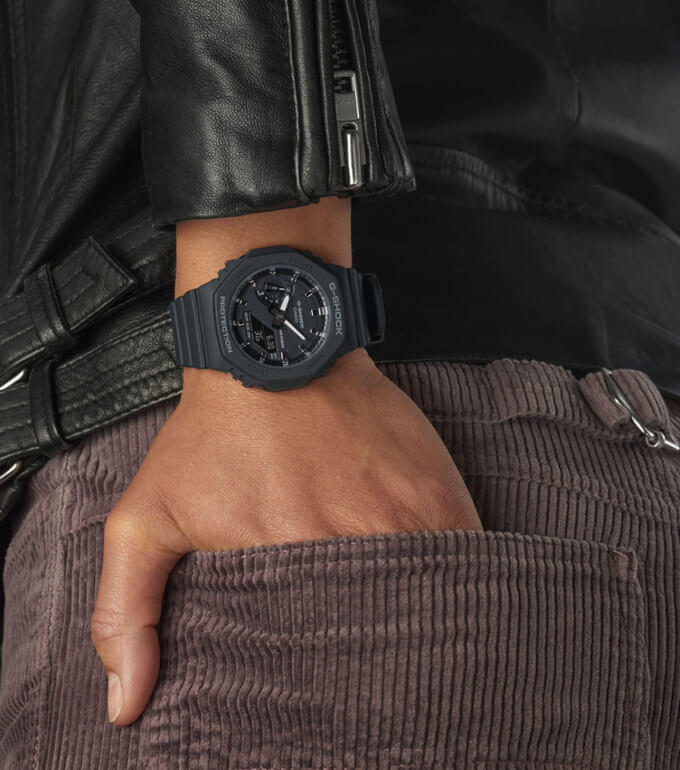 G-Shock GMA-S2100-4A: Light pink (blush pink) with rose gold markers.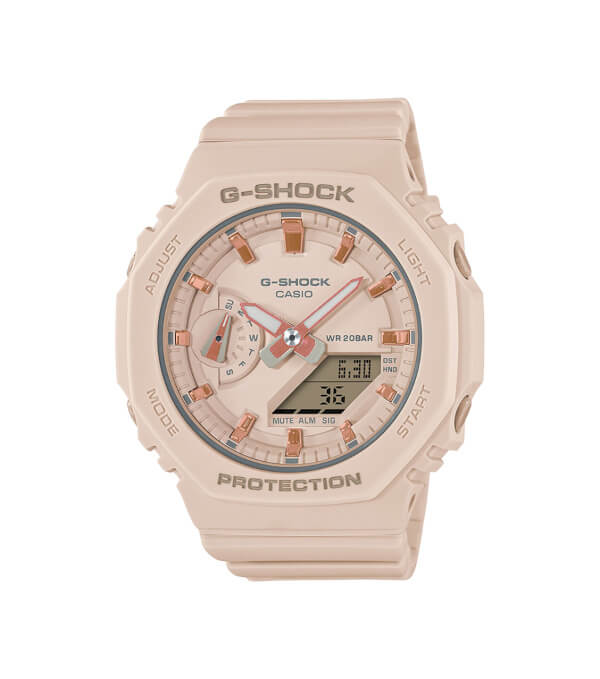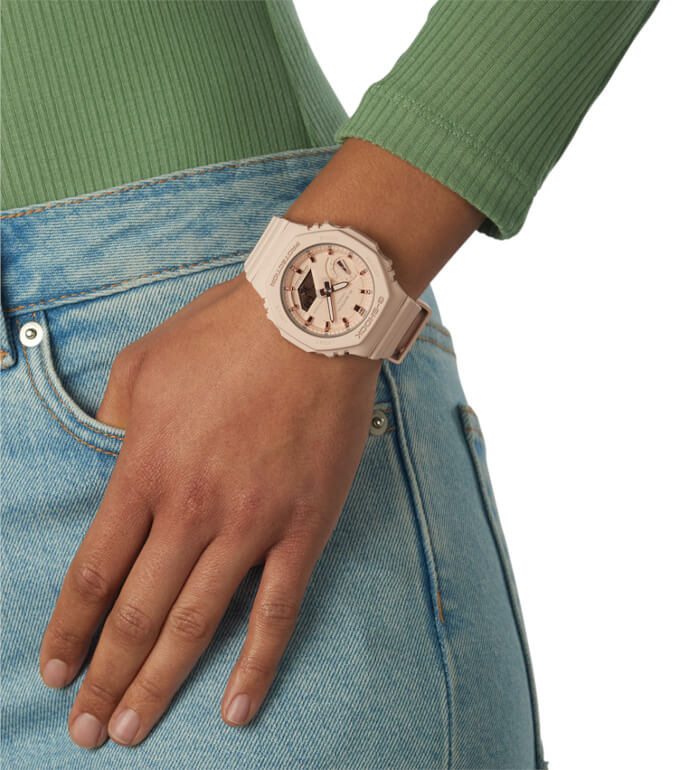 G-Shock GMA-S2100-4A2: Pink (salmon) with pink markers.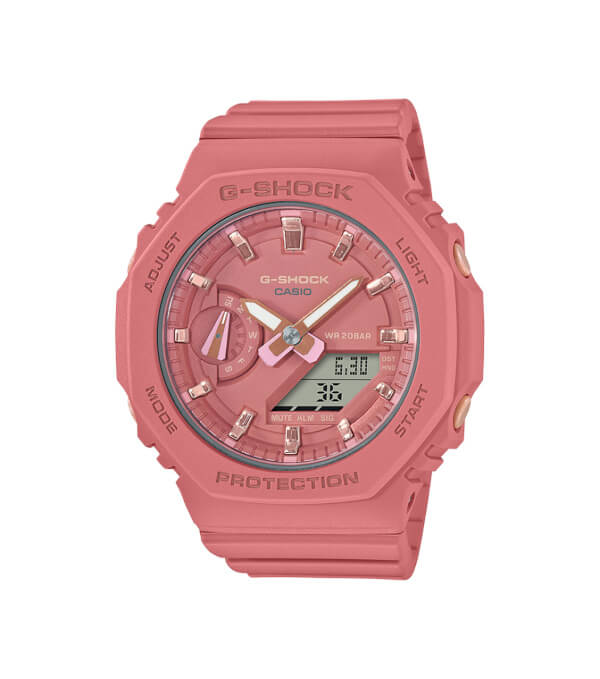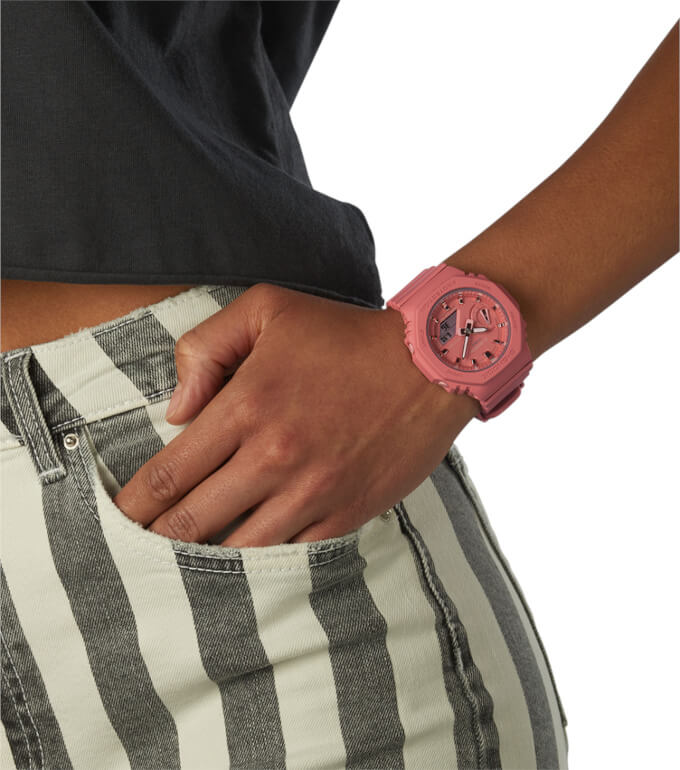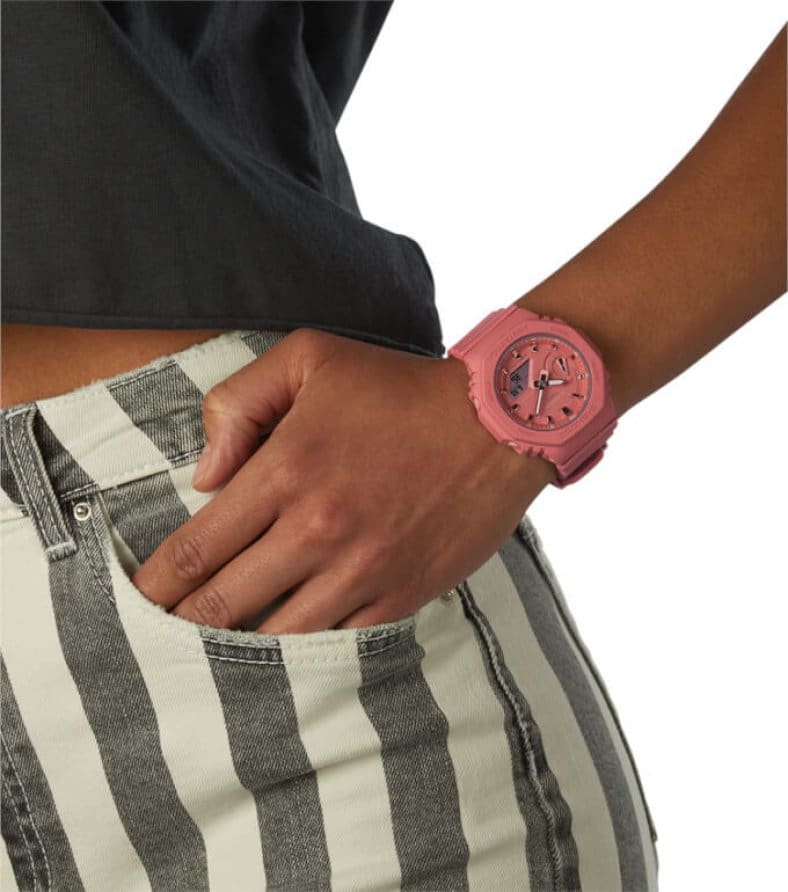 G-Shock GMA-S2100-7A: White with silver markers.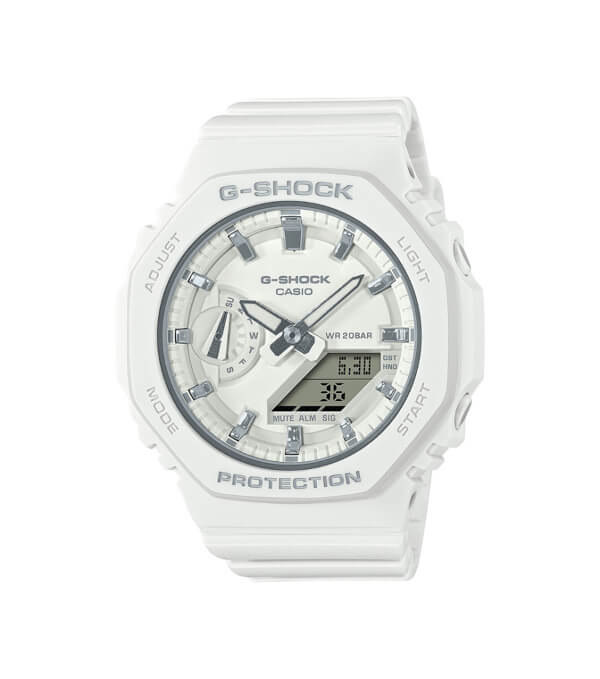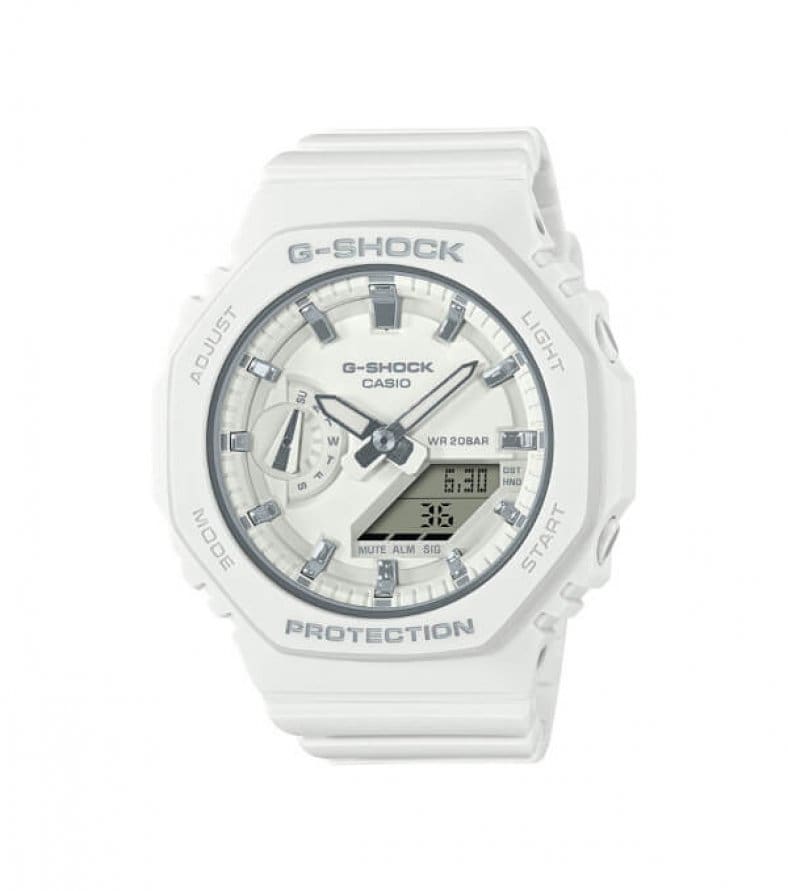 G-Shock GMA-S2100 Promo Video:
Original Post (January 14, 2021):
The upcoming G-Shock GMA-S2100 series, or the "Mini CasiOak" as it will inevitably be known as, was recently discovered by Japanese fan blog Great G-Shock World. As the nickname implies, this is a smaller S Series version of the GA-2100, which was first introduced in late 2019 and quickly became one of the bestselling G-Shock series. The models discovered include the GMA-S2100-1AER, GMA-S2100-4AER, GMA-S2100-4A2ER, and GMA-S2100-7AER. (The "ER" denotes a European release, where new models are often first discovered, and the series is expected to be released worldwide.)
Some very low-res images were also found, and they look just like a smaller version of the GA-2100. The S Series of smaller G-Shock watches is aimed at women, but it is also suitable for older children, men with smaller wrists, or anyone who prefers a smaller watch.
According to a French retailer, the series is coming in March 2021 and will have the same features as the full-size GA-2100, which include shock resistance, 200-meter water resistance, Neobrite luminous hands, world time, 1/100-second stopwatch (24 hours), countdown timer (24 hours, settable in 1-second, 1-minute, and 1-hour increments), 5 alarms, hand shift function, button tone on/off, dual lights with LCD backlight, and approximate 3-year battery. The official dimensions are not yet known, but it is possibly thinner than the GA-2100, which is currently the slimmest active G-Shock model at 11.8 millimeters. Pre-listings are showing up on European retailer sites, with prices in the 120-125 Euros range.
Unofficial Leaked Prototype Images: