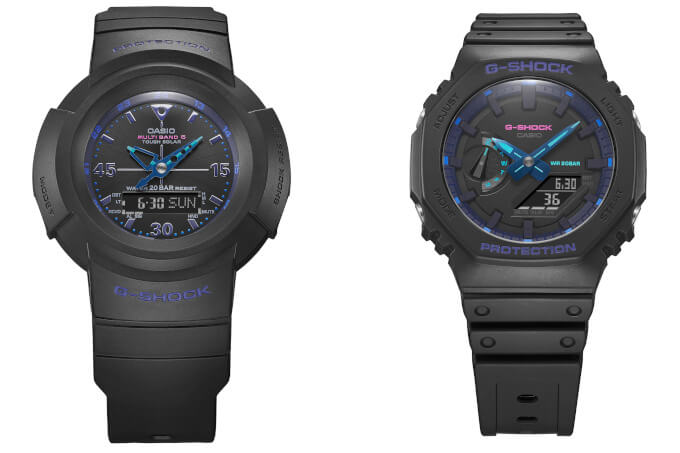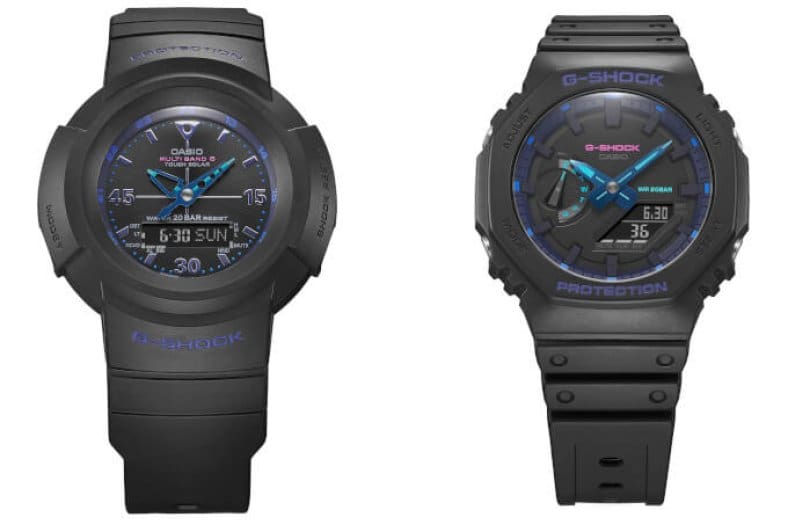 The "Virtual Blue" series is the type of matching multi-line G-Shock series that used to be more common in the past. These black and blue analog-digital watches have blue violet accents and inverted LCD displays. The style gives the impression of a futuristic cyberpunk setting that one might see in the movies or video games.
The series includes the AWG-M100SVB-1A, AWG-M520VB-1A, and GA-2100VB-1A. The AWG-M100SVB-1A and AWG-M520VB-1A feature Tough Solar power and Multi-Band 6 radio-controlled auto time adjustment, and the GA-2100VB-1A is a slimmer model with an approximate 3-year battery life. There is also the GA-700VB-1A (5-year battery) and GA-900VB-1A (7-year battery), which are not listed for Japan but are coming to the U.S., China, and Asia (October 2021).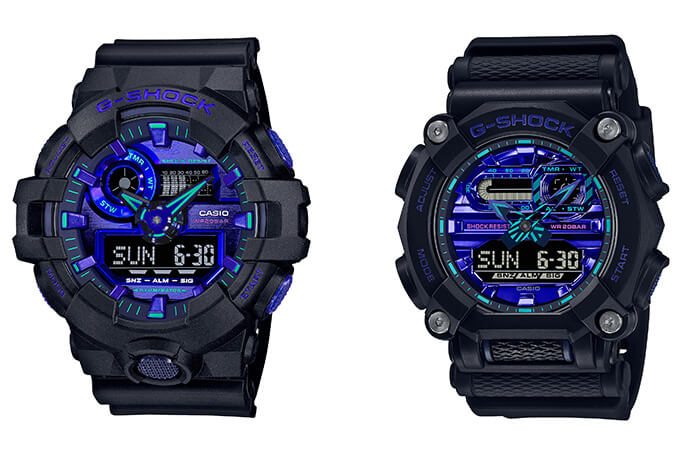 In Japan, the AWG-M520VB-1AJF (25,300 yen tax-included) and GA-2100VB-1AJF (14,850 yen) will be released in October 2021, and the AWG-M100SVB-1AJF (26,400 yen) will be released in December. We're guessing that the AWG-M520VB-1A will be a Japan-only release like all AWG-M520 models so far.
Update: G-Shock U.S. released the following models as the "Virtual World" series: GA2100VB-1A ($110), GA700VB-1A ($110), GA900VB-1A ($140).
G-Shock GA-700VB-1A: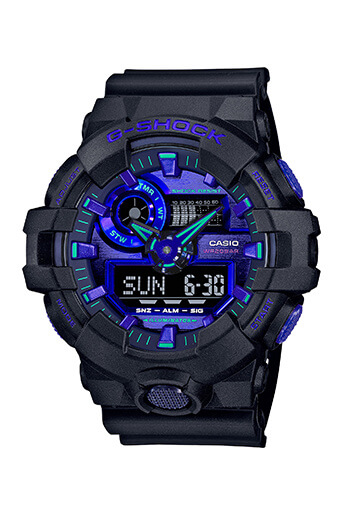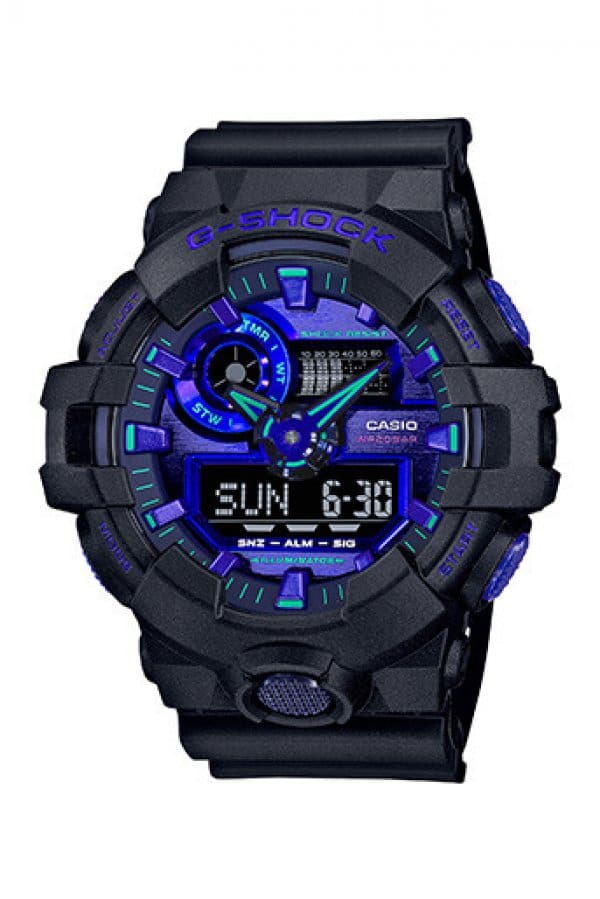 Size: 57.5 × 53.4 × 18.5 mm Weight: 69 grams
Structure: Resin case, bezel, and band, mineral glass
Protection: Shock Resistance, 200-meter Water Resistance Power: Battery (CR2016, approx. 5-year life)
Features: World time (31 time zones, 48 cities + UTC, DST on/off, home/world time city swapping), 1/100-second stopwatch (23:59'59 max, elapsed time, split time, 1st-2nd place times, target time alarm, direct timing start button), countdown timer (60 minutes, settable in minutes), 5 daily alarms (with 1 snooze), hourly time signal, LED light with 1.5 or 3-second afterglow, full auto-calendar, button tone on/off, 12/24-hour format, hand shift
G-Shock GA-900VB-1A: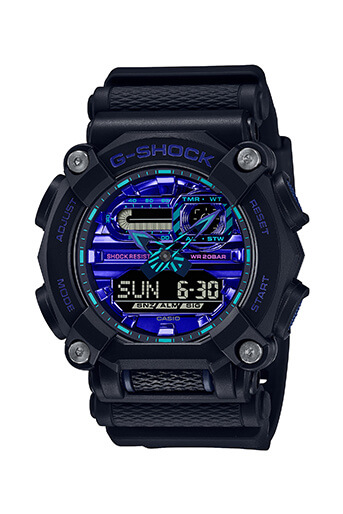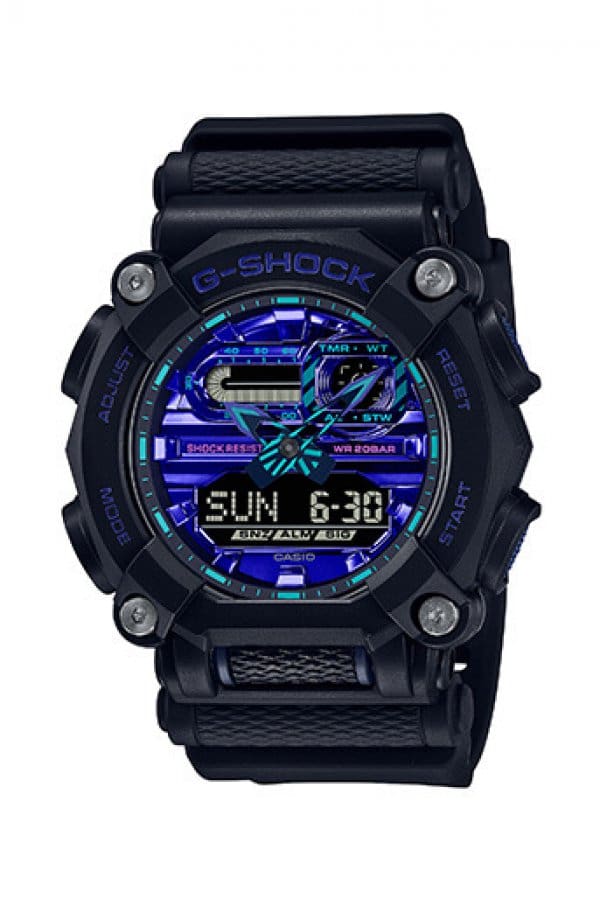 Size: 52.8 × 49.5 × 16.9 mm Weight: 65 grams
Structure: Resin case, bezel, and band, mineral glass
Protection: Shock Resistance, 200-meter Water Resistance Power: Battery (CR2016, approx. 5-year life)
Features: World time (31 time zones, 48 cities + UTC, DST on/off, home/world time city swapping), 1/100-second stopwatch (23:59'59 max, elapsed time, split time, 1st-2nd place times, target time alarm, direct timing start button), countdown timer (60 minutes, settable in minutes), 5 daily alarms (with 1 snooze), hourly time signal, LED light with 1.5 or 3-second afterglow, full auto-calendar, button tone on/off, 12/24-hour format, hand shift
G-Shock GA-2100VB-1A: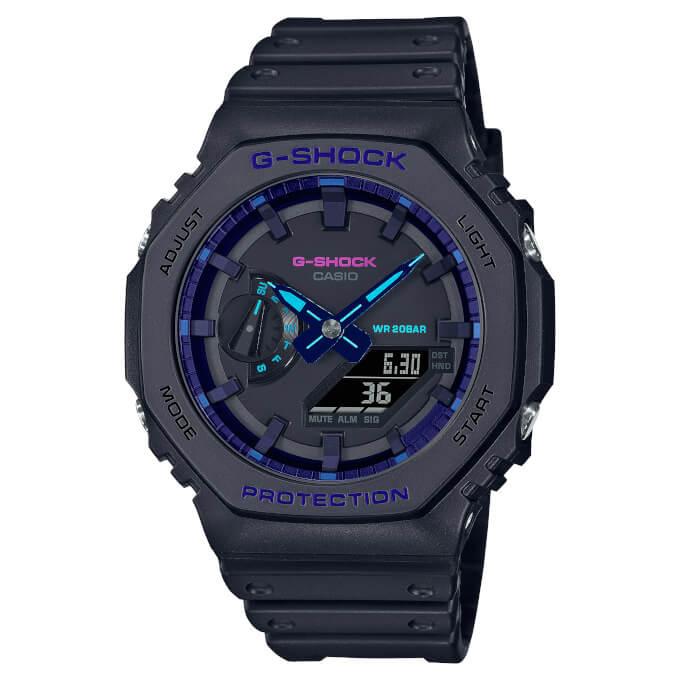 Size: 48.5 × 45.4 × 11.8 mm Weight: 51 grams
Structure: Carbon Core Guard, resin case, bezel, and band, mineral glass, Neobrite
Protection: Shock Resistance, 200-meter Water Resistance Power: Battery (SR726W x 2, approx. 3-year life)
Features: World time (31 time zones, 48 cities + UTC, DST on/off), stopwatch (23:59'59 max, 1/100-second first 60 minutes, 1-second after 60 minutes, elapsed time, split time, 1st-2nd place times), countdown timer (24 hours, settable in seconds, minutes, and hours), 5 daily alarms, hourly time signal, dual LED light with 1.5 or 3-second afterglow, full auto-calendar, button tone on/off, 12/24-hour format, hand shift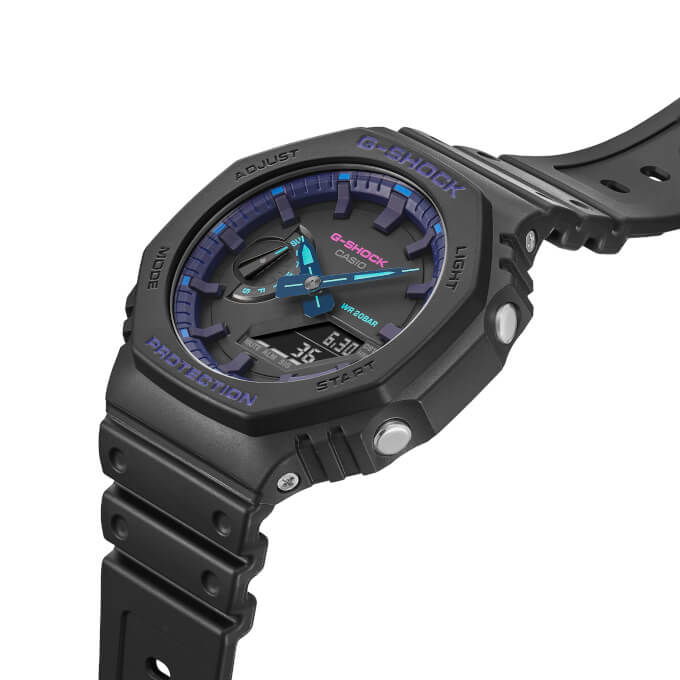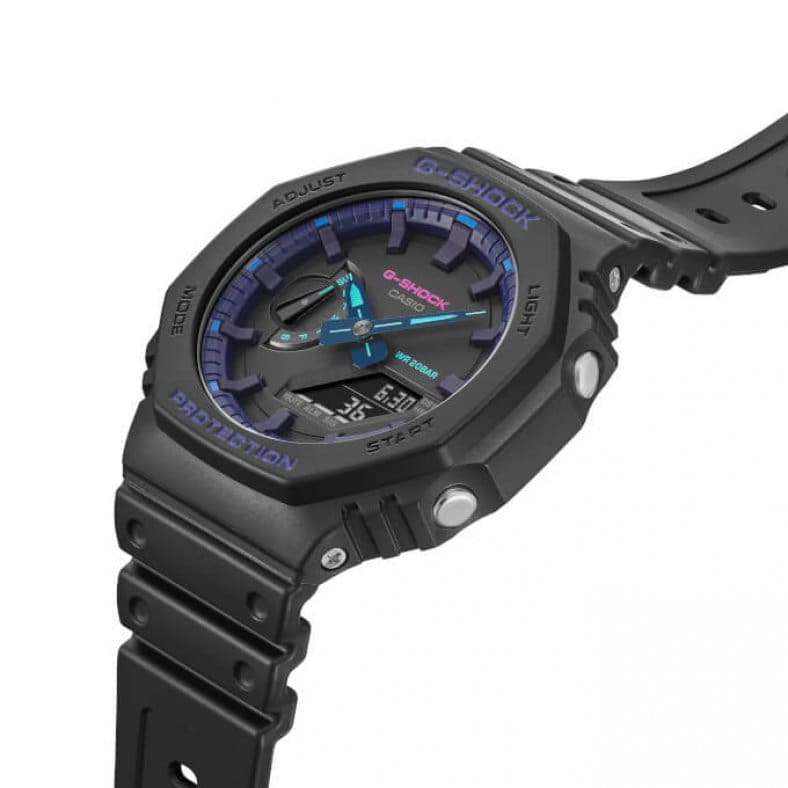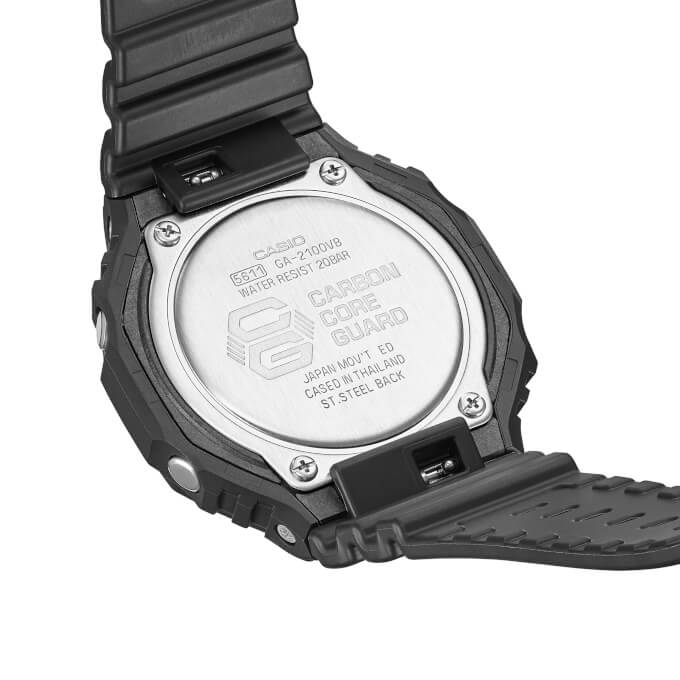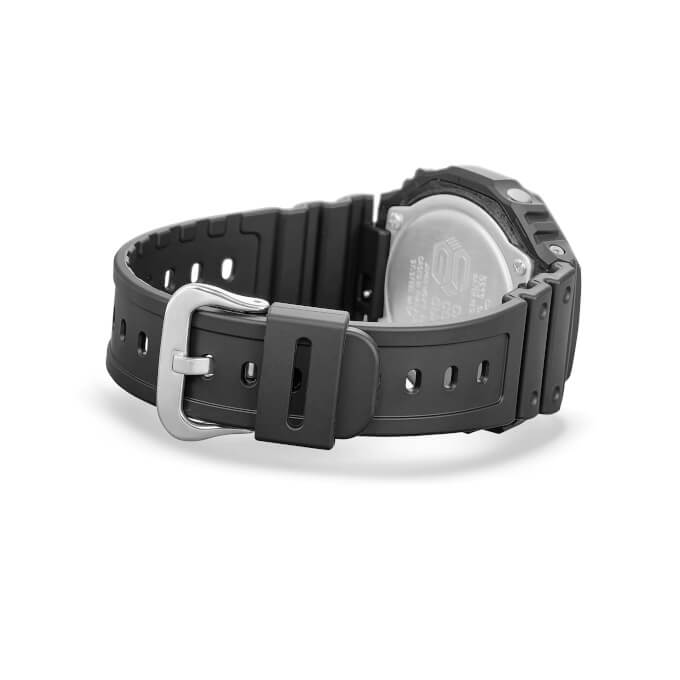 G-Shock AWG-M100SVB-1A: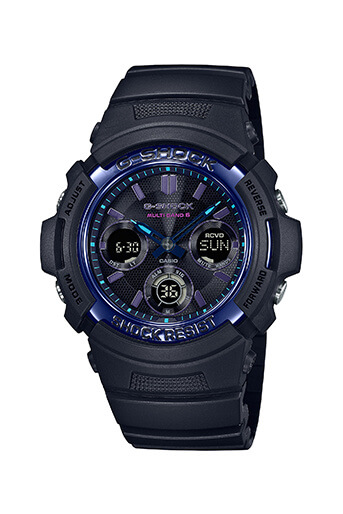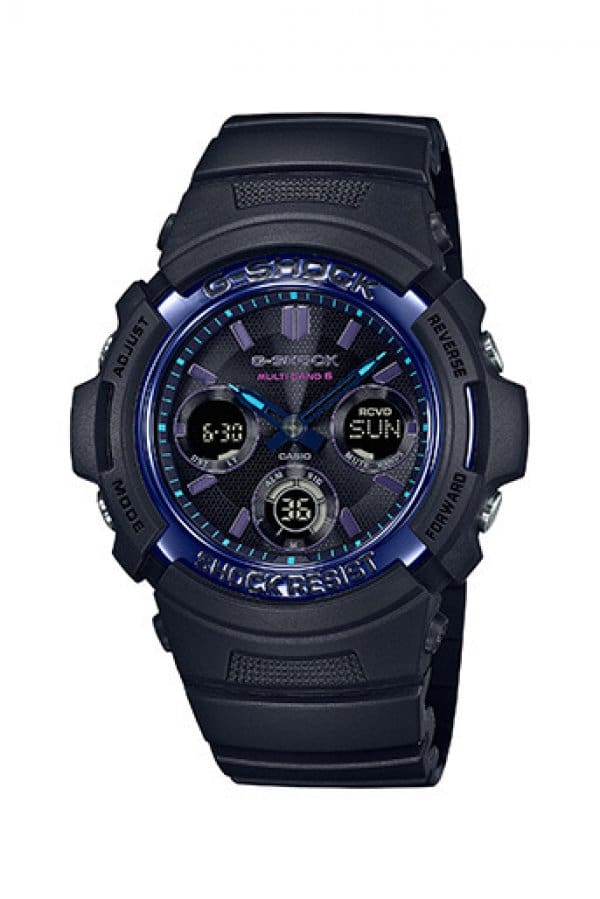 Size: 52 x 46.4 x 14.9 mm Weight: 56 grams
Structure: Resin case and band, resin and aluminum bezel, mineral glass
Protection: Shock Resistance, 200-meter Water Resistance Power: Tough Solar
Features: Multi-Band 6 auto time adjustment, world time (31 time zones, 48 cities + UTC, DST on/off, home/world city time swap), 1/100-second stopwatch (60 minutes max, with split), countdown timer (100 minutes, settable in seconds), 5 daily alarms (with countdown), hourly time signal, full auto LED light with afterglow, full auto-calendar, button tone on/off, 12/24-hour format, hand shift
G-Shock AWG-M520VB-1A: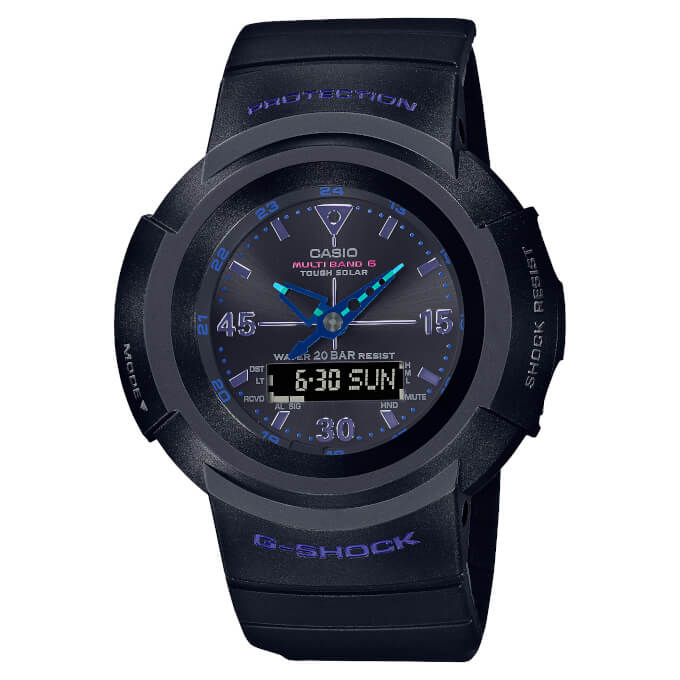 Size: 55.2 x 47.7 x 15.3 mm Weight: 55 grams
Structure: Resin case, bezel, and band, mineral glass
Protection: Shock Resistance, 200-meter Water Resistance Power: Tough Solar
Features: Multi-Band 6 auto time adjustment, world time (31 time zones, 48 cities + UTC, DST on/off, home/world city time swap), 1/100-second stopwatch (60 minutes max, with split), countdown timer (100 minutes, settable in seconds), 5 daily alarms (with countdown), hourly time signal, full auto dual LED light with 1.5 or 3-second afterglow, full auto-calendar, button tone on/off, 12/24-hour format, hand shift