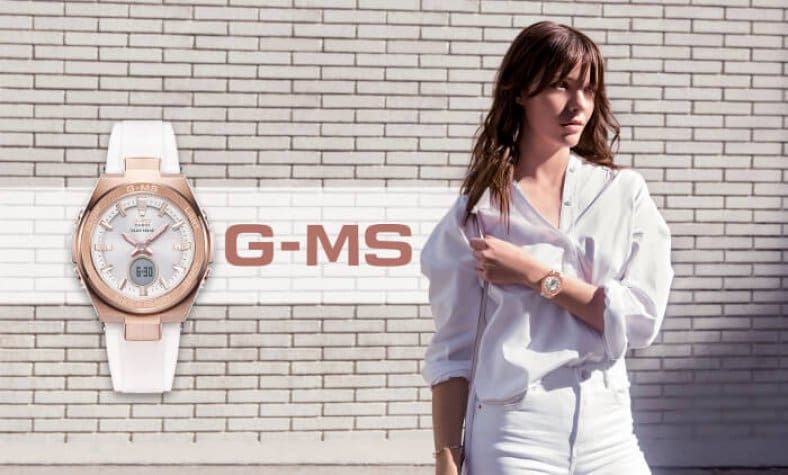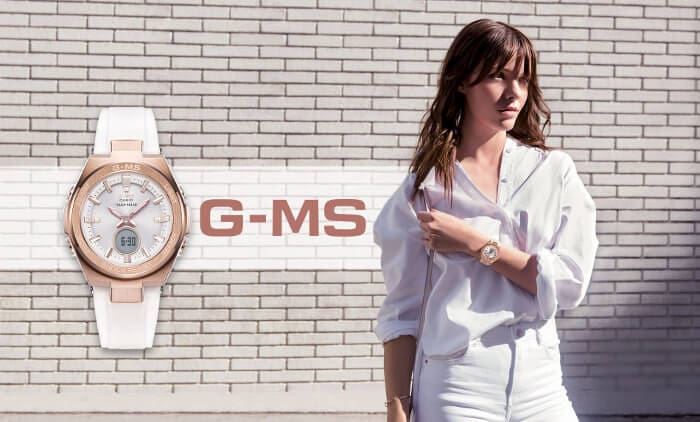 Part of the Baby-G brand in Japan and Asia, Casio America launched the G-MS line for women as part of the G-Shock brand under the G-Shock Women label. The G-MS watches have Casio and G-MS logos and do not have any Baby-G or G-Shock branding on the front of the watch (but may on the case back). G-MS is a long-running line in Japan but was just recently introduced to outside markets. The G-MS line offers rugged watches for women with a slim and elegant design that is more upscale and refined than the typical Baby-G watch.
The two main G-MS series available in North America are the MSG-S200 series with resin bands, and the MSG-S200D series with stainless steel bands, both of which are powered by the Tough Solar charging system. The solar-charging feature is particularly helpful in these models as analog movements typically have a shorter battery life than a fully digital module. On a full charge, the MSG-S200 can get up to 11 months of normal use without further charging, and the watch can be recharged with sunlight or fluorescent lighting. (Note: There are some G-MS models like the MSG-400 that are not solar-powered.) Like G-Shock and Baby-G watches, the G-MS line has full shock resistance with a forged stainless steel bezel for extra toughness. Unlike other current G-Shock models, G-MS watches are water-resistant to 100 meters rather than 200, but that is fine for most water activities like swimming, surfing, and snorkeling.
A new G-MS section is now live at www.gshock.com/watches/g-ms. There is also a @gshockwomen Instagram account that features the G-MS line and the G-Shock S Series.
Photo via gshock.com