Update: The G-Shock x Nanoblock Watch Display Tool consists of a black platform with a space to hold a G-Shock watch, a red G made of blocks, and space for one block sports figure. Each box contains one of four possible figures. These figures are a tribute to G-Shock's popularity in extreme sports (and the famous 1984 television commercial from America) and include a hockey player, BMX rider, surfer, and snowboarder.
News.mynavi.jp reported that these sets will only be available as a promotional item with G-Shock purchases outside of Japan at official G-Shock stores (most likely in other Asian countries), and it will not be available in Japan or for retail sale.
Update (February 3, 2020): G-Shock Taiwan is giving away a G-Shock x Nanoblock set with the purchase of a GM-5600 at official G-Shock stores. The type of sports figure will be selected at random.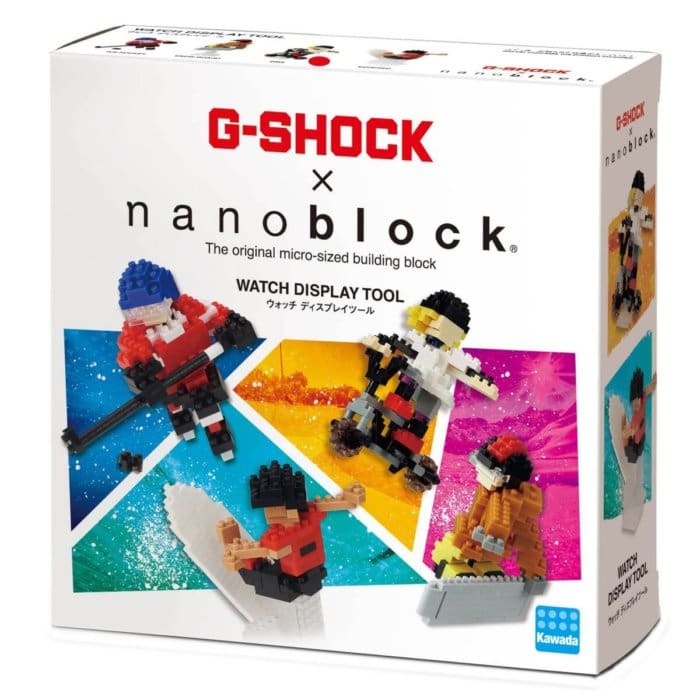 Original Post:
G-Shock is collaborating with Kawada, maker of the construction toy line Nanoblock, for some "special block kits with the G-Shock motif." A teaser video on Instagram shows a hockey player made of mini-blocks shooting a puck against a G-Shock GM-5600, in an homage to the famous TV commercial from the 1980s. The video also shows the G-Shock logo made with red blocks. It's not yet known if these are the actual kits or if they will be something else. The collaboration was announced on the gshock_casio_official Instagram account, which appears to be the main account for the global Asia region.