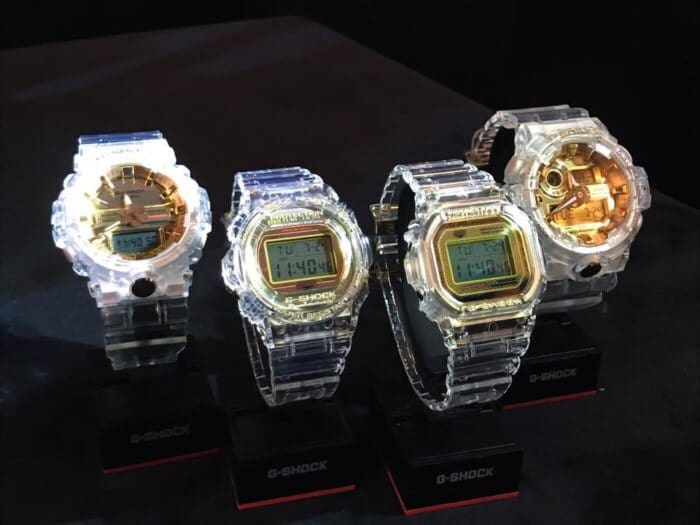 The next G-Shock 35th Anniversary series has been leaked and it is the Glacier Gold Collection, a.k.a. the Jelly & Gold Series. Models include the DW-5035E-7, DW-5735E-7, GA-735E-7A, and GA-835E-7A with the first two models being screw-lock case backs like their counterparts in the Origin Gold Collection. These watches feature transparent cases, reflective gold faces, and gold IP buckles and stainless steel strap keepers. The DW-5035E-7 and DW-5735E-7 appear to have inner stainless steel cases that have been treated with a gold IP and are visible through the bezels, giving these models a unique design. The bezels and bands in this series are clear like ice with no matte treatment.
G-Shock DW-5035E-7 (second from right): The DW-5035E-7 is inspired by the first ever G-Shock DW-5000C from 1983 and like that model has a stainless steel inner case with a screw-lock case back.
G-Shock DW-5735E-7 (second from left): The DW-5735E-7 is inspired by the DW-5400 (1985) and its successor the DW-5700, the first non-square, round-face models that paved the way for a huge variety of G-Shock designs.
G-Shock GA-735E-7A (right): The GA-735E-7A is based on the GA-700 released in 2016. This model has a front-facing LED light (Super Illuminator) button and a 5-year battery. This extra-large model is 53.4 mm wide.
G-Shock GA-835E-7A (left): The GA-835E-7A is based on the GA-800 released in 2017. This mid-size model features a traditional third analog hand to display the second, a dedicated stopwatch button to start it immediately from timekeeping mode, 120-record lap time memory, and a front-facing LED light (Super Illuminator) button.
More photos and information will be posted here when available.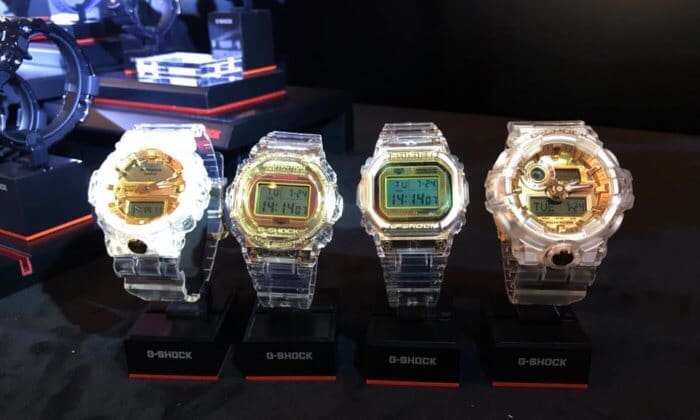 Photos via facebook.com/gshocksilvercord
(
G-Central is an independent news site created and maintained by fans and is not an official representative of Casio or G-Shock. G-Central earns a commission on qualifying purchases made from its links. See full disclosure.
)