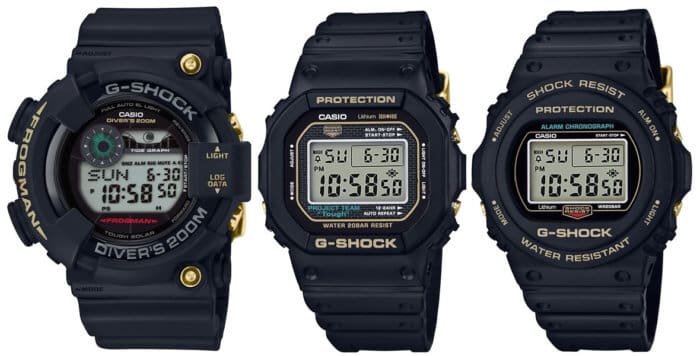 Spanish-language fan blog Zona Casio recently revealed an upcoming G-Shock 35th Anniversary collection and was kind enough to share the photos with us. Casio is going full retro with this "D Series" which according to Zona Casio includes the GF-8235D-1B Frogman (left), ​​DW-5035D (center), and DW-5735D (right). These models have a gold theme with gold buttons and band keepers along with light gold lettering and display accents.
The base model (GF-8250) of the Frogman GF-8235D-1B is inspired by the exterior design of the second-generation Frogman DW-8200 from 1995. Like all Frogman models it has a screw-back stainless steel case and is an ISO Diver's 200M watch. Unlike the early Frogman watches this one has Tough Solar power and a tide and moon graph. Zona Casio reports that this model has a DLC coating on the bezel and the rest of the case may be coated as well.
The ​​DW-5035D is based on the first G-Shock model ever released, the DW-5000C from 1983. (Reader Tak has pointed out that the color scheme resembles the DW-5000C-1B, which was one of the original 1983 models along with the DW-5000C-1A.) Like the original it has a screw-back stainless steel case and features the brick wall pattern surrounding the display. Also like the original it is battery-powered and has a standard LCD display. As with previous DW-5000 anniversary releases, the ​​DW-5035D features the Project Team "Tough" logo in tribute to creator Kikuo Ibe and his team of engineers. Like the GW-5035A-1 35th Anniversary tribute watch from late 2017, demand for the ​​DW-5035D is expected to be extremely high as this is basically a must-have piece for serious collectors.
The DW-5735D is part of this year's DW-5750 revival. The DW-5750 is based on the DW-5400 and DW-5700 from the mid-1980s which were the first round-face G-Shock watches. Zona Casio is speculating that this model could be a screw-back case like the original DW-5700. Keep in mind that the DW-5725B-7 Rising White model from the 25th Anniversary was a screw-back. The stainless steel band keeper and the fact that the other two models in this collection have screw-back cases lead us to believe it is a screw-back case, but perhaps we are being overly optimistic.
This page will up updated when more information is available.