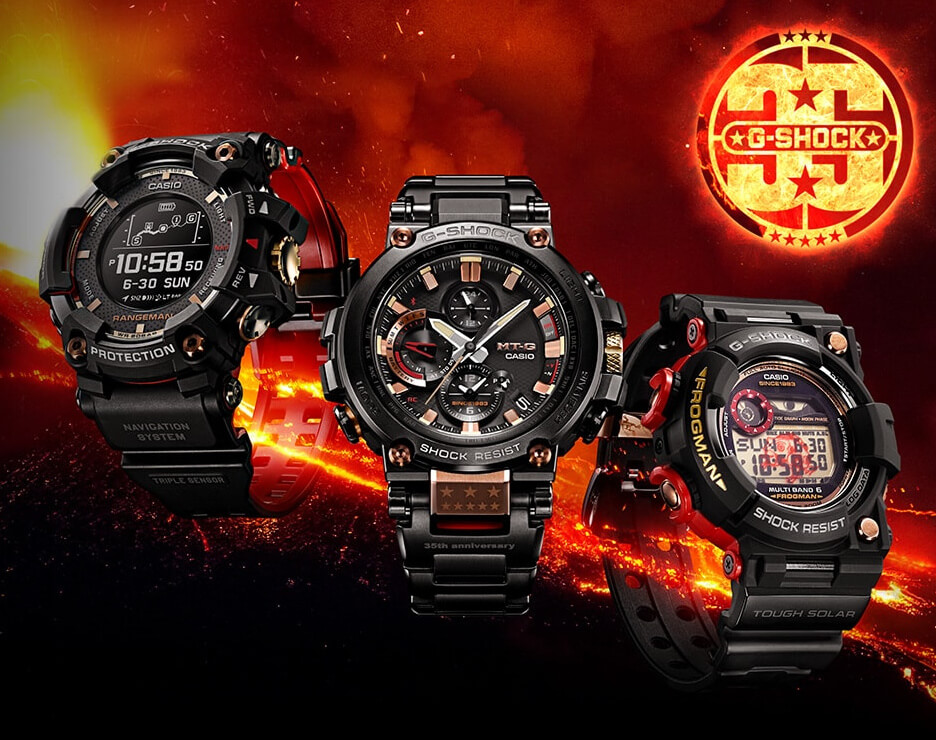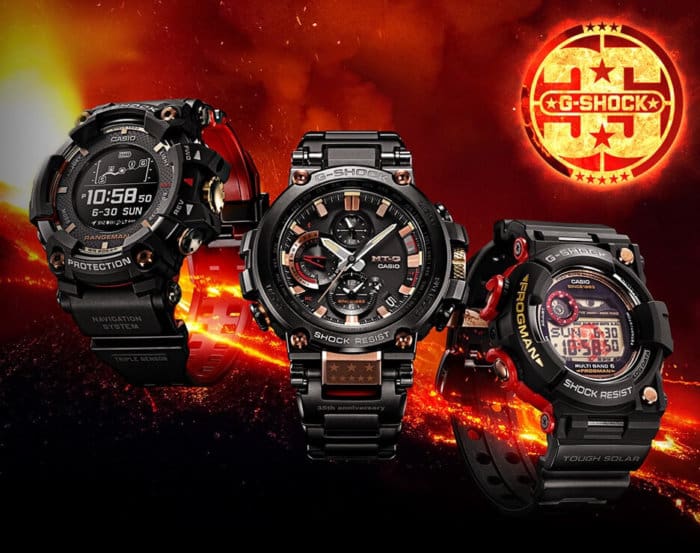 Announced by G-Shock Japan, the G-Shock 35th Anniversary Magma Ocean Collection includes three high-end G-Shock models: The Rangeman GPR-B1000TF-1, the Frogman GWF-1035F-1, and the MT-G MTG-B1000TF-1A. The color scheme of these watches is inspired by the magma ocean that existed during the formation of planet Earth. The theme represents returning to the origin and expresses the intention to continue producing something of value. The watches feature black bodies and bands representing G-Shock with red, rose gold, and yellow gold accents to celebrate the anniversary. Each watch has a "Since 1983" text on the display to commemorate the anniversary along with a 35th Anniversary case back and special anniversary packaging.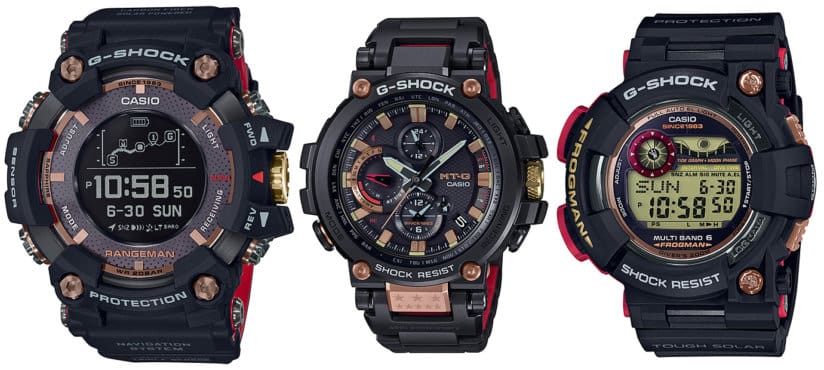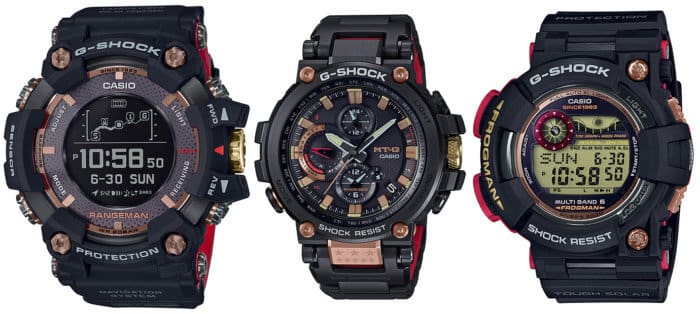 The GPR-B1000TF-1JR (list price ¥110,000 JPY), GWF-1035F-1JR (list price ¥80,000 JPY), and MTG-B1000TF-1AJR (list price ¥125,000 JPY) will be released on 16 November 2018 in Japan, and a wider worldwide release is expected.
Update: Casio also announced the GPR-B1000TF, GWF-1035F, and MTG-B1000TF for Asia.
Update 2: Casio America announced the GPRB1000TF-1 (list price $900 USD) and the GWF103F-1 (list price $750 USD) for a December 2018 release.
G-Shock GPR-B1000TF-1 Rangeman
The G-Shock GPR-B1000TF-1 is based on the GPR-B1000 Rangeman featuring mud resistance, GPS tracking and time-syncing, solar-assisted charging, Triple Sensor, sapphire crystal, and carbon fiber insert band. This watch has a dual-layer resin band with a red inner layer.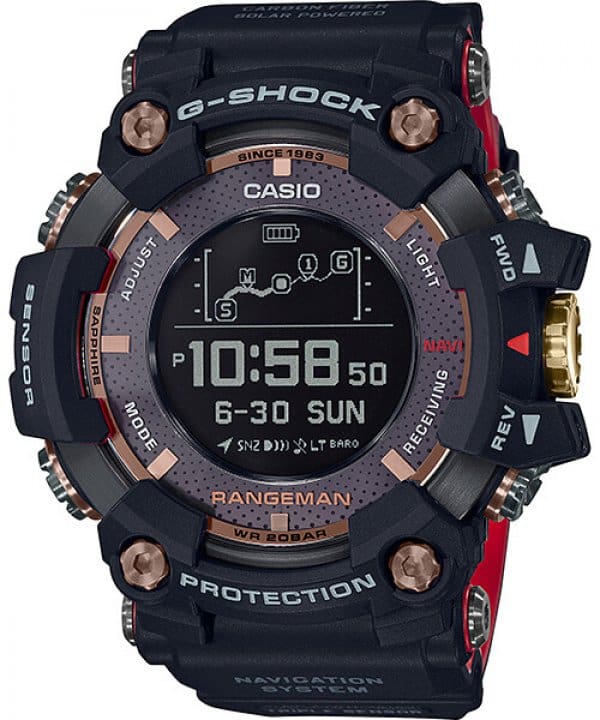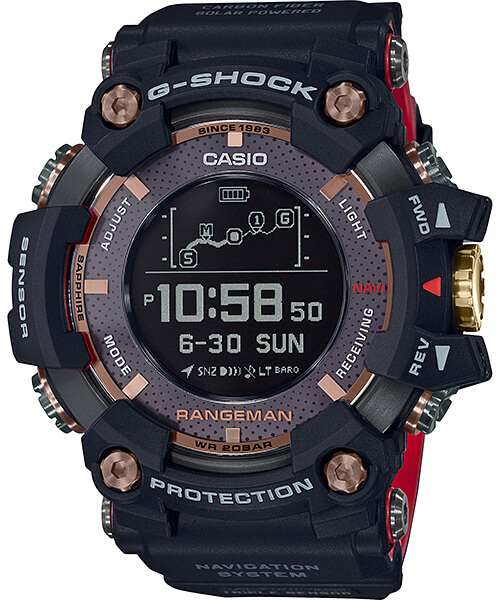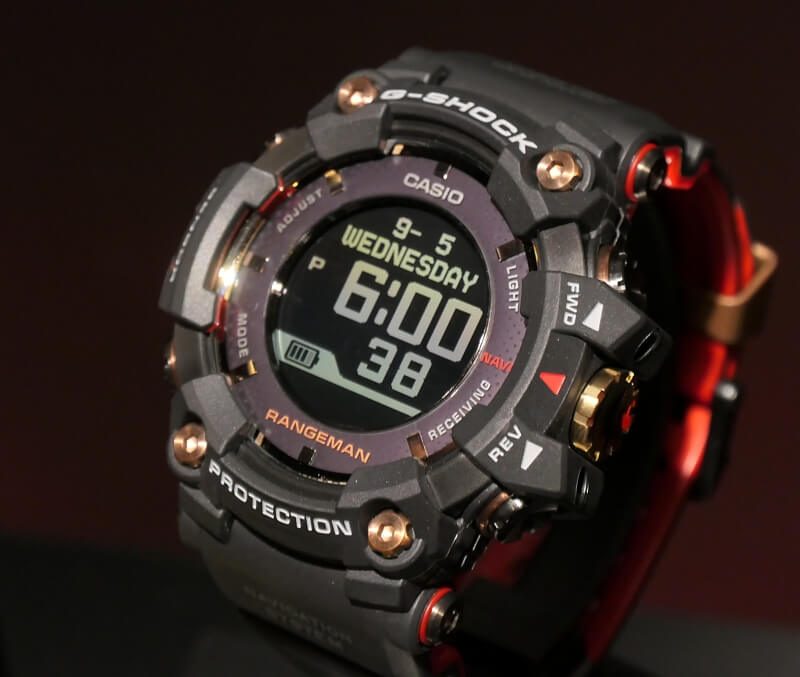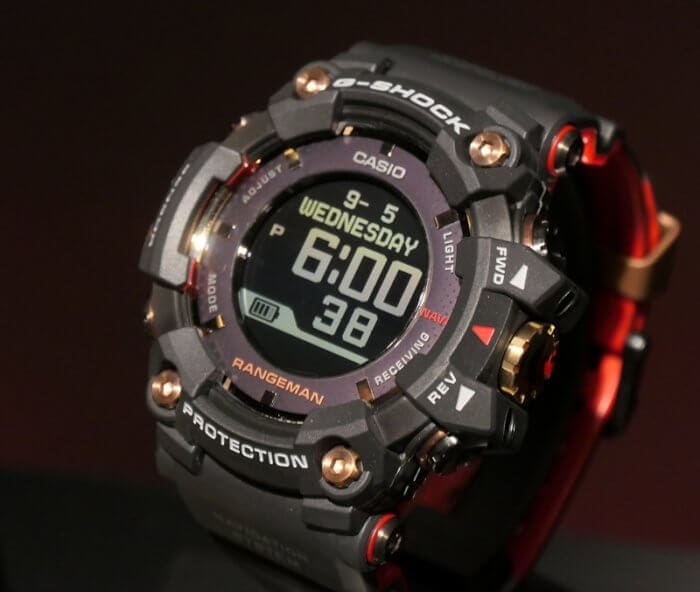 G-Shock GWF-1035F-1 Frogman
The G-Shock GWF-1035F-1 is based on the GWF-1000 Frogman featuring ISO Diver's 200M water resistance, Tough Solar, Multi-Band 6, and tide/moon graph. The Frogman line was introduced in 1993. To celebrate its 25th birthday, several Frogman graphics are placed around the watch to be discovered, such as on the front screws, LCD subdisplay, lower band, and band keeper.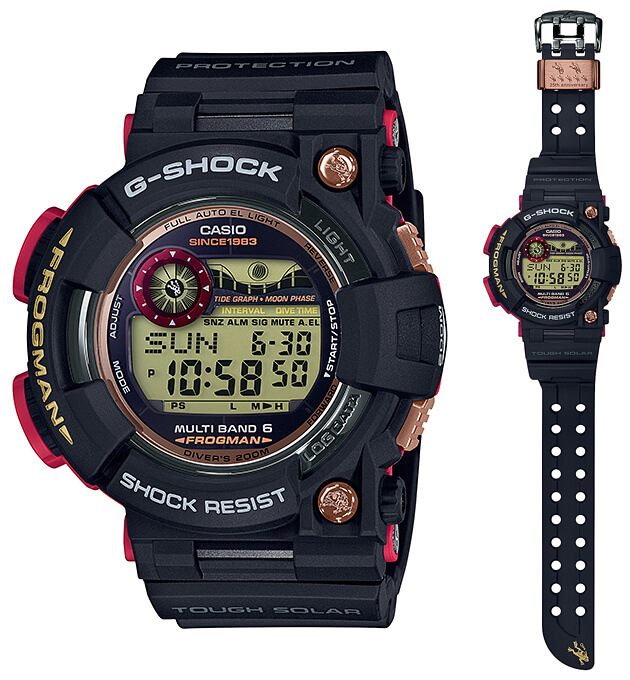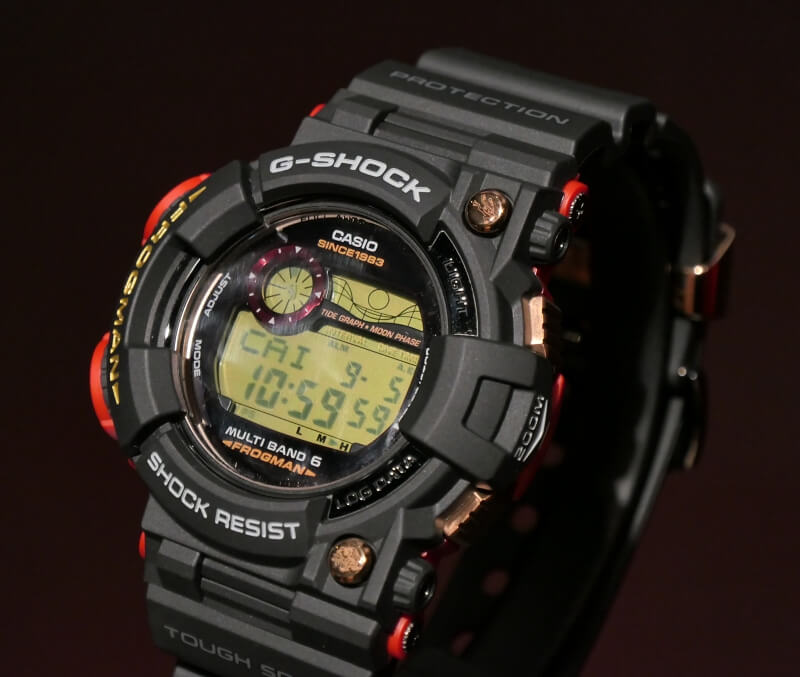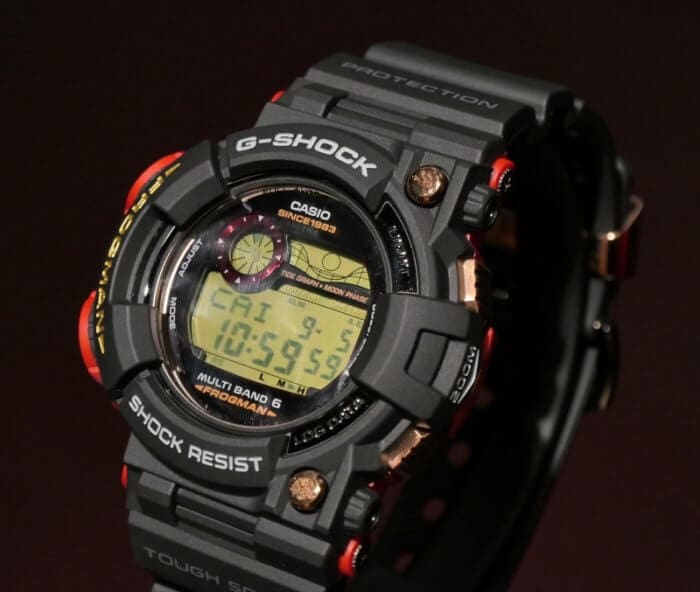 G-Shock MTG-B1000TF-1A
The G-Shock MTG-B1000TF-1A is based on 2018's MTG-B1000, part of the Metal-Twisted G-Shock (MT-G) line made of stainless steel and resin and featuring Tough Solar, Multi-Band 6, Triple G Resist, and Bluetooth Smart connectivity. The MTG-B1000TF-1A has a composite band made of stainless steel and a red resin inner layer. This model has a unique rose gold section between the lower lugs with three large stars and five small stars to signify the 35th Anniversary. It also has "35th anniversary" text on the first link below that.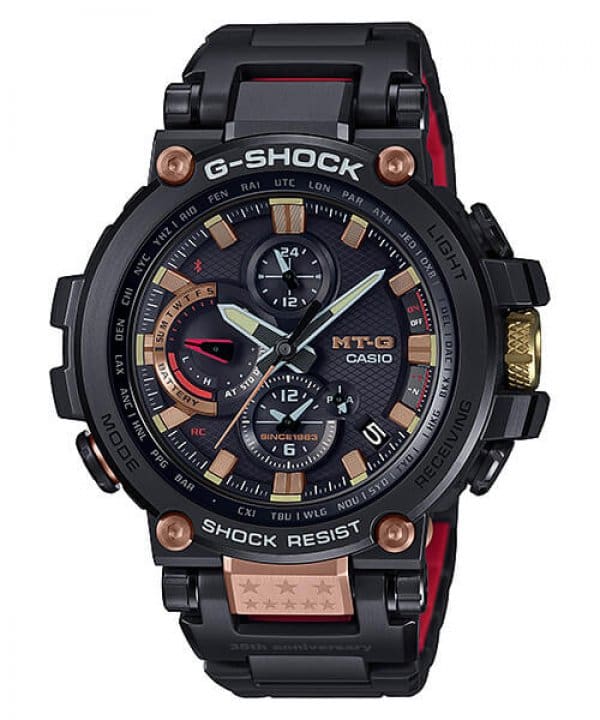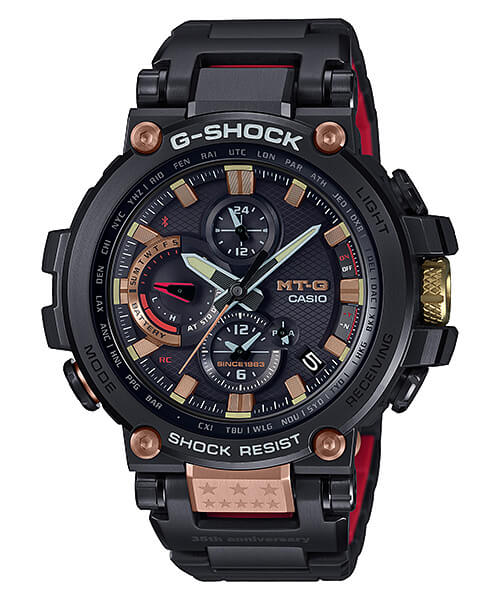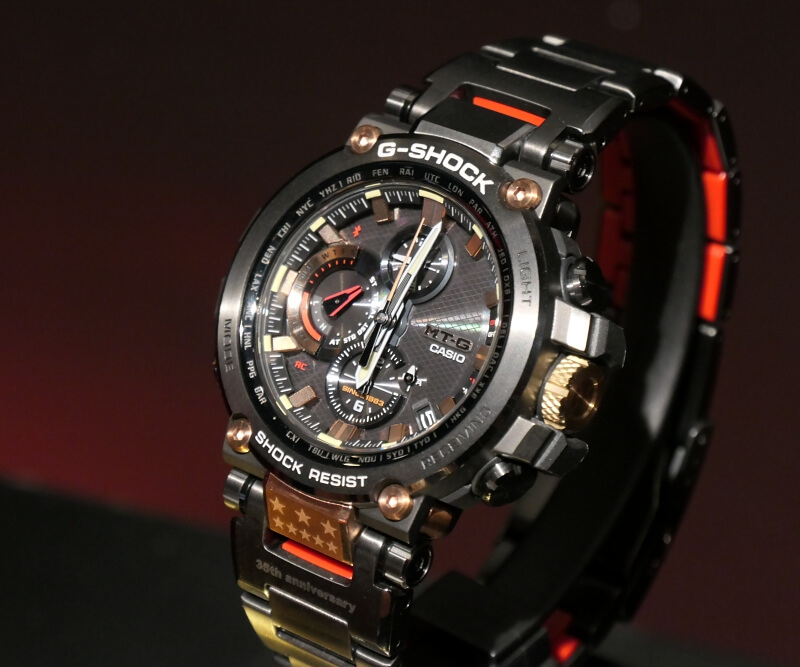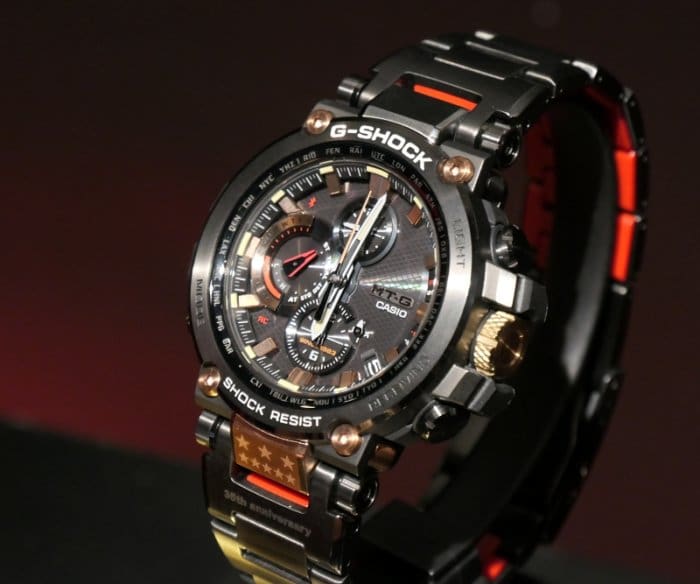 Source: casio.co.jp
Additional photos via news.mynavi.jp