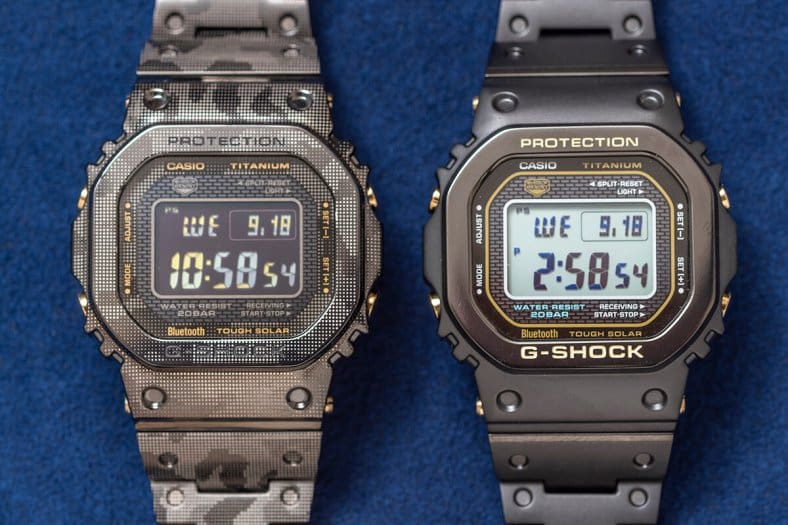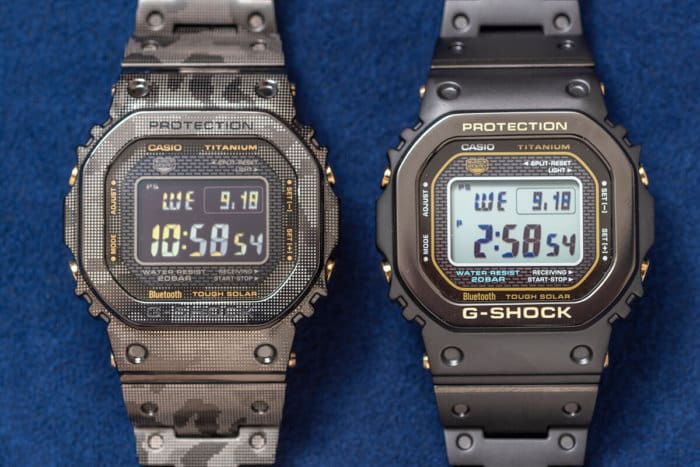 Update (November 2019): G-Shock Japan announced the GMW-B5000TB-1JR and GMW-B5000TCM-1JR with a list price of 150,000 JPY and 175,000 JPY, respectively. The GMW-B5000TB-1 are GMW-B5000TCM-1 are also being released in other Asian countries. Casio America announced the GMWB5000TCM-1 for December 2019 with a list price of US$1,600 and stated that it is a limited edition. It now also has the GMWB5000TB-1 listed for $1,550.
G-Shock GMW-B5000TB-1
With titanium case and band, diamond-like carbon (DLC) coating, sapphire crystal.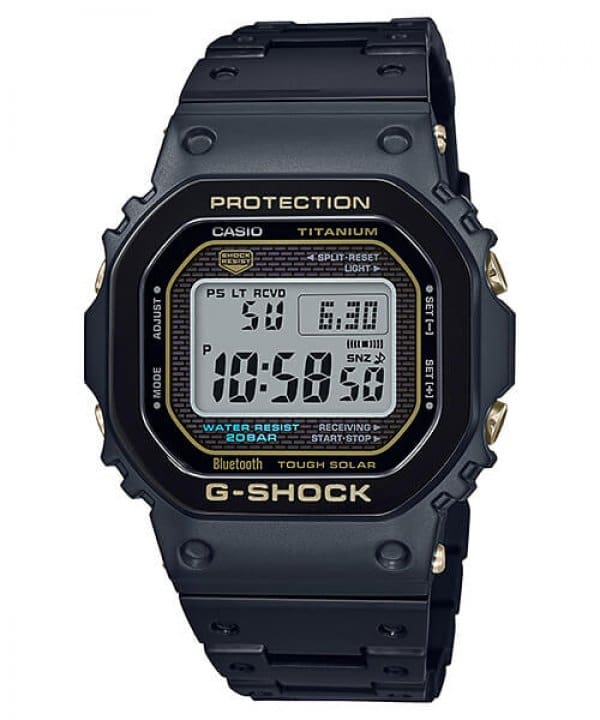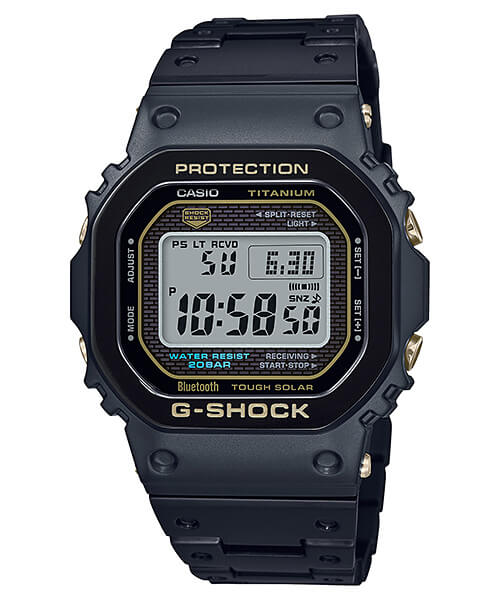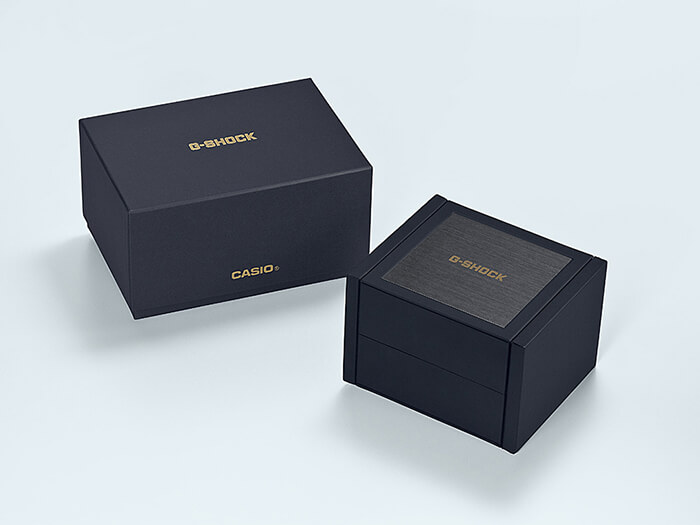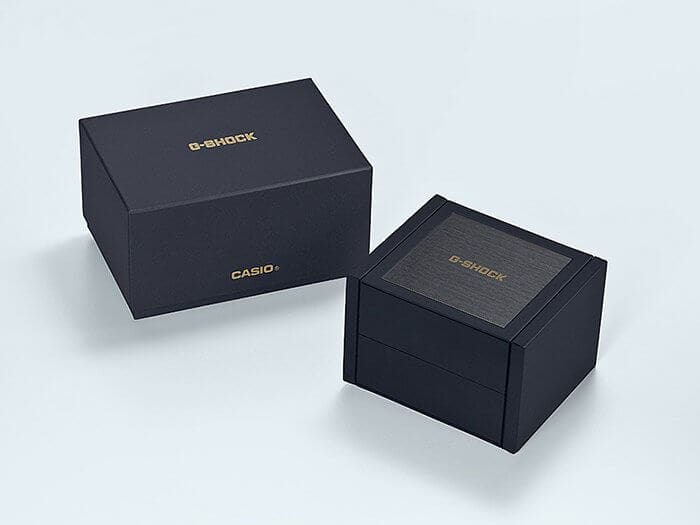 G-Shock GMW-B5000TCM-1
With titanium case and band, diamond-like carbon (DLC) coating, sapphire crystal, laser engraved camouflage pattern.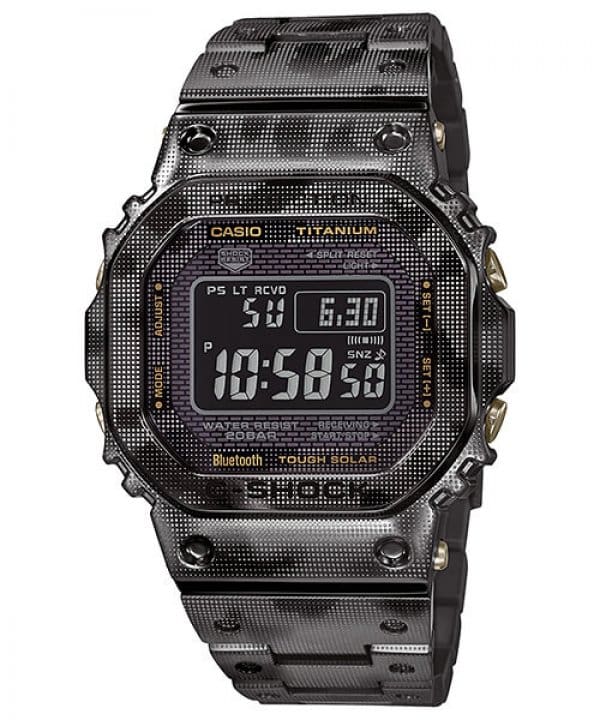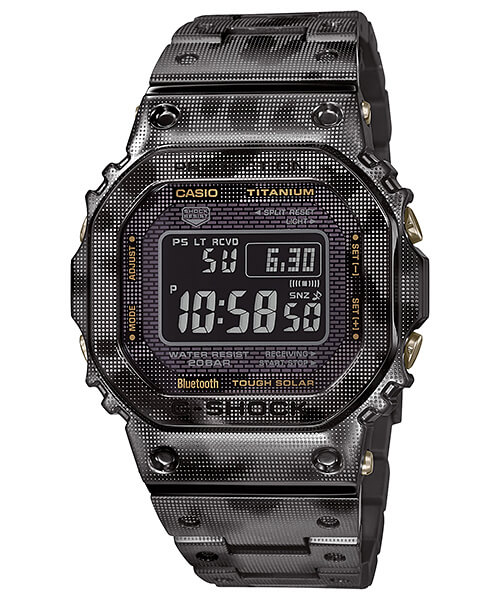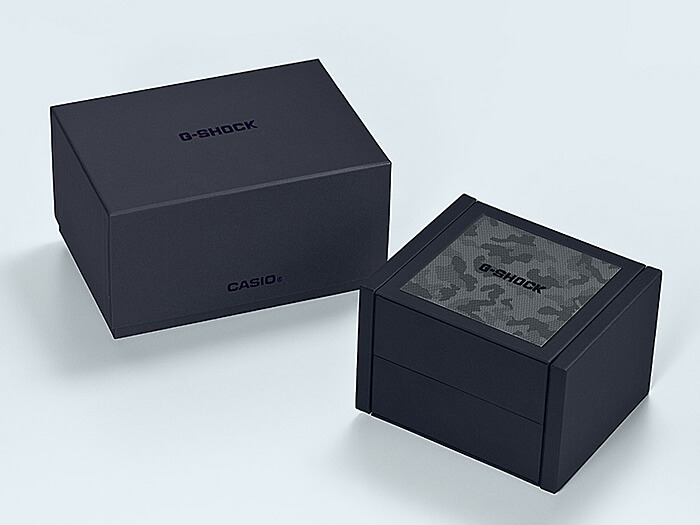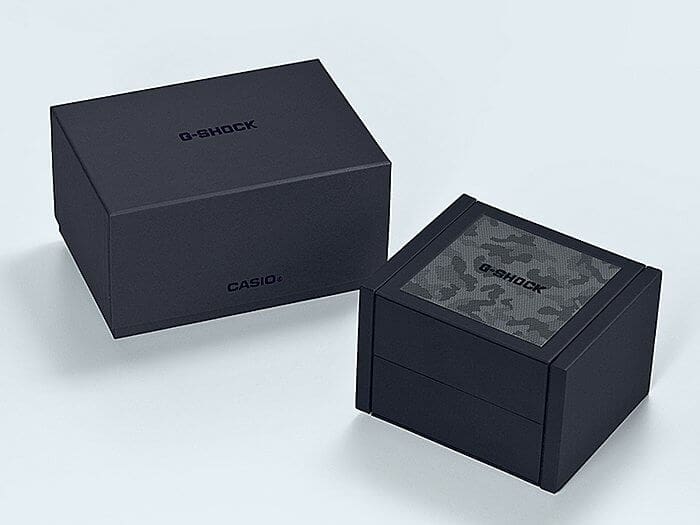 Update (October 20, 2019): Random Rob posted a video of the camo GMW-B5000TCM-1 from a watch show in Chicago.
Update (October 4, 2019): An article at Watchnavi Salon revealed more information and photos of the highly anticipated full titanium G-Shock GMW-B5000TB-1 and GMW-B5000TCM-1.
A lot of people have been complaining about the high prices of these watches. Miho Nishimura of Casio's Watch Development Department explained that the stainless steel molds could not be used for these models, and a new mold was needed for the titanium material, as well as a dedicated production line. In the case of the GMW-B5000TCM-1, the case band and need to be set by hand for the the laser processing that creates the camouflage pattern.
Another issue is that some people are confused about whether these models are limited editions or not. Junichi Izumi of Casio's Product Planning Department said, "Because it takes so much work, we can't put it out without limiting the production period. However, using titanium makes it 57 grams lighter than stainless steel, so I would like more people to actually get the 'lightness.' By doing so, you will surely feel the evolution of G-Shock's identity." This statement, along with the fact the the Japanese model numbers end with the "JR" suffix like other limited editions, leads us to believe that they are limited editions.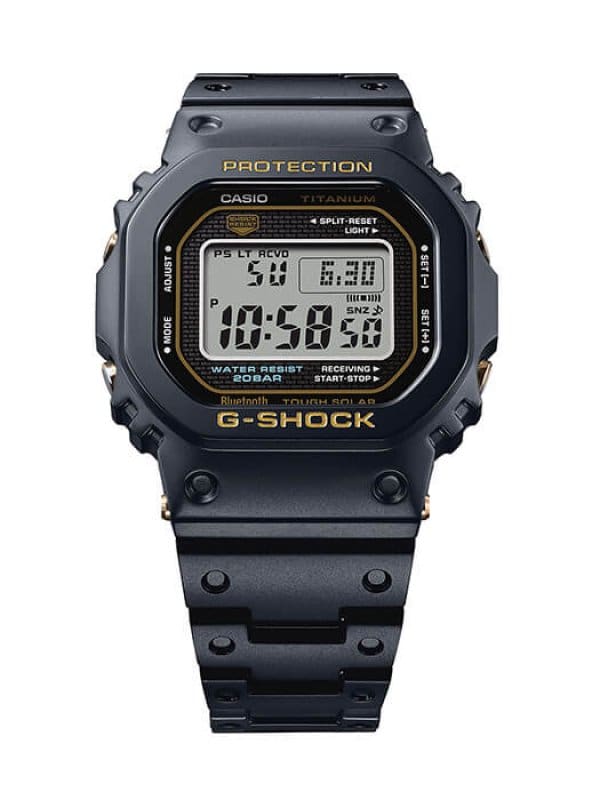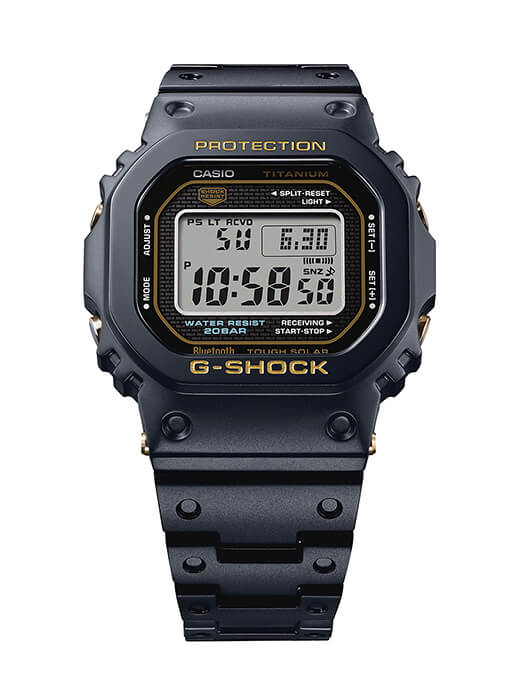 Update (September 19, 2019): Casio officially announced the G-Shock GMW-B5000TB for a November 8, 2019, release in Japan, and it will likely be released a little later for the rest of Asia and western countries. The watch is fully metal, featuring titanium parts for the inner case, bezel, band, case back, and buttons. The titanium build results in a weight that is 57 grams lighter than the full-metal stainless steel GMW-B5000 models. It is also confirmed that the watch has a sapphire crystal with an anti-reflective coating. The metal components are treated with a diamond-like carbon (DLC) coating, making it the only GMW-B5000 model with a full DLC treatment (not just the case back and inner case), along with the limited GMW-B5000TFC-1 from the 35th Anniversary. It is also the first 5000-series model to have a sapphire crystal. In Japan, the GMW-B5000TB-1JR will have a list price of 150,000 JPY.
The camouflage GMW-B5000TCM-1 was not announced yet. Based on leaked catalog photos, the GMW-B5000TCM-1 also has the DLC coating and sapphire crystal, weighs the same as the GMW-B5000TB-1 (110 grams), and has a list price of 175,000 JPY.
Update (September 9, 2019): Hong Kong store Elite_timepiecehk revealed a small photo of the GMW-B5000TCM-1. The watch has the same laser-engraved type of camouflage pattern as the MTG-B1000DCM-1AJR, along with a reverse STN LCD display.
Update (September 8, 2019): A photo of the GMW-B5000TB-1JR from an official catalog has been leaked and the list price is 150,000 JPY. The Japanese model number ending with "JR" suggests that it is a limited edition. The weight is 110 grams (versus 167 grams for the full stainless steel GMW-B5000D-1.
Update (August 27, 2019): Authorized parts reseller PacParts has the watch listed with a photo as the GMW-B5000TB-1 (as U.S. model GMWB5000TB-1), but there is no parts list yet. PacParts also has the GMW-B5000TCM-1 listed without a photo (as U.S. model GMWB5000TCM-1). Japanese fan blog Great G-Shock World speculates that this is another titanium model but in silver and possibly with a camouflage motif.
Original Post (August 23, 2019):
Hong Kong store Watch Outz revealed a picture of what is claimed to be an upcoming full-metal G-Shock GMW-B5000 watch made of titanium. No other information is provided in the Facebook post other than that it is coming soon.
The watch strongly resembles the 35th Anniversary's DW-5035D-1B with a black and gold color scheme based on the DW-5000C-1B, one of the two models of the first-ever G-Shock from 1983. The titanium feature is listed prominently on the watch's face next to the Casio logo. The use of titanium will result in a lighter weight than the fully stainless steel models and will provide enhanced resistance against rust.
If this is part of the GMW-B5000 family (and we have no reason to believe it isn't), we can expect it to have a screw-lock case back and an STN LCD display, along with Tough Solar power, Multi-Band 6 radio timekeeping, and the Bluetooth mobile link feature.
Some parts of the exterior case appear to have a matte finish that looks like resin in the picture, but based on the metal-looking bezel around the face, it is probably titanium. The watch also appears to have a metal band that is possibly titanium. It is not known if the inner case is titanium or stainless steel like other GMW-B5000 models. With the titanium feature so prominently displayed on the watch, we would like to believe it applies to the inner case as well.  Something else that we don't yet know is whether or not this is a limited edition model.
It is interesting that Casio chose to use the black and gold color scheme which was recently used on another 5000-series model, instead of the black and red of the DW-5000C-1A that most people associate as the traditional G-Shock colors, though that look was also used not long ago with the ultra-limited GMW-B5000TFC-1 DLC edition. It's possible that other color options will be available at launch or later on.
Titanium cases with screw-back case backs have been available with G-Shock watches before in the Frogman and MR-G series, and this will be the second 5000-series model after the limited GW-T5030C-1 to feature this combination.
To view the original post, visit Watch Outz on Facebook.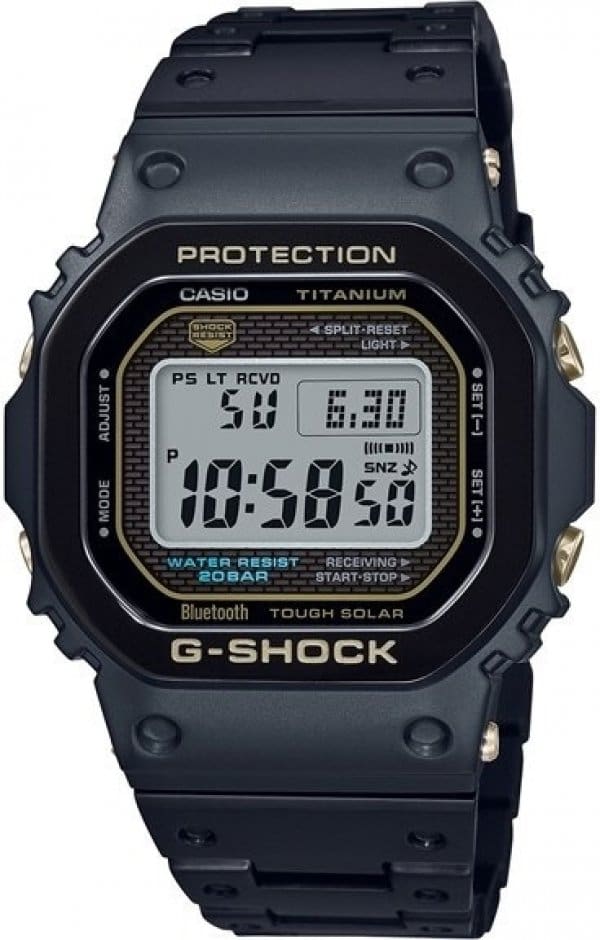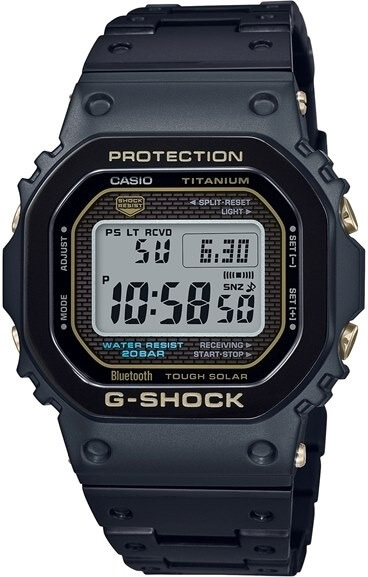 Photo via watchnavi.getnavi.jp