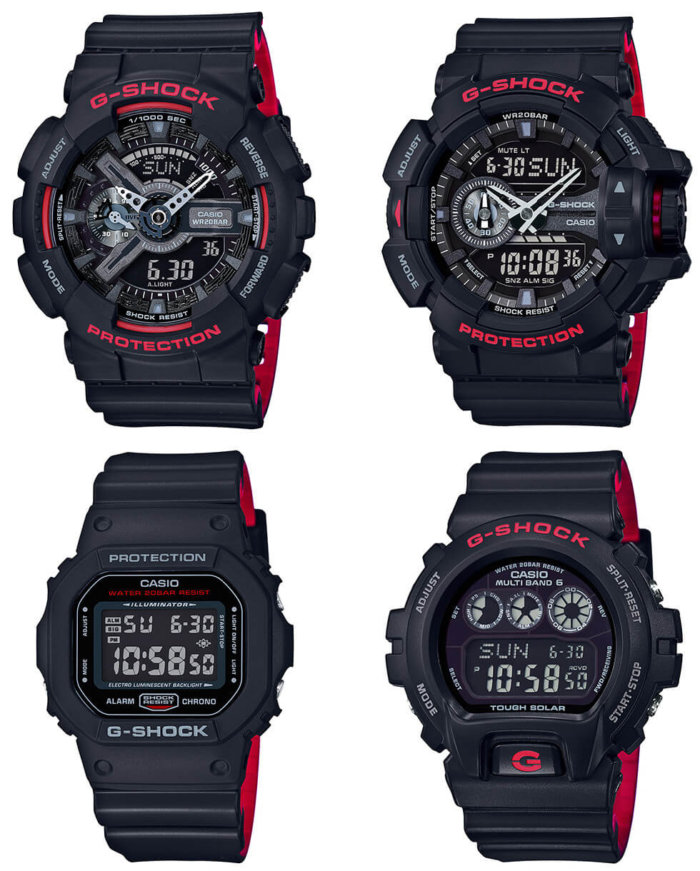 It's refreshing to see Casio releasing conservative yet fashionable colorways like this new G-Shock Black and Red Heritage Series. This black and red motif takes it cue from sneaker fashion. The watches in this collection have bands with a two-color mixed molding for a different color on the outer and inner bands, a feature that has become common with recent G-Shock releases. The split between the contrasting colors of the dual layers can be seen from the side of the band and gives the watch a unique and stylish look when viewed at an angle. The Black and Red Series watches feature black bodies and bands with red bezel lettering (on most models) and a red inner band.
The DW-5600HR-1JF (bottom left) is based on the classic DW-5600 and does not have red bezel lettering but has some red accents on the face. The GA-110HR-1AJF (top left) uses the popular large GA-110 analog-digital case. The G-Shock Protection logo is red and there is a partially exposed red ring around the bezel. The GA-400HR-1AJF (top right) is a large analog-digital model featuring a special rotary dial for easier menu access. Along with the logo this model has red accents on the left and right on the dial. The GW-6900HR-1JF (bottom right) is a Tough Solar/Multi-Band 6 model with the GW-6900 case. This model has a red G-Shock logo and a red G on the front-facing EL backlight button.
The GW-5000HR-1JF (not pictured) is based on the high-end GW-5000 origin tribute model.
The Black And Red Series will be released in late September in Japan (prices based on https://www.e-casio.co.jp): DW-5600HR-1JF: ¥12,960 JPY, GA-110HR-1AJF: ¥17,280 JPY, GA-400HR-1AJF: ¥18,360 JPY , GW-6900HR-1JF: ¥22,680 JPY.
Update: The Casio International website announced the GA-110HR-1A and GA-400HR-1A for an October release in Asia.
Update 2: Casio America announced the DW5600HR-1 (list price $99 USD), GA110HR-1A (list price $120), and GA400HR-1A (list price $130) for a November release. The GW-5000HR-1JF and GW-6900HR-1JF will remain Japan-only releases.

G-Shock DW-5600HR-1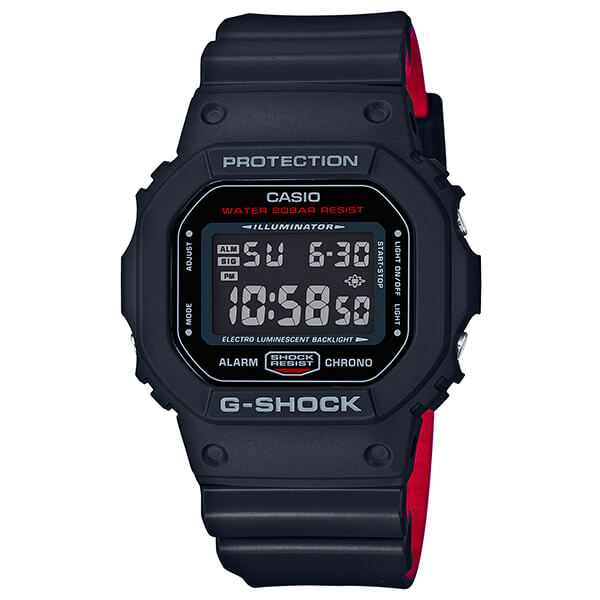 G-Shock GA-110HR-1A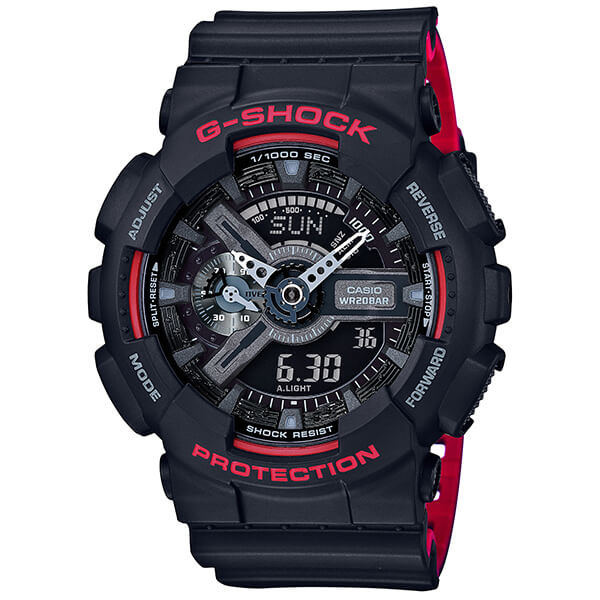 G-Shock GA-400HR-1A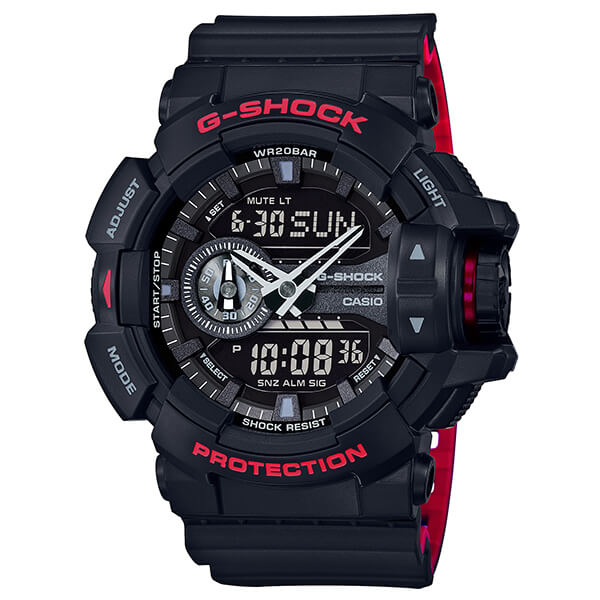 G-Shock GW-6900HR-1JF