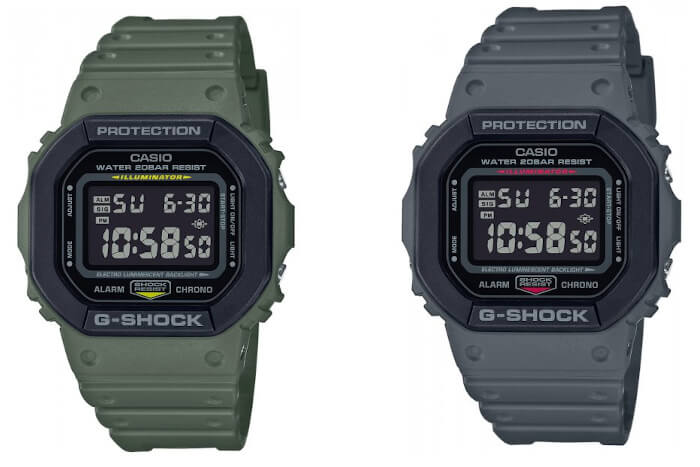 Several European e-commerce sites revealed the new G-Shock DW-5610 series which will be launching with three models: the DW-5610SU-3 (left), DW-5610SU-8 (right), and DW-5610SUS-5. These watches utilize the classic square case and feature cases and bands that are a different color from the black bezel. (The effect is somewhat reminiscent of the glossy bezel and matte case of the titanium GMW-B5000TB-1.) Surprisingly, this is the first time we've seen this kind of combination on DW-5600 watches, and it opens up all sorts of possibilities for future releases. (The upcoming GA-2110SU and GA-2100SU models will also utilize this style with black and camouflage bezels.) Some sites have described this style as a "layered bezel."
The DW-5610SU-3 has a black bezel with an olive green case and band, and the DW-5610SU-8 has a black bezel with a gray case and band. Pictures of the DW-5610SUS-5 have not been revealed yet.
Based on the specs we've seen on the various e-commerce sites, it appears that the DW-5610 has the same internal functions as the DW-5600, and the "10" possibly signifies the bezel style. (The upcoming GA-2110SU-3A and GA-2110SU-9A also have a black bezel with a different colored case, while the GA-2100SU-1A has a camouflage bezel.)
This post will be updated when official information is available.
(
Disclosure: G-Central is independently managed by fans and is not an official G-Shock site. As an Amazon Associate and eBay Partner, G-Central earns on qualifying purchases, at no extra cost to the customer.
)
Shop new releases and our curated collections at: amazon.com/shop/gcentralhq