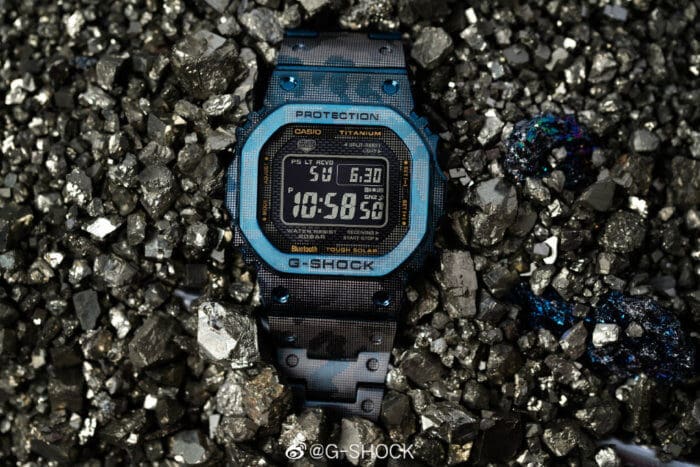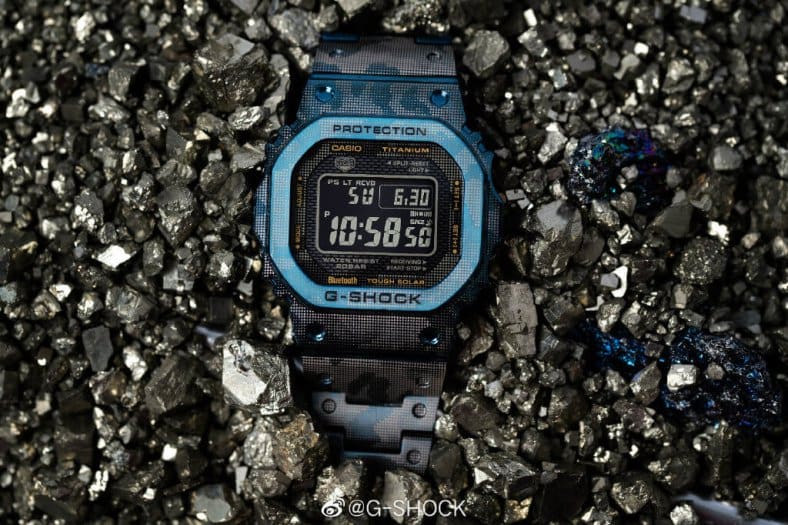 Update (October 2020): The GMW-B5000TCF-2JR is an October release in Japan, with a list price of 155,000 JPY before tax. The official Japan listing states that the screw back has a DLC coating, but not the outer case and band.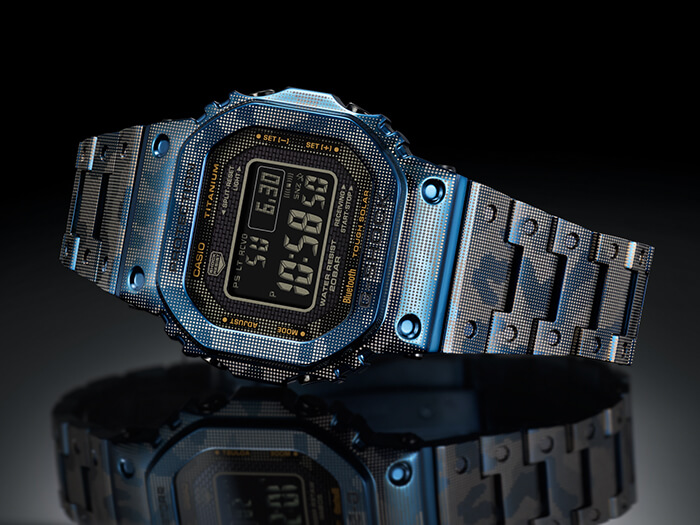 Update (August 20, 2020): G-Shock U.S. announced the GMWB5000TCF-2 with a list price of $1,700. Gshock.com is now accepting U.S. pre-orders with an estimated shipping date of September 3, 2020. Authorized dealer Reeds Jewelers is also accepting pre-orders for $1,700, with shipping expected in early September.
The GMW-B5000TCF-2 is also a September 2020 release in Asia, and the official Asia listing confirms that the watch has a sapphire crystal with non-reflective coating. However, the listing makes no mention of a DLC coating, and says that the watch has a blue ion plated case and band. The G-Shock U.S. and U.K. websites state that the watch does have a DLC coating. (We believe it's likely that the watch only has a DLC coating on the case back like other GMW-B5000 models, and not on the exterior case and band like the GMW-B5000TB-1 and GMW-B5000TCM-1.) The watch weighs 110 grams like the previous titanium models.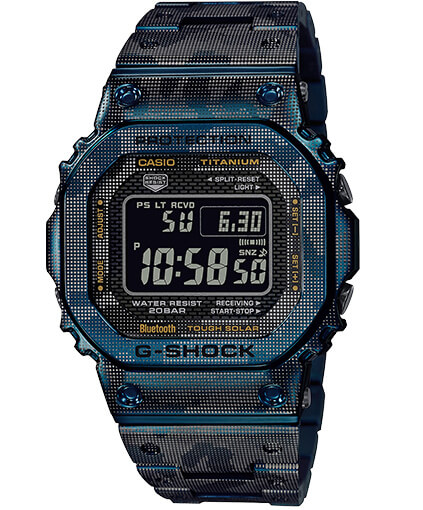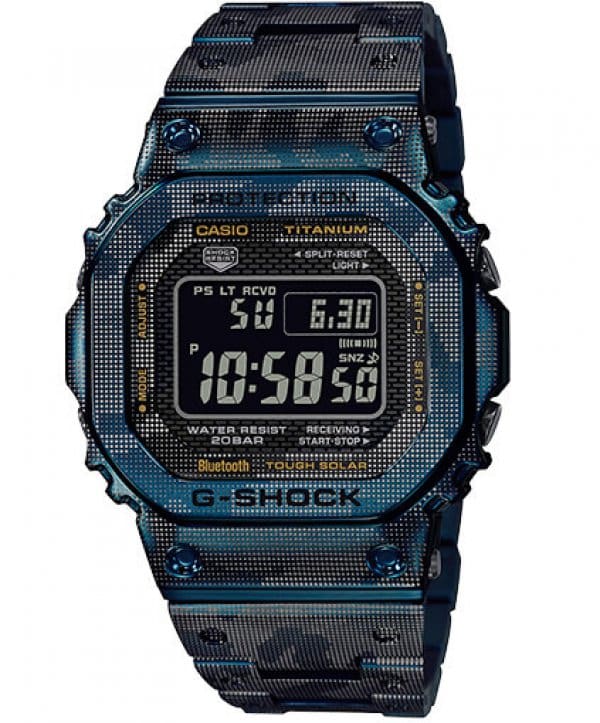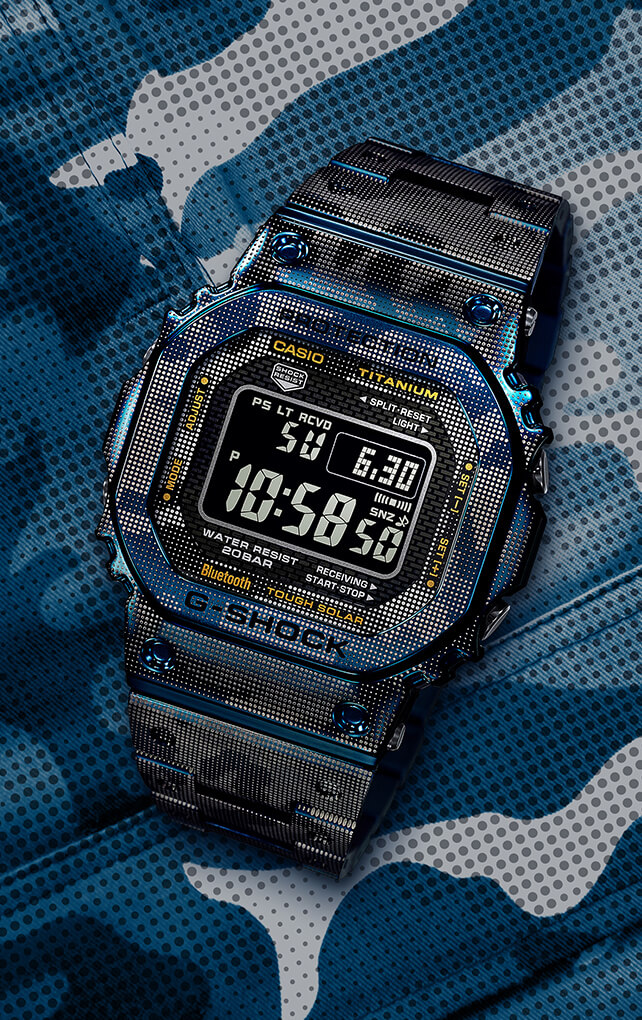 Update (July 31, 2020): G-Shock China released some photos of the GMW-B5000TCF-2 on its official Weibo account. The post bills the watch as "Summer Ice Blue" and states that it is made of titanium and has a laser-engraved camouflage pattern and DLC coating, like the GMW-B5000TCM-1. As you can see, the watch looks a lot like that model, but with a blue color. The watch is also expected to have a sapphire crystal.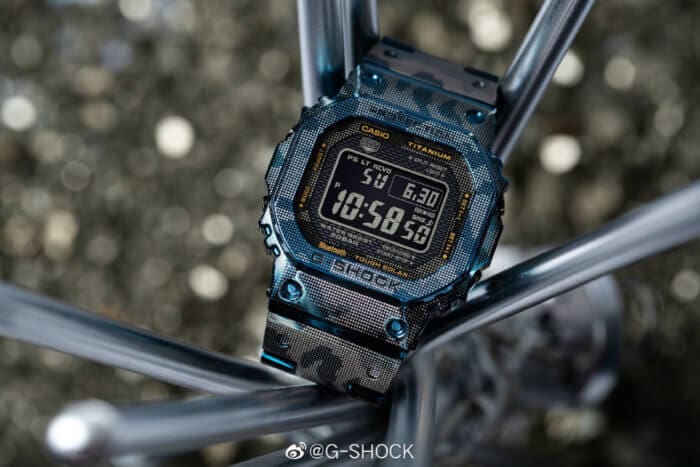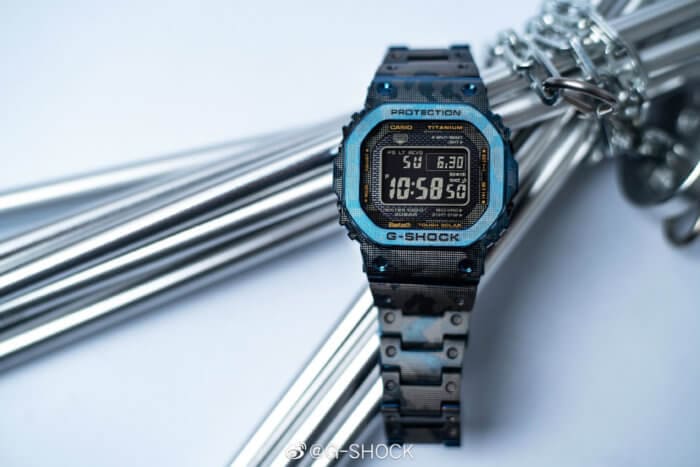 Update: G-Shock UK announced the watch on Instagram for a September 2020 release.
Original Post (June 4, 2020):
A new listing for the G-Shock GMW-B5000TCF-2 was recently discovered at an official parts seller. Other than the model name, from which we can infer it is a full metal square model with Tough Solar, Multi-Band 6, and Bluetooth, there is no information available, so we'll have to play the guessing game for now.
Some eager fans are hoping that it's a non-limited version of the GMW-B5000TFC-1 collaboration watch, which was limited to 500 pieces with a DLC coating and the same color scheme as the original G-Shock DW-5000C-1A. The only evidence to support this is the similarity of the model names, and we don't believe it will resemble the GMW-B5000TFC-1 at all, as there is no precedent for something like that to happen. The listing has the description "Time Piece Division: G-SHOCK ORIGIN Watch," which have led some to think that it might have the colors of the original G-Shock, but all the other GMW-B5000 models listed on that site have the exact same description. Also, the model name ends with a "2," which stands for "blue" when it comes to G-Shock model codes.
The "T" could possibly stand for "titanium," but it might not, and it is hard to imagine that G-Shock would release another expensive titanium metal square soon after it released the first two, but perhaps this will be a more affordable titanium model without a DLC coating and sapphire crystal. G-Shock has used the code "CF" before for some camouflage series like the GA-100CF and DW-5600CF. Some have speculated that the "CF" could stand for carbon fiber, in which case it would probably be referring to the band, as the GMW-B5000 series is known for having a metal case. However, we don't see a carbon fiber band as being a big enough attraction to warrant a new model, and it seems like most people prefer the ones with metal bands.
The last few GMW-B5000 releases had a focus on CMF Design (color, materials, and finish) that distinguished them in a major way from the earlier releases. With its mysterious model name, we expect the GMW-B5000TCF-2 to be based on a unique theme and offer more than just another basic color.
To sum it up, we have no idea what the watch looks like, but we'll let you know when we find out.
Update: G-Central reader Kev said that a GMW-B5000TCF-3 is also coming, which will be titanium and have a green camouflage pattern similar to the GMW-B5000TCM-1, according to an authorized dealer's staff member in China. Reader AS said that the GMW-B5000TCF-2 will be a blue version of the titanium camo previously released, with the same price and a scheduled October 2020 release, if not delayed. If it's the same price as the GMW-B5000TCM-1, we expect it to have a DLC coating and sapphire crystal.