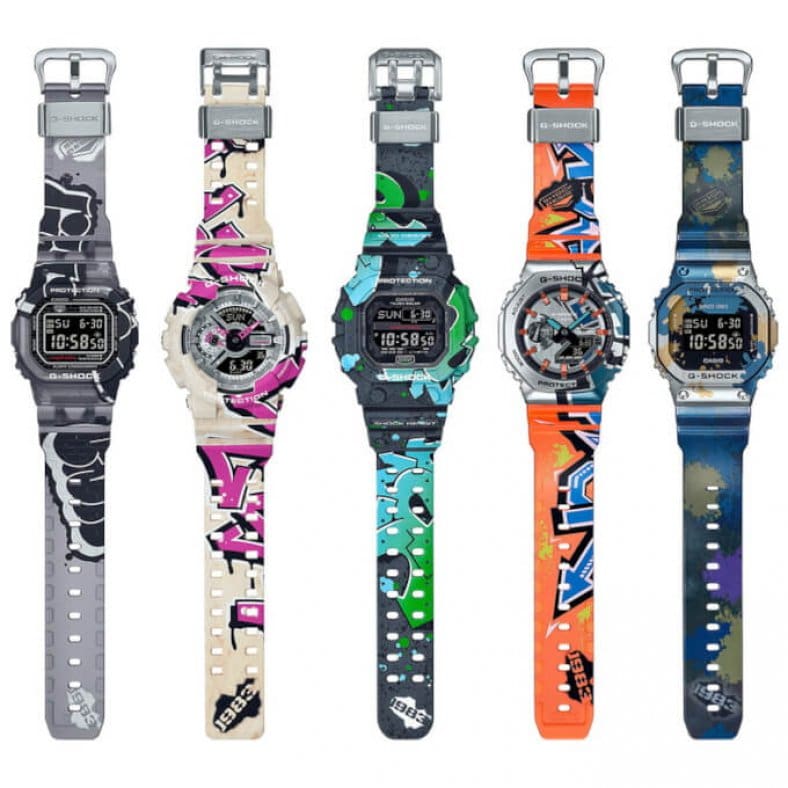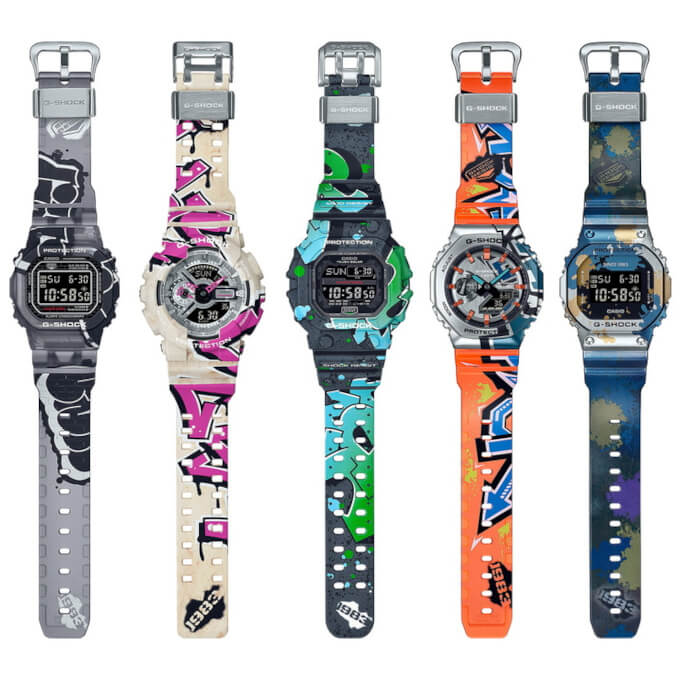 Revealed for September 2022, the G-Shock Street Spirit series is inspired by the street culture of the graffiti art scene. Although it hasn't been officially declared as a 40th Anniversary release yet (and it's not yet known if they have a special anniversary case back), it clearly has the upcoming anniversary in mind. "Since 1983" labels appear on the faces and dials, and a stencil-style "1983" appears on the lower bands. Each watch in this limited edition series has a stainless steel band keeper. The most unexpected models in the series are perhaps the DW-5000SS-1 and GX-56SS-1, as we usually don't see such unusual designs with those base models (although that's true with the GM models too). The GM-2100SS-1A and GM-5600SS-1 are also the first GM-2100 and GM-5600 models to feature a printed design on the bands that extends to the stainless steel bezels with a multi-color ion plating. Each watch comes in exclusive packaging featuring the full graffiti artwork the design on the watch draws from.
Update: The watches in this series reportedly do not have a special 40th Anniversary case back design, so this is technically not a 40th Anniversary release.
Update 2: G-Shock U.S. released the DW5000SS-1 ($240), GA110SS-1A ($190), GM2100SS-1A ($310), GM5600SS-1 ($270), and GX56SS-1 ($210).
G-Shock DW-5000SS-1
The DW-5000SS-1 is an origin tribute model featuring a stainless steel screw-back case like the original G-Shock DW-5000C. The watch has a translucent gray bezel and band with a black and silver graffiti print, and the face features the traditional brick pattern seen on the original G-Shocks and other tribute models like the GMW-B5000. During past anniversary celebrations, DW-5000 models were usually reserved for "DW-50XX" anniversary editions, and we believe it's very likely that a DW-5040 model is coming later. (Japan: DW-5000SS-1JR, 26,400 yen)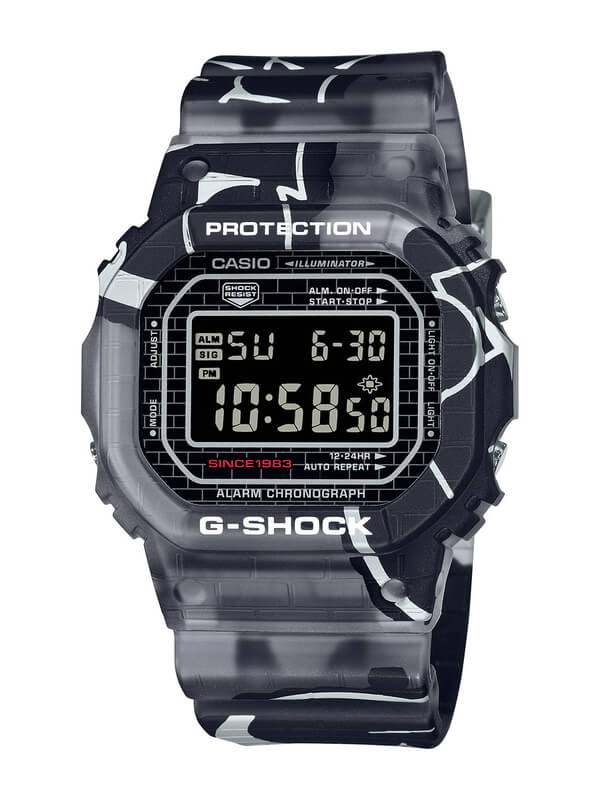 List Price: $240 Size: 48.9 x 42.8 x 13.5 mm Weight: 78 grams
Structure: Stainless steels screw-back case, resin bezel and band, stainless steel band keeper, mineral glass
Protection: Shock Resistance, 200-meter Water Resistance Power: Battery (CR2016, approx 2-year life)
Features: Stopwatch (23:59'59 max, 1/100-second first 60 minutes, 1-second after 60 minutes, elapsed time, split time, 1st-2nd place times), countdown timer (24 hours, settable in seconds, minutes, and hours, auto-repeat), multi-function alarm, hourly time signal, flash alert, EL backlight with afterglow, full auto-calendar, 12/24-hour format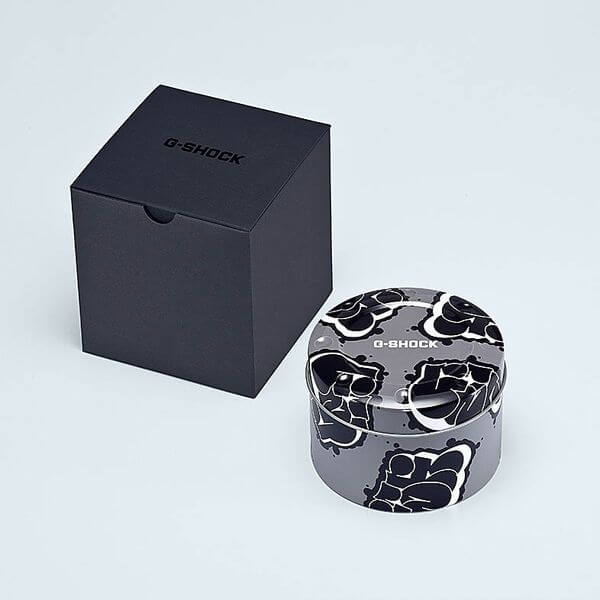 G-Shock GA-110SS-1A
The GA-110SS-1A has a marble-style mixed resin bezel and band with a purple, black, and white graffiti print. The analog hands are purple on a silver dial, providing high contrast. (Japan: GA-110SS-1AJR, 24,200 yen)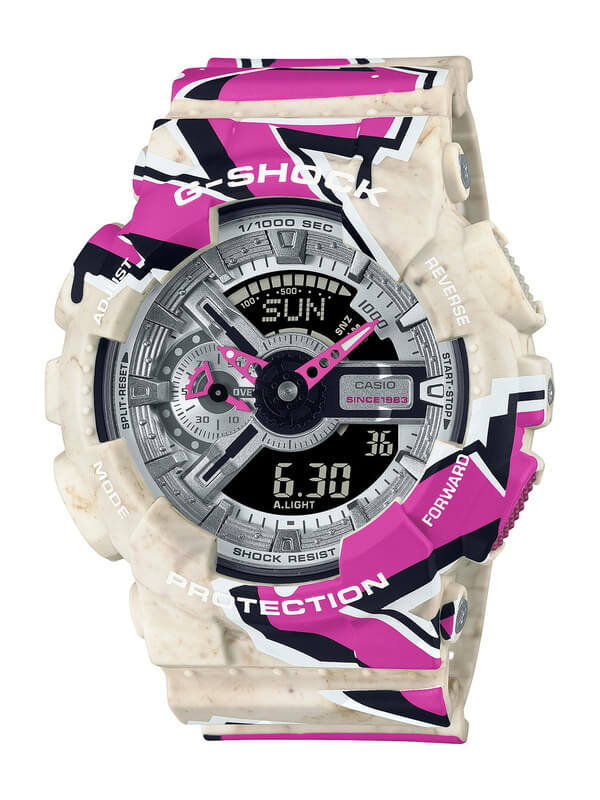 List Price: $190 Size: 55 × 51.2 × 16.9 mm Weight: 72 grams
Structure: Resin case, bezel, and band, mineral glass
Protection: Shock Resistance, Magnetic Resistance, 200-meter Water Resistance Power: Battery (CR1220, approx. 2-year life)
Features: World time (29 time zones, 48 cities + UTC, DST on/off, home/world time city swapping), 1/1000-second stopwatch (99:59'59.999" max, elapsed time, lap time, split time, speed indicator), countdown timer (24 hours, settable in minutes and hours, auto-repeat), 5 daily alarms (with 1 snooze), hourly time signal, auto LED light with 1.5 or 3-second afterglow, full auto-calendar, 12/24-hour format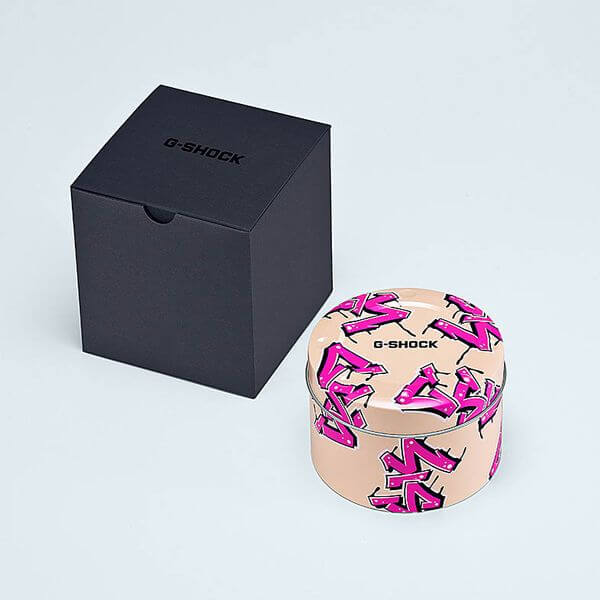 G-Shock GM-2100SS-1A
The GM-2100SS-1A features a stainless steel bezel that the graffiti design extends to with a blue and black ion plating. The watch also has a translucent orange resin band, orange markers, and blue luminous hands. (Japan: GM-2100SS-1AJR, 38,500 yen)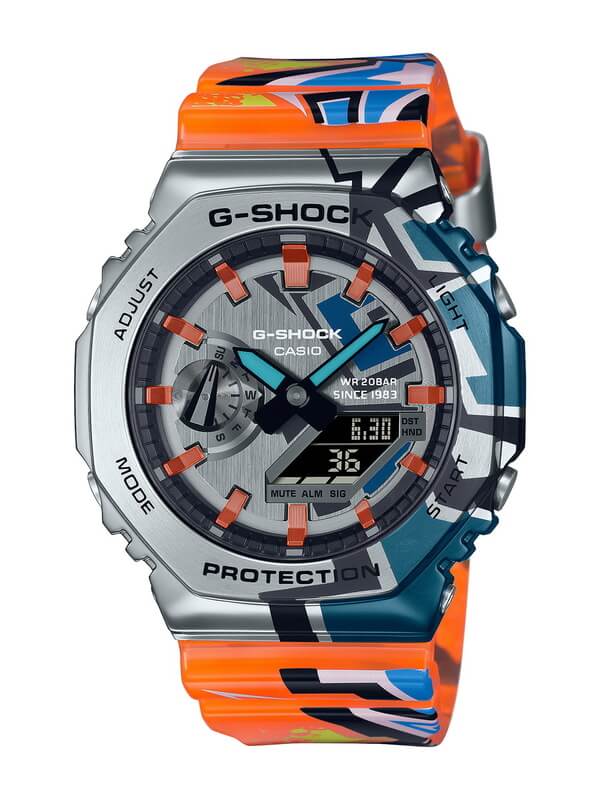 List Price: $310 Size: 49.3 × 44.4 × 11.8 mm Weight: 72 grams
Structure: resin case, stainless steel bezel, resin band, mineral glass, Neobrite
Protection: Shock Resistance, 200-meter Water Resistance Power: Battery (SR726W x 2, approx. 3-year life)
Features: World time (31 time zones, 48 cities + UTC, DST on/off), stopwatch (23:59'59 max, 1/100-second first 60 minutes, 1-second after 60 minutes, elapsed time, split time, 1st-2nd place times), countdown timer (24 hours, settable in seconds, minutes, and hours), 5 daily alarms, hourly time signal, dual LED light with 1.5 or 3-second afterglow, full auto-calendar, button tone on/off, hand shift feature, 12/24-hour format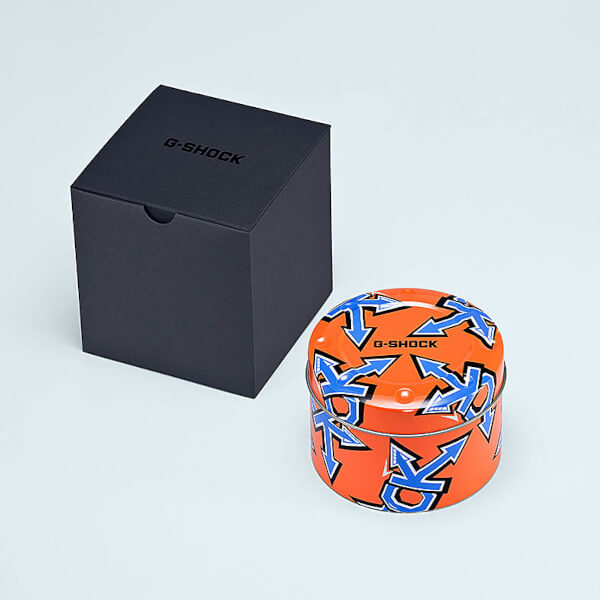 G-Shock GM-5600SS-1
The GM-5600SS-1 also has a stainless steel bezel with a multi-color ion plating. Compared to the other models in this series, the design has more of an abstract art look, rather than a graffiti text style, with splashes of blue and gold along with some purple on the lower band. The metallic paint applied with inkjet printing on the band gives it a realistic painted feel. (Japan: GM-5600SS-1JR, 34,100 yen)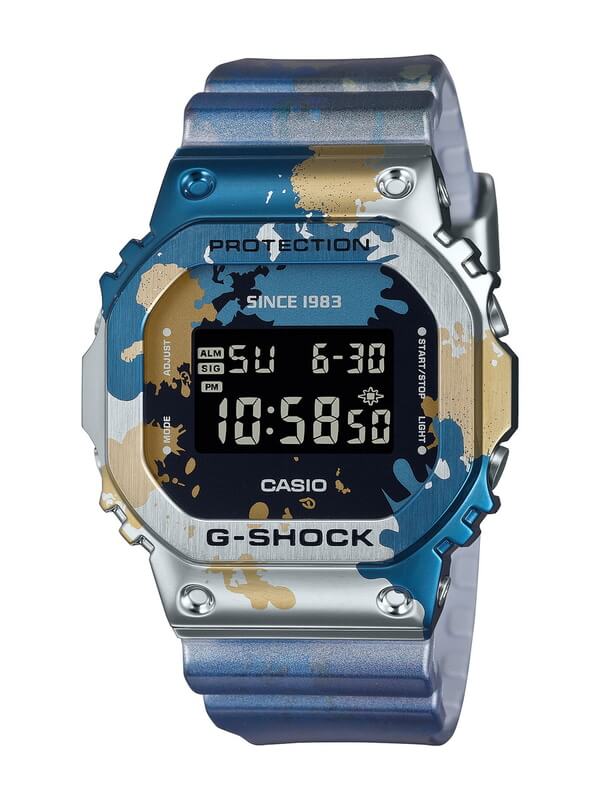 List Price: $270 Size: 49.6 × 43.2 × 12.9 mm Weight: 73 grams
Structure: Resin case, stainless steel bezel, resin band, mineral glass
Protection: Shock Resistance, 200-meter Water Resistance Power: Battery (CR2016, approx 2-year life)
Features: Stopwatch (23:59'59 max, 1/100-second first 60 minutes, 1-second after 60 minutes, elapsed time, split time, 1st-2nd place times), countdown timer (24 hours, settable in seconds, minutes, and hours, auto-repeat), multi-function alarm, hourly time signal, EL backlight with afterglow, full auto-calendar, 12/24-hour format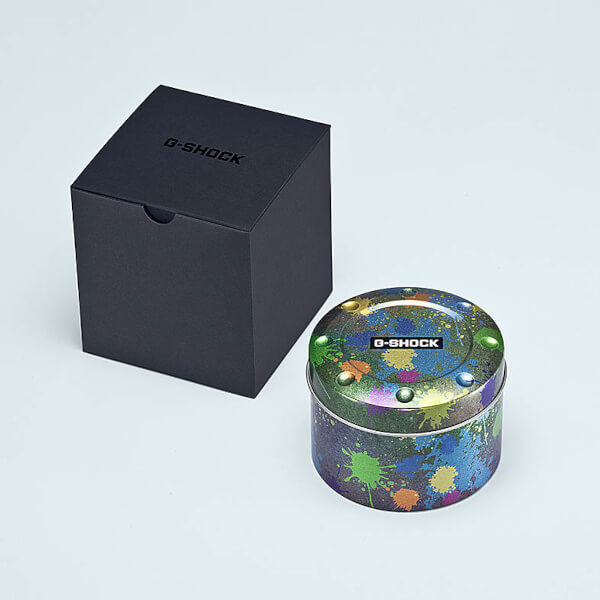 G-Shock GX-56SS-1
The GX-56SS-1 with Tough Solar power and mud resistance is an extra-large and extra-rugged model with a stone-like mixed resin bezel and band and a gradated blue and green graffiti print. Though some may find the GX-56 to be too large for their liking (at 55.5 × 53.6 × 17.5 mm), its hulking size and resemblance to the original G-Shock is what makes the series a fan favorite. (Japan: GX-56SS-1JR, 28,600 yen)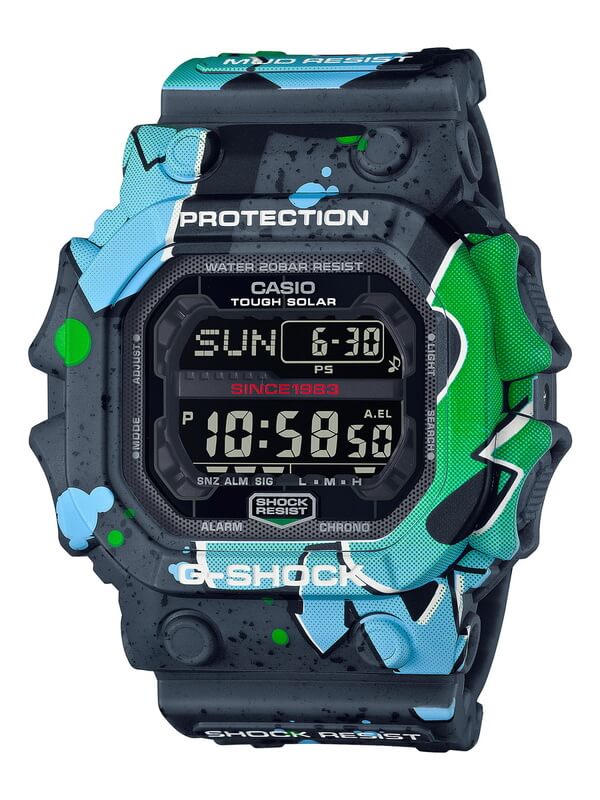 List Price: $210 Size: 55.5 × 53.6 × 17.5 mm Weight: 88 grams
Structure: resin case, bezel, and band, mineral glass
Protection: Shock Resistance, Mud Resistance, 200-meter Water Resistance Power: Tough Solar
Features: World time (31 time zones, 48 cities + UTC, DST on/off), 1/100-second stopwatch (23:59'59.99" max, elapsed time, split time, 1st-2nd place times), countdown timer (24 hours, settable in minutes and hours), 5 daily alarms with 1 snooze, hourly time signal, full auto EL backlight with 1.5 or 3-second afterglow, full auto-calendar, button tone on/off, 12/24-hour format