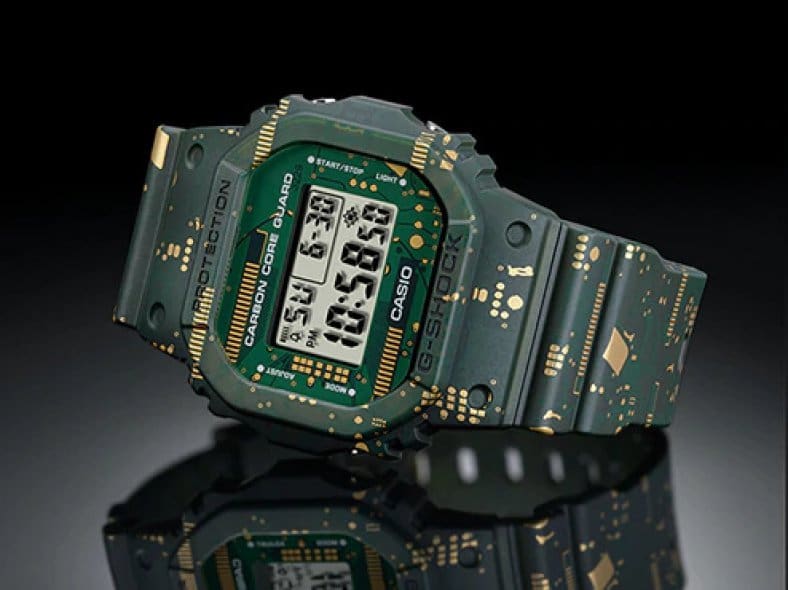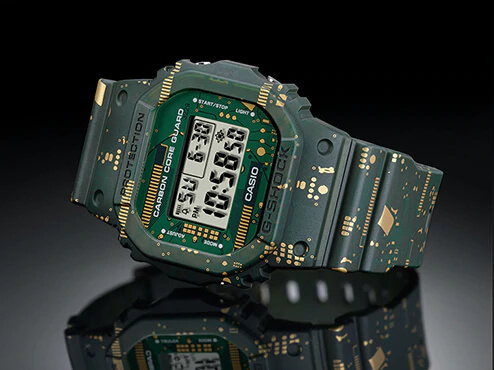 Casio announced the G-Shock DWE-5600CC-3, part of the all-new DWE-5600 series, which is billed as the first G-Shock with freely interchangeable bands and bezels. The bands have a quick-release slide lever like we have seen in other recent G-Shock watches. Instead of screws like past 5600 models, the bezel attaches to the inner case with four small carbon fiber hooks, and it is removable with an included tool. The DWE-5600 is also the first 5600 model with a Carbon Core Guard structure, with an inner case made of carbon fiber reinforced resin.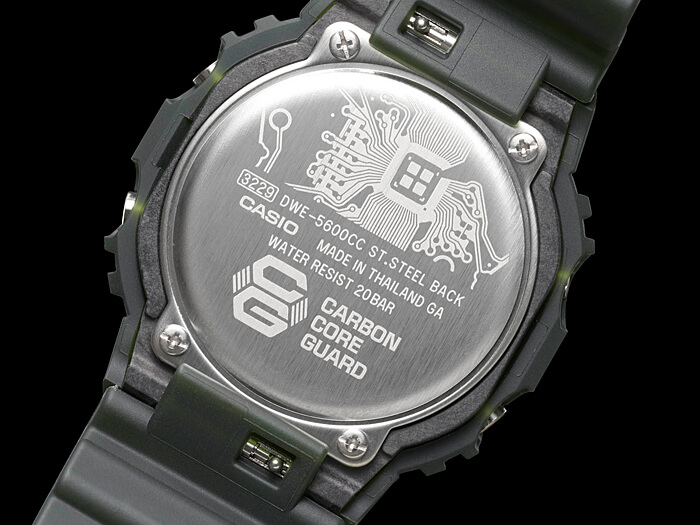 The DWE-5600CC-3 has a camouflage style with a green bezel and band that is imprinted with a 5600 circuit board design, which also extends to the outer face. The watch is part of a box set that also includes a matte black bezel and a band imprinted with "3229" which represents the module number. A black and white fabric band with a luminescent and reflective finish and imprinted with circuit board imagery is also included.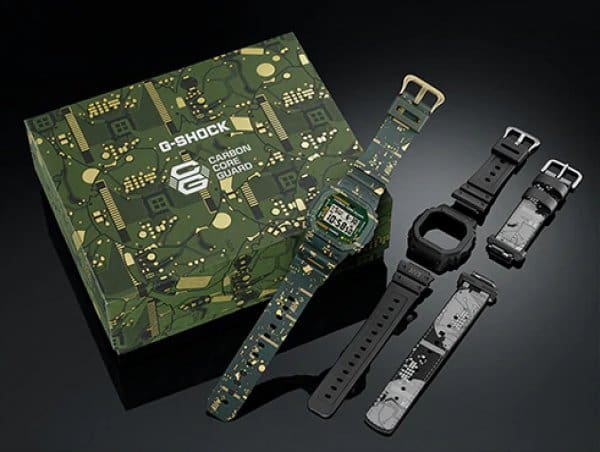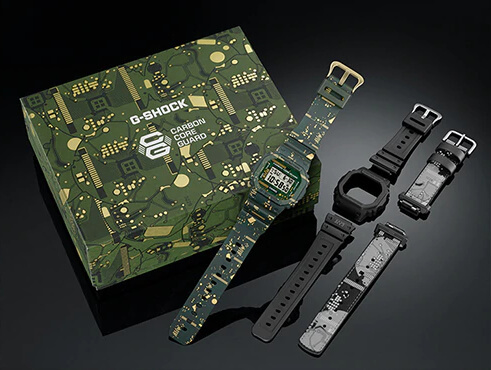 The DWE-5600 has the same module and features as the DW-5600, which include shock resistance, 200-meter water resistance, stopwatch (1/100-second from 00'00 to 00 to 59'59 to 99, 1-second from 1:00'00 to 23:59'59, with split times), countdown timer (24 hours max, 1 second to 24 hours in 1-second increments, auto-repeat), multi-function alarm, hourly time signal, full auto calendar, 12/24-hour format, EL backlight with afterglow, flash alert (flashes with buzzer for alarms, hourly time signals, countdown timer), and an approximate 2-year battery life.
The size of the DWE-5600 is slightly larger than a DW-5600E, though probably not enough to be noticeable, at 48.9 x 43.8 x 13.7 millimeters versus 48.9 x 42.8 x 13.4. The weight is approximately 54 grams with resin band and bezel, which is one gram more than the DW-5600E.
(The DWE-5600KS-7, which we originally reported on below, is also expected sometime in 2020.)
Update: In Japan, the DWE-5600CC-3JR has a list price of 28,000 JPY plus tax and will be released in October 2020. The DWE-5600CC-3 is also being released in other Asian countries.
Update 2: Casio America is releasing the DWE5600CC-3 in the U.S. with a list price of $270.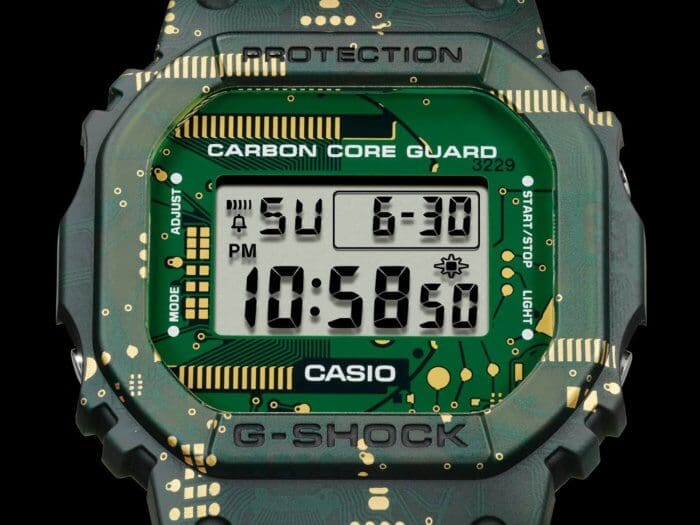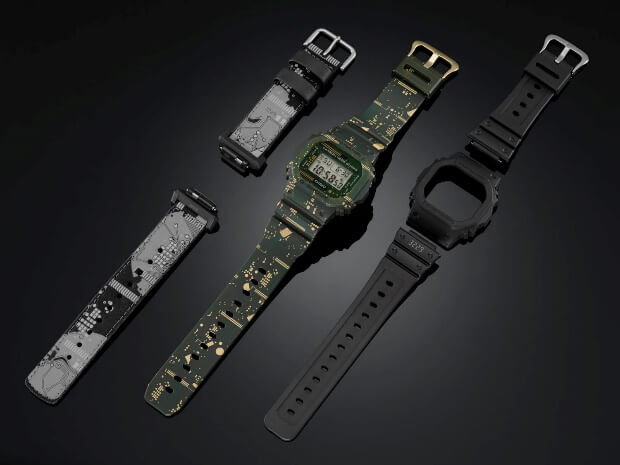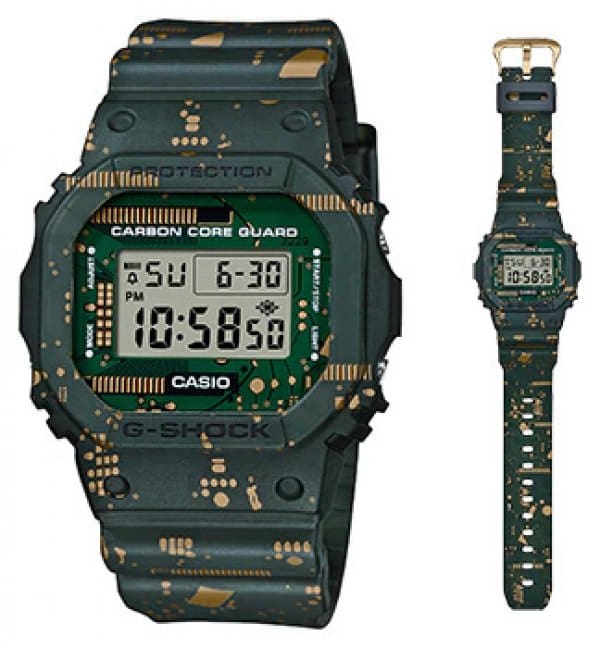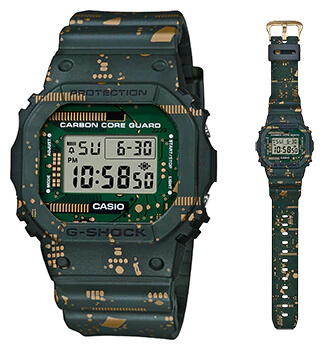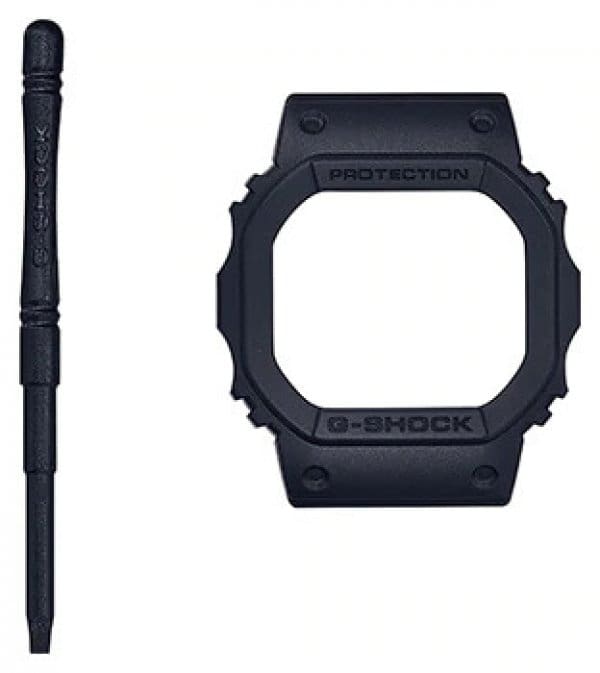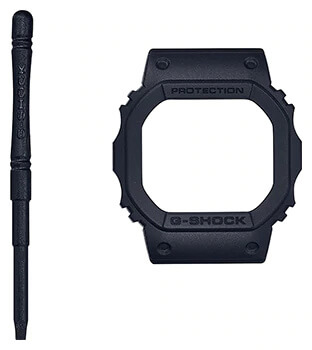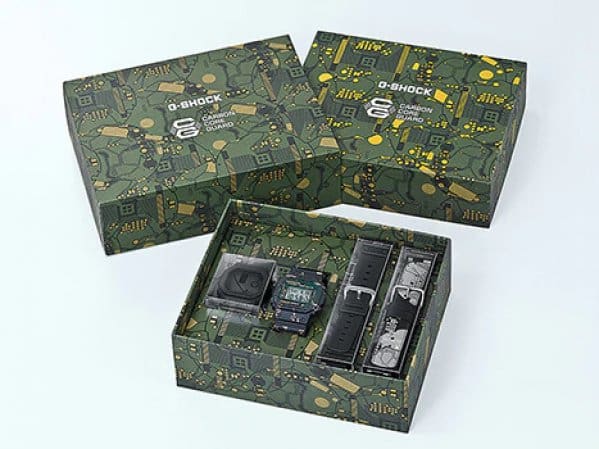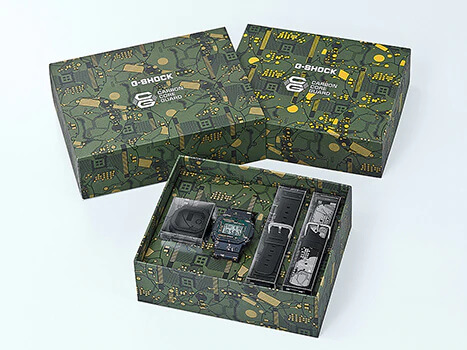 G-Shock Circuit Board Camouflage Series DWE-5600CC Video:
Original Post (September 7, 2020):
Update: We were wrong about the model names below, which should be DWE-5600 and DWE-5600KS-7.
We found a listing for an upcoming G-Shock DWE5600KS-7, which would translate to DW-E5600KS-7 for the international model name. We've never seen a "DW-E5600" before. The only thing we know from the listing is that the DW-E5600 uses module 3229, which is the same as the DW-5600.
There's the DW-D5600, which uses a more advanced module than the DW-5600 and is mostly seen as limited edition collaborations these days. We don't know what distinguishing feature the DW-E5600 has to warrant the new name. With that name, we would have expected it to use a new module like the DW-D5600, but that doesn't appear to be the case. The source of the listing does not have a history of typos or mistakes.
We've seen the DW-5610 recently, which designates a dual-molded, multi-color case and bezel. We would expect something more significant from a DW-E5600, maybe with some sort of new material like the stainless steel bezel of the GM-5600. The DWE5600KS-7 is listed for 2020, so hopefully we'll find out soon enough.