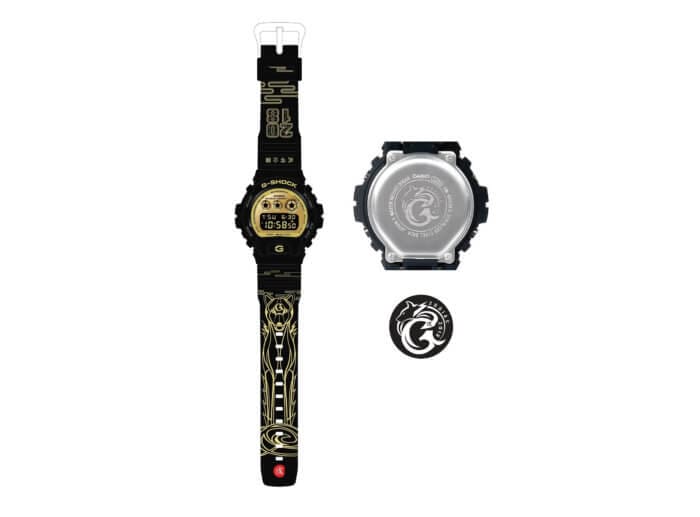 In celebration of 2018 and the upcoming Chinese New Year on February 16, Casio Singapore is releasing the G-Shock DW-6900CB-1CNY18. This limited Chinese zodiac edition features a black and gold scheme with a Year of the Dog theme on the custom bands and a special Chinese zodiac case back. The DW-6900CB-1CNY18 will be released on January 1, 2018 at G-Factory outlets in Singapore with a list price of $229 SGD.
Full Press Release:
On 16 February 2018, millions around the world will send off the Fire Rooster and usher in the Earth Dog, as the Chinese zodiac's 12-year cycle enters its 11th period. To commemorate the incoming Year of the Dog, CASIO has released a specially designed G-SHOCK emblazoned with the celestial dog, a symbol of strength and protection. The celestial dog adorning the new G-SHOCK DW-6900CB-1CNY18's strap doesn't allude to a specific mythological creature. Rather, CASIO has drawn from various folklore, both Chinese and Japanese, to offer its own take on the subject. One such inspiration is the Chinese deity Erlang Shen's canine companion, which aids its master in subduing demons and thus embodies the virtues of steadfastness and protective prowess. In the same vein of things, the Japanese komainu that guards shrines and residences was also a source of inspiration thanks to its stately and reliable nature.
CASIO's final result is a stylised canine rendered starkly in gold-on-black to present a regal and imposing visage. This colour palette is mirrored throughout the watch for a sophisticated alternative to the reds that typically dominate the lunar New Year, with the deep blacks also imbuing the watch with a technical slant. To top things off, the watch sports several details that make reference to both its lineage and inspirations. For a start, note the G that has been integrated into the canine's design–an obvious nod to the G-SHOCK. The Chinese character 戌 ("xu") below it, refers to the dog of the Chinese zodiac while 貳零壹捌 indicates 2018. Like every other G-SHOCK produced today, the DW-6900CB-1CNY18 is built on a platform of absolute toughness honed over the past 35 years. Shock resistance aside, it is waterproof to 200 metres and comes with myriad functions such as the chronograph, countdown alarm, and world time display, making it a reliable companion wherever one may be –just like the dog.
The DW-6900CB-1CNY18 will be available from 1 January 2018 at G-Factory outlets islandwide, and retail for S$229.