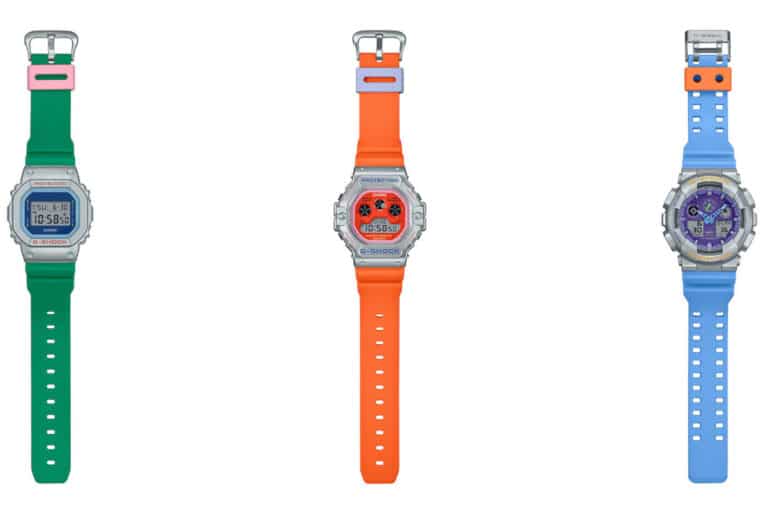 Coming in September to Japan is the G-Shock Euphoria Series of multi-colored watches, which is not related to the HBO television series. These models have a resin bezel with silver metallic-style paint and colorful bands and faces for an energetic style. The models include the green DW-5600EU-8A3, orange DW-5900EU-8A4, and blue GA-100EU-8A2. As we've seen with recent DW-5600 and DW-6900 models, the DW-5900EU-8A4 reportedly has an updated module featuring an LED backlight, which increases the battery life to approximately ten years for the DW-5900. (The previous DW-5900 module has an EL backlight and battery life of approximately five years.) It's not known if this series will make it to America, but it is expected to be released throughout Asia. Tax-included prices in Japan are as follows: DW-5600EU-8A3JF (14,300 yen), DW-5900EU-8A4AJF (14,300 yen), GA-100EU-8A2JF (18,150 yen).
Update: The new DW-5900 module number is 3536 and it is confirmed to have an LED light (with 1.5 or 3-second duration) and battery life of approximately ten years.
G-Shock DW-5600EU-8A3: With silver bezel, green band, pink band keeper, blue face with light blue border.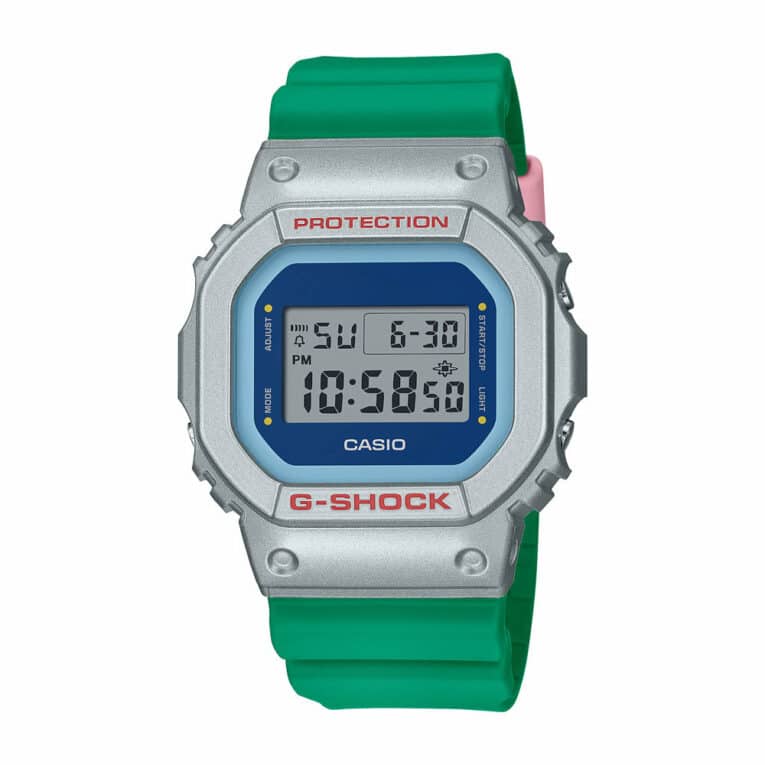 Dimensions: 48.9 x 42.8 x 13.4 millimeters
Weight: 52 grams
Specifications: DW-5600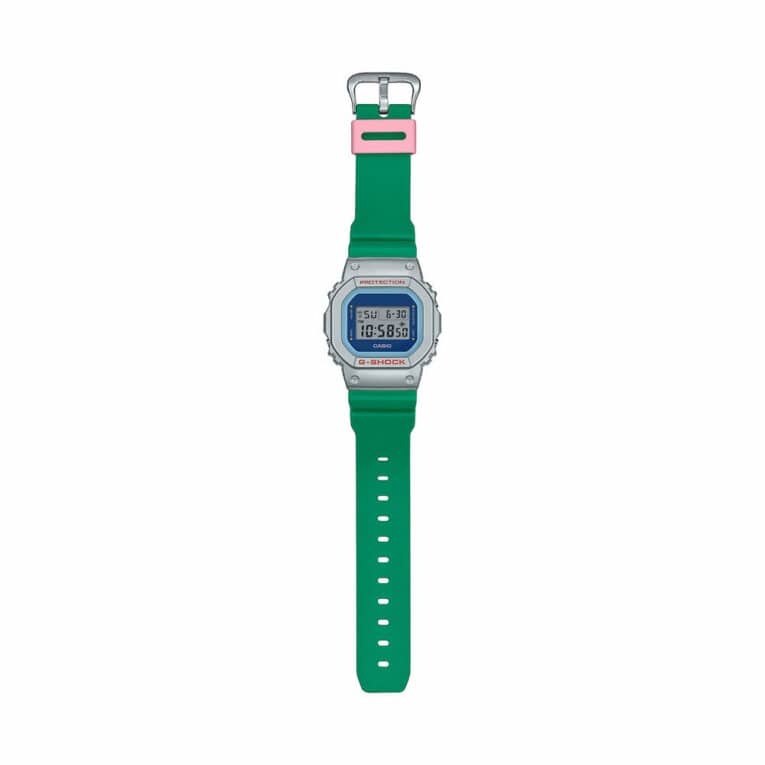 G-Shock DW-5900EU-8A4: With silver bezel, orange band, violet band keeper, red face with pink border.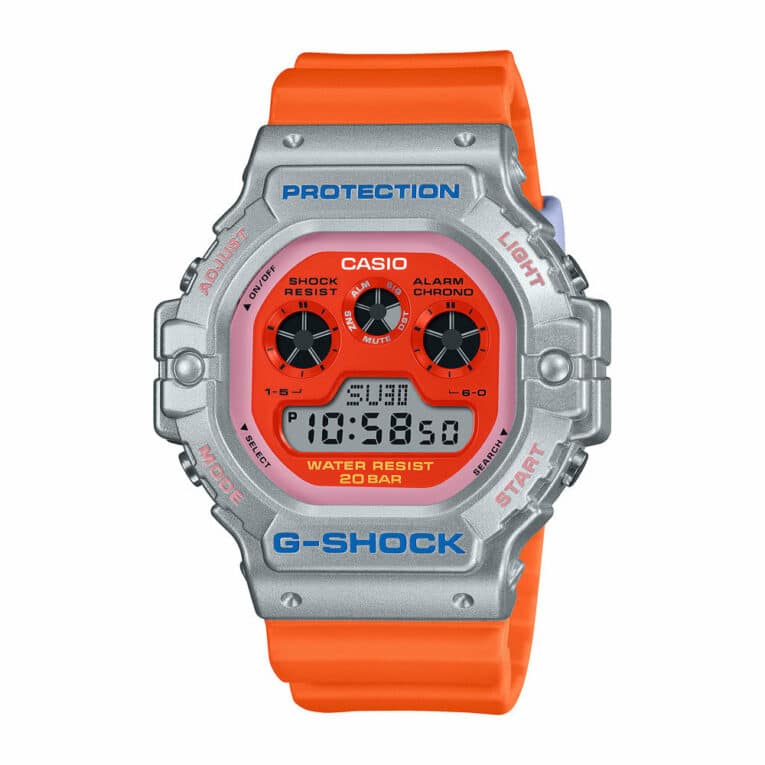 Dimensions: 51.4 x 46.8 x 15.5 millimeters
Weight: 60 grams
Specifications: DW-5900 (DW-5900EU-8A4 has LED light and approximate 10-year battery life)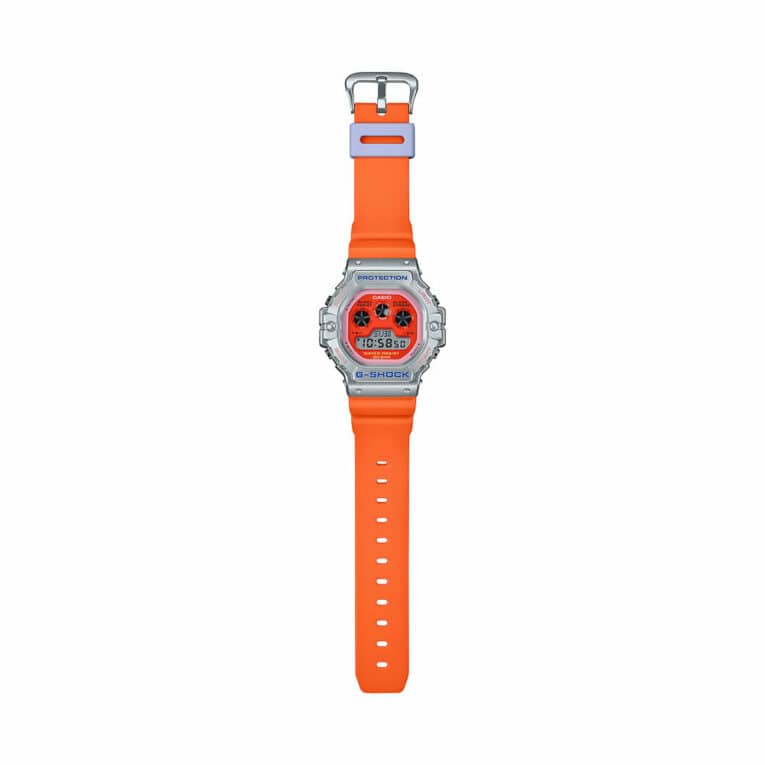 G-Shock GA-100EU-8A2: With silver bezel, blue band, orange band keeper, purple dial.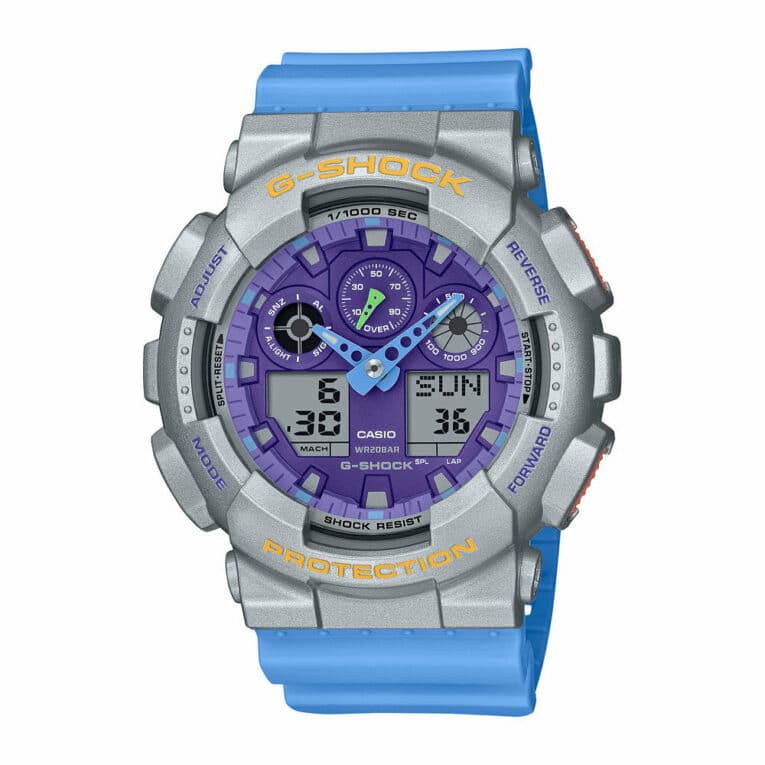 Dimensions: 55.0 x 51.2 x 16.9 millimeters
Weight: 72 grams
Specifications: GA-100